Spring 2018 Honor Graduates
May 21, 2018 | McNeese Public Relations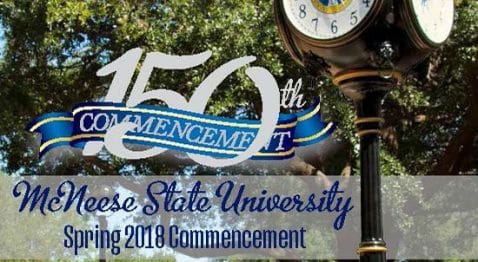 Eighteen McNeese State University students received the Summa Cum Laude (3.90-4.00) designation in spring commencement ceremonies held Saturday, May 12, at Burton Coliseum.
Five students were recognized for earning a 4.0 GPA throughout their college careers.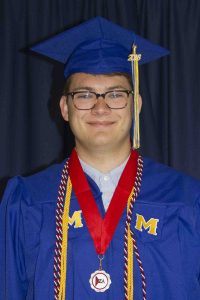 Joseph R. Dronet, Lake Charles, political science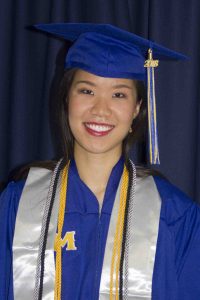 Blane E. Edwards, Lake Charles, chemistry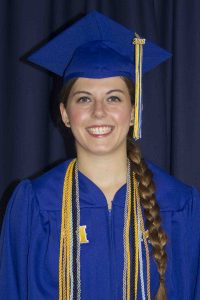 Rebecca Yvonne Harris, DeRidder elementary education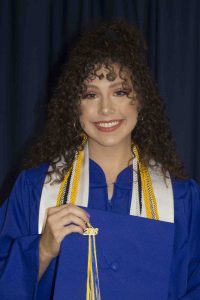 Gabrielle D. Kadlubar, Lake Charles, biological science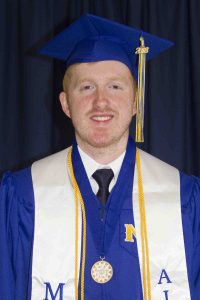 Zachary P. Nicholas, Lake Charles, engineering
The other honor students recognized were:
SUMMA CUM LAUDE: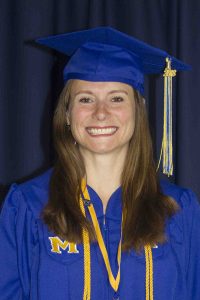 Geneva A. Breaux, Lake Charles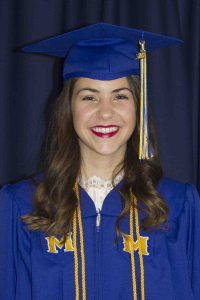 Kassidy D. Conrad, Westlake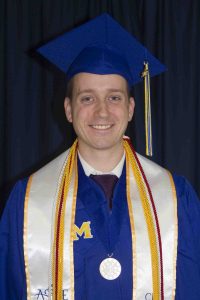 Michael A. Dupre, Orange, Texas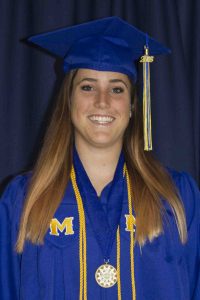 Erin Lynn Fakler, Phoenix, Ariz.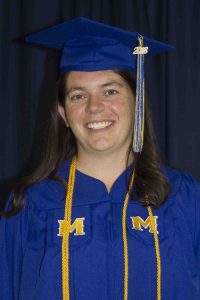 Olivia R. Hansen, Lake Charles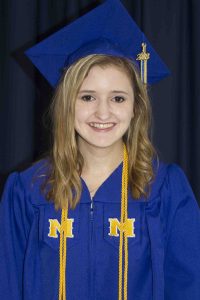 Hayley Sky Kibodeaux, Orange, Texas
Brianna Rose Newcomb, Sulphur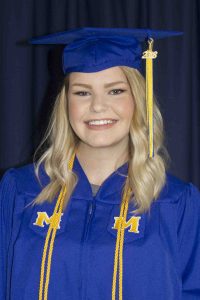 Carly N. Ryder, Westlake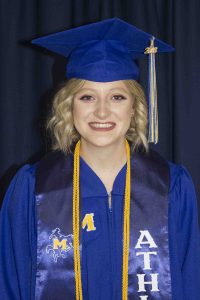 Kennedy Michelle Sampey, Berwick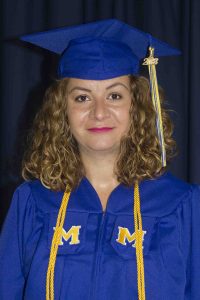 Maria Alexandra Sand, Sulphur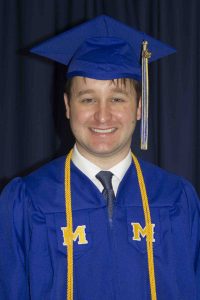 Andrew R. Steiner, Lake Charles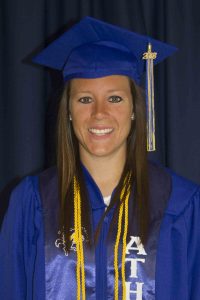 Shelbi L. Strickland, Plaquemine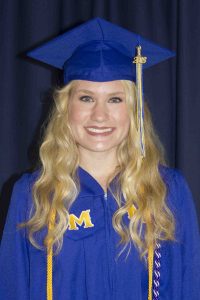 Katelyn L. Woods, Morse
MAGNA CUM LAUDE (3.70-3.89): Keifer Grey Ackley, Sulphur; Brittany Paige Pastor Anderson, Crowley; Christopher G. Ange, Lake Charles; Jacee Marie Bacon, Elizabeth; Lauren Annette Bertram, Lake Charles; Sarah R. Carpenter, Lake Charles; Amanda Isbell Clendening, DeRidder; Taylor A. Derouen, Lake Charles; Thi Minh Diep, Ho Chi Minh City, Vietnam; Alanna K. Falke, Pitkin; Om Babu Gupta, Birgunj, Nepal; Jordan N. Johnston, Jennings; Madison L. Jones, Starks; Priyanka Heny Kabira, Lake Charles; Nikesh Babu Kandel, Mirkot, Nepal; Christian A. Keever, Sulphur; Erin E. Kellar, Sulphur; Emily K. Lancon, Lake Charles; Nhat Minh Le, Ho Chi Minh City, Vietnam; Rachel Marie Maddock, Fayetteville, Ark.; Krystal Rose McMillian, Merryville; Nicole Kristine Mouhot, Lake Charles; Finlay Ian Murray, Tain, United Kingdom; Hannah Jun-Lin Neville, Huntsville, Texas; John Michael Neville, Huntsville, Texas; Phat Minh Ngo, Lake Charles; Tam Ngoc Thanh Nguyen, Ho Chi Minh City, Vietnam; LeAnn Mindy Nugent, Lake Charles; Nathan Cole Oakman, Sulphur; Brianna N. Owers, Jennings; Nicholas Dean Passaglia, Mission Viejo, Calif.; Alicen Elizabeth Pearce, DeQuincy; Alexandra Victoria Porter, Sulphur; Karlee B. Primeaux, Cameron; Joseph Anthony Provenzano, Downers Grove, Ill.; Harriet Beth Quibodeaux, Jennings; Collin S. Reed, Lake Charles; Mitchell Allan Rogers, Stilwell, Kan.; Elizabeth A. Salvador, Sulphur; Jordan Mark Sanders, Lake Charles; Caroline Elizabeth Self, Lake Charles; Benjamin C. Shallow, Elton; Ann C. Simon, Gueydan; Tasia Brenae Simoneaux, Lutcher; Madisen Danielle Smith, Rosepine; Lenise G. Soileau, Lake Charles; Alexandra L. Spears, Westlake; David Raygan Suarez, Sulphur; Trang Thi Thao Tran, Ho Chi Minh City, Vietnam; Cory A. Vannetta, Sulphur; and Frances Marie Zaworski, Emporia, Kan.
CUM LAUDE (3.50-3.69): Abdulrahman Sunaytan E. Almutairi, Hafer Albatin, Saudi Arabia; Scott R. Baker, Pitkin; Brandi L. Bellard, Lake Charles; Dara Alyse Best, Lake Charles; Viviana O. Bradley, New Iberia; Erin Renee' LeBlanc Breaux, Rayne; Hannah R. Brett, Wokingham, United Kingdom; Callie N. Brevelle, Lake Charles; Natalie Renee Bruno, Lafayette; Erin N. Bryson, Sulphur; Courtney B. Buller, Kinder; Hillary F. Cart, Iota; Hannah Michelle Chamblee, Sulphur; Priti Lalringmawi Chisolm, Westlake; Joseph L. Conner, Sulphur; Haden P. Cooley, Lacassine; Chelsea Nicole Darbonne, Ragley; Elizabeth Dartez, Crowley; Haley Brooke Duhon, Kinder; Megan Capri Eakin, Lake Charles; Allison O. Faircloth, Rosepine; Morgan D. Filipski, Ragley; Giovanna Fioretti, Monsano, Italy; Lacee Anne Fontenot, Covington; Jametra J. Frank, Lake Charles; Patience Joy Frederick, Kinder; Chase D. Gillett, Lake Charles; Courtney Annette Cloud Godeaux, Ville Platte; Shanice M. Hagler, Vidor, Texas; Joshua Paul Hantz, Ragley; Katherine Anne Hensgens, Welsh; Carly Jean Hibbs, Prineville, Ore.; Coye Allan Huber, Lake Charles; Paige Amber LaPoint, Kinder; Austin Louis LaRocque, DeQuincy; Angel D. Laurent Milner, Longville; Alician R. Lewis, Rayville; Kammi Nicole Long, Iowa; Kristian Da'Shawn Ojonta, Houston, Texas; Ashly Ann Carbone Organski, Lake Charles; Erika Piancastelli, Carlsbad, Calif.; Nicole J. Schaaf, Houston, Texas; Patricia Ilene Smith, Sulphur; Cameron J. Soileau, Lake Charles; Kealy R. Stelly, Opelousas; Claire R. Thigpen, Lake Charles; Vu Thien Tran, Ha Noi, Vietnam; Bradley Francis Traviss, Halifax, United Kingdom; Merci C. Treme, Welsh; Taylor Trent, Allen, Texas; Morgan E. Watson, Lake Charles; Victoria M. Yanitor, Jamul, Calif.
Want more stories like this one sent straight to your inbox every week? Sign up for our McNeese eNewsletter!
The Office of Marketing and Communications
4205 Ryan Street
Lake Charles, LA 70609
337-475-5640
communications@mcneese.edu