May 18, 2018 | McNeese Public Relations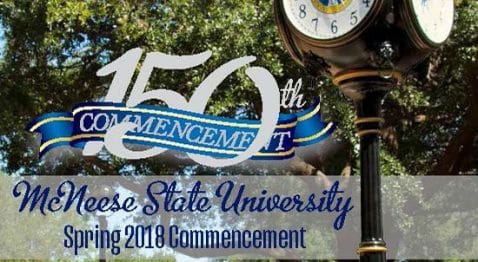 McNeese State University awarded 730 diplomas to 703 candidates at the university's spring commencement ceremony Saturday, May 12, at Burton Coliseum.
The spring class of 2018 included candidates from 42 parishes, 21 states and 22 countries and degrees awarded included 40 associate degrees, 565 bachelor's degrees, 124 master's degrees and one education specialist degree.
Spring 2018 graduates are:
Master of Fine Arts
CREATIVE WRITING: Lauren A. Howton, Mccalla, Ala.; Benjamin Edward Gilbert, Marietta, Ga.; Jessica Siobhan Frank, Hoffman Estates, Ill.; Gage M. Saylor, Charleston, S.C.; Brett Hanley, Houston, Texas.
Education Specialist
EDUCATIONAL LEADERSHIP (online): Andria Michelle Monceaux, Sulphur.
Master of Arts
ENGLISH: Lauren A. Howton, Mccalla, Ala.; Benjamin Edward Gilbert, Marietta, Ga.; Jessica Siobhan Frank, Hoffman Estates, Ill.; Andrew Braden Wittstadt, Baltimore, Md.; Elliot Sloan Kaiser, Dallas, Texas; Brett Hanley, Houston, Texas.
PSYCHOLOGY: Sloan T. Larriviere, Duson; Valerie Paige Hebert, Grant; Joddie Lynn Dupuis, Lafayette; Colin J. Broussard, Kayla S. Gregory, Jasmine R. Mitchell, Elizabeth M. Ogea, Lake Charles; Bianca R. Augustin, Leonville; Amanda M. Morin, Slidell; Kylie Dayle Hernandez, Julie Katherine Ireland, Sulphur; Sarah E. France, Westlake; Hannah R. Nelson, Beaumont, Texas.
PSYCHOLOGY (online): Kaylee D. Morgan, Kinder.
Master of Arts in Teaching
ELEMENTARY EDUCATION GRADES 1-5: Ken'Yonna D. Moses, Angie; Joni Therese Miller Smith, Estherwood; Kymberly Faith Bolton Ballard, Jill Ann Foster, Lake Charles; Catherine L. Ebersole, Ryan P. Rapp, Sulphur.
SECONDARY EDUCATION GRADES 6-12 [ENGLISH]: Trista Zanora Johnston, Creole; Hailey Celeste McGrew, Lake Arthur; Patricia Lundy Barrow, Lake Charles.
SECONDARY EDUCATION GRADES 6-12 [MATH]: Anna Beth Frazier, Lake Charles.
SECONDARY EDUCATION GRADES 6-12 [SPANISH]: Wava Christine Clark, Lake Charles; Maria Eugenia George, Sulphur.
Master of Business Administration
BUSINESS ADMINISTRATION: Patrick Wayne Brown, Norell Alesse Clemons, Ebony S. Glapion, Sierra Simone O'Pry, Jessica White Cooper Parker, Lake Charles; Jalen L. Bowers, Shreveport; Katja Woelfl Ellhofen, Germany; Jessica Julianti, Jakarta Utara, Indonesia; Prashikshit Kunwar, Preety Shahi, Kathmandu, Nepal; Annie Lauren Bravenec, Katy, Texas.
Master of Education
CURRICULUM AND INSTRUCTION: Jacob R. Kampfer, Pickering; Antonette R. Cannon, Wiggins, Miss.
EDUCATIONAL LEADERSHIP: Randolph Citron, Lafayette; Gabriel B. Fontenot, Ville Platte.
EDUCATIONAL LEADERSHIP (online): Erika D. Godfrey, Eunice; Tiffany McGlathery Doiron, Lake Charles.
SCHOOL COUNSELING: Heather Lynn Bourgeois, Lake Charles.
Master of Engineering
ENGINEERING: Sree Harsha Balijepalli, Hyderabad, India; Andres Leonardo Astorga, Merida, Venezuela.
ENGINEERING [THESIS]: Zhuocheng Jiang, Shenyang, China; Cunzhi Zhao, Suzhou, China; Georgios Etsias, Polynastro, Greece; Manoj Pathak, Kathmandu, Nepal.
Master of Science
CRIMINAL JUSTICE (online): Derek J. Lee, Abbeville; Susan Miller, Baton Rouge; Adrian Laterricka Willis, Eunice; Nicole Tyrae Williams, Gibson; Jackeyla D. Berry, Greensburg; Daniel Glenn Hennigan, Iowa; Joseph Daniel Johnson, Lafayette; Cessoley M. Tezeno, Lake Charles; Courtney A. Victorian, Mamou; Myashia Chiara Hollier, Rayne; Jeremy C. Underwood, Winnfield; Taylor M. Schmidt, Yorba Linda, Calif.; Dominique Mona Staton, Prince George, Va.
ENVIRONMENTAL AND CHEMICAL SCIENCES: Frances Bellard Guidry, Lake Arthur; Colby Reid Cryar, Alexander P. Horowicz, Lake Charles; Jasmine A. Vallian, Lockport; Austin Kesler Harris, Sulphur; Ian Timothy David, Ville Platte; Morgan Vail Wallace, Piedmont, Okla.; Bailey Elizabeth Dean, Nederland, Texas.
HEALTH AND HUMAN PERFORMANCE (online): Jaora Ramon Johnson, Houma.
HEALTH AND HUMAN PERFORMANCE: Edward Duplessis, Covington; Nicholas E. Benoit, Crowley; Alexander Jacque Rozas, Eunice; Emily Hope McGee, Lake Charles; Mitchell C. Dowden, Leesville; Colin Miguel Gauthreaux, Plaquemine; Matthew C. Lebato, Sulphur; Jessica Marie Martinez, Long Beach, Calif.; Jeffrey Nelson Carpenter, Bellaire, Mich.; Alexandra Susan Furey, Colonia, N.J.; Ruston C. Collins, Baytown, Texas; Lauren Maree Anderson, Dornoch, United Kingdom; Oliver James, Sunderland, United Kingdom; Joshua Taylor Williams, Fort Belvoir, Va.
INSTRUCTIONAL TECHNOLOGY (online): Keristian D. Edwards, Eunice.
MATHEMATICAL SCIENCES: Dylan James Coats, Samantha Kaye Courville, Sadie Rose Newell, Lake Charles; Samia Nazem Salloum, Beirut, Lebanon.
Master of Science in Nursing
NURSING: Heather Rae Spallino Duplechain, Crowley; Tiffany Kathleen Brisson Gibbs, Tracy Lynn Jacobs, Rebecca Lynn Kiely, DeRidder; Kristen E. Duplechin, Eunice; James Buford Jeane, Evans; Jennifer Marie Theriot Landry, Iowa; Christian M. Bertrand, Jennings; Britney Leger Bergeron, Lafayette; Adrian C. Brouillette, Austin Lane Goings, Henry P. Johnson, Cain C. Schexneider, Lake Charles; Courtney C. Garcia, Scott; Brandy Laurice Bernard Semien, Sulphur; Laurie Davis Starr, Welsh; Seth Jordan Bowers, Youngsville; Madison Michelle Malmay Bonvillion, Lindsay Claire Coleman, Lorena Forster, Beaumont, Texas; Jana Lee Swearingen, Buna, Texas; Nimmy Thomas, Houston, Texas.
Bachelor of Arts
ART: Kennedy Michelle Sampey, Berwick; Lacee Anne Fontenot, Covington; Zarina P. Lao, DeRidder; Hannah M. Galbraith, Sulphur; Alexandra L. Spears, Westlake; Naomi A. Key, Oceanside, Calif; David Boluwatife Olatifede, Lagos, Nigeria.
ENGLISH: Lanie Courville Deshotel, Kinder; Alexandra Grace Hebert, Damian McManus, Lake Charles; Viviana O. Bradley, New Iberia; Brianna Rose Newcomb, Sulphur; Christopher Ryan Ardoin, Welsh.
HISTORY: Michael Lee Snyder, Lake Charles; Elizabeth A. Salvador, Sulphur.
LIBERAL STUDIES: Daphne Michelle Vande Burgt, DeQuincy; Miyah A. January, John Fitzgerald Jordan, Lake Charles; Alice Charmyn Stine, Sulphur.
POLITICAL SCIENCE: Kaliyah Marie Edwards, Eunice; Robin L. Langley, Evangeline; Samuel R. Ducote, Hackberry; Joseph R. Dronet, Lake Charles; Scott R. Baker, Pitkin; Keifer Grey Ackley, Michael J. Graham, Sulphur; Kassidy D. Conrad, Westlake.
SOCIOLOGY: Elizabeth Dartez, Crowley.
SOCIOLOGY (online): Wendy Veillon, Basile; Mia Marie Batiste, Breaux Bridge; Rockell Zena Thomas, Chataignier; Amanda Jean Hunt, DeRidder; Emily Marie Bird Gallegos, Hackberry; Jena Richard LaCombe, Iota; Shekeitha Tenise Poullard, Lafayette; Savannah Daryl Hebert, Donna K. Johnson, Shalonda H. Lasalle, Melissa Ann Nunez, Ashly Ann Carbone Organski, Patrice Olite Turner, Lake Charles; Brittany Jane Ellender, Longville; Taylor Renee' Hoke, Maurice; Shelia Lewis, New Iberia; Skye Octavia Thibodeaux, Ville Platte; Alexis Mariah Carter, Port Neches, Texas.
Bachelor of General Studies
GENERAL STUDIES: Brittany Paige Pastor Anderson, Crowley; Trenton Gregory Baggett, Martha Kay Chaddick, Amanda Isbell Clendening, Morgan E. Phelps, DeRidder; Chelsye Iranet Spikes, Fenton; Hannah Clara Miller, Hathaway; Michaela Herpin Lee, Kaplan; Kade Kent Andrews, Courtney B. Buller, Alexis C. LaFleur, Kinder; Tyler P. Broussard, Sharee M. Carroll, Caroline Chamberlain Eggleston, Adrianna E. Guillory, Kathyrn Madison Hile, Kristopher K. Lawrence, Gabrielle B. McGee, Rebecca Caroline Ramsey, Naomi L. Sollay, Kenya R. Thomas, Emily Sue Wing, Lake Charles; Mariah Nichole Croker, Leesville; Tasia Brenae Simoneaux, Lutcher; Brancheska Elise Craig, New Llano; Herman Marigny, Stephany Lauri St. Cyr, New Orleans; Idahmay Nevea Dupuis, Port Barre; Jamaya T. Burr, Ruston; Andrea C. Elder, Tara R. Sims, Sulphur; Ebony B. Jones, Ville Platte; Laura Franck, Vinton; Jacob Colby Perry, Welsh; Joe Lee Jenkins, Miami, Fla.; Knud Andreas Krokeide, Spikkestad, Norway; Rigby Baker, Mauriceville, Texas.
GENERAL STUDIES (online): Kristen Marie Ortego Bacon, Meg Elizabeth Cheek, Basile; William Allen Jenkins, Baton Rouge; Annalaura Causey, DeRidder; Cierra S. Papillion, Eunice; Haylee Nicole Guidry Constantine, Brian Keith Parker, Jennings; Micaela Mone' Simpson, Lafayette; Ashley N. Collins, Rebekah Marie Gazzolo, Shelby E. Hay, Danielle Celidonio Johnson, Tonja Marie Johnson, Maaliyah Symone' Papillion, Jessica Leigh Gammage Polanco, Kendrick Ray Thomas, Sara Katherine Williams, Lake Charles; Sheramie Danette Barlow, Starks; Byron Seth Barrilleaux, Brittany Nicole Bird, Victoria Marie Ellender, Andrew M. Kershaw, Kathleen M. Sheffield, Summer Elizabeth Stutes, Sulphur; Erica D. Beasley, Vinton; Ashley Karell Fontenot Keyes, Westlake; Tyler Humberto Baeza, Beaver Dam, Ariz.; Kirk W. Houser, Twin Falls, Idaho.; Christina Lee Harkness, Irving, Texas.
Bachelor of Music
MUSIC: Jordan N. Johnston, Jennings; Chase D. Gillett, Darren B. Hooper, Emily K. Lancon, Andrew R. Steiner, Lake Charles; Jalen Alexander Byrd, Luling; Joshua Paul Hartwell, Deer Park, Texas; Jaren J. Braud, Orange, Texas; Blake Cameron Gilbert, Pasadena, Texas.
Bachelor of Science
AGRICULTURAL SCIENCES: Jacob C. Marien, Alexandria; Victoria M. Pitts, Cottonport; Copeland B. Zaunbrecher, DeRidder; Randall K. Bellon, Elton; Julie Marie Theriot, Grand Lake; Natalie G. Breaux, Brooke E. Johnson, Kristina M. Matthews, Hunter J. Saltzman, Lake Charles; Aimee N. Perry, Maurice; Olivia C. Lewis, Monroe; Kealy R. Stelly, Opelousas; Peter M. Ashley, Stonewall; Emilee P. Mellard, Bethany Kai Wilkinson, Sulphur; Randa Gaynes Whitaker Guntersville, Ala.; Shalay Nicole Chiasson, Simi Valley, Calif.
BIOLOGICAL SCIENCE: Patience Joy Frederick, Kinder; Megan Michelle Barber, Sarah E. Booth, Sarah A. Deeb, Taylor A. Derouen, Megan Capri Eakin, Olivia R. Hansen, Gabrielle D. Kadlubar, Victoria Lynn McDaniel, Corey W. Newman, Caroline Elizabeth Self, Lenise G. Soileau, Bretton Tyler Urban, Jack A. Worley, Lake Charles; Shelbi L. Strickland, Plaquemine; Anna H. Boyett, Erin E. Kellar, Alexandra Victoria Porter, Sulphur; Sabrina Bonilla, Westlake; Tamylles Catherine Souza da Costa, Rio De Janeiro, Brazil; Nicholas Dean Passaglia, Mission Viejo, Calif; Hiqmat Ifeoluwa Onifade, Lagos, Nigeria; Tinotenda Kaseke, Harare, Zimbabwe.
CHEMISTRY: Morgan S. Lemaire, Erath; Jarrett S. Nunez, Grand Lake; Blane E. Edwards, Lake Charles; Blaise Marie Traigle, Napoleonville; Jennifer Paige Blanchard, Danae Leanne Gunter, Jacob Allen Walsh, Sulphur; Sabrina Bonilla, Westlake; Daniel Shea Seastrunk, Beaumont, Texas.
EARLY CHILDHOOD EDUCATION GRADES PK-3: Elizabeth M. Davidson, Carencro; Kylie Brooke Derks, Hathaway; Tiffany B. Godfrey, Alexandra N. Mullett, Lake Charles; Kyra B. Louvierre, Morse; Chelsea Nicole Darbonne, Ragley; Erin Renee' LeBlanc Breaux, Rayne; Madison L. Jones, Starks; Hannah Michelle Chamblee, Sulphur; Samantha Rae Davenport Schultz, Ville Platte; Carly N. Ryder, Westlake; Hayley Sky Kibodeaux, Orange, Texas.
ELEMENTARY EDUCATION GRADES 1-5: Rebecca Yvonne Harris, DeRidder; Harriet Beth Quibodeaux, Jennings; Laura M. Vaughan, Lake Charles; Alanna K. Falke, Pitkin; Mackenzie Elizabeth Bourgeois, Tiffany Joy Rowell, Sulphur; Hannah Elise Edwards Berryhill, Aledo, Texas; Kailyn N. Spears, Vidor, Texas.
HEALTH SYSTEMS MANAGEMENT: En'Chantra A. Cormier, Crowley; Perry James Breaux, Lafayette; Taylor A. Gagneaux, Siyanda Thina Mdleleni, Lake Charles; Kameron Pavge-Ruby Jones, Sulphur; Ashley Rae Trahan, Vinton; Katherine Anne Hensgens, Welsh.
HEALTH AND HUMAN PERFORMANCE, GENERAL: Lauren A. McClinton, Alexis S. Pearce, DeRidder; Jamian J. Charles, Grand Coteau; Kennedy D. Darbonne, Hackberry; Jared M. Daggett, Kammi Nicole Long, Iowa; Natalie Renee Bruno, Zanna Smith, Lafayette; Sarah E. Booth, Callie N. Brevelle, Carleigh Christene Chaumont, Rita M. Dallas, Jametra J. Frank, Donecia R. Fulton, Kassidy A. Guillory, Laura E. Hanks, Johan A. Kjellsten, Pamela Ann Phillips, Cameron J. Soileau, Tori J. Tate, Matthew M. Thompson, Morgan E. Watson, Lake Charles; Krystal Rose McMillian, Merryville; Amber C. Davis, Brailyn Michelle Jolivette, New Iberia; Dawson K. Marcantel, Oberlin; Alician R. Lewis, Rayville; Allison O. Faircloth, Rosepine; Quarez Deandre Moore, Speaksville; David Raygan Suarez, Sulphur; Sara Maries Rozas, Ville Platte; Peter C. Trent, Welsh; Kasey Christine Fisette, Zwolle; Erika Piancastelli, Carlsbad, Calif.; Sara Ortiz, Moreno Valley, Calif.; Jenny D'Alessandro, Winter Springs, Fla.; Mitchell Allan Rogers, Stilwell, Kan.; Frederica Keyshawn Haywood, Mound Bayou, Miss.; Carly Jean Hibbs Prineville, Ore.; Sarah Jurakova, Trnava, Slovakia; Tyler Ross Wesley, Deer Park, Texas; Kristian Da'Shawn Ojonta, Houston, Texas; Morgan E. Catron, Mineola, Texas; Keara D. Hudnall, Pearland, Texas; Shanice M. Hagler, Vidor, Texas; Bradley Francis Travis, Halifax, United Kingdom; Hannah R. Brett, Wokingham, United Kingdom; Natasha C. Overcast, Mount Vernon, Wash.
HEALTH AND PHYSICAL EDUCATION GRADES K-12: Joshua Michael Fitkin, Bell City; Nathan A. Jones, Rhyl, United Kingdom; Finlay Ian Murray, Tain, United Kingdom.
MATHEMATICAL SCIENCES: Joseph Gabriel Robicheaux, Jennings; David Tyler Guillory, Phat Minh Ngo, Lake Charles.
MEDICAL LABORATORY SCIENCE: Alicen Elizabeth Pearce, DeQuincy; Dillon Christopher Fontenot, Jenna Leigh Fruge, Lake Charles; Kaetlin P. Lalonde, Taffi D. Poirot, Ragley; Kourtlyn Marie Fuselier, Raeleigh Morgan Whitfield, Sulphur.
NATURAL RESOURCE CONSERVATION MANAGEMENT: Shaye N. Serice, Sulphur.
NUTRITION AND FOOD SCIENCES: Geneva A. Breaux, Sarah R. Carpenter, Justine A. Hoppa, Lake Charles; Emily Ashlyn Clyde, Sulphur.
PSYCHOLOGY: Logan M. White, Denham Springs; John Dalton Boudreaux, Grand Lake; Skylar N. Droddy, Iowa; Amber Nicole Allyn, Kinder; Haden P. Cooley, Ginger Faye Young, Lacassine; Ki'Onna J. George, Mya Tenae Sonnier, Lafayette; Chelsi K. Bradford, Anna M. Clark, Morgan G. Fontenot, Megan K. Peveto, Lake Charles; Diamond Antonia Crawford, New Orleans; Ledetriha S. Sheppard, Vivian; Victoria M. Yanitor, Jamul, Calif.; Stephen Ugochukwu, Lewisville, Texas; Marissa Lucia Samora, Lubbock, Texas.
PSYCHOLOGY (online): Ashley B. Sims, Gonzales; Brianna N. Owers, Jennings; Jacob M. Cox, Lake Charles.
RADIOLOGIC SCIENCE: Lauren M. Biggers, Covington; Alexa C. Grossie, Shanna Marie Vincent, Delcambre; Brianna A. Olivier, Jeanerette; Haley Brooke Duhon, Kinder; Shea Gabriella Hebert, Lafayette; Victoria A. Ardoin, Cydney Alyssa Creel, Brittiany Nickole DeLand, Priyanka Heny Kabira, LeAnn Mindy Nugent, Donovan Alderson Pierce, Lake Charles; Jessica Michelle Domingue, Pierre Part; Morgan D. Filipski, Ragley; Haley Brooke Johnson Areno, Sulphur; Courtney Annette Cloud Godeaux, Meghan E. Lafleur, Ville Platte; Priti Lalringmawi Chisolm, Westlake.
Bachelor of Science in Accounting
ACCOUNTING: Xixi Fan, DeRidder; Ross Jordan Cullen, Crowley; Morgan J. Fuselier, Elton; Kristy Ann Fisher Harrigill, Eunice; Caitlyn Marie Abshire Delhomme, Gueydan; Hillary F. Cart, Iota; Jared K. Meaux, Jennings; Brennan Blake Barnett, Kinder; Jace Matthew Bolton, Scott A. Boyett, Carla M. Collins, Clarence Erastus Handy, Timothy D. Heffer, Aaron J. Weaver, Lake Charles; Arron M. Ridley, LaPlace; Angel D. Laurent Milner, Longville; Joshua J. Schofield, New Roads; Shelbi T. McKnight, Sulphur; Alexandra Pearl Ardoin, Malerie R. Limoges, Ville Platte; Leslie Lartigue Mose, Shaylee Dawn Newlan, Westlake; Joyeta Tamanna Rahman, Dhaka, Bangladesh; Joseph Anthony Provenzano, Downers Grove, Ill.; Hassimi Gnafo, Bamako, Mali; Claudia Andreea Nenu, Stefanesti, Romania; Dhuhayan Saud D Aldohayan, Riyadh, Saudi Arabia; Vu Thien Tran, Ha Noi, Vietnam; Trang Thi Thao Tran, Ho Chi Minh City, Vietnam.
Bachelor of Science in Criminal Justice
CRIMINAL JUSTICE: David K. Williams, DeRidder; Kent J. Castille, Brittany Shaniece Jones, Alicia Dawn Ledet, Ryhidda S. Thompson, Lake Charles; Andre Fuller, Kylon D. Highshaw, Monroe; Nathan Cole Oakman, Maria Alexandra Sand, Sulphur; Hailey M. Drew, Fallbrook, Calif.; Carrie Dejanee Mason, San Diego, Calif.; Rae A. Myers, Springfield, Mo.; Tia J. Batiste, Houston, Texas.
CRIMINAL JUSTICE (online): Misty Marie Jones, Denham Springs; Brandi Marie Victorian, Oberlin; Amanda Danielle Gott, Welsh.
Bachelor of Science in Computer Science
COMPUTER SCIENCE: Johnnie L. Marsaw, Collinston; Chance Tyler Johnson, DeQuincy; Taylor R. Venissat, Gueydan; Brady Gallegos, Hackberry; Joseph P. Kamrowski, Iowa; Christopher Paul Darbonne, Lake Charles; Logan James Willis, Leblanc; John Terrance DeMars, Westlake; Om Babu Gupta, Birgunj, Nepal; Iesan Jung Karki, Kathmandu, Nepal;Vu Tan Doan, Ho Chi Minh, Vietnam.
Bachelor of Science in Engineering
ENGINEERING: Christopher T. Prejean, Brusley; Karlee B. Primeaux, Cameron; Tyler Jacob Craft, Jonathan Kade Haley, DeQunicy; Shane Hadley Waddell, DeRidder; Benjamin C. Shallow, Elton; Taylor Nicole Watts, French Settlement; Phillip Nason LeBleu, Iowa; Amber Julaine Pete, Jennings; Taylor D. Donaldson, Sadie Alexis Johnson, Kinder; Christopher G. Ange, Donavon M. Castille, Natalie Marie Cutrera, Brooks N. Dallas, Kyle J. Duplechain, Kelli Lee Hanks, Kimberly P. Heise, Coye Allan Huber, Blake Todd Juranka, Brandon Fitzgerald Lewis, Eric B. Marler, Nicole Kristine Mouhot, Minh Vincent Nguyen, Zachary P. Nicholas, Emilie Elisabeth Rimlinger, Amber R. Robertson, Graham Quincy Ryder, Tyler Matthew Tate, Glenn Alan Ward, Lake Charles; Vincent Guy Lombardo, Mandeville; Gustavo Garcia, New Orleans; Brett R. Schaefer, Oakdale; Joshua Paul Hantz, Ragley; Cade W. Burnett, Singer; Erin N. Bryson, Kyle J. Fontenot, Christian A. Keever, Nathan Curtis McLemore, Jovy Lynn Monceaux, Cory A. Vannetta, Sean M. Wanamaker, Sulphur; Jeffrey Lane Arceneaux, Welsh; Michelle Nicole Eady Hale, Tallassee, Ala.; Rachel Marie Maddock, Fayetteville, Ark.; Erin Lynn Fakler, Phoenix, Ariz.; Tiler A. Schysm, Safford, Ariz.; Weihao Wang, Nanjing, China; Vladimiros Topalidis, Damiano, Greece; Saurabh Bikram Basnet, Kathmandu, Nepal; Nikesh Babu Kandel, Mirkot, Nepal; Bogdan Cojanu, Bucharest, Romania; Abdulrahman Sunaytan E. Almutairi, Hafer Albatin, Saudi Arabia; Raed Bander M. Albakheet, Riyadh, Saudi Arabia; Taylor Trent, Allen, Texas; Zachary Earl Dibbern, Bay City, Texas; Michael A. Dupre, Trent Joseph Manuel, Orange, Texas; Amy Anne Harrington, Winnie, Texas; Thi Minh Diep, Tam Ngoc Thanh Nguyen, Ho Chi Minh, Vietnam; Anh Thi Kim Le, Hue, Vietnam; Khanh Minh Do, Nha Trang, Vietnam.
Bachelor of Science in Finance
FINANCE: Breanna M. London, Crowley; Landon Ellis Mitchell, DeQuincy; Jake J. Royer, Lake Arthur; Chance J. Terrell, Lake Charles; Angel D. Laurent Milner, Longville; Joseph L. Conner, Sulphur; Hikmat Musazade, Baku, Azerbaijan; Joyeta Tamanna Rahman, Dhaka, Bangladesh; Joseph Anthony Provenzano, Downers Grove, Ill.; Giovanna Fioretti, Monsano, Italy; Abdulaziz Saleh H. Alkatheri, Riyad, Saudi Arabia; Lindsey Renee McDuff, Orange, Texas; Ashlynn Morgan Novak, The Woodlands, Texas; Nhat Minh Le, Ho Chi Minh City, Vietnam.
Bachelor of Science in General Business
GENERAL BUSINESS ADMINISTRATION: Taylor Christian Doughty, Crowley; Austin G. Mallett, Lake Charles; Andrew Michael Chapman, New Orleans; Amie E. Ferguson, Roanoke; Robert Brennan Fontenot, Jackson Thomas Ritchie, Sulphur; Matthew B. Manuel, Ville Platte; Sandro N. Ferretti, Verquieres, France; Dushyant J. Patel, Navsari, India; Tevin Charles Wilson, Beeville, Texas; Brandon Joseph Bailey, Fredericksburg, Va.
Bachelor of Science in Mass Communication
MASS COMMUNICATION: Gregory Mark Bowser, Baton Rouge; Mayson Anne Maricle, DeRidder; Adrien L. Courville, Eunice; Alison Nicole Peloquin, Iowa; Abigail M. Buxton, Toni Aunzelle Winbush Chapman, Kelsey P. Comeaux, Brandon P. Hirsch, Robyn K. Meschwitz, Bethany Jonell Trahan, Lake Charles; Wesley M. Vickers, LaPlace; Benjamin Richard Garcia, Natchitoches.
Bachelor of Science in Management
MANAGEMENT: Madeline Kate Morgan, Bell City; Cody Ardoin, Boyce; Aaron N. Myers, Elton; Hillary F. Cart, Iota; Devonte' Isaiah Aaron, Joseph Lee Bellue, Lawrence Mack Carter, Jordan J. Chavis, Brydon L. Jacobson, Austin G. Mallett, Jourdan Skylar Marshall, Alexander Bret Murray, Jordan Mark Sanders, Elijah J. Woods, Lake Charles; Breneshia Eve Fowler, Monroe; Melody Ann Cartwright, Riverdale, Md.; Bikash Rana Magar, Kathmandu, Nepal; John Michael Neville, Huntsville, Texas; Mariana Isabela Ibarra Lucambio, San Felipe, Venezuela.
MANAGEMENT (online): Jacee Marie Bacon, Elizabeth; Destiny J. Simon, Hackberry; Paige Amber LaPoint, Kinder; Erin Menard Fabacher, Lafayette; Lauren Annette Bertram, Madison Lynne Gaspard, Alice Temise Guillory, Jeanne Cormier McCain, Joseph Muth, Germaine Bellow Raney, Heather Ann Richard, Ashley A. Williams, Lake Charles; Tawana Marie Henry, New Orleans; Kelsi Alyn Salard, Oakdale; Kacy A. Lopez, Oberlin; Madisen Danielle Smith, Marjorie Stephens Wesley, Rosepine; Nicholas Craig Compton, Cody R. Cross, Devin L. Gaidosek, Vicki Lynn Waterbury, Sulphur; Austin Perry Jiminez, Topsy; Joshua D. Anderson, Lancaster, S.C.
Bachelor of Science in Marketing
MARKETING: Antonio J. McGhee, Bossier City; Carter L. Ledbetter, Jennings; Dylan G. Copper, Zachary A. Hebert, Camille T. Humphrey, Jourdan Skylar Marshall, Logan J. Moore, Evan Alexander Nickel, Quinn Ross Washington, Lake Charles; Elizabeth Brooke Johnson, Leesville; Micah Ogbonnaya Udeh, Ruston; Kaley Kathleen Willis, Sulphur; Christopher James Fontenot, Westlake; Enzo Ferretti, Verquieren, France; Joshua D. Anderson, Lancaster, S.C.; Austin A. Briggs, Conroe, Texas; Hannah Jun-Lin Neville, Huntsville, Texas.
Bachelor of Science in Nursing
NURSING: Kenneth Joseph Waddell, Anacoco; Arlissa Irene Byers, Crowley; Austin Louis LaRocque, DeQuincy; Ashtin Nicole Willis, DeRidder; Elizabeth G. Hall, Deville; Taylor Brooke McBride, Elizabeth; Skyler Marie Ewing, Kinsey M. Istre, Madison K. Lege, Ann C. Simon, Gueydan; Kaitlyn Eleanor Landry, Hathaway; Alexis Andrea Gotreaux, Jennings; Emily Anne Redwood, Kinder; Morgan A. Brasseaux, Lacassine; Brandi L. Bellard, Dara Alyse Best, Laken N. Bobo, Jasmine J. Cornett, Kelsey Janay Duncan, Rachel Kathleen Gover, Devany Brooke Hooper, Shrimathi Ravikumar, Collin S. Reed, Leon Charles Theriot, Katelyn S. Thibodeaux, Claire R. Thigpen, Addisyn P. Warr, Janice Melissa Worley, Lake Charles; Victoria L. Snyder, Merryville; Katelyn L. Woods, Morse; Bethany M. Cahill, Jared Sonnier, Ragley; Tate R. Fazio, Rosepine; Joy Elaine Jordan Ramsey, Singer; Dylan Kent Goodfriend, Elizabeth Anne Lovejoy, Patricia Ilene Smith, Sulphur; Alyssa Menard Soileau, Ville Platte; Ginger Alyce Royer, Vinton; Merci C. Treme, Welsh; Savanna Kayleigh Johnston Buller, Chelsea Brianne Nordberg Daigle, Westlake; Nicole J. Schaaf, Houston, Texas; Sydnie Kay Sutherland, Winnie, Texas; Amber Nicole Eddy, Paden City, W. Va.
NURSING – RN to BSN (online): Khristopher Paul Fuselier, Iowa; Mary Samantha Harper Darbonne, Brandy Monique Fontenot, Lake Charles; Frances Marie Zaworski, Emporia, Kan.
Associate of General Studies
GENERAL STUDIES: Ryan Chase Maddox, DeQuincy; Morgan E. Phelps, Brookelyn Mercedes Scallon, DeRidder; Madison L. Fontenot, Aaron N. Myers, Elton; Kaitlyn Eleanor Landry, Hathaway; Zakera A. Lewis, Jeanerette; Alexander Reese Boudreaux, Johnson Bayou; Megan Michelle Barber, Natalie G. Breaux, Derek B. Brown, Toni Aunzelle Winbush Chapman, Natalie Marie Cutrera, Ramanjit Kaur, Alexis D. Langley, Robyn K. Meschwitz, Jasmine D. Moore, Lake Charles; William A. Jeane, Leesville; Krystal Rose McMillian, Merryville; Diamond Antonia Crawford, New Orleans; Denzel Deron Brown, Hunter D. Schnebelen, Plaquemine; Olivia Christine Abshire, Keifer Grey Ackley, Haden C. Lafleur, David Raygan Suarez, Jacob Allen Walsh, Sulphur; Cale Norman Stine, Vinton; Carmen L. Broussard, Kacie B. Brown, Westlake; Shauna D. Hughes, Chillicothe, Mo.; Summit Aryal, Katmandu, Nepal; Shauna N. Bowers, Lumberton, Texas; Matthew James Jones, Spring, Texas.
GENERAL STUDIES – AGS (online): Samantha M. Reed, Iota; Anthony C. Diamond, Danielle Celidonio Johnson, Lake Charles; Alexus Markee Owens, Sulphur; Kimberly A. Moseley, Westlake.
Want more stories like this one sent straight to your inbox every week? Sign up for our McNeese eNewsletter!
The Office of Public Relations and University Events
4205 Ryan Street
Lake Charles, LA 70609
337-475-5640
publicrelations@mcneese.edu