McNeese to Host High School Regional Honor Band Weekend
January 31, 2019 | McNeese Public Relations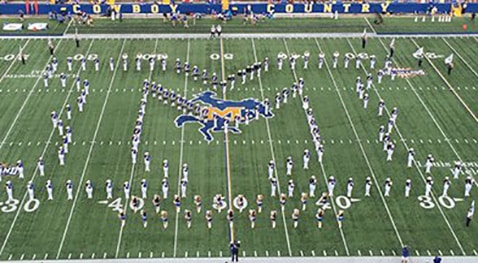 The McNeese State University High School Regional Honor Band Weekend will be hosted Feb. 7-9 by the McNeese Bands program.
High school band directors from 22 high schools across Louisiana and Texas nominated over 200 of their best student-musicians, from which two concert bands were selected, according to Dr. Jay N. Jacobs, director bands at McNeese.
Dr. Chris Heffner, director of bands, Lebanon Valley College, Lebanon, Pennsylvania, and Shane Goforth, director of bands at North Shore Senior High School, Houston, Texas, will serve as the honor band clinicians/conductors.
Students will participate in full-band rehearsals and master classes with McNeese faculty and attend the McNeese Wind Symphony concert at 8 p.m. Friday, Feb. 8, in the Tritico Theatre of the Shearman Fine Arts Center.
The wind symphony concert – held in conjunction with the honor band weekend – is open free to the public and will feature, among other works, Frank Ticheli's "Symphony No. 2." With movements titled "Shooting Stars," "Dreams Under a New Moon" and "Apollo Unleashed," the work is entertaining and colorful. Appropriate for a McNeese concert, the evening will conclude with John Williams' "The Cowboys."
The honor bands will present their free concert at 2 p.m. Saturday, Feb. 9, in the Tritico Theatre.
Area Louisiana high schools represented include:
BARBE: Jaylan Jones, flute
COMEAUX: Rachel Choate, clarinet; Vega Crain, flute; Evan Tassin, tuba; Gabe Thibodeaux, alto saxophone
DEQUINCY: Jacob Aultman, percussion; Nathan Emmons, alto saxophone; Vance Pharris, tuba; Brendan Taylor, clarinet
DERIDDER: Mashaelie Blackwell, trumpet; Ryan Cardy, horn; Nicholas Castro, clarinet; James Egbert, trumpet; Emmy Ervin, clarinet; Brendon Groves, trombone-bass; D'Alan Hickman, trombone; Kamryn Purdue, oboe; Amara Roberson, clarinet; Chris Watson, bass clarinet
IOTA: Logan Bogard, trumpet; Mackenzie Comeaux, flute; Landon Dupont, trumpet; Trey Hargrave, trombone; Haylee Miller, clarinet; Hillary Oliver, alto saxophone; Nicholas Rougeau, flute; Kayln Trahan, clarinet
IOWA: Stacie Driskell, percussion; Eddie Grimm, percussion; Ian Heisterman, trombone; Ashlyn LeJeune, flute and piccolo; Mia Miller, clarinet; Katelyn Morrell, horn; Ben Reid, trombone
JENNINGS: Jaron Chretien, baritone bass clef; Liesl Dearing, flute; Piper Dearing, trumpet; Hailey Dowling, clarinet; Aidan Duhon, alto saxophone; Dillan Humphries, trumpet; Jamari Lewalier, tuba; Dylan Menard, percussion; Clay Wallace, horn
LAKE ARTHUR: Braden Hebert, alto saxophone; Davyn LeJeune, bassoon; Reese Manuel, percussion; Marcus Monceaux, horn; Jerry Sonnier, trumpet; Nick Trahan, alto saxophone
MERRYVILLE: Chanel Holt, clarinet; Preston Isbell, tenor saxophone; Dylan Rundberg, baritone bass clef
OAKDALE: Alexus Cole, alto saxophone; Dallas Daniels, baritone saxophone; Christy Soileau, flute
PINEVILLE: Oren Lutz, tenor saxophone; Brailee Price, flute; Ashley Rogers, flute; Aimee Sefcik, clarinet; Sean Sikorski, trumpet; Colin Stevens, alto saxophone
SAM HOUSTON: Zach Daigle, tuba; Sarah Ewing, bass clarinet; Darbi George, oboe; Gavan Guillory, percussion; Will Hebert, percussion; Jordan Hoffman, horn; Vanessa Kirl, clarinet; Kylie LaVerne, flute; Michael LeJeune, trumpet; Madison Pousson, flute; Anna Waldrop, baritone treble clef
SOUTH BEAUREGARD: Madeline Romero, clarinet; Lucy Stark, baritone BC
SULPHUR: Gage Brock, percussion; Brock Bult, trumpet; Caden Burgett, alto saxophone; Mayson Burnworth, horn; Hannah Carras, clarinet; Damien Gilard, trombone; Samuel Klenke, tuba; Rebecca Levingston, horn; Nick Louviere, percussion; Katherine Marker, trombone; Claire McMillen, bassoon; Sarah Medrick, clarinet; Ollivia Stark, trumpet; Kaleb Taylor, trumpet
TIOGA: Nick Free, baritone saxophone; Rachel Harris, clarinet; Sawyer Holbron, bass clarinet; Dustin Morace, baritone saxophone; Leah Morace, clarinet; Stephanie Rachal, clarinet; Lacee Sayes, flute; Cameron Talbert, tenor saxophone; Lucas Thornhill, trombone; Emily Tisher, oboe
VINTON: Jayce Droddy, clarinet; Dalton Guillory, clarinet
WESTLAKE: Mason Dronet, horn; Hunter Qualls, tuba; Aleksander Simoni, tenor saxophone
Persons needing accommodations as provided by the Americans with Disabilities Act should contact the ADA Coordinator at 337-475-5428, voice; 337-475-5960, fax; 337-562-4227, TDD/TTY, hearing impaired; or by email at cdo@mcneese.edu.
Want more stories like this one sent straight to your inbox every week? Sign up for our McNeese eNewsletter!
The Office of Marketing and Communications
4205 Ryan Street
Lake Charles, LA 70609
337-475-5640
communications@mcneese.edu