McNeese SAGE Lecture on Greeks and Romans Set
February 21, 2019 | McNeese Public Relations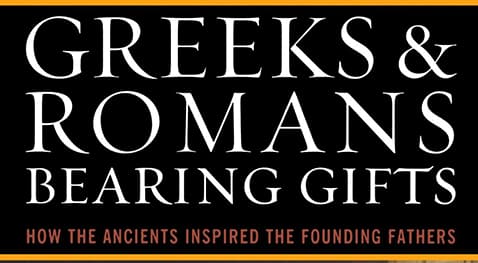 Author Carl Richard will present a lecture titled, "Greeks and Romans Bearing Gifts: How the Ancients Inspired the Founding Fathers," at 3 p.m., Monday, Feb. 25, in the McNeese State University SEED Center as part of the Spring 2019 SAGE Series.
The Founding Fathers' classical education was the bedrock that inspired them to undertake the American Revolution and influenced their approach to shaping of the new republic. Based on his 2008 book of the same title, Richard's presentation will explore what the founders learned from their favorite stories from Greek and Roman literature: the importance of individual rights from the absence of those rights in Sparta, the perils of democracy from the instability of Athens and the preciousness of liberty from its destruction by the Roman emperors.
He will also discuss how the founders applied these lessons to their own heroic quest to win American independence and establish a durable republic and how these lessons remain invaluable for every citizen concerned with America's future.
Richard is a professor of history at the University of Louisiana at Lafayette. He received his doctorate in History from Vanderbilt University and is the author of "Twelve Greeks and Romans Who Changed the World" (2003), "The Battle for the American Mind: A Brief History of a Nation's Thought" (2004), "The Golden Age of the Classics in America: Greece, Rome, and the Antebellum United States" (2009), "Why We're All Romans: The Roman Contribution to the Western World" (2010) and "The Founders and the Bible" (2016).
Lectures are open to the public and cost is $65 for the series. For more information or to register, call 337-475-5616 or visit www.mcneese.edu/leisure. Persons needing accommodations as provided by the Americans with Disabilities Act should contact the ADA Coordinator at 337-475-5428, voice; 337-475-5960, fax; 337-562-4227, TDD/TTY, hearing impaired; or by email at cdo@mcneese.edu.
Want more stories like this one sent straight to your inbox every week? Sign up for our McNeese eNewsletter!
The Office of Marketing and Communications
4205 Ryan Street
Lake Charles, LA 70609
337-475-5640
communications@mcneese.edu