December 5, 2018 | McNeese Public Relations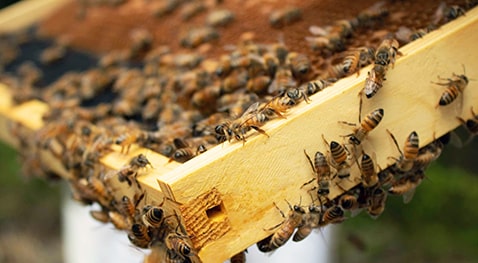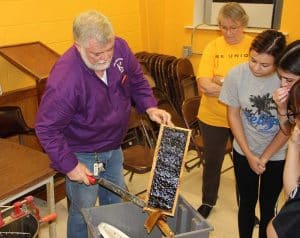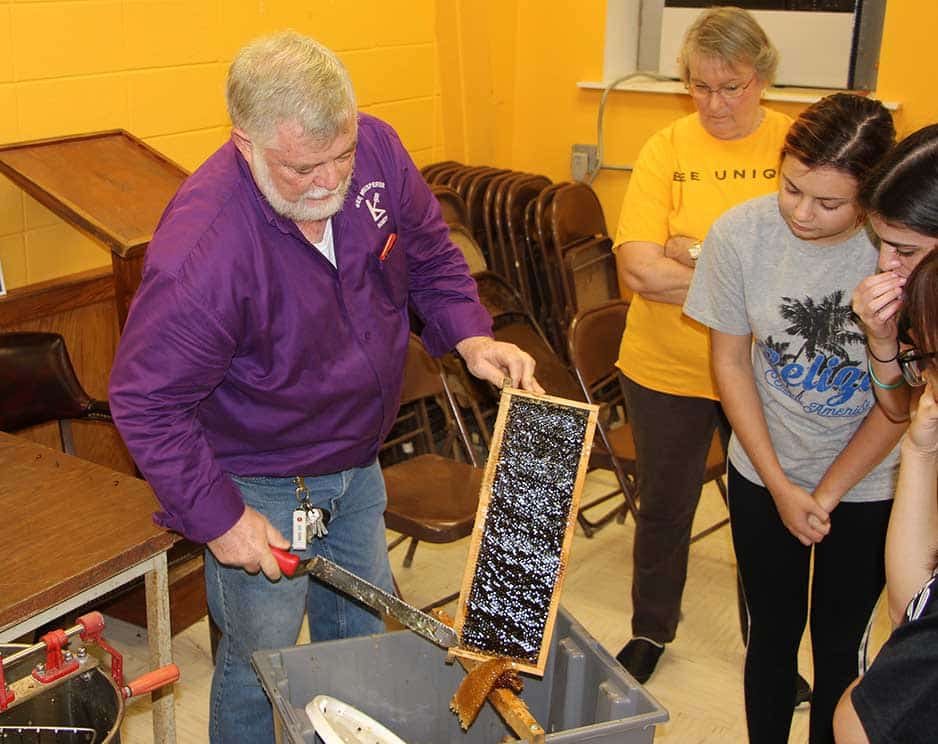 McNeese State University is doing its part to help promote the benefits of bees as pollinators through a partnership with local beekeepers and the Harold and Pearl Dripps School of Agricultural Sciences with the introduction of a bee program at the McNeese farm.
The goal is to not only educate McNeese students but also agriculture producers and the community about the benefits of bees as pollinators for food and agriculture crops, the value of wildflowers and plants that provide food for bees and the honey which is produced by the hives, according to Dr. Chip LeMieux, school director.
Students enrolled in Animal Science 101 are learning about bees in relation to the agriculture industry, including their importance as pollinators and how this impacts the food system and the serious threats currently facing bee populations today.
Farm manager Darrin Goodwin says that not only was the bee program initiated as a way to introduce students to beekeeping, but the school is also excited about potentially applying for research grants and developing a graduate program involving the beehives.
"We understand and appreciate what bees do for our environment and Louisiana has an especially good climate for bees, giving McNeese a unique opportunity to contribute to the research in this area," says Goodwin.
This, he adds, is especially important as bee populations continue to suffer from ailments like Colony Collapse Disorder (CCD), in which worker bees mysteriously abandon their hives, young and queen. According to the Environmental Protection Agency, since CCD first appeared in the United States in 2006, it has contributed to an annual loss of 30 to 60 percent of beehives across the country. "The bee shortage has rippled through the agriculture industry, causing significant economic impacts," says Goodwin.
Local beekeepers Ronald Ellis, Larry Kebodeaux, Gena Miller and Steve Harrell have donated equipment, hives and over 25 years of combined expertise to get the bee program off the ground. "It's been my dream for years for McNeese to have a bee program," says Ellis, who worked with Goodwin to get the program launched.
During the course, students learn from these volunteers about the process of commercial honey production and receiving hands-on experience in harvesting, extracting and bottling honey produced at the farm.
According to Goodwin, honey is now available for sale at the McNeese CAMPP (Center for Advancement of Meat Production and Processing) store in Room 121 of Gayle Hall, along with fresh cuts of beef, sheep and pork processed at the CAMPP facility in Lacassine. For information more information, call the school at 475-5690.
"Proceeds from the honey sales will go towards developing the bee program and paying for supplies," says Goodwin.
Beekeeper Kebodeaux sees working with the program as an investment for the future of beekeeping. "This is something that benefits everyone. Bees are really struggling now and this new program at McNeese can make a big difference. Maybe research done here in the future will help discover a cure for CCD. It's a win-win for the bees and McNeese."
The 57th Annual Louisiana Beekeepers Association Convention is in Sulphur this weekend and several participants including state agriculture officials will tour McNeese's bee hives at the farm.
Want more stories like this one sent straight to your inbox every week? Sign up for our McNeese eNewsletter!
The Office of Marketing and Communications
4205 Ryan Street
Lake Charles, LA 70609
337-475-5640
communications@mcneese.edu