McNeese Art Professor Explores Implied Movement in Solo Art Exhibit
January 22, 2021 | McNeese Public Relations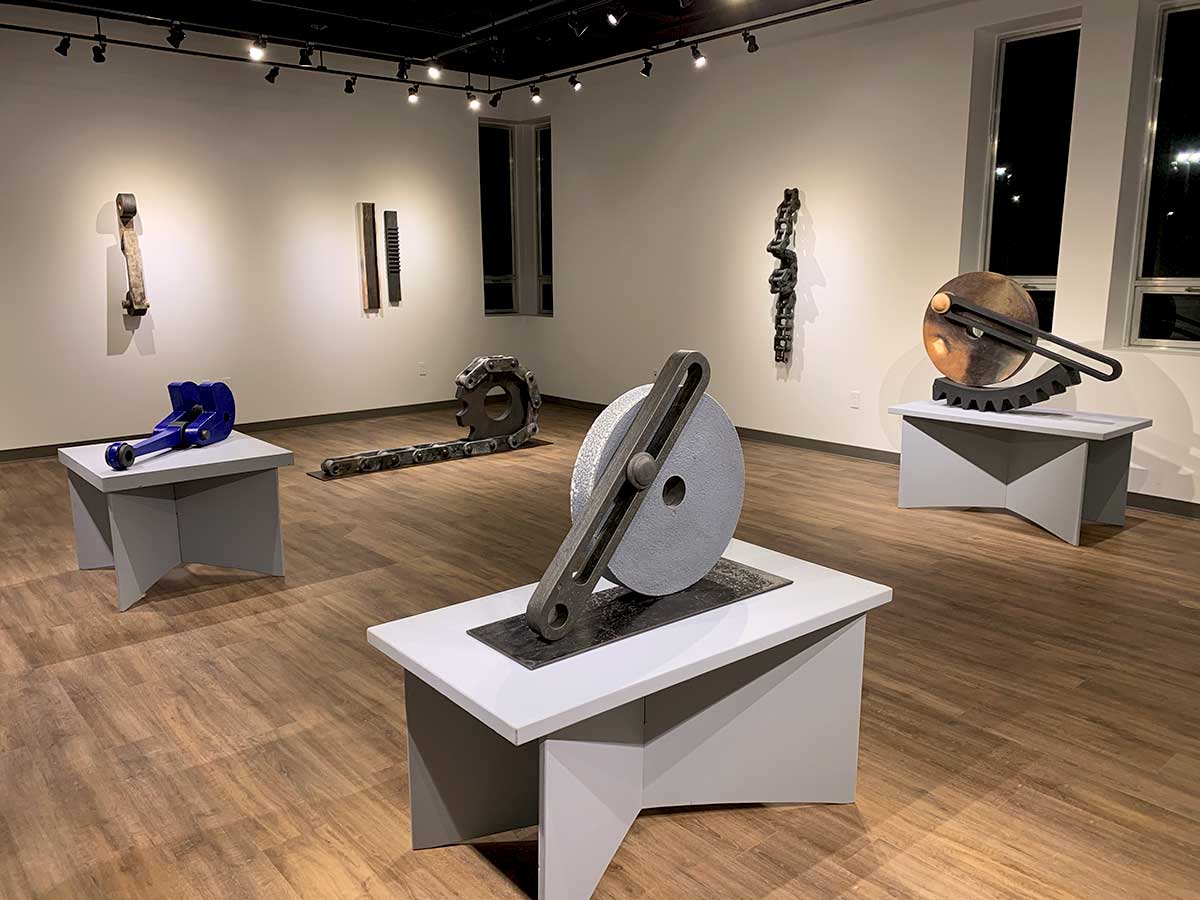 McNeese State University Professor of Art Kenneth Baskin's solo exhibition of ceramic sculptures titled "Mechanical Movements" is currently on display at the Ameen Art Gallery at Nicholls State University until Feb. 5.
Baskin says that "Mechanical Movements," which features 18 sculptures, was inspired by Baskin's own past working as a maintenance technician at a bleach plant for nearly 20 years before he changed his career course to pursue higher education and then teaching.
"I believe in honesty in art, which is something I tell my students," he says. "These pieces are really about my past and my experiences and the beauty I find in machines. All that time in industry gave me a great visual repertoire to draw upon for my work."
This artwork, which has been his focus for over a decade, combines two areas that Baskin is passionate about. The first is the Bauhaus artistic movement, which, according to Baskin, encourages artistic form to reflect a piece's function. "Machines," he says, "are the epitome of this idea because the shape of the machine is formed around its purpose, and I find the directness really beautiful."
The second is implied movement and how that reflects the human condition. "I grew up in the Detroit, Michigan, area, which is a city full of urban decay, and that's some of where the surfaces come from," he says. "As you can imagine, working in a bleach plant, everything was corroded and showed time and age, so I like to equate this to how we all age and how time passes. I hope that's what audiences will take away from this exhibit – certainly the beauty of the machine parts and the formal elements of line and shape but also the implied kinetics and time, age and movement."
Baskin received his Bachelor of Fine Arts degree from the College for Creative Studies in Detroit, Mich., and his Master of Fine Arts degree from the University of South Carolina. A recipient of the emerging artist award by the National Council on Education for the Ceramic Arts, he has presented ceramic workshops, lectures about his work and exhibited his ceramic sculptures in solo and group exhibitions both nationally and internationally. His work has also been included in numerous books and journals, including "Ceramics Monthly."
Want more stories like this one sent straight to your inbox every week? Sign up for our McNeese eNewsletter!
The Office of Marketing and Communications
4205 Ryan Street
Lake Charles, LA 70609
337-475-5640
communications@mcneese.edu