January 20, 2021 | McNeese Public Relations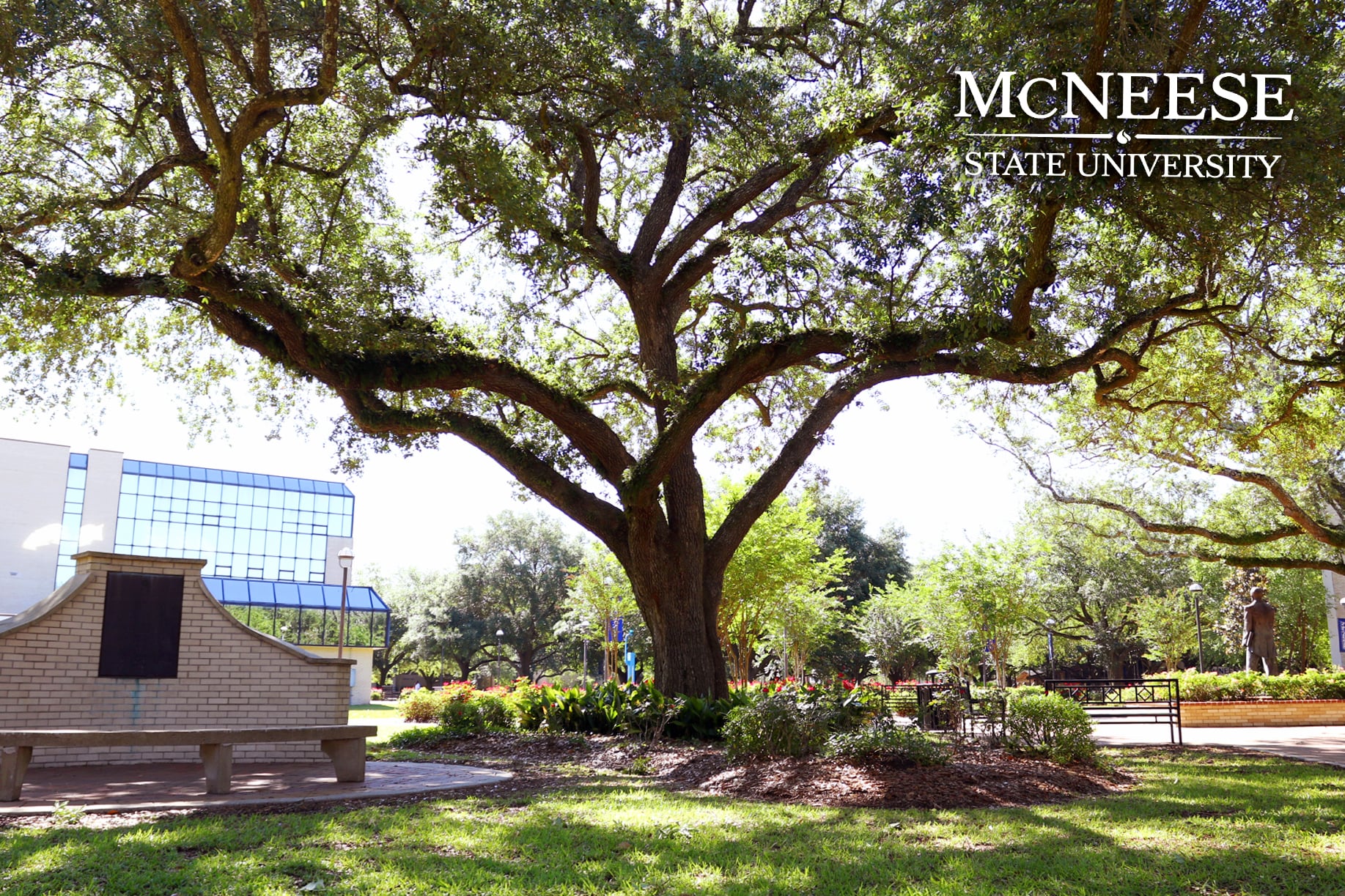 The McNeese State University Honor Roll for the 2020 fall semester has been announced. The honor roll lists undergraduate students earning at least a 3.0 or B average while carrying 12 or more semester hours.
Honor Roll is as follows:
Louisiana Cities
Abbeville: Porsha L. Fontenot, Grant A. Frick, Noell Elizabeth Hebert, Ali A. Prejean, Braden R. Sellers, England Tallmore, Haley E. Zenon
Alexandria: Amanda O. Blankenship, Peyton Riley Childs, Sebastian B. Jeansonne, Alberto Ismar Miller-Duran, Adele Marie Pouncey, Gabrielle Ruth Snow, Dailyn J. Williams, Kelsi G. Zimmerman
Amite: Hezekiah Emanuel Neason
Anacoco: Barrett J. Mann, Cory Beauchea McCoy, Billi B. Payne
Arnaudville: Taytumn N. David, Jillian K. Lemaire
Arnauldville: Chynna E. Stowe
Baker: Taylor M. Horn
Ball: Kaitlyn Nicole Brown, Savannah J. Garner
Basile: Mackenzie C. Leonards, Abby Gail Miller Redlich
Bastrop: Bailey J. Willis
Baton Rouge: William G. Calhoun, Megan Langford, Joshua Parker, Yolanda Michelle Thierry, Rachiel ShaRay Torrence, Kevin James Tripeaux, Reuben Junius Vallien
Bell City: Kallan Elise Conner, Anna E. Fitkin, Brianne Celeste Folse, Gabrielle Marie Fruge, Justin Michael Howerton, Karli Nicole Leger, Claire E. Leonards, Summer Lynn Looper, Katie E. Mhire, Alexis Nicole Reeves, Logan Patrick Shaughnessy, Mattie Jean Sonnier, Logan J. Todd, William B. Vanderlick, Renee Michelle Vincent, Robert Leighton White
Belle Chasse: Angel Garcia
Belle Rose: Shelby L. Giroir
Berwick: Abigail M. Landry, Emily Elizabeth Lousteau
Bossier: Ashley M. Morton
Branch: Shelbi R. Faul
Breaux Bridge: Karenisha Monique Alexander, Keiontia D. Alexander, Taylor Broussard, Nia M. Fontenette, Alex A. Meche
Bunkie: Nicholas T. Perry
Cameron: Michael J. Boudreaux, Ava Jordyn Trahan, Kortni M. Trahan, Austin J. Vincent
Carencro: Chelsea Danielle Cloud, Jessica Gotch, Mckayla S. Lind, Ryli K. Olivier, Kade Parker Sonnier, Kinsley P. Stelly, Mallori A. Taylor, Sheresha M. Washington
Carlyss: Alexandra Marie Broussard
Chalmette: Mary Ann Hodge
Church Point: Casey J. Benoit, Caleb A. Boudreaux, Waylon Bourgeois, Miranda D. Charlotte, Paige S. Chavis, Katlyn Marie Richard
Converse: Alexis Leeann Bush
Covington: Kobe K. Callahan
Creole: Adriano Hayden Theriot
Crowley: Madeline E. Barbin, Ashton G. Broussard, Eulalie Marie Cormier, Keylie D. Cruse, Markel Jerome Domino, Emily E. Gotreaux, Jeremy Jermain Johnson, Angelle Ariel Joseph Larry, Madeline Claire Lejeune, Cheyenne M. Menard, Allie M. Richard, Gillian G. Roy, Bradley Paul Stoma, Alyssa Irene Thevis, Ashantai L. Thomas, Bailee R. Villejoin, Brady L. Williams, Emily Louise Wilson
Cut Off: Blaine A. Ougel
DeQuincy: Katie M. Areno, Eli Alexander Aultman, Tanner Cade Bartholamew, Gage Michael Benton, Hannah E. Buxton, Zane David Cooley, Mary Anne Windham Cooper, Jacob S. Cupstid, Maci B. Davis, Kyra Brooke Dickerson, Amaya Rayne Dupre, Hanna B. Emigh, Michael Hala Emigh, Hannah Joy Fontenot, Marshal Edward Fontenot, Michael Benjamin Fontenot, Jacob Wayne Goodman, Robert A. Henry, Cooper K. Hext, Madison N. Landry, Madalyn Grace Langley, Cavin P. Leckelt, Margaret A. Leger, Charley LeAnn Lewis, Carli J. Monceaux, Kaitlyn Leanne Perkins, Jasmine M. Poullard, Austin T. Royer, Thad W. Segura, Jordan C. Smith, Kristin Rose Streams, Caitlyn Paige Thibodeaux, Baily Erin Whatley
DeRidder: Myia Amella Abdalla, Gessica L. Arrington, Chad Melvin Barmore, Kailee R. Bishop, Brittany Nicole Blanchard, Emma M. Boyd, Jakob Michael Broocks, Gordon Chase Brown, Jonah A. Brown, Corina Gabrielle Burton, Dorothy Lee Clendening, Shaylin A. Cobb, Kennedy Leigh Cooley, Peyton E. Daniels, Alyesia Shelby Davis, Darby J. Day, Dakota Ray Duplechain, Bethany Lorraine Durham, Kristin E. Gardner, Rayne Joyce Gore, Joshua Hunter Harper, Ethan O'Neal Harrell, Miranda R. Haugen, Kimberly Ann Henley, Autumn Alexis Henson, Megan T. Jenkins, Stephanie N. Jones, Austin Luke Kibler, Ashley Lauren Kyle, Colby V. LaFauci, Jared Leibee, Jackson W. Lewis, Serena Michelle Loftin, Maygen E. Mcmahon, Kyla A. Montou, Victoria Ashleigh Moore, Madison McCall Moses, Megan Nicole Owens-Jordan, David B. Paul, Cory A. Pellerin, Shelby L. Powell, Emory Roberts, Sarah N. Ruckert, Brianna K. Sinegal, Courtney A. Smith, Hannah Jayde Smith, Tanner Gavin Smith, Jordan G. Sparks, Cody Ray Stark, Brylee R. Stracener, Kyle W. Sylvest, Justice Slade Tilley, Megan E. Townsley, Monica Leigh Treme, Marla G. Weeks, NaThya DyVeun White, Ana Michelle Williams, Jimmie H. Wilson, Marilyn Rianne Wisby, Brianna D. Wright
Delcambre: Madelyn C. Langham
Delhi: Leshenae Stubblefield
Denham Springs: Payton Leigh Dodds, Kamryn L. Duncan, Lakin A. Fletcher, Sarah K. Fontenot, Ellis E. Johnson, Austin Reese Rea, Blake A. Robinson, Craig Anthony Rome, Kelly Cazes Smith
Dry Creek: Ethan B. Campbell, Tristan W. Mahaffey, Steven Makaio Mandelin, Saige K. Mestayer, Jordyn A. Rester
Duson: Megan Lauren Broussard, Karli Elisabeth Roger
Egan: Michael A. Dore, Lani A. Hanks, Cameron J. May, Kirsten E. Regan
Elizabeth: Jaslynn Rose Chamberlain, Chance Everette Gordon, Colby D. Lafauci
Elton: Margaret Anne Bertrand, John Joseph Carbalan, Taylor A. Daggett, Emily Marjeanne Estes, Gabrielle Lynn Gobert, Brittney Celestine Shallow
Erath: Tate Joseph Terrebonne
Estherwood: Madison A. Browning, Brooke A. Comeaux, Lillian C. Gaspard, David H. Schmid
Ethel: Brittany Shay Hall Saxton
Eunice: Brooke A. Aguillard, Philippe M. Aguillard, Ryan Scott Andrepont, Hunter L. Brown, Trevin S. Ceaser, William Chachere, Ryan Ashley Citizen, Katelyn Alexis Clark, Kelby D. Duplechain, Colton B. Dupre, Kaycee Marie Everett, Tara L. Fontenot, Chloe G. Frey, Quinn Faustin Fruge, Olivia C. Fuselier, Isaac D. Richard, Kelli N. Richard, Alyson B. Rougeau, Amber Nicole Sanders, Lundyn G. Shreve, Kassidi Raye Thibodeaux, Grace A. Toepfer
Evangeline: Taylor Ann Fruge, Lucas J. Whitney
Forest Hill: Alejandro I. Guerrero, Logan J. Marler
Franklin: Kimberly L. Phillips
Frierson: Amber Shaye Garner
Glenmora: Alexandra Elizabeth Rollins, Lauren E. White
Gonzales: Chandler R. Perer, Markquell D. Stewart, Ciara E. Young
Grand Coteau: India A. Richard
Grant: Madison C. Guillory, Sydni Janee' Rasberry, Trinity A. Ritchie, Jared Paul Stout
Gueydan: Emily Claire Gaspard, Malori Dupree LaDelle, Hunter S. Lepretre, Madison P. Lepretre, Zachary D. Lepretre, Kendra N.
Petry, Kirsten A. Reed, Isabella N. Reese
Hackberry: Macie Elizabeth Thomas, Bryce Paul Welch
Hammond: Desha Renee Hubbard
Hayes: Tylor B. Holland, Joshua Scott Nelands
Heflin: Ondray Lenoy Miles
Hineston: Katherine A. Eddlemon, Caleb J. Hughes, Jacey A. Merchant
Hornbeck: Mark A. Jones
Houma: Malory Tate Hopkins, Joseph L. Leboeuf, Mark Paul Portier
Independence: Kimberly Paige Ordeneaux
Iota: Steven Nelson Bertrand, Hunter C. Daigle, Kobe R. Dardar, Nicole J. Floyd, Cole J. LeJeune, Kendrick M. LeJeune, Kathryn A. Ramsey, Brittany J. Roy, Madison C. Sittig, Chloe A. Smith
Iowa: Da'vin Jude Broussard, Joshua Paul Buller, Aubrey D. Caldwell, Brant M. Courville, Darius Daniels, Ryan P. Danos, Ryan R. Denison, Alyssa Sheridan Derouen, Cameron Scott Derouen, Isaiah Thomas Donald, Brittanie Nicole Duran, Abbigail Irene Earl, Christopher B. Fontenot, Logan J. Fontenot, Jodi Kay Fruge, Jared T. Gaspard, Kylee F. Granger, Kaleigh R. Guillory, Madison M. Guillory, Aaron January, Andru James January, Candice Lee Johnson, Claire Elizabeth Johnson, Andrew C. Kay, Brailee Nichole LaBove, Kinley Rachelle LeBlanc, Cheryl Jean Parsons Manuel, Dylan Wyatt Matthews, Claudia Rose Merritt, Caitlin Grace Moreau, Alex J. Morrison, Sadie Marie Prejean, Zoe Elizabeth Prejean, Lindsey B. Priola, Amy E. Reed, Larry W. Reed, Ashley Renee Blocker Rodrigue, Jadah F. Sargent, Janis Hope Sargent, Mason T. Smith, Mitchell Scott Smith, Cayleigh Sonnier, Temeka S. Taylor, Bethany Lynn Glorioso Thomas, Addie G. Trosclair, Katie Renee Vincent, Hanna Michelle Willis, Linsie Paige Yocham
Jeanerette: Sarah Romero
Jefferson: Accord Green
Jennings: Baylie C. Ardoin, Sydney B. Augustine, Jerry Cleveland Beard, Gavin Heath Benoit, Brock J. Bonin, Lauren P. Boudreaux, Alexia M. Bourque, Colby James Breaux, Jordan Lynn Breaux, Alexis M. Broussard, Emma Elizabeth Broussard, Lauren Brooke Broussard, Zachary J. Broussard, Sydnee S. Brown, Trinity Faith Capdeville, Darisabel Charbonier, Christian Paige Clement, Hayleigh Paige Constantine, Noah E. Crochet, Jakara LaShay DeVille, Jaci Rae Deaville, Kalyn Brea Delahoussaye, Camden C. Edwards, Conner James Fontenot, Robert John Gates, Jessie A. Gilley, Allison M. Guillory, Juliana Marie Guinn, Devin M. Hanks, Anne-Marie P. Hebert, Camryn P. Hebert, Kane T. Hebert, Regan M. Hebert, Kaylee Claire Herpin, Morgan Jade Herpin, Sarah Elizabeth Hollier, Alexis P. Hornsby, Alexandra S. Kratzer, Peyton A. Kratzer, Catherine Alaine Landry, Aaron Joseph LeBlanc, Andrew John LeBlanc, Davyn B. LeJeune, Baylor L. Ledbetter, Camryn Chaise Lopez, Nicholas S. Lopez, Stevie R. Lopez, Tanner Joseph Manuel, Kasey Layne Marceaux, Benjamin J. Martin, John S. Mayes, Lea Dawn Miller, Ryan M. Millet, Kali Nicole Morvant, Savanna P. Noeske, Caileb J. Richard, Kamran K. Richard, Richard James Robicheaux, Travis D. Sarver, Lauryn L. Simmons, Benjamin P. Sonnier, Hannah E. Sonnier, Dorian L. Stalsby, Kevin Douglas Stracener, O'Dazio Markain Thomas, Chelsey Marie Wright
Kaplan: Alex J. Broussard, Andre N. Gaspard, Alexandra C. Herpin, Mallory M. Meaux, Nathan J. Sistrunk, Olivia R. Terro, Kelsey R. Trahan
Kentwood: Caylon J. Brabham
Kinder: Avery L. Barron, Cannon J. Fontenot, Garrett Bryce Fontenot, Carmen Ruth Fruge, Courtney Elizabeth Harmon, Lanna N. Haymon, Katharyn Grace Hebert, Madison Blair LaCour, Ashley N. Langley, Kaleb D'Antre LeDay, Addison J. Mccallon, John Bryson Moore, Amanda Leeann Porche, Lacee Ann Rabalais, Bailey C. Rice, Allie Elizabeth Richard, Alexander J. Roach, Thomas J. Roberts, Elizabeth Nicole Savant, Sydni Nycole Savant, Morgan Ashley Schoenrock, Destiny N. Seemion, Stephen Wilson Thompson, Catherine L. Trahan, John Andrew Weatherford, Audrey G. Witherington, Madison Faith Young
Lacassine: Skyler Kallin Bourque, Hannah N. Kozelski
Lafayette: Kashonda Alex, Morgan Janae Benoit, Sidney N. Bernard, Sean-Michael Brady, Esprit Broussard, Brooke Bryant, Krystian Ray Burum, Jarrean J. Cormier, Ashley Nichole Coward, Courtney E. Damond, Lydia I. Delcambre, Katherine Elizabeth Smith Douglas, Amaya J. Duffy, Rani Nicole Duhon, Michael J. Heintz, Luke P. Howard, Maria Esther Ibanez Romero, Ashlynn P. Kuhnhoff, Luis Alejandro Marrero Norat, David Milliken, Christina Morris, Bailey Bernard Raborn, Meeyana D. Richard, Bailey Nicole Thevis, Nikayla A. Thomas, Cydney B. Trahan, LaMonique Washington, Jakaela Patrice Willis
Lake Arthur: Halli Lynn Bolfa, Reagan E. Bourgeois, Kandalyn Eve Cormier, Gina Louise Thevis Green, Taya M. Hebert, Hannah Cecile Hensgens, Reese P. Manuel, Steven P. Meaux, Daniel J. Zaunbrecher
Lake Charles: Brennan Alexander Abadie, Abigail Audra Abraham, Brayden W. Adams, Lane Andrew Alaniz, Alexandra Elizabeth Albrecht, Kailey Gabrielle Alfred, Ethan Wayne Anderson, Laura F. Anderson, Kyler G. Anding, Morgan L. Andrepont, Taylor Alexis Andrepont, Adriana N. Antoine, Kendra D'Jon Antoine, Maranda P. Arcement, Alanna Rayjean Ardoin, Breanne E. Ardoin, Brett Christian Ardoin, Riley Nicole Ardoin, Zachary T. Ardoin, Landon J. Arnold, Renee' Elizabeth Bergeaux Arsement, Kathryn E. Aucoin, Madison R. Aucoin, Emilyn C. Aymond, Chloee B. Babineaux, James C. Baggett, Shane Nathaniel Baker, Andrew Michael Barras, Claire B. Basone, Alexis A. Bauer, John Michael Becton, Brennan Cole Bellinger, Liza D. Belton, Dylan S. Benoit, Gracie B. Benoit, Shelby N. Benson, Luke W. Bentley, Kylie Danielle Bergeron, Reagan Lee Berry, Kirklyn M. Bethea, Rolando Edra Bigalbal, Callie A. Blackledge, Hailey Marie Blackwelder, Terri A. Blanchet, Baylee Todd Bogard, Paul Michael Boitnott, Harish Bokati, Emily E. Bono, Brennen J. Bonsall, Katherine E. Booth, Taryn M. Bose, Chandler A. Bourque, Kaycee E. Bourque, Marae E. Bourque, Reid T. Bourque, Odreonna P. Brankline, Whitney Lynn Braxter, Wendi Noelle Bray, Corey James Breaux, Nicholas A. Breaux, Cason J. Brister, Sudan A. Britton, Sierra Antoinette Britton-Okwuokei, Dylan P. Broussard, Emily L. Broussard, Gabrielle Diane Broussard, Grayson D. Broussard, Keagan S. Broussard, Matthew Evan Broussard, Ava R. Brown, Hannah N. Brown, Kent M. Brown, Ian G. Bruce, Nicolas D. Burge, Courtney Marie Burnthorn, Robyn Elizabeth Burt, Macy P. Busby, Camille E. Bushnell, Mary E. Cagle, Matthew Roane Cagle, Kayla Michelle Carlock, Michael Joseph Carmouche, Ethan Jude Carnahan, Derek Ryan Carrier, Laura Nicole Carroll, Jordan A. Carter, Timothy S. Castle, Ashley Nicole Caudell, Michaela E. Cavolaski, Hannah Faith Cena, Sadee Marie Chamberlain, Payton A. Champagne, Carrie Michelle Chandler, Tiffany Lashe' Chapman, Kaytlin Charles, Breahnna N. Charles-Royster, Laibah T. Chaudhry, Anna M. Chavanne, Anna Rachelle Cheramie, Julia K. Cheramie, Ilham J. Chloun, Kaiya R. Clark, Kyla Michelle Clark, Haylee M. Clophus, Gavin Kade Coffman, Raegan E. Cole, Taylor F. Cole, Claire M. Coleman, Kadijah Coleman, Shane Michael Colletta, Alakyn Nehemiah Collins, Cortney N. Collins, Courtney M. Collins, Tyler A. Collins, Crystar Adra Mahogany Collins-Molitor, Sidney LeighAnn Conley, Kourtney Elizabeth Conner, Breland M. Cook, Darby N. Cook, ZIon Elise Cook, Seth Hunter Cooley, Justin N. Cormier, Tyron Palmagil Corpuz, Danielle Shae Courville, Kylie K. Cradeur, Sara C. Crawford, Isabelle R. Cross, Diana Brooke Cruseturner, Ethan Matthew Cruze, William Cummings, Britney T. Cunningham, Chance F. Daigle, Christa L. Daigle, Zachary W. Daigle, Claire Daley, Megan Daley, Alexander J. Darbonne, Claire R. Darbonne, Mykenzie Noelle Darbonne, Bryce J. Dartez, Benjamin T. David, Hagen D. David, Meg R. Davidson, Kendrick S. Davis, Danielle Rebecca DeWitt, Callie B. Decareaux, Ethan Jerome Delafose, Andrew W. Dennis, Alexis Elizabeth Deville, Aubrey Rae Dillon, Amily M. Domingue, Landry A. Donham, Julia M. Dore, Nichole K. Douglas, Michael Christopher Driskill, Morgan Alexandria Duck, Matthew C. Dufrene, Bailey K. Dugas, Camille H. Dugas, Tanner R. Dupin, James Kaelon Duplechain, Mallory Breann Dupuie, Johnnie Wayne Dyer, Landen P. Eason, Dorcas D. Edwards, Madison B. Edwards, Charles W. Ehlers, Zachary Eisner, Justin C. Epperson, William D. Ertell, Cassidy A. Evans, Jaqualin T. Evans, Cassandra Lynn Beam Everage, Daxton E. Everage, Mitchell J. Ezernack, Elisabeth L. Falgout, Valeria Fabiana Faria Maraver, McKenna L. Fields, Clifton Blake Fisher, Jackson W. Flaherty, Margaret E. Flaherty, Tyrell Lamonta Flugence, Hayden T. Fogleman, Ty Lee Fogleman, Ashlynn M. Fontenot, Broc A. Fontenot, Brooke Renee Fontenot, Emily Grace Fontenot, Madaline B. Fontenot, Hayden Michael Foolkes, Matthew J. Foreman, Emma K. Fournerat, Brett J. Fournet, Alexia Frank, Brandon R. Franks, Ethan D. Franks, Hannah M. Frazier, Abigail L. Frick, Bailey E. Fruge, Mallory B. Fruge, Sydney Claire Fruge, Lauryn A. Fulkerson, Cameron D. Fultz, Mason A. Funderburgh, Barbara J. Fuqua, Madelyn G. Furman, Jonas Paul Fusilier, Megan D. Gaddy, Deandre S. Galmore, Heidi Michelle Gambrell, Vanessa Rose Garcia, Lauren Kelly Garrett, Lauren E. Gaskin, Luke H. Gaskin, Hailey V. Gaspard, Joshua L. Gastineau, Lauren P. Gayle, Emily Jorden Borel Gazzolo, Dasha A. German, Dalon C. Getwood, Allie Suzanne Giffin, Haleigh Bruce Gilbert, Amanda Nicole Gilchrist, Bryce Rene Glapion, Zoe Sharmaine Glaspie, Lauren T. Godeaux, Alaina D. Goins, Isaiah Jerome Goodly, Hailey E. Goodwin, Madison K. Gouldburn, Eann K. Gover, Melania Grantham, Lacy Dashon Gray, Lisa Jeanne Grayson, Ashley M. Griffin, Jonathan T. Grigg, Mckenzie B. Grossi, Anna G. Grove, Alyssa E. Grueber, Anna Marie Guidry, Emmy Guidry, Kyle P. Guidry, Logan A. Guillory, Paige M. Guillory, Peggy Elizabeth Guillory, Sydnee R. Guillory, Julianna Kalyn Hair, Samuel Hall, David W. Hamilla, Jenny C. Hamilton, Anna C. Hanks, Jada D. Hanks, Trina Nichole Hansen, Allison Nicole Hardy, Hannah Alyxandra Hardy, Jacqueline P. Hardy, Haley M. Harless, Grant A. Harris, Rhianna Grace Hasenbein, Brandon N'namdhi Hawkins, Alexandra L. Hebert, Austin B. Hebert, Jacob Marshall Gene Hebert, Marc Thomas Hebert, Olivia M. Hebert, Ryan Michael Hebert, Thomas C. Hebert, Lexie Ursula Heisser, Tate Louis Helms, Baylee M. Herr, Taylor Jordan Hess, Christopher Joseph Higginbotham, Matthew D. Higginbotham, Jana N. Hijazi, Kristopher C. Hill, Nicholas R. Hilliard, Travis A. Hinton, Alexis N. Hoffpauir, Savannah Alene Hollen, Lorena M. Holmberg, John-David G. Houssiere, Matthew K. Houston, Joshua D. Humphries, Kaitlyn R. Iguess, Kennedy L. Istre, Lauren D. Jackson, Joel D. Jacob, Amanda E. James, Austin R. James, Brennan S. January, Bryson Jardneaux, Emily J. Jarrell, Erika E. Jarrell, Jasmine W. Jason, Jade Taylor Jean, Johanna Ruppert Jessen, Benjamin M. Jester, Anais Elisabeth Jimney, Adriana S. Johnson, Andie J. Johnson, Aryn P. Johnson, Cullen Jude Johnson, Devon S. Johnson, Havana Marie Johnson, Tyler J. Johnson, Aaron L. Jones, Justin L. Jones, Justin M. Jones, Braelyn Mykel Jordan, Aleya C. Joseph, Kaleb Marcus Joseph, Myriam Lizeth Juarez, Matthew W. Kahrs, Ameera M. Kattash, Gurleen Kaur, Jillian Keesee, Cody L. Keller, Solasse D. Kennison, Ali Akhar Khan, Hafsah T. Khan, Carrie Rebecca Kibodeaux, Alexus Monet King, Randi L. Klein, John M. Klumpp, Klair R. Kohnke, Joshua Anthony Korsten, Gabrielle Grace LaBouve, Faith Elyse LaCour, Meagan E. Lacasse, Maggie Grace Lafargue, Amelia Edythe Landreneau, John Mark Laneve, Lauren L. Larocca, Quinton C. Larocca, Katrina M. Lasalle, Jordan Elizabeth Latham, Brock M. Lavergne, Kylie Rose Lavergne, Annamarie Lawson, Vackham Le, Lorraine Adele LeBleu, Brandon Joseph LeCompte, Halle Marie LeDay, Bradley Joseph LeJeune, Courtney Layne LeJeune, Samantha Louise LeJeune, Robi Marie LeJune, Luke H. Ledet, Kailey Michelle Lefrere, Brandon J. Legnion, Lila D. Legros, Hannah Grace Lejeune, Ty C. Lejeune, Tiffany Jasmine Lemelle, Kyrell Kane Lemoine-Shanks, Kaylee N. Lemons, Emily Ruth Loftin, Lauren T. Long, Kristen N. Lovell, Christian T. Luciani, Makenzie Renee Lyon, Grant S. Lyons, Logan K. Mack, Michael T. Mack, Stephanie A. Maddox, Jeevin Jay Maharaj, Angel Mai, Crystal Elnetha Malbroux, Webb B. Mallett, Alexis Ania Malveaux, Logan R. Mancilla, Corey Alan Manint, Andrew P. Mann, Cheryl Jean Parsons Manuel, Joseph Tritico Manuel, Sydney R. Manuel, Zachary N. Manuel, Ethan Bryce Marcantel, Maria A. Marceaux, Alana K. Mark, Luis Antonio Marrero Norat, Bryan Joseph Martin, Paige Marie Martin, Caleb B. Mathieu, Janna Christine Matthiesen, Senee V. Mays, Austin Louis McCall, Bayleigh Nicole McGuire, Trent A. McGuire, Tristan Lee McInnis, Vick'Norea Bermeteric McIntyre, Caitlin Curtis McQueen, Adam N. Mcbride, Peyton Kade Mccain, Kassidy N. Meacham, Allison Guillory Meche, Dylan Jay Meche, Olivia N. Meche, Tyler C. Meche, Brennan M. Medlin, Ethan C. Medlin, Cameron D. Meeks, Hayden Michael Melanson, Jonathan B. Melton, Stephanie Alyse Menou, Aubrey Grace Mercer, Julie R. Mere, Brandon Chad Miller, Brent E. Miller, Ethan J. Miller, Kaillie Jean Miller, Maddie Rae Miller, Shayna Rae Miller, Sierra Dawn Miller, JaNaiyah Sontrice Mitchell, Russell C. Mixon, Morgan O. Monlezun, Katelyn Ryan Moore, Sarah Rae Moore, Randi Paige Morgan, Brianne Marie Morris, Kacie Diann Morvant, Alexandra F. Murillo, Taylor Renae Murphy, Brandon P. Naquin, Brenon M. Nash, Isabella G. Nauts, William G. Navarre, Jade Alyson Neel, Joshua Daniel Nelsen, Austin M. Nelson, Reginald D. Nelson, Kobe Matthew Nevills, Alyssa J. Nezat, Anh K. Nguyen, Anh N. Nguyen, Kacie L. Nguyen, Lindy T. Nguyen, Trinh Thi Nguyen, Joshua G. Nickel, Katy R. Nugent, Hannah Alexis Oertling, Cailin O'Reilly Oliver, Lauren Alexandra Oliver, Tanner Dionne Olson, David Joshua Orsot, Cameron Noelle Ortego, Kiran E. Owens, Zachariah Sky Painter, Emily P. Palombo, Sharon Michelle Pappion, Waniyah Lashae Patterson, Jocelyn Aileen Pena, Laken L. Pennick, Toni Lynn Perrin, Bayli Perrodin, Hannah Nikol Pete, Kendrick J. Pete, Cayden Randall Peterson, Emily E. Phenice, Michelle Lee Phillips, Kyle David Pickett, Susan D. Pickles, Fernando J. Pimentel, Anthony J. Pitsch, Cassidy Ellen Plaisance, Madeleine E. Plauche, Crystal A. Poe, Nicholas G. Polkey, Addilyn E. Poole, Ashlyn E. Poole, Emily Mae Poole, Aarika D. Powell, Jasmine M. Powers, Savon W. Price, India Rose Primeaux, Chad Quam, Sophie Anne Qui, Kayla Mae Quibodeaux, Khurrum Qureshi, Bryce Carlton Rachal, Chloe M. Ramcourt, Chadwick Randow, Gabriel Aaron Ratcliff, Jessica B. Rathjen, Shelly F. Reddin, Cameron Patrick Reed, Alexander L. Reeves, Jacob C. Reeves, Rebecca L. Reeves, Jonah Paul Reggie, Eric D. Rene, Abdalla F. Reynaud, Bailey Ann Richard, Sara J. Richard, William Richard, Taylor Morgan Richards, Garrett B. Richardson, Lauryn Marie Rider, Amaya Lanae Rigmaiden, Lucia Alexandra Riviere, Annabeth G. Robideaux, Zyria Simone Robinson, Taylor Nichole Robison, Isabella A. Rodriguez, Lindsay Marie Russell, Annemarie Donovan Ryan, Julia J. Saloom, Reagan C. Saltzman, Andre' Jamal Sam, Coby Gretzky Sammis, Heather Michelle Mitchell Saucier, Jaidyn Alyssa Savant, Kelsey Denee' Savant, Carson M. Savoie, Genesis A. Savoy, Zoe E. Schenimann, Alexandra K. Schexnyder, Clophus Joseph Semien, Isabel R. Shamsie, Mia A. Shanks, Erik D. Shaw, Mary C. Shearman, Tamarah Patryce Sias, Kendall James Simien, Melody M. Simmons, Haylen Brooke Simon, Brandi Nicole Simpson, Alyssa J. Sizelove, Alyna M. Smith, Alysia Paige Smith, James N. Smith, Josh Hillman Smith, Karli D. Smith, Mackenzie B. Smith, Nikayla Anna Smith, Sylvia Maria Smith, Darby Cecile Soileau, Joseph C. Soileau, Alexis Jayne Sonnier, Emily Katherine Sonnier, Jaune-Marie Sonnier, Karli C. Sonnier, Logan Lee Sonnier, Haleigh Jade Spell, Mariah Kaitlynn Danielle Mouton Spencer, Jordyn Paige Staton-Darbone, Carson A. Stephens, Patrick L. Stevens, Andrea Danielle Stevison, Kennadi S. Stills, Lane Thomas Stine, Hogan Stogner, Alissa Lee Stout, Fallon N. Strahan, Rachelle Denise Lovejoy Strouse, Saniah J. Sullen, Christian J. Sutterfield, Daniel R. Syed, Nabila Hannah Syed, Carly Isabelle Tabarelli, Divine D. Tanks, Aaron O. Tanner, Abby Tarver, Emily D. Tassin, Joseph P. Tassin, Zachary Paul Tassin, Kali G. Tate, Elijah P. Taylor, Trey A. Taylor, Mary Claire Tete, Madison Renee Theriot, Maggie Elizabeth Theriot, Natalie C. Theriot, Garrett Austin Thibodeaux, Kourtni Faith Thibodeaux, Prudence Jacqueline Thibodeaux, Malia F. Thigpen, Abigail Grace Thomas, Collin J. Thomas, Karlee Elizabeth Thomas, Tyler Paul Thomas, Amberly M. Thompson, Hallie N. Thurston, Michael L. Tizano, Ashby Roland Todd, Tyler G. Tolbert, Kiah Elizabeth Toney, Jose E. Torres Cordero, Layna Reagan Touchet, Vonetta Michelle Toussaint, Emma Catherine Trahan, Grace E. Trahan, Joseph Seth Trahan, Taylor-Therese Alcantara Tran, Richard C. Truong, Alexander R. Tyree, Bridgett Marie Verret, Kellee D. Viator, Tori N. Viator, Hannah Marie Vice, Karisma E. Vidal, Douglas Joseph Vincent, Nicholas Joseph Virgadamo, Demarcus Vital, Darian G. Vizina, Dianna Marie Waldroup, Rachel Elizabeth Walls, Bilal Wardariya, Jeriah P. Warren, Dominique Duvon Washington, Brielle M. Webb, Meagan A. Weeks, Katherine E. Weise, Benjamin Gauge Welch, Bayden Seth Wells, Ashlyn R. Wesley, Brian J. Wesley, Shanna Marie West, Stephen Ryan White, Jonathon Garrett Whitson, Brandon K. Whittington, Sydney L. Wilder, Dillon A. Willer, Anastasia Brianne Guidry Williams, Conner R. Williams, Ethan B. Williams, Harmony C. Williams, Kennedi Talia Williams, Krizzia Tamara Williams, Marshall Jerrell Williams, Raven N. Williams, Haley M. Williamson, Kori Ellen Williamson, Calleigh M. Willis, Gabrielle E. Willis, Ta'Jah Janell Wilson, Zederia L. Wilson, Bethany J. Worthington, Ashley Faith Wright, Kade Martinez Wright, Mckenzie L. Wyninger, Kyon Xiao, James Stephen Yeager, Samuel Edouard Zahm, Claire E. Zaunbrecher, Charley C. Zeno
Laplace: Marcema LaToya Winzy Monterroso, Kynedi J. Poullard
Larose: Malena K. Pate
Leblanc: Miranda Brick Stanley
Leesville: Haylee J. Brinlee, Andrew R. Croker, Tye Dye, Melanie B. Landreneau, Karlee C. Lawrence, Cadence Ross Ledet, Maci Kai
Quayhagen, Amy A. Roos, Katelyn N. Shapkoff, Brooklynn Grace Sumner, Matthew A. Townsley, Callee N. Turner, Jason Lee Vanleuven
Leonville: John Quentin Julien, Destiny Faith Meullion
Lockport: Camille Marie Dufrene, Jessica Wilson Glaspell
Longville: Trinity Paige Anderson, Nicholas A. Bell, Lexie Ann Bennett, Carson O. Caraway, Canlin P. Dionne, Grant Jackson Gregory, William Shane Hunt, Yelena Koehn, Nicolas Paige Lee, Kathryn E. Manuel, Kelly Darlene Marshall, Matthew J. McHan, Sara A. Pietrowski, Laurin Rhealyn Brantley Smith
Mamou: Caleb C. Aguillard, Abigail E. Fuselier, Anna C. Parrott
Mandeville: Carly Camille Brown, Elizabeth F. Kenley, Elizabeth Mary Ulfers, Kaley I. Wintz
Mansfield: Christian J. Thomas
Maringouin: Alaria R. Johnson
Marrero: Alyssa Nicole Labit
Maurepas: Kameron J. Aime
Maurice: Vaterrial D. Cooper, Samantha Montet
Melville: De'Angelo Dennis Ray Vaughn-Allen, Madison E. Woodard
Mermentau: Megan R. Martin
Merryville: Bianca R. Barnes, Gabrielle J. Barnes, Brett Patrick Bell, Brianna Renee Flemones, Anna M. Franks, Channel D. Holt, Jania M. Williams
Metairie: Megan Elisabeth Dawson
Minden: Alissa N. Lander
Mittie: Samantha Grace Duplechain, Courtlyn J. Martin, Hannah Layne Morris, Abbigail E. Noblitt, Lauren Reana Taylor
Monroe: Yatierra Z. Brown, E'karia L. Hollis
Morgan City: Carlee M. Landry
Morse: Katelyn D. Leblanc, Emmie C. Miller, Alana C. Vincent, Alexis C. Vincent, Caitlin M. Woodward
Moss Bluff: Zachary B. Fontenot, Jordana Gouveia, Correin R. Scott
Natchitoches: Brian Carter
New Iberia: Darian R. Armstead, Geraldlyn Broussard, Shaneshia K. Dugas, Kaleiah N. Fulgence, Chelcee A. Gilliams, Aliana M. Henry, Mattilyn K. Mcfarland, Heather Renee Moreaux, Geomiya K. Obey, Emily A. Petry, Aniyah D. Phillips, Delaiah Natrel Rose, Kenzi L. Whitman
New Orleans: Tristen C. Edgerson, India A. Jordan, Michelle S. Moltz, Tavana Moret, Jamal Pettigrew, Lynn Marie Robinson Pope, Colby Richardson, Cyron E. Sutton
New Roads: Matthew R. Johnson
Noble: Erica S. Samples
Oakdale: Jacob T. Black, John D. Bolmarcich, Tori Lynn Eaves, Ashton B. Gilley, Jacey A. Gormanous, Alex C. Johnson, Joseph Scott Linder, Hunter J. Longino, Aaron S. McDaniel, Gabriel A. Rodriguez, Lauren Catherine Soileau, Brennon W. Taylor, Benjamin F. Thornhill, Tyler John VanZandt
Oberlin: Tobey A. Carrier, Madison Grace Meaux, Rebecca Ann Prudhomme, Sara M. Shaw, Amber Nichole Soileau, Lakyn Nicole Thomas, Jasmine L. Victorian, Taylor E. Young
Opelousas: Peachies D. Chatman, Caitlyn M. Hundley, Malaki B. Johnson, Mykaylan B. Ledet, Arial J. Lemelle, Jonah Paul Manuel, A Layjah Colbrianna Owens, Melia Zanae Sylvester
Patterson: Kaitlyn M. Borel, Joe V. Carmody, Sheresha M. Washington
Paulina: Ravin N. Louque
Pearl River: Bryan Moore
Perry: Noell Elizabeth Hebert
Pineville: Fonda Grace Colson, Alyssa A. Deville, Cassie N. Parpart, Logan N. Vallee
Pitkin: Michaela Grace Carroll, Kaleb L. Davis, Griffan E. Paul, Amber Brianne Perkins, Kaitlyn E. Savage
Plaquemine: Brittany S. Arnold, Sha'rika Nicole Arnold, Steven J. Conerly
Plaucheville: Mandy Lynn Guillory
Pollock: Austin C. Futrell
Ponchatoula: Alexis E. Breaux, Paxton E. Crouse, Jodi M. Lewis
Port Allen: Xavier Davis
Prairieville: Ashlyn B. Dufren, Madason Guitreau
Raceland: Shea M. Fournier
Ragley: Jake Austin Bruce, Alexander Heath Cormier, Ashlynn Jade Derouen, Allison Faith Dowden, Sara N. Dubose, Karilyn Ballard Felice, Kaley E. Frith, Alyssa M. Hollier, Autumn M. Johnson, Tiffany Danielle Lacy, Cody Paul Lafleur, Hunter Jay LeBlanc, Emily C. Leubner, Dylan C. Manuel, Abigail Louise Marcantel, Mia G. Mayeaux, Rae D'Laine McManus, Sadie B. Perkins, Cade Joseph Sharpton, Cameron Scott Single, Abigail Lea Stanfield, Isaiah M. Windsor, Kaylee N. Wright
Rayne: Brandt A. Bergeron, Tra'Naye A. Brooks, Caroline A. Comeaux, Bethany Elise Cramer, Abby C. Dupuis, Chasity J. Fluitt, Aime Victoria Fontenot, Lanisha R. Francis, Sonja Godeaux Fremin, Destiny R. George, Claire Brittany Leon Guillory, Brooke A. Guthrie, Samuel K. Hoffpauir, Trenton Latiolais, Meghan R. Matlock, Mariel Anne Meche, Gracie A. Menard, Sydney K. Menard, Sophie E. Robichaux, Layla R. Simon, Emma Katherine Smith, Kassandra Phoebe Strout, Walton J. Thibodeaux, Caroline M. Zimmerman
Reeves: Marcee Lee Breaux
Roanoke: Taylor D. Duplichan
Rosepine: Megan S. Cates, Michael D. Johnson, Mackenzie P. Ogle
Saint Joseph: Abigail G. Dupre
Saint Martinville: Alexis T. Alleman, Keijahne Breonnie Williams, Logan R. Willis
Scott: Noah J. Anderson, Abigail M. Brinkman, Kristen B. Henry
Shreveport: Donavon Keith Banks, Malachi E. Billingsley, Yasmine S. Bogan, Imagine R. Bradley
Singer: Sarah Jean Betts, Wasey Duncan Crain, Faith E. Richard
Slidell: Austin B. Bonnaffons, Lauren Michelle Jones, Michael P. Mills, Alexis M. Pipkin, Craig David Price, Holly R. Sintes
Springfield: Michaela Balfantz
St. Francisville: Presley Elizabeth Johnson, Jerome Marquis Washington
St. Martinville: Candace N. Guilbeau
St.Francisville: Dominisha D. Brown
Starks: Sarah Beth Berwick, Hannah Ranee Brown, Alyssa Brook Cody, Benjamin Joseph Gaillard, Joycelyn G. Gillis, Kali P. Stains, Madisyn Demi Swain
Stonewall: Skylar A. Tatum
Sugartown: Chelsee Nicole McFarland Collins, Abbyanne E. Dressel
Sulphur: Jodi Allison Adams, Molly Irene Adams, Kelsea Lynn Allen, Cameron Patrick Ancelet, Collin D. Andrews, Leigha Marie Andrews, Lacey D. Andrus, Scottlynn N. Armentor, Hadley A. Armer, Chandler L. Ashworth, Mackenzie L. Atwood, Jamie Lynn Authement, Charlotte Eileen L. Banker, Kyla Michele Baudoin, Cameron P. Bertrand, David P. Billodeau, Maegen A. Blankenship, Blythe Marie Bolton, Alexis D. Bostick, Alycia D. Boudreaux, Lexi E. Bourgeois, Madison A. Bourgeois, Benjamin L. Broussard, Jacob A. Broussard, Victoria Nicole Bukaty, Brock A. Bult, Lydia A. Burleson, Nicholas T. Buxton, Skylar Layn Canik, Jordan A. Carlin, Matthew M. Carlson, Katelyn Lee Carras, Ethan Charles Carter, Leighton K. Chamblee, Lash J. Chretien, Gunnar C. Clopton, Keely Nichole Constance, Christina Marie Cryer, Julie Ann Cummings, Jacob David Darbonne, Kaitlyn Elizabeth Darby, Danielle Diane De Waard, Abbie Nicole DeCoursey, Shelby M. Deaton, Lindsey Beech Del Bosque, Denee R. Delcambre, Michael A. Desselle, Gracie R. Devall, Michael R. Devall, Faith Olivia Dever, William Chad Dion, Allie L. Domingue, Alanna Paige Doss, Jacob Roland Dudley, Dillon Thomas Duplechan, Haylee C. Dupree, Dara Oghenekome Efe-Obuke, Abigail E. Ellender, Colin Andrew Ezernack, Heather Rose Foreman, Claire L. Foster, Krystin Paige Franco, Anastasia Nicole Fritzinger, Rebekah N. Fruge, Darby C. Gabbert, Ryan T. Gardebled, Kristin Fay Garlington, Kallie Ann Gatte, Brianda Rubi Gill, Julian J. Gonzales, Amiyah P. Goodwin, John Batt Gregory, Stephen J. Griffin, Hannah Marie Griffith, William Matthew Griffiths, Hannah Gayle Gros, Nicole M. Guidry, Amy M. Guillory, Mykeia Darai Guillory, Allie Jaqueline Hanson, Hannah N. Hardin, Omar M. Hatch, Daulton A. Hatten, Sydnee Patricia Hawkins, Brandie Carlton Hayden, Breanna Ann Hayden, Julia Kate Hays, Shanna Rae Hebert, Hollis Gabrielle Hernandez, Cydney Rae Hillard, Aleah M. Hilton, Ashton Blake Honea, Raylee Jene Istre, Genesis L. Jonas, Kimberly Gayle Jones, Lydia Kathryn Kellar, Kashia Jonea Kelly, Stephen Kade Khoury, Jordyn P. Knighton, Katelyn Belle Kohlenberg, Cole Spencer Labruyere, Jessica M. Langford, Gabriel T. Lanier, Nicole Marie Lanthier, Audrey Deacon Lauw, Jace Charles Leblanc, Gavin P. Ledet, Ashlyn Nicole Lee, Keighly P. Leger, Valerie D. Leviner, Virginia K. Lewis, Allison Barbara Lippert, Abby G. Lobue, Kaitlyn J. Macnamara, Bailyn Nikole Martin, Halle Grace Martin, Mia Ysabel Martin, Blake A. McRight, Catherine Marie Mckeehan, Sarah E. Medwick, Abby N. Mere, Dianne Nicole Pettefer Mere, Abigail Anne Miller, Anne Marie Miller, Sarah Nicole Miller, Ashley Thorne Mire, Nicole Lynn Monceaux, Daniel A. Moody, Gabrielle E. Moore, Elizabeth A. Moss, Erin Catherine Moss, Lane A. Murrell, Cole Dwayne Nassar, Jonah S. Nicholson, Charles E. Nourrcier, Sydney K. O'Blanc, Anna Catherine Perry, Jillian Catherine Peterson, Melanie Frances Phillips, Makayla D. Powe, Shayna Alexis Prince, Madison D. Qualls, Reid Patrick Rapp, Kaitlyn R. Rayborn, Lauren A. Richard, Ashlyn V. Richmond, Carlee J. Richmond, Monineath Rithy, Jeremy Eli Rodriguez, Mary Elizabeth Rollins, Madison L. Sallier, Brock L. Saltzman, Ryder L. Sanford, Michaela Kay Sawyer, Andrew Sheridan, Karin Christine Shinn, Makenzie Brooke Simon, J'cobi Skinner, Danni K. Smith, Samantha K. Sonnier, Madelynn Anice Renee Speights, Olivia Kay Stark, Brennan C. Stone, Brody James Strahan, Kenner Strother, Kenneth Lee Tarver, Maggi M. Terro, Austin Paul Thibodeaux, Clair E. Thibodeaux, Rudharveer Singh Thind, Laikyn MaRae Trahan, Trinity Faith Trahan, Baylee Denae Treme, Tori Alyssa Turberville, Audrey Marie Turpin, Mason Thomas Turpin, Tabitha Nicole Tyler, Hallie Lynn Vincent, Kelsie E. Vizier, Leann Marie Ward, Lanie K. Warner, Sidney Layne Welch, Vynessie L. Wilburn, Anna C. Williams, Dante J. Williams, Mandi Lynn Winkelman, Dalton J. Wolbrink, Allen M. Wyninger, Jamie Marie Young
Sunset: Ryder Jarrod Devillier, Kathryn Payten Gumfory
Swartz: Ashley Jollinda Collins
Thibodaux: Yazmin A. Brown, Shelby A. Phelps
Vidalia: Zachary A. Nelson
Vidrine: Jacques C. Fontenot
Ville Platte: Kasey Jean Lafleur Aguillard, Aaron Joshua Baquet, Za'Kayrah A. Bellard, Kathryn M. Bergeron, Emily K. Bordelon, Lillian I. Bourque, Meredith M. Brou, Hayle C. Castille, Hallie N. Daire, Tucker J. Deshotel, Kelsey R. Deshotels, Mallory N. Fontenot, Tanner Q. Fontenot, Victoria L. Fontenot, Wyatt K. Fontenot, Cade M. Foret, John Ross Guillory, Madison A. Hernandez, Olivia B. Hernandez, Bradley F. Hesnor, Emma M. Hollier, Samuel G. Hollier, Antoinette R. Joseph, Morgan E. Leblanc, Morgan D. McDaniel, Gracie M. Mccall, Alexandra L. Perron, Jabreontae O. Pete, Bradley J. Reed, Brook L. Soileau, Evyn M. Soileau, Kailey B. Soileau, Tristan P. Soileau, Jakiah O. Thomas, Lacey A. Thomas, Baylee Nicole Veillon, Wesley P. Vidrine, Alex M. West
Vinton: Kaitlyn Ann Braquet, Michelle A. Cormier, Ashley Gremillion Courvelle, Drake Anthony Guidry, Hunter Andrew Guidry, Dalton Kyle Guillory, Mary C. Istre, Jordan K. Jerman, Jacob Conner McCaughey, Kayden Blake McFarlain, Gabrielle M. Nervesa, Jessica L. Perkins, Dawn Marie Plummer, Jacob Samuel Savoit, Cale Norman Stine, Jacye M. Trahan
Washington: Drew M. Latour, Tyler J. Mire
Welsh: Hallie K. Ardoin, Ryan A. Broussard, Devin A. Byram, Edna Rose Cavenah, Janee M. Chaisson, Caleb Joseph Chiasson, Jason K. Chretien, Haley Paige Cooley, Tyler J. Daigle, Crystal Q. Gray, Ranna R. Hebert, Landon S. Hill, Ragan A. Hill, Hailey N. Holden, Gracie A. Leger, Kennedy A. Mallett, Victoria L. Matte, Peyton Zane Stanford, Austin Avery Trahan, Landon J. Watkins, Kaleb A. Wright
West Monroe: Morgan Colvin
Westlake: Zane J. Andrus, Jaina R. Ange, Mark E. Ashworth, Joshua Wayne Benoit, Ajalynn Nickole Crum, Reese Michelle Edwards, Ben M. Ellender, Leah G. Ellender, Ryder J. Fontenot, Amber Renee Higginbotham Foreman, Laci N. Glover, Shannen Elizabeth Godeaux, Maggie M. Gotreaux, Bryleigh R. Gray, Carli Nicole Guillory, Kyla M. Hamilton, Robin D. Hawes, Julia C. Istre, Chloie J. Lejeune, Eleoper Mapute, Emily Anne McGuire, Brennan C. Meyer, Brooke E. Meyer, Connor W. Moyer, Ludmilla Nkosi, Carley L. Parker, Alexander Patrick Rains, Aaron C. Reichard, A'layzia Richard, Reagan L. Richard, Joseph L. Slater, Madison Jayne Spears, Camryn L. Tagge, Kane Anthony Todd
White Castle: Eric Edwards, Ronnisha J. Jackson
Youngsville: Jazmine N. Crockett, Againette Dean, Brittney Michelle Johnson Domingue, Baili Claire Lasseigne
Zachary: Hunter B. Bell, Taylee Ann Corkern
Texas
Allen: Kinnady River Hawkins, Makayla Nicole Heath
Alvin: Nathan L. Collins, Kade Michael Morris
Amarillo: Jaiden Kennedy
Anderson: Molly Ann Atkinson
Arlington: Nakeia Shantae Richmond, Brendan J. Sirls
Athens: Hayden Shaddox
Baytown: Tayleigh N. Compton, Priscilla Janelle Ibarra, David Martinez
Beaumont: Meghan E. Bilbo, Jacob Bryan Dickerson, Erin Elise Ross
Beeville: Saleen Flores
Bridge City: Jonah A. Watts
Buna: Hayden Chase Alston, Morgan Denice Lambright
Cedar Hill: Leon D. Young
Cedar Park: Shelby Grace Epley
Cibolo: Nicholas A. Holiday
College Sta: Jordan J. Yeatts
Conroe: Uriah C. Blackmon, Lauren E. Chambers, Dallorie Morea Miller, Cristen Faith Perera
Cypress: Hayley E. Halliday
Dallas: Carter B. Jenke, Gabriel Vasquez
El Lago: Daniel Hecker
Forney: Caleigh N. Cross
Friendswood: Bayleigh M. Lay, Isaiah James Naylor
Garwood: Macee A. Krpec
Goliad: Alexandria Lysette Nagle
Goodrich: Madison M. Phillips
Grand Prairie: Carli S. McDonald
Hardin: Jaci L. Stelly
Hemphill: Andrew Wood
Houston: Jaylin Alexis Aguirre, Terrill T. Banks, Jonathan Clay Ellison, Myles Cortlandt Ferrell, Shaelyn K. Hines, Elijah E. Jasper, Ivana M. Jones, Bryan Moore, Dimitri Keegan Thornton, Hung Tran, Jack L. Zelezinski
Humble: Robert L. Anderson, Shania Rasha Anthony, Payton J. Harden
Huntsville: Isabel L. Huntsman
Jasper: Cameron A. Bootie
Katy: William C. Devany, Jackson Charles Milliger, Alexa M. Schmid, Christian C. Vega
Kemah: Mireya Olyvia Martinez
Kingwood: Amanda Sue Squyres
Kirbyville: Avery J. Greninger
Kountze: Bradley Martin Martinez
League City: Britan Keith Hebert
Livingston: Brent Malcolm Lensing
Longview: Victoria Danyell Pierson
Lumberton: Eric N. Martin, Brett Edward Payne, Ethan M. Petix
Magnolia: Carson A. Carpenter, Brooke A. Mallory, Bryce J. Robinson
Mansfield: Ajani R. Hodges
Manvel: Amanda Nicole Johnson, Karis Gabrielle Johnson
Mesquite: Elizabeth Critton
Montgomery: Kyle Herridge, Dylan M. Villarrubia
Nederland: Makayla M. Nunley
Orange: Bradley Stephen Brzezinski, Jodi L. Cabiness, Meg Lauren Clark, Kaylee Elizabeth Kaufman, Leah M. Lagrange, Zoe M. Levens, Jacob K. Miller, Sydney D. Peet, Callie Ann Sattler, Alexis Joy Schiefelbein, McKenzie Sheppard, Lovejot Singh, Sukhjot Singh
Pasadena: Alejandro Chapa, Keegan Reeve Crawford, Chase A. Dement
Pearland: Mason A. Pierce, Jemira Daunielle Thomlinson
Plano: Mariah Skylyn Ruelas
Port Arthur: Bey'Ounce S. Banks, Mia Jade Escareno
Red Oak: Taniece R. Tyson
Richmond: Kendall M. Kilchrist, Delilah J. Van Campen
Rosenberg: Mikayla D. Wright
Sachse: Kameron Quinn
San Antonio: Emily Kate Thurman-Garner
Santa Fe: Haylie Michelle Ruhl
Seguin: Garrett Lee Dietert
Silsbee: Braelon Cole Bush
Snyder: Jake R. Leatherwood
Sour Lake: Madison Dawn Carney
Spicewood: Kaleb Wenson
Spring: Tia L. Andrews, Caroline S. Fritsch, Kennedy A. Reynolds
Sugar Land: Ty Abraham
The Woodlands: Nathaniel P. Fisbeck
Tomball: Kendall Lynn Glueck, Anna L. Watson
Vidor: Cameryn Brinson, Bailey E. McDowell, Zachary Joseph Robin, Stephanie L. Stidivent
Wallis: Skyler D. Zahradnik
Warren: Savanna R. Ard
Winnie: Matlin S. Starnes
States
Arizona
Surprise: Rachel E. Young
Yuma: Ricardo Munoz Ahumada
Arkansas
Bentonville: Carolyn Elizabeth Kotoucek
Armed Forces Americas
Dpo: Kaylee J. Smith
California
Bellflower: Megan E. Mielke
Covina: Adriana Isabel Ramirez
San Diego: Jake D. Hadzicki
Valencia: Kiana L. Kukaua
Florida
Gainesville: Sachi Pena
Green Cove Springs: Tiffany Steczo
Lauderhill: Dallis Ceone Small, Christopher J. Stephens
Melbourne: Justin Anthony Carpenter
Miramar: Enos L. Lewis
Pensacola: Miranda M. Hoppe
Tamarac: Joshua Raphael
Tarpon Springs: Emma Rose Hollenback
Georgia
Fayetteville: Sidney Wynn
Gray: Darius Andre Johnson
Mcdonough: Christopher Torez Joyce
Hawaii
Kaneohe: Dawn Nicole Nabua
Idaho
Coeur D' Alene: Alexis Webster
Illinois
Glen Ellyn: Brett Whelton
Kansas
Lawrence: Bradley Stephen Kincaid
Overland Park: Kolbi Savannah Gonzales
Mississippi
Biloxi: Aubry Joy Weyerstrass
Brandon: Mark Kyle Chandler
Long Beach: Sarah Lorraine Johnson
Meridian: Samantha Dawn Rupe
Morton: Camron T. Peterson
Missouri
Bois D'Arc: Meghan Nicole Davis Dugas
Nebraska
Lincoln: Severyn Foster
Scottsbluff: Andru Joseph Kuxhausen
North Carolina
Apex: Alexis Brooke Miller
High Point: Evelyn Florence Lee
Ohio
Akron: Jessica Heard
Oklahoma
Tulsa: Earenest J. Grayson
South Carolina
Beaufort: Olivia Claire Rasberry Dornier
Columbia: Lori Nicole Ned
Tennessee
Martin: Ashlyn C. Keasler
Utah
Spanish Fork: Averi Marshall, Truman Blazer Moore
Virginia
Ashburn: Alexis Nicole Bourg
Norfolk: Christopher Jazz Orlina
Washington
Lynnwood: Isabel Victoria Kembel
West Virginia
Kingwood: Michelle Snyder
Countries
Algeria
Rizlane Hattal
Belarus
Hanna Blinouskaya
Benin
Segnisso Ahokpossi, Comlan Ronique Gbedey
Brazil
Pietro D. D'Elia
Bulgaria
Zhulien S. Monev
Cameroon
Eveline Manka Tikum Angwafo
Canada
Brianna Rose Mascia
China
Yinhao Chen, Xiaoyi Sun
Colombia
Ana Maria Gonzalez Suarez, Laura Juliana Gomez, Nicolas Perez Suarez
Cote D' Ivoire
Madjooa Naomi Kouame
Cuba
Yoanett Hernandez, Zuriens Quiroga Fonseca
Egypt
Masry Mapieu
Finland
Eemil Herranen
Germany
Sabrina Romance
India
Praneetha Gobburi, Godwin Jacob
Indonesia
Vlady N. Nanlohy, Virsya Adonia Vardhani
Ireland
Luke Horgan
Kenya
Gladys Jemaiyo, Gideon Cheplak, Jemima Jebet Chesir, Henry K. Kiplagat, Pamela Kosgei, Daniel Kibiwot Saina, Brannon Cheplak
Korea, Republic Of
Sanghun Han
Madagascar
Costel Faniaha Vakiandro
Mexico
Valeria Abigail Lopez
Nepal
Anushka Acharya, Aayusha Adhikari, Ayush Banjade, Roshdip Basnet, Saugat Budathoki, Sangam Chapagain, Santosh Chaudhary, Sujan Chaudhary, Sajina Dhakal, Sanjaya Dhakal, Suman Giri, Ankit Goel Ghimire, Altaf Hussain, Sujal Joshi, Arun Karki, Aakash Karna, Rakyush Khadka, Milan Khanal, Saroj Khanal, Nishant Khanal Upadhyaya, Raunak Raj Khatiwada, Anil Khatri, Abhiyan Koirala, Samir Lamichhane, Ashik Luitel, Rabina Maharjan, Sunil Kumar Mahato, Samrat Marasini, Bijaya Nepal, Apurba Neupane, Naresh Neupane, Biplav Paka Shrestha, Pratikshya Pangeni, Binod Pant, Aayam Paudel, Sajjan Paudel, Nishika Pokharel, Bishnu Prasad Poudel, Anish Prasai, Benup Raj Prasai, Aastha Rai, Supratik Regmi, Rajib Rijal, Sandip Sapkota, Raunack Sharma, Sajal Sharma, Shikha Sharma, Biplop Shrestha, Prabin Shrestha, Amrit Silwal, Aditya Singh, Aman Singh, Aashma Subedi, Rojina Sunuwar, Achyut Kumar Thapa, Suraj Thapa, Sirapa Tuladhar, Bikash Yadav, Asim Prakash Oli, Sagar Pandeya, Sanjeev Paneru, Aman Khan, Madhu Sudan Bhandari, Mamata Dahal Ghimire, Nischal Koirala, Bipin Kumar Mahato, Shradesh Shrestha, Romm Silwal, Rajib Rijal, Saurav Mahato, Dipen Tamang
Nigeria
Ayooluwatomiwa R. Bello, Oluwatoyin Oluwayomi Abbas, Enoch Ayomide Adegoke, Stephen Olaleke Alagbe, Damilare Johnson Awodele, Oluwaseyi Ayo-Anjorin, McAusten Chidalu Ezenduka, Choice C. Nzeakor, Obumnaeke Gabriel Odinamkpa, Oghenemarho Tiara Ogboru, Enoch Oluwadunmininu Ogunnowo, Olivia Chinazaekpere Okpala, Joseph Oladeji Sanya, Ghalib Oshiomoshiofufeke Siaka, Ifeanyichukwu Talodabioluwa Umesie, Josemaria Kamsiyochukwu Ezejelue, Muqeet Oluwanifemi Gbolahan, Ayomide Emmanuel Adewuyi, Divine I. Faleye, Didunoluwa Folakunmi Johnson
Pakistan
Amin Memon, Anita Fiaz, Muhammad Shazad Yousufzai Pathan
Peru
Ashley T. Espinoza, Francisco Javier Cordova-Segura
Poland
Marta Lukijaniuk
Rwanda
Aimee Victoire Ingabire
Saudi Arabia
Saad Alenzi, Faisal Sulaiman Alsugair, Othman Alharbi
Serbia
Dusan Jurosevic
South Africa
Michael J. Terblanche
Spain
Ane Torres Arruabarrena
Tanzania
Mpawenimana Violette
United Kingdom
Matthew James Harding, Louis G. Talarczyk
Vietnam
Lien Bich Thi Ngo, Quyen Hoang, Nam M. Lai, Truong Lap Phan, Khoa Duc Ton, Bao Ngoc L. Tran, Huynh My Ngoc Phan, Hoang Le, Thuy Phuong Anh Nguyen, Phung Kim Vo, Tho Nguyen Hoang Tran
Want more stories like this one sent straight to your inbox every week? Sign up for our McNeese eNewsletter!
The Office of Marketing and Communications
4205 Ryan Street
Lake Charles, LA 70609
337-475-5640
communications@mcneese.edu