Howdy Rowdy Welcome Back at McNeese
August 16, 2019 | McNeese Public Relations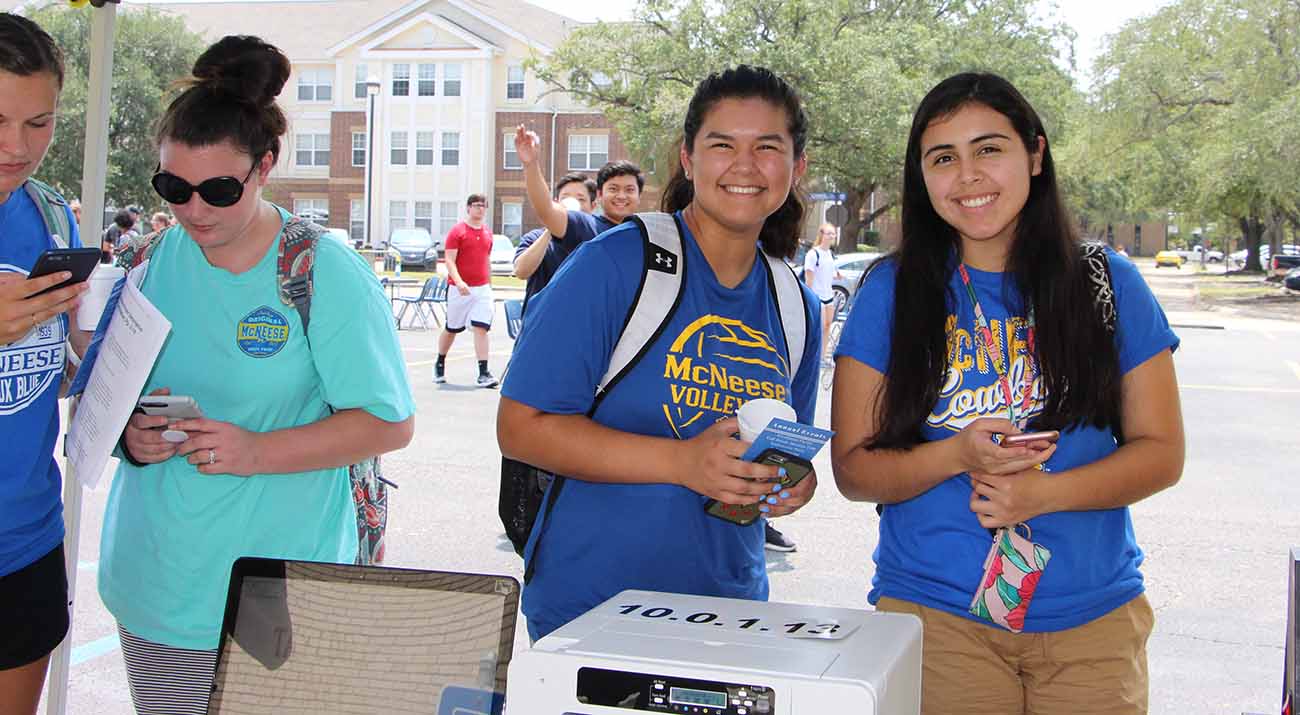 Howdy Rowdy Welcome Back 2019 kicks off the fall semester Monday, Aug. 19, for thousands of new and returning students to the McNeese State University campus. With a variety of events over the next two weeks, this event provides numerous opportunities for students to experience what campus and community life has to offer.
Scheduled events are as follows:
Monday, Aug. 19
Meet the Greeks – 9:30 a.m.-12:30 p.m., the Quad
Join the 11 Greek organizations for a day filled with food, fun and fellowship. Organizations will distribute information about joining their groups or supporting their philanthropic efforts.
Tuesday, Aug. 20
Student Organizations Fair – 9 a.m.-noon or 6:30p.m.-8 p.m., Parra Ballroom, New Ranch
The annual Student Organizations Fair is a chance for students, faculty and staff to become acquainted with the over 100 recognized student organizations on campus.
Wednesday, Aug. 21
Welcome Back Wednesday – 11 a.m.-1 p.m., New Ranch
The Student Life Coalition will hand out free novelties and food and provide music in the Student Union.
Thursday, Aug. 22
Get Connected Day – 9 a.m.-noon, New Ranch
Various student support departments and academic areas will greet new students, hand out information about the services they provide and answer general questions.
Monday, Aug. 26
Campus Ministries Day – 9 a.m.-noon, New Ranch
McNeese's campus ministry student organizations will distribute information to students regarding worship services, meetings and free lunch programs.
Tuesday, Aug. 27
SGA Day – 10 a.m.-12:30 p.m., New Ranch
The McNeese Student Government Association will host a day of free food, music and cool giveaways to show its appreciation for the McNeese student body. Students can also learn more about how to be involved with the SGA.
Wednesday, Aug. 28
Wellness Wednesday – 9 a.m.-noon, New Ranch
To promote student wellness, Student Health Services will provide information and resources on academic, emotional, nutritional and sexual health as well as responsible alcohol consumption.
Thursday, Aug. 29
Community Day – 9 a.m.-noon., Parra Ballroom, New Ranch
Local business and community service agencies will have informational booths in the New Ranch about their products and services, as well as opportunities for part-time employment or internships for students.
Want more stories like this one sent straight to your inbox every week? Sign up for our McNeese eNewsletter!
The Office of Marketing and Communications
4205 Ryan Street
Lake Charles, LA 70609
337-475-5640
communications@mcneese.edu