Fall 2021 Honor Roll List
January 13, 2022 | McNeese Public Relations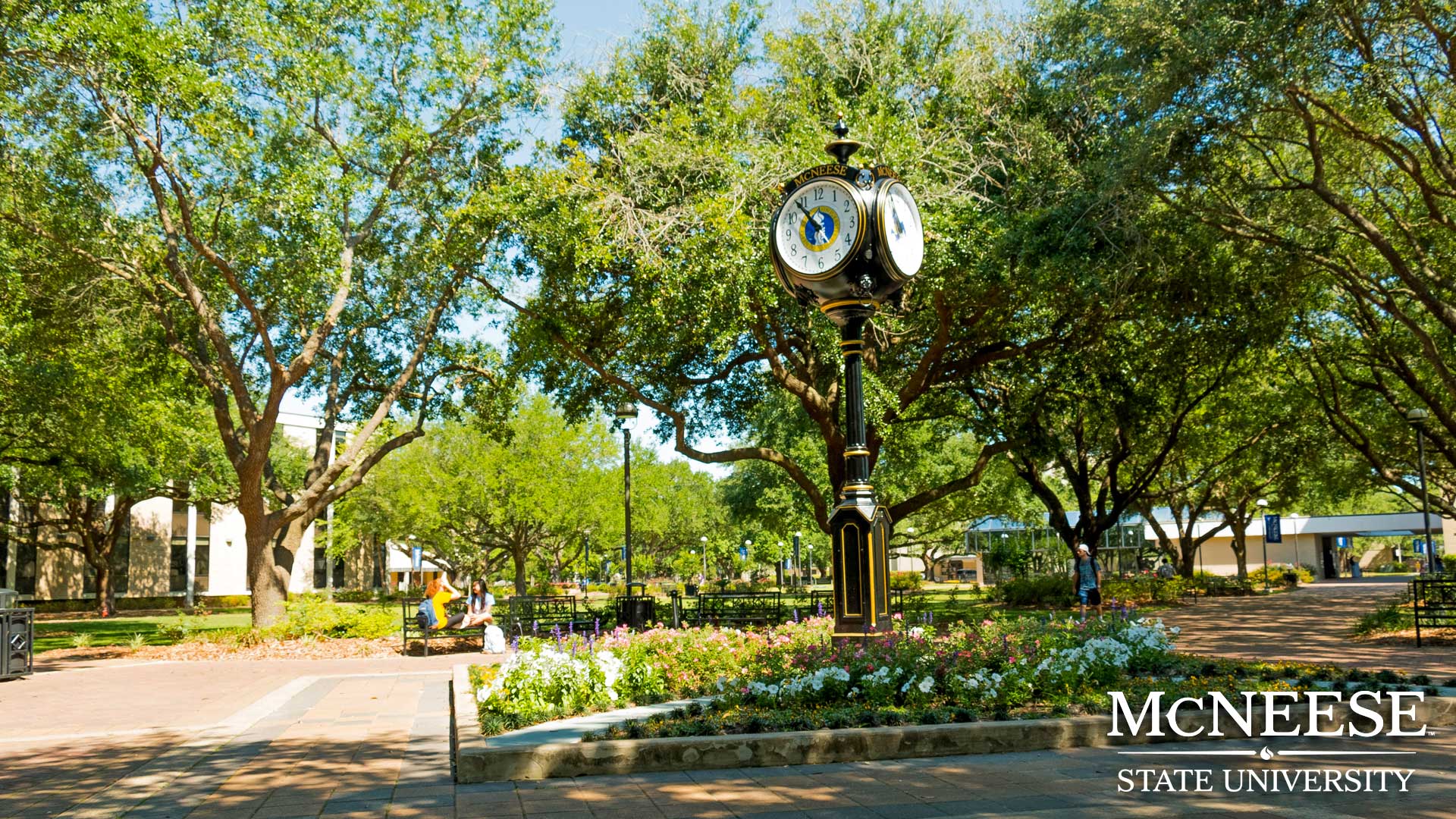 The McNeese State University Honor Roll for the 2021 fall semester has been announced. The honor roll lists undergraduate students earning at least a 3.0 or B average while carrying 12 or more semester hours.
Honor Roll is as follows:
LOUISIANA CITIES
ABBEVILLE: Spencer J. Abshire, Danielle Claire DuBois, Olivia A. Romero, Haley E. Zenon
ALEXANDRIA: Jacara Dashanea Gates, Brandy Humphries
AMITE: Adrianna P. Terrebonne
ANACOCO: Barrett J. Mann, Karlie McKenna Robison, Jett M. Rogers
ARNAUDVILLE: Ceria Montega LeDay
BAKER: Taylor M. Horn
BALDWIN: Amy Marie Carpenter
BASILE: Kaelan D. Fontenot, Kylee Walker Fontenot, Katelyn J. Zaunbrecher
BATON ROUGE: William G. Calhoun, Sirtelli R. Dorsey, Stephanie Leigh Garcia, Bernice Joseph, Nia M. Kay, Megan Waller Langford, Jasmine K. Mackson, Remy P. Robert, Lisa Ann Scorza
BELL CITY: Ava Simone Folse, Sarah H. Lognion, Summer Lynn Looper, Mason D. Montie, Molli C. Montie, Allison Jolie Woodcock
BELLE ROSE: Shelby L. Giroir
BENTON: Kaitlyn Jeter Palombo, Sydney Nicole Robinson
BERWICK: Abigail M. Landry
BOSSIER CITY: Michaela D. Celichowski, Ellyse R. Ligman, Kaitlyn M. Owen
BOYCE: Cason J. Brister
BREAUX BRIDGE: Karenisha Monique Alexander, Keiontia D. Alexander, Taylor Broussard, Andrew P. Mire
BROUSSARD: Britney P. Breaux, Dominique Elizabeth Perron, Madison Renee Poirier
BRUSLY: Dominic C. Prejean
BUNKIE: Kory Redmon, Gavin B. Soileau
CAMERON: Michael J. Boudreaux, Anna Maria Dupont, Joe Garrett Storm, Marley A. Thibodeaux, Ava Jordyn Trahan, Austin J. Vincent, Gracie M. Young
CARENCRO: Jude Braquet, Jordan Nicole Breaux, Jessica Gotch, Zoe Elizabeth Landry, Ryli K. Olivier, Kinsley P. Stelly, Mallori A. Taylor, Madison Elizabeth Trahan
CHALMETTE: Erica J. Hernandez
CHENEYVILLE: Cody C. Vidrine
CHURCH POINT: Darcey L. Bernard, Hunter A. Bernard, Waylon Bourgeois, Miranda D. Charlotte, Paige S. Chavis, Hanna Daigle, Katlyn Marie Richard
COLFAX: Morgan G. Rush
COVINGTON: Destiny M. Karst, Elizabeth P. Primes
CREOLE: Brilee M. Baccigalopi
CROWLEY: Amanda C. Cormier, Keylie D. Cruse, Brittany D. Lacroix, Cheyenne M. Menard, Lauren A. Stewart, Brady L. Williams, Emily Louise Wilson, Emily A. Zaunbrecher
CUT OFF: Blaine A. Ougel
DEQUINCY: Savannah M. Bailey, Abigail G. Barrow, Jana D. Barrow, Zane David Cooley, Logan Ray Copeland, Maci B. Davis, Amaya Rayne Dupre, Jacob Wayne Goodman, Caleb Matthew Gore, Jessica Faith Haley, Brooke Barrow Havens, Cooper K. Hext, Meredith Paige Leger, Kaitlyn Leanne Perkins, Jennie Belle Rose Pierce, Antonyo Tyrone Sawyer, Blaise D. Smith, Sydney M. Smith, Matthew Charles Taylor, Caitlyn Paige Thibodeaux, Bonni M. Williams, Allie Gabrielle Willis
DERIDDER: Kimberly Ann Boliek, Emma M. Boyd, Mersadies M. Brannan, Gordon Chase Brown, Karly J. Bullock, Zachary L. Castillo, Trajan Anders Cella, Kennedy Leigh Cooley, Peyton E. Daniels, Darby J. Day, Robert A. Ensminger, Kristopher Paul Evans, Ashton T. Fritts, Kristin E. Gardner, Austin I. Gibbings, Joshua Hunter Harper, Ethan O'Neal Harrell, Miranda R. Haugen, Laura M. Heyd, Stephanie N. Jones, Morghan P. Latour, Kaitlyn M. Lichtenauer, Serena Michelle Loftin, Madisen M. Mahfouz, Lauren T. Maxie, Jaydin M. McCormick, Maygen E. McMahon, Mckenzie M. Mitchell, Molly Scot Neidigh, Emily M. Nelson, David B. Paul, Shelby L. Powell, Bailey R. Rector, Kendyll M. Reighney, Carlos Alberto Rodriguez, Victoria B. Simmons, Brianna K. Sinegal, Justice Slade Tilley, Hollie B. Weaver, NaThya DyVeun White, Brianna D. Wright
DELHI: Leshenae Stubblefield
DENHAM SPRINGS: Christina R. Canale, Erica Carpenter, Lakin A. Fletcher, Tiara Robertson, Maia A. Robinson, Kelly Cazes Smith
DRY CREEK: Ethan B. Campbell, Clea M. Doucet, Tristan W. Mahaffey
DUSON: Riley K. Gautreaux, Gracie Elizabeth Vanhyfte
EGAN: Michael A. Dore, Trevor D. Leger, Haley T. Regan, Kayla Shae Trahan
ELIZABETH: Tori L. Brown, Jaslynn Rose Chamberlain, Ian G. Edwards, Chance Everette Gordon, Audie E. Soileau, Natalie N. Welch, Sydney Brooke Welch
ELTON: Logan J. Batiste, Lainie N. Deshotel, Maycie Brooke Fuselier, Gabrielle Lynn Gobert, Ethan Hunter John, Joseph C. Lacomb, Madelyn K. Laughlin, Bryson Z. McCoy, Kaitlynn Brooke Nichols, Brittney Celestine Shallow
ERATH: Andrew Alexander Evans
ESTHERWOOD: Brooke A. Comeaux, Brynn L. Comeaux, Lillian C. Gaspard
EUNICE: Brooke A. Aguillard, Seth M. Bourque, Hunter L. Brown, Morgan E. Daigle, Erica Brook Daville, Abbigail R. Fontenot, Quinn Faustin Fruge, Olivia Katherine Granger, Melody Guillory, Maggie Larriviere, Lacy Rene Lavergne, Sarah B. Lavergne, Austin B. Miller, Mallory C. O'Brien, Allie Monique Pousson, Deacon B. Richard, Kelli N. Richard, Reed Anthony Rougeau, Amber Nicole Sanders, Brylee L. Siebert, Hailey C. Thibodeaux, Kassidi Raye Thibodeaux
EVANS: Havn Rusty Egan
FOREST HILL: Brendon B. Smith
FORT POLK: Shelton D. Anderson, Ineshka N. Mercadoramos
FRANKLINTON: Talia Haley Pelayo
GALLIANO: Tanner N. Danos
GLENMORA: Lauren E. White
GONZALES: Andre W. Husers, Raven Re'shaune Jones, Chandler R. Perer, Casie L. Savoy
GRAND CHENIER: Katie E. Mhire, Kayla Brooke Rutherford
GRAND LAKE: Madison Renee Theriot
GRANT: Madison C. Guillory, Sydni Janee' Rasberry, Madeline N. Stark, Jared Paul Stout, Nathan C. Stout, Bradyn S. Weldon
GRAY: Peyton Patricia Blanchard
GRETNA: Samuel Laneair
GUEYDAN: Gracie E. Broussard, Emily Claire Gaspard, Hunter S. Lepretre, Kendra N. Petry, Gabrielle Diana Virella
HACKBERRY: Blanche Josephine Beard, Bryce Paul Welch
HAMMOND: Desha Renee Hubbard
HARVEY: Ebony Wilson Simmons, Jarrius Wallace
HAYES: Brenden K. Deshotel, Joshua Scott Nelands, Karlee Ann Nunez
HEFLIN: Ondray Lenoy Miles
HICKS: Emily E. Roberts
HOUMA: Haley N. Mace, Hayes Joesph Thompson
IOTA: Steven Nelson Bertrand, Cole J. LeJeune, Owen P. Lejeune, Bailey W. Leonards, Levi G. Manuel, Madison C. Sittig, Rhiannon S. Smith, Hayden E. Young
IOWA: Dalby A. Augustine, Danielle A. Bourgeois, Ju'lee Ann Chiasson, Madison M. Clark, Ryan R. Denison, Hope E. Duhon, Lakyn Marie Folsom, Brady Joseph Fontenot, Harvey James Gotte, Jace Clement Granger, Gavin Jeffery Grantham, Claire Elizabeth Johnson, Kaydi E. Johnston, Maddie Michelle Jongbloed, Asa Joseph Landry, Anastasia B. Latigue, Nicola Raquel Lavan, Austin P. Leger, Jesse J. Martinez, Alysiah Cole Petross, Ryan W. Porter, Zoe Elizabeth Prejean, Lindsey B. Priola, Lauren F. Rigmaiden, Andre' Jamal Sam, Jacie Grace Sargent, Alyxis Celeste Simon, Grant D. Simoneaux, Morgan L. Smart, Jordyn Elizabeth Stickell, Kindal C. Tonn, Carl E. Torrans, Blake J. Touchet, Addie G. Trosclair, Braden C. Veuleman, Adisyn K. Walker, Sydni K. Walker, Kylie Marie Wilson, Linsie Paige Yocham
JENNINGS: Ian M. Andrepont, Patsy N. Beard, Gavin Heath Benoit, Alexis M. Broussard, Trinity Faith Capdeville, Mary E. Caraway, Darisabel Charbonier, Shelby Rae Dronet, Ethan M. Fontenot, Morgan C. Fontenot, Robert John Gates, Meagan Paige Guidry, Kendra LaShawn Charles Guillory, Juliana Marie Guinn, Devin M. Hanks, Chesney D. Hebert, Kane T. Hebert, Kylie N. Hebert, Sarah Elizabeth Hollier, Breanna N. Labouve, Catherine Alaine Landry, Zackery T. Langley, Davyn B. LeJeune, Camryn Chaise Lopez, Lindsay A. Lopez, Nicholas S. Lopez, Stevie R. Lopez, Madison Elizabeth Marceaux, Caroline R. Monceaux, William G. Monic, Takia J. Pattum, Thmyra Gregglyn Pattum, Nicholas Ian Prejean, Halie G. Reeves, Caileb J. Richard, Kamran K. Richard, Richard James Robicheaux, Lexi P. Savoie, Jenna Marie Savoy, Benjamin P. Sonnier, Dorian L. Stalsby, Scott D. Stanton, Braden A. Stelly, Carson Daniel Turgeon, Madisyn B. Ward
JOHNSON BAYOU: Alexander Reese Boudreaux
KAPLAN: Alexis N. Bertrand, Emma C. Broussard, Shelby Marie Broussard, Mallory C. Campbell, Lauryn A. Fulkerson, Andre N. Gaspard, Hailey V. Gaspard, Francesca Alaina Harrington, Alexandra C. Herpin, Drake A. Lejeune, Valetia Vincent Mire, Mackenzie E. Romero
KENTWOOD: Natalie Dorene Johnson
KINDER: Leala Michelle Billeaudeaux, Haven Elisca Buller, Brittanie N. Butts, Kiana A. Carroll, John T. Comeaux, Carley Hannah Davis, Julianna M. Deshotels, Caylee Danielle Dickens, Carmen Ruth Fruge, Ty Michael Fuselier, Delecia Dwyanette Hamilton, Aletha Langley Istre, Mallory Nicole Marcantel, Kyla Jennice McGee, Addison J. McCallon, Caleb M. Nash, Hannah Jade Potter, Thomas J. Roberts, Makenna Brookelle Sanders, Sydni Nycole Savant, Brock Allen Schmitz, Lindsey Brooke Tyler, Isabella Reyna Wade, Jess P. Weatherford, Madison Faith Young                                                                                                                                                                       
LAPLACE: Hayden J. Hebert
LACASSINE: Callie Michelle Courville, Ally E. Kibodeaux
LAFAYETTE: Hailey Jenee' Abshire, Kashonda Alex, Jaylin Nicole Babineaux, Shayla S. Benjamin, Kelsey A. Bernard, Sean-Michael Brady, Laura M. Christman, Elleanor Grace Cormier, Ashley Nichole Coward, Brandi D. Dias, Rani Nicole Duhon, Marley B. Duplechin, Destiny R. George, Katherine Giraud, Kyla Nechelle Goodie, Jalaya M. Hackworth, Londyn G. Hawkins, Brittney C. Joseph, Brendan J. Keller, Ashlynn P. Kuhnhoff, Elizabeth Ann Low, Jace Lianne Myers, Bernadette Juleeta Ndayizeye, Shannen Elizabeth Perez, Lisa Michelle Hanks Roseberry, Jacob M. Venable
LAKE ARTHUR: Reagan E. Bourgeois, Miya Logan Breaux, Kandalyn Eve Cormier, Brooke S. Daboval, Paige L. Daboval, Lauren Paige Hebert, Abbie N. Thibodeaux
LAKE CHARLES: Angel Loriny Abbasi, Shahzeb N. Abbasi, Abigail Audra Abraham, Brayden W. Adams, Claire E. Adams, Lane Andrew Alaniz, Alexandra Elizabeth Albrecht, Brookin Alexander, Ariyan N. Alfred, Kelsea Lynn Allen, Brooke Ann Anderson, Ethan Wayne Anderson, Laura F. Anderson, Seth Allen Anderson, Emma Clare Andrepont, Amber Ann Andrews, Kamryn M. Andrus, Shania Rasha Anthony, Brett Christian Ardoin, Collin Joseph Ardoin, Mcklayne E. Ardoin, Addison M. Armand, Landon J. Arnold, Brennan Ash, Gabrielle R. Ashford, Madison R. Aucoin, Amanda Marie Jackson Augustine, Stephen C. Ayers, Claire Elizabeth Bailey, Alexis A. Bauer, Nathan M. Bauer, Emily Rena Baumgarten, Ashley J. Beard, Jillian A. Bech, Madison Rose Becktold, John Michael Becton, Mallory P. Bell, Gracie B. Benoit, Laurryn Bailey Benton, Rebecca A. Bernat, Katelyn R. Bertrand, Amy Grace Biessenberger, Carson O. Black, Brittany Nicole Blanchard, Preston P. Blanchard, Cameron Alexander Boddie, Haley Nicole Bonnette, Brynlee B. Boudreaux, Carley A. Boudreaux, Marae E. Bourque, Ashley Claire Bowler, Darien S. Boyd, Jonathan A. Bradberry, Sabrina Dyan Bradley, Odreonna P. Brankline, Hannah M. Breaux, Kenyetta Brooks, Ava G. Broussard, Dylan P. Broussard, Lauren A. Broussard, Matthew Evan Broussard, Ava R. Brown, Emily R. Brown, Hannah N. Brown, Ian G. Bruce, Kyle Stephen Bullard, Matthew D. Burnham, Mary-Katherine Burr, Robyn Elizabeth Burt, Macy P. Busby, Jordyn Kaci Bush, Davis Connolly Byrd, Elysia B. Caldarera, Anna Catherine Cameron, Andi G. Cantu, Kayla Marie Capitano, Michael Joseph Carmouche, Ethan Michael Carroll, Laura Nicole Carroll, Jordan A. Carter, William Thatcher Carter, Aaron D. Castete, Holden J. Cates, Ashley Nicole Caudell, Michaela E. Cavolaski, Kaitlyn Ruth Ceasar, Ania Onye' Chambers, Whitney A. Chaumont, Anna M. Chavanne, Maegan Mashelle Clark, Taylor F. Cole, Shane Michael Colletta, Alakyn Nehemiah Collins, Ashley Elizabeth Collins, Cortney N. Collins, Jackson Conner, Makayla G. Conner, Anthony W. Cook, Dylan J. Cook, Avonlea G. Cooper, Kaylee L. Cooper, Jennifer Calloura Corman, Jessica J. Cormier, Kaylee Charlene Cormier, Danielle Shae Courville, Haley Jo Cox, Zachary W. Daigle, Madalyn G. Daley, Alexander J. Darbonne, Evan M. Darbonne, Judith C. Dariste, Bryce J. Dartez, Sidney C. Dartez, Abigail Alaina Daugherty, Benjamin T. David, Nicolae Charles David-Trouard, Meg R. Davidson, Emilea Kate Davis, Josie L. Davis, Kendrick S. Davis, Justin C. Delgado, Ashley E. Dempsey, Darian Analise Dering, Cooper A. Derouen, Jadah M. Devall, Alexis Elizabeth Deville, Branson T. Diamond, Caitlyn N. Dionne, Beau T. Dobson, Landry A. Donham, Amber Elizabeth Donovan, Julia M. Dore, Camille N. Dorsey, Kristen Marie Dougay, Davis Logan Dow, John M. Downer, Michael Christopher Driskill, Bailey K. Dugas, Mckenzie S. Dugas, Dylan S. Duhon, Jaidyn R. Duhon, Stephanie Elyse Duhon, Michael A. Duncan, Tanner R. Dupin, Isaac Joseph Duplechain, James Kaelon Duplechain, Marissa Jolene Dupont, Andie J. Dyer, Christopher G. Edmond, Beverly M. Edwards, Keajhanea E. Edwards, Charles W. Ehlers, Denise Kristine Ellison, Justin C. Epperson, Bethany Grace Ervin, Daxton E. Everage, Mitchell J. Ezernack, Alice Yu Fang, Maximilian Thomas Henry Ferguson, McKenna L. Fields, Clifton Blake Fisher, Jackson W. Flaherty, Hayden T. Fogleman, Broc A. Fontenot, Caleb B. Fontenot, Emily Jolyn Fontenot, Chloe L. Foreman, Katelyn N. Foreman, Matthew J. Foreman, Payton M. Foreman, Isaiah A. Fowlkes, Abigail L. Frick, Bailey E. Fruge, Mallory B. Fruge, Mason A. Funderburgh, Chayli Joy Funderburk, Barbara J. Fuqua, Alec J. Fusilier, Heidi Michelle Gambrell, Garrison Reese Gansky, Vanessa Rose Garcia, Jeanne A. Gardiner, Alexander P. Garrido, Clay M. Gaskin, Caimen Blayne George, Brayden C. Glapion, Kolbi Savannah Gonzales, Malcolm James Goodley, Amy Jo Goudeau, Madison K. Gouldburn, Kinnidy N. Grace, Savannah Mae Greenlee, Keelan J. Griffin, Sabrina Nicole Griffin, Jonathan T. Grigg, Anna Marie Guidry, Grayce E. Guidry, Kyle P. Guidry, Bailey A. Guillory, Carter M. Guillory, Jada D. Guillory, Annabelle D. Guins, Ryan T. Guyton, Marci N. Hackler, Jenny C. Hamilton, Nicholas K. Hammond, Sydnee K. Hammond, Andrew R. Hancock, Carly X. Hand, Jacqueline P. Hardy, Braden M. Harris, Gage Allen Hartman, Abigail G. Hayes, Mary A. Hayes, Alexandra L. Hebert, Austin B. Hebert, Harlie Rae Hebert, Jacob Marshall Gene Hebert, Marc Thomas Hebert, Noah J. Hebert, Shelby N. Hebert, Lexie Ursula Heisser, Susan Darlene Henagan, Fayth E. Hickingbottom, Jana N. Hijazi, Benjamin J. Hilliard, Jason Ho, Alexis N. Hoffpauir, Lauren E. Hoffpauir, Ethan S. Honeycutt, Aaron Joseph Howard, Kali Brynn Hudson, Allison Kay Hunt, Gambrelle E. Ieyoub, Harold E. Iles, Camryn Nicole Istre, Kennedy L. Istre, Noah E. Jackson, Shannon A. Jackson, Brennan S. January, Jade Taylor Jean, Amy-Joy J. Jimney, Alyssa K. Johnson, Andie J. Johnson, Cullen Jude Johnson, Emily Katherine Johnson, Jalayne Debra Johnson, Jessica Jeanne Johnson, Jillian D. Johnson, Katelyn S. Johnson, Peyton Bowen Johnson, Tamara Adila Ann Johnson, Logan K. Jones, Kaleb Marcus Joseph, Emma G. Juhala, Bailey M. Juneau, Aniese M. Kattash, Baleigh Grace Keating, Cody L. Keller, Sophia J. Kelly, Eileen Jeanie Kemink, William Gerald Kemink, Solasse D. Kennison, Aman Akbar Khan, Zakariya Ali Khan, Carrie Rebecca Kibodeaux, Arianna Kiritsis, Randi L. Klein, Klair R. Kohnke, Hannah E. Koonce, Ana K. Kusters, Kayla M. Kusters, Gabrielle Grace LaBouve, Faith Elyse LaCour, Cole Spencer Labruyere, Andrew K. Landry, Celise Rachelle Landry, Kayla D'shaynae Landry, Lisa Michell Landry, Lauren L. Larocca, Quinton C. Larocca, Patrick A. Lavergne, Vackham Le, Lorraine Adele LeBleu, Brandon Joseph LeCompte, Jorion D. LeGros, Robi Marie LeJune, Ricky J. Leday, Sydney C. Leger, Tabitha C. Leger, Taylor Alexander Leggett, Brandon J. Legnion, Lila D. Legros, Hannah Grace Lejeune, Cheyenne Leigh Leleaux, Grace N. Leleaux, Kaylee N. Lemons, Jonathan J. Leveque, James Lewis, Alexander Jordan Lilly, Gabriell M. Little, Lynda R. Lohmann, Kristen N. Lovell, Christian T. Luciani, Kelly Jin Lum, Jillian Leigh Luterbach, Tara L. Lynch, Grant S. Lyons, Logan K. Mack, Stephanie A. Maddox, Crystal Elnetha Malbroux, Chandler C. Mallett, Keonah Airen Malveaux, Maggie Kate Manuel, Nicholas Eldon Manuel, Sydney Camille Manuel, Ethan Bryce Marcantel, Blake M. Marceaux, Gabrielle R. Marceaux, Lindsay Claire Marceaux, Bryanah P. Martin, Jaylon J. Martin, Jazmin N. Mason, Caleb B. Mathieu, Caleb W. Mayo, Olivia K. Mayo, Connor Truman Maze, Kallie Paige McBride, Austin Louis McCall, Bayleigh Nicole McGuire, Paige K. McNeely, Raven Nycole McZeal, Peyton Kade McCain, Karlie E. McFarland, Christopher J. McHale, Timothy J. Meaux, Hayden Michael Melanson, Rainney Lanard Melanson, Cameron Trey Melton, Aubrey Grace Mercer, Julie R. Mere, Jorian A. Mickel, Brandon Chad Miller, Christy Marie Fontenot Miller, Hali Dakota Miller, Kaylin A. Miller, Maddie Rae Miller, Benjamin W. Milner, Hasan Nisar Mir, Russell C. Mixon, Daidra G. Moncrieffe, Ryan C. Monk, Sarah Rae Moore, Morgan Rachel Moreno, Kacie Diann Morvant, Anna C. Mouhot, Madelyn C. Mouton, Alexandra F. Murillo, Brittany L. Myers, Gracie L. Myers, LaTavia M. Myers, Isabella G. Nauts, Jaide R. Navarre, Joshua Daniel Nelsen, Reginald D. Nelson, Anh N. Nguyen, Jada N. Nguyen, Julie Trinh Nguyen, Kacie L. Nguyen, Lela Lavergne Nguyen, Tia T. Nguyen, Trinh Thi Nguyen, Sharais I. Nieves-Rodriguez, Peyton Breann O'Quinn, Cailin O'Reilly Oliver, Kylie M. Oliver, Lauren Alexandra Oliver, Alec Blake Ortego, Cameron Noelle Ortego, Samantha Jo Ortego, Caden C. Owens, Kiran E. Owens, Christopher D. Pace, Julia Claire Papania, Kaitlin Renee Pappion, Sharon Michelle Pappion, Grace Elizabeth Park, Gernisia Lachelle Parker, Ashlyn C. Parrott, Alexandra K. Parsons, Waniyah Lashae Patterson, Ashlyn Grace Pelafigue, Lori B. Peloquin, Laken L. Pennick, Madelyn K. Perkins, Makayla Ann Pete, Emma NeCole Picard, Susan D. Pickles, Konnor Aaron Pittman, Cassidy Ellen Plaisance, Rachel A. Pleasant, Nicholas G. Polkey, Emily Mae Poole, Haddie Louise Poole, Jilyen B. Poullard, Adam S. Pousson, Kennedy L. Pousson, Madison E. Pousson, Aarika D. Powell, Jasmine M. Powers, Anica Louise Robles Pretrick, Corynn Aliyah Primeaux, Chad Quam, Jordin Kae Quinn, Chloe M. Ramcourt, Viola Summer Reeves, Abdalla F. Reynaud, Jacob A. Rhodes, Blaydon W. Richard, Garrett Wayne Richard, Maite A. Richard, Sarah C. Richard, Theron J. Richard, Jenna Blair Richardson, Emily Alexia Ritter, Lucia Alexandra Riviere, Shealyn D. Roberson, Miriam S. Robichaux, Aiden Garett Robinson, Michael H. Robinson, Isaac Rodriguez, Heather Dagain Rogers, Madison Emma Grace Rogers, Nicole Lynn Romero, Makenzie Brooke Roofner, Lindsay Marie Russell, Annemarie Donovan Ryan, Amelia B. Sarver, Kaley Dean Savant, Anna K. Savoie, Shea Savoy, Matilyn Grace Schafer, Samantha M. Scimemi, Correin R. Scott, Sydney Jewel Seamons, Madison R. Seaward, Jasmine Angelle Semien, Tareesa Evelyn Sevilla Centeno, Bryant E. Simmons, Melody M. Simmons, Dillon J. Simon, Shaleigh N. Sliman, Alysia Paige Smith, Bailey Maria Smith, Brandon I. Smith, Josie Marie Smith, Mackenzie B. Smith, Samuel Kolton Snell, Blayne Alexander Soileau, Brook L. Soileau, Katlin B. Soileau, Kimberly Michelle Soileau, Mia E. Soileau, Alexis Jayne Sonnier, Haleigh Jade Spell, Jordyn Paige Staton-Darbone, Spencer Allen Stawecki, Patrick L. Stevens, Alyssa N. Steward, Emily Morgan Stillwell, Kallen Brooke Stough, Fallon N. Strahan, Carson M. Stringer, Rachelle Denise Lovejoy Strouse, Raven Alicia Stubblefield, Chandler A. Sweeney, Christian Heath Tabor, Marwan Khalid Taha, Joseph Evan Tallman, Divine D. Tanks, Joseph P. Tassin, Julia C. Tassin, Sophia G. Tassin, Zachary Paul Tassin, Kali G. Tate, Alexine Yevette Tezeno, Reed T. Theriot, Andrew K. Thibodeaux, Kaysha M. Thibodeaux, Abigail Grace Thomas, Amanda Hope Thomas, Karlee Elizabeth Thomas, Bryce A. Toerner, Alexandria Jo Tolleson, Jose E. Torres Cordero, Kaylie M. Touchet, Sophia Grace Touchet, Emma Catherine Trahan, Natalle L. Trahan, Sarah E. Trahan, Khyla D. Trail, Richard C. Truong, Brice Chandler Valentine, Isabella Grace Vallier, Nicholas D. Veuleman, Kellee D. Viator, Hannah Marie Vice, Christian M. Vincent, John R. Vinson, Zachary S. Vinyard, Jenny T. Vo, Dianna Marie Waldroup, Darrius Z. Wallace, Jon L. Welch, Nakelia Jewel Kim White, Stephen Ryan White, Jonathon Garrett Whitson, Hailey Elizabeth Williams, Marshall Jerrell Williams, Cameron D. Willis, Ta'Jah Janell Wilson, Xavier K. Wilson, Bailey P. Wing, Kalleigh Ashton Wing, McKaughly Saige Wing, Shelby Paige Winters, Bethany J. Worthington, Lydia Marie Wrenn, Allyson Belle Wrigley, James Stephen Yeager, Amy C. Yokubaitis, Joshua M. Young, Marigrace Young, Matthew P. Young, Samantha D. Young
LECOMPTE: Alainia E. Williams
LEESVILLE: Gordon B. Boone, Shelbi B. Burns, Bianca A. Feilen, Cadence Ross Ledet, Chase A. Winstead
LIVINGSTON: Ashley Alyssa Schenk
LOCKPORT: Camille Marie Dufrene
LONGVILLE: Katelyn Nicole Ahearn, Ariel Diana Bennett, Carson O. Caraway, Canlin P. Dionne, Montana James Faulk, Brady James Jacobsen, Caleb S. Jacobsen, Trudy Lynn James, Mikayla Ann Matte, Alec B. McCain, Jessica R. Mestayer, Jared K. Ney, Alexis J. Verrett
LULING: Ashley M. Wray
MADISONVILLE: Macayla R. Bass
MAMOU: Caleb C. Aguillard, Hannah L. Beene, Bethany R. Granger, Maria M. Lahaye
MAURICE: Amanda Duhon, Christina Morris
MELVILLE: Madison E. Woodard
MERMENTAU: Daidun B. Dupre
MERRYVILLE: Gabrielle J. Barnes, Brett Patrick Bell, Brianna Renee Flemones, Aidan D. Pickering, Jania M. Williams
METAIRIE: Megan Elisabeth Dawson, Madison E. Underwood
MINDEN: Alissa N. Lander
MITTIE: Hannah Layne Morris, Abbigail E. Noblitt
MONROE: Ekaria L. Hollis, Serenity Lashae Lee-Perkins
MORGAN CITY: Carlee M. Landry
MORSE: Jordan S. Broussard, Logan J. Fontenot
MOSS BLUFF: Daniel I. Fish, Zachary B. Fontenot, Abigail K. Ralston, Chelsy Joyce Sharpe, Aubrey G. Zito
NEW IBERIA: Drue A. Armentor, Joise Barlow, Kaleiah N. Fulgence, Tranae LaChelle Marks, Heather Renee Moreaux, Geomiya K. Obey, Emily A. Petry, Deanna Robinson
NEW ORLEANS: India A. Jordan
OAKDALE: Jacob T. Black, John D. Bolmarcich, Ashton B. Gilley, Jacey A. Gormanous, Kaitlin B. Lilly, Lauren Soileau Linder, Kaleb D. Micelle, Mckenzi D. Richmond, Morgan Alicia Smith, Brennon W. Taylor, Alexia C. Turner
OBERLIN: Ethan Keishaun Andress, Matthew G. Courville, Lauren N. Darbonne, Cortnee L. Gallow, Halea C. Manuel, Madison Grace Meaux, Ellyana M. Price, Lakyn Nicole Thomas, Jordan L. Warren
OPELOUSAS: Shannon Beard, Chyna M. Evans, Kimberly Rose Fontenot, Delacia A. Gant, Brittany De'Shae Major, Breanna A. Newell, Madeleine R. Sylvester
PAULINA: Ravin N. Louque
PINEVILLE: Kaylee S. Green, Logan N. Vallee
PITKIN: Chloe A. Williams
PLAUCHEVILLE: Mandy Lynn Guillory, Alex J. McCaleb
POLLOCK: Danielle M. Smith
PRAIRIEVILLE: Christian Ray Donnelly, Ashlyn B. Dufren, Kalleigh Patrolia Flucke, Jasmina Foster, Madason Guitreau, Elizabeth Nicole Sam
RACELAND: Jaylah Desirae Gray, Alyssa Nicole Labit
RAGLEY: Ashlynn Jade Derouen, Jayden Hunter Dickes, Kaley E. Frith, Rebecca Grace Evans Harris, Pierce A. LaFleur, Zachary Roc LaRocque, Cody Paul Lafleur, Lincoln Dean LeBleu, Dylan C. Manuel, Keagan Chandler Manuel, Elijah C. Midkiff, Angel M. Olivier, Alexander C. Single, Chase A. Spooner, Izaak Channing Thibodeaux, Brianna N. Walling, Mason J. Warner, Kaylee N. Wright
RAYNE: Ethan S. Alleman, Bryce J. Bergeron, Abby C. Dupuis, Aime Victoria Fontenot, Lanisha R. Francis, Marcella Gossen, Boyd W. Gray, Leeann B. Gray, Brooke A. Guthrie, John E. Hains, Latisha Yvonne Jolivette, Madelyn A. Link, Meghan R. Matlock, Landon T. Meche, Mariel Anne Meche, Sydney K. Menard, Caitlyn Clair Peltier, Jacy Renee Racca, Morley K. Richard, Caylee M. Royer, Layla R. Simon, Blake R. Smith, Emma Katherine Smith, Shannon Michelle Spallino, Alexis C. Thibodeaux, Hayden B. Thomas
ROANOKE: Hannah Elizabeth Esthay, Darcy K. Lavergne, Bailey Marie Sonnier
ROSEPINE: Haylee J. Brinlee, Megan S. Cates
RUSTON: Damarion M. Roane
SCHRIEVER: Kaitlynn N. Giroir
SCOTT: Delana D. Kelly, Madison Marie Monte, Sheila Ileana Picon Paul
SHREVEPORT: Olufolabo N. Ogunyemi, Aliya Rose Thoele
SINGER: Sarah Jean Betts, Alyssa Nicole Mitchell, Faith E. Richard, Mallory V. Speights
SLIDELL: Victoria P. Barron, Lia Mae Esler, Hallie Nicole Faciane, Jonathan T. Lott
ST. AMANT: Zane L. Zeppuhar
ST. LANDRY: Abbygail R. Fontenot
ST. MARTINVILLE: Candace N. Guilbeau, Chantel B. Malveaux, Raeosha Renea Valsin
STARKS: Kallen N. Borel, Alyssa Brook Cody, Kali P. Stains
STONEWALL: Elizabeth Angelique Lyons
SULPHUR: Jodi Allison Adams, Jordan M. Adams, Karlie R. Agee, Megan Paige Alexander, Cameron Patrick Ancelet, Lindsey Grace Andersen, Tylee Blair Arabie, Mackenzie L. Atwood, Jamie Lynn Authement, Tristan Gage Baggett, Shelby LeAnn Bailey, Lauren K. Barnes, Kayla R. Bartlett, Elise Morgan Benoit, Acacia Victoria Bertrand, Cameron P. Bertrand, Maegen A. Blankenship, Blythe Marie Bolton, Olivia G. Boudreaux, Hope Hollis Bourgeois, Katelyn Marie Bragg, Kaleigh G. Breaux, Brandon D. Broussard, Austin Lane Brown, Makenzi Bryant, Caden Ray Burgett, Lydia A. Burleson, Tayte A. Busby, Cason Matthew Caldwell, Tristyn Cheree Caldwell, Jordan A. Carlin, Katelyn Lee Carras, Jennifer F. Castillo, Samuel E. Castro, Sophia C. Cesarini, Leighton K. Chamblee, Phillip Domonic Cochran, Ashley Elizabeth Collins, Christina Marie Cryer, Emma G. Darbonne, Abbie Nicole DeCoursey, Shelby M. Deaton, Maddison M. Delosey, Bryce T. Dickinson, Alanna Paige Doss, Emily F. Dunbar, Dylan James Duplechain, Haylee C. Dupree, Bethany Lorraine Durham, Caroline Nicole East, Jacob E. English, Colin Andrew Ezernack, Samuel B. Farr, Logan J. Fontenot, Heather Rose Foreman, Claire L. Foster, Carly R. Fountain, Abigail Marie Fruge, Justin A. Fruge, Matthew J. Fruge, Ryan T. Gardebled, Gabrielle Leigh Garner, Blake Evan Garrison, Dorian Blake Gaudet, Julian J. Gonzales, Bailey Elizabeth Gotz, Haley J. Gragg, Allie Jaqueline Hanson, Sydnee Patricia Hawkins, Brandie Carlton Hayden, Jordyn Hayes, Shanna Rae Hebert, Hollis Gabrielle Hernandez, Gavin P. Higginbotham, Cydney Rae Hillard, Aleah M. Hilton, Haylie Eshel Hoffpauir, Charleigh P. Hyatt, Randall Wade Istre, Lindsey M.  Johnson, Kailee Quinn Johnston, Kimberly Gayle Jones, Amaya Zina Kelly, Jordan Alexander Kelly, Stephen Kade Khoury, Kaylee Briel Kinney, Jordyn P. Knighton, Charlene Ann LaCombe, Mia C. Labove, Benjamin Paul Labrie, Gabriel T. Lanier, Chloe P. Lantier, Cavin P. Leckelt, Valerie D. Leviner, Dusty L. Lowery, Gabrielle J. MacNamara, Kayley Nicole Mancuso, Halle Grace Martin, Jeanalee K. Martin, Lani Rae Martin, Kristina Marie McCaskill, Jada Nicole McCoy, Alexander Joseph McMillan, Claire Nicole McMillen, Ashleigh D. McRight, Erin N. Meek, Abigail Anne Miller, Madison Rain Miller, Elizabeth Pauline Mitchell, Jackson Brady Mitchell, Payton Nicole Moreaux, Elizabeth A. Moss, Coraliegh Estelle Myers, Cole Dwayne Nassar, Courtney Rickert Nevils, Sydney K. O'Blanc, Arnulfo Olivares, Stephen W. Owen, Audie Mae Owens, Lauryn Brooke Patton, Layla Leeann Peloquin, Jocelyn Aileen Pena, Sydney Clare Peshoff, Cassie Lynn Peveto, Ian G. Porter, Abbagail Grace Portie, Gennah E. Prince, Reid Patrick Rapp, Alexander L. Reeves, Claralee Angelle Richard, Lauren A. Richard, Rory Simon Richard, Leah C. Richert, Taylor Renee Rozas, Jacob H. Salvador, Stacey Danielle Savoie, Jade Mychel Lewis Schultz, Makenzie Brooke Simon, Molly Claire Simon, Deborah Paige Smith, Olivia James Smith, Mattie Jean Sonnier, Mikaela Marie Spell, Cameron Patrick Stanley, Abby Mae Terro, Aubrey Jade Thomas, Vega Alexis Tower, Trinity Faith Trahan, Von D. Turner, Breanna P. Verdine, Allison B. Vincent, Claire E. Vincent, Andrew S. Walsh, Sydney Patrice Weidner, Hunter Hayes White, Vynessie L. Wilburn, Tyrese M. Williams, Mandi Lynn Winkelman, Justine Elizabeth Young, Brant James Youngblood
SUNSET: Ryder Jarrod Devillier, Peter T. Sheppard
THIBODAUX: Lexi E. Bourgeois, Yazmin A. Brown, Kayla Elizabeth Movant, Sydney Elizabeth Thibodaux, Brennan P. Uzee
VIDALIA: Zachary A. Nelson
VILLE PLATTE: Brittney A. Bellard, Lauren E. Blood, Dawson L. Buller, Hayle C. Castille, Kelsey R. Deshotels, Julianne Nicole Estilette, Camille J. Fontenot, Catherine C. Fontenot, Gabriel S. Fontenot, Karli G. Fontenot, Madison A. Hernandez, Olivia B. Hernandez, Bradley F. Hesnor, Kyndal C. McClinton, Gracie M. Mccall, Elise Y. Mire, Brianna M. Pete, Jabreontae O. Pete, Evyn M. Soileau, Tristan P. Soileau, Evan J. Veillon, Wesley P. Vidrine
VINTON: Mohamed Liaquath Ali Khan, Chloe Grace Boudreaux, Kylie T. Braquet, Jessica Alise Broussard, Ava Leigh Burke, Britney Renee Logray Campbell, Ali Kay Davis, Judson K. Derouen, Javeon Onri Gans, Taylor Morgan Glass, Maci C. Granger, Drake Anthony Guidry, Brooke Alyssa Habetz, Harley R. Haley, Rayven Nikole Hebert, Kyle J. Holland, Oudomkosal Houn, Bryce Anthony Hubert, Amariah Jasper, Jordan K. Jerman, Karmen E. Lemaire, Zane W. McCaughey, Kayden Blake McFarlain, Gabrielle M. Nervesa, Ashley Marie Patin, Caitlin Michelle Rogers, Savana Rayne-Lee Schlicher, Seth A. Stanley, Kalli A. Tharp, Ethan Neil Thomas, Maci J. Vincent, Nathaniel William Willett
WALKER: Katie G. Van Der Mark
WASHINGTON: Alec J. Gotro, Kentrell D. Jackson, Laura Ashley Melancon, Tyler J. Mire
WELSH: Rayann Lea Benoit, Makaela B. Bertrand, Daphne H. Boudreaux, Ryan A. Broussard, Devin A. Byram, Caleb Joseph Chiasson, Shaleta Shontae Clark, Kylie G. Conner, Tessa L. Glaude, Macey Brooke Guidry, Morgan J. Harper, Zachary Michael Hayes, Hailey N. Holden, Elyse D. Johnson, Jacie A. Johnson, Skyler Lane Johnson, Kate F. Lawrence, Gracie A. Leger, Lindsey P. Lejeune, David Ornice Matte, Isabealla Mabel Primeaux, Dominic Marcus Alexander Slover-Prudhomme, Austin Avery Trahan, Collin M. Vanicor, Kendall A. Watkins
WESTLAKE: Symantha Renee Arceneaux, Daniel Joseph Benoit, Josette Maria Knezek Broussard, Mia Jolie Canter, Marcus Bryce Carnes, Faith Marie Dalton, Tyler Lynn Dawson, Maci L. Duhon, Arease D. Fontenot, Amber Renee Higginbotham Foreman, JoAnna H. Gibson, Elijah D. Goss, Evan K. Goss, Maggie M. Gotreaux, Jermaine D. Guillory, Kyla M. Hamilton, Bethany L. Hebert, Matthew Ryan Hennigan, Bryce Hunter Hood, Isabel M. Istre, Julia C. Istre, Desiree' C. Jackson, Jena D. Johnson, Bryce Paul Lafargue, Kassidy B. Lanty, Benedict Hohin Lee, Eleoper Mapute, Caleb J. Marsh, Emily Claire McBride, Elisabeth Joyce McGrath, Emily Anne McGuire, Brennan C. Meyer, Brooke E. Meyer, Crystal Lynn Benoit Nevils, Carley L. Parker, Joseph Richard Pousson, Regan Marie Rhodes, Elaine N. Robertson, Annika P. Simoni, Joseph L. Slater, Brooklyn L. Smith, John J. Speeg, Michael Andrew Speeg, Shaylinn Stahlman, Kane Anthony Todd, William A. Underwood                                                                                                                                                                      
WINNFIELD: Tyron D. Slack
YOUNGSVILLE: Tonya Capterville, Baili Claire Lasseigne
ZACHARY: Claire B. Chandler
STATES
ALABAMA
Helena: Olivia Shea Tucker
Trussville: Davis Randall Burgin
ARIZONA                                
Surprise: Rachel E. Young
ARKANSAS
Bentonville: Carolyn Elizabeth Kotoucek
CALIFORNIA
Bellflower: Megan E. Mielke
Los Angeles: Alexus Monet King
San Diego: Jake D. Hadzicki
FLORIDA            
Boynton Beach: Romello Tarver
Miramar: Enos L. Lewis
Vero Beach: Donald Wayne Meadows
GEORGIA
Fayetteville: Sidney Wynn
Mableton: Bria Plante
McDonough: Christopher Torez Joyce
IDAHO
Coeur D'Alene: Havana Marie Johnson
INDIANA
Fishers: Mikayla AnnaMarie Christiansen
West Lafayette: Karissa Mae Illingworth
KANSAS
Hays: Regan Stiawalt
MARYLAND
Baltimore: Kayla Briannae Chapman
Jonesboro: Tyler B. Norman
MISSISSIPPI
Poplarville: Stephon Demetrius Huderson
Ruleville: Roishetta Stansha Sibley
MISSOURI                  
St. Louis: Caron Coleman
MONTANA
Chinook: Shayna Rae Miller
NEW MEXICO
Carlsbad: Jessie Lynn Grudem Moore
NEW YORK
Elmhurst: Saju Khatri
NORTH CAROLINA
Fayetteville: Seth P. Dyer
SOUTH CAROLINA
Columbia: Lori Nicole Ned
Elgin: Leza K. Ned
TENNESSEE
Medon: Josie Willingham
TEXAS    
Allen: Kinnady River Hawkins, Makayla Nicole Heath
Argyle: Bryson R. Hudgens
Athens: Hayden Shaddox
Bridge City: Lauren Lynae Darby, Schuyler Patrick Thibodaux
Buna: Hayden Chase Alston, Morgan Elizabeth Clark
Burkeville: Sarah M. Stafford
Call: Katy Rose Peveto
Carrollton: Tyrell Lamonta Flugence
Celina: Grace E. Cantu
Cibolo: Nicholas A. Holiday
Cleveland: Chloe Elizabeth Mullins, Adelane Larue Wood
College Station: Jordan J. Yeatts
Comfort: Kade Everett Hunter
Conroe: Dallorie Morea Miller
Cypress: Caleb Frank, Hayley E. Halliday
Dallas: Marquissa Miller
Dayton: Garrett R. Perkins, Jailyn B. Semien
Devers: Kennedy Caroline Evans
El Paso: Aaron Warren Gilliam
Friendswood: Anna Elizabeth Lippert
Garwood: Macee A. Krpec
Goliad: Alexandria Lysette Nagle
Hamshire: Madison E. Novak
Hardin: Jaci L. Stelly
Houston: Taylor McKenzie Addison, Paigelyn A. Carter, Cameron M. Foster, Sydney G. Genitty, Maelyn A. Moss, Kalyssa D. Williams, Jack L. Zelezinski
Humble: Staci Victoria Hamlett, Payton J. Harden, Kyllon L. Harmon
Katy: Caroline Harper Mally, Christian C. Vega, Trent V. Vondenstein, Trey Joseph Vondenstein
Kerrville: Heather Denise Moore Vincent
Killeen: David Jonathan Smothers
Kirbyville: James H. Burchett
La Porte: David Wohnoutka Aguillon
Lindale: Brad Burckel
Livingston: Gabriel Cody Gonzales
Lumberton: Kambrie B. McFarland
Magnolia: Zachery Diaz
Navasota: Ronnie Elmer Ray Jackson, Malaiya Cherrell Jedkins
New Braunfels: Matthew J. Madrey
Orange: Kaiya Marie Boquet, Jodi L. Cabiness, Meg Lauren Clark, Elysse L. Ferreira, Kennedy E. Franklin, Tiana L. Gonzalez, Traevin M. Nelms
Pasadena: Alejandro Chapa, Colton T. Dement, Lucas E. Rodriguez
Porter: Conner J. Westenburg
Richmond: Corey Cordell Johnson, Jace A. Marsters, Camryn A. Pletka
Rosenberg: Mikayla D. Wright
Rosharon: Brian Ronnell Lampton
San Marcos: Garrett Lee Dietert
Santa Fe: Reese Michelle Reyna, Haylie Michelle Ruhl
Spring: Tia L. Andrews, Baylee Laskoskie, Alexander K. Perkins
Sugar Land: Ty Abraham
Tomball: Kendall Lynn Glueck
Vidor: Cameryn Brinson, Zachary Joseph Robin
Winnie: Sherry Elaine Racca
UTAH
Spanish Fork: Averi Marshall
VIRGINIA
Ashburn: Alexis Nicole Bourg
WASHINGTON
Ferndale: Hannah Murphy
WISCONSIN
Brookfield: Julianna G. Schmidt
COUNTRIES
AUSTRALIA
Callum James Eddings, Callum James Eddings
BAHAMAS       
Ariel Amelia Hanna
BANGLADESH
Zarin Musarrat Manita
BENIN
Segnisso Ahokpossi
BRAZIL
Mariana Moreira McMartin
CANADA
Jalon White
COLOMBIA
Ana Maria Gonzalez Suarez
CUBA
Yoanett Hernandez
FINLAND
Eemil Herranen
FRANCE
Louise Lallement
GERMANY     
Bonnie Andres, Olivia Fiona Tzschach
GUAM
Sinajana: Rylan G. Bawar
HONDURAS
Mario E. Castro-Rivera
INDIA
Disha Dipak Patel, Pushti Chouhan, Godwin Jacob, Harikrishnan Radhakrishna Pillai
INDONESIA
Vlady N. Nanlohy
ITALY
Filippo Daniele Squassina
JAMAICA
Linea Elaine Williams
JORDAN
Samia Sharawi
KENYA
Gladys Jemaiyo, Pamela Kosgei
KOREA, REPUBLIC OF
Junghyun Park
MEXICO
Daniela Kusters, Luis Carlos Rivas Partida
MONTENEGRO
Stefan Mirkovic
NEPAL
Manoj Adhikari Kshetri, Keshav Aryal, Rajan Budhathoki, Anish Dangol, Prajwal Dhungana, Krishna Gurung, Laxman Gyawali, Manashi Kandel, Nita Kaphle, Aayusha Karki, Supriya Karki, Rita Khadka, Suraj Khanal, Raunak Raj Khatiwada, Kushal Khatiwoda, Anil Khatri, Prerana Lamsal, Samriddhi Mahat, Hemant Mahato, Sunil Kumar Mahato, Samrat Marasini, Naresh Neupane, Manabi Paudel, Bishnu Prasad Poudel, Sambridhi Poudyal, Aastha Rai, Sandip Sapkota, Prasidda Sharma, Kandu Sherpa, Rojina Sunuwar, Rashmita Tamang, Achyut Kumar Thapa, Suraj Thapa, Ganesh Wosti, Manita Khatri, Krishna Gurung, Abhishek Bhusal, Amrit Silwal, Aayam Paudel, Sabin Khadka, Prabin Shrestha
NIGERIA
David Oluwatobiloba Majekodunmi, Oluwasemilore Fredrick Adefila, Oluwaseyifunmi Fikunayomi Adejumo, Eniola Mercy Adenuga, Uchechi Valerie Adiele, Olamide Mary-Ann Afolabi, Ibukunoluwa Florence Ajibode, Stephen Olaleke Alagbe, Aikenzua Samson Alenkhe, Uchenna Favour Anyaegbunam, Damilare Johnson Awodele, Oluwadamilola Ogooluwa Bamigboye, Joshua Ejiroghene Daniel, McAusten Chidalu Ezenduka, Obumnaeke Gabriel Odinamkpa, Oghenemarho Tiara Ogboru, Enoch Oluwadunmininu Ogunnowo, Patrick C. Okoroafor, Alfred O. Okorocha, Edward Oladimeji Olaniyan, Zainab Adeola Sanusi, Temiloluwa Oluwabusayomi Oluwadare, Muqeet Oluwanifemi Gbolahan, Oluwafikayomi Olugbenga Iyanda, Oluwaseyi Ayo-Anjorin
PAKISTAN
Abdul Wahab Javed, Amin Memon, Muhammad Shazad Yousufzai Pathan
PERU
Ashley T. Espinoza
PHILIPPINES
Virgilio Roi Adaptar
RUSSIA
Victoria Skudina
SAUDI ARABIA
Ahmad Eid Alnakhly
SPAIN
Aina Domingo Bernabeu, Mireia Yespes
TANZANIA
Mpawenimana Violette
VENEZUELA
Yileynis Melisa Jimenez Rodriguez, Elisa C. Hevia, Adolfo Antonio Mellado Suarez, Aymet Uzcategui
VIETNAM                                                                                                                                                                                        Quyen Hoang, Thien Thuan Le, Diem Bich Thi Tran, Thi Thuy Linh Tran, Huynh My Ngoc Phan, Hoang Le, Khue Hoang Mai Nguyen, Tho Nguyen Hoang Tran
Want more stories like this one sent straight to your inbox every week? Sign up for our McNeese eNewsletter!
The Office of Marketing and Communications
4205 Ryan Street
Lake Charles, LA 70609
337-475-5640
communications@mcneese.edu