Banners at McNeese Presents Elias Faingersh's "Solo from the Pit"
March 9, 2020 | McNeese Public Relations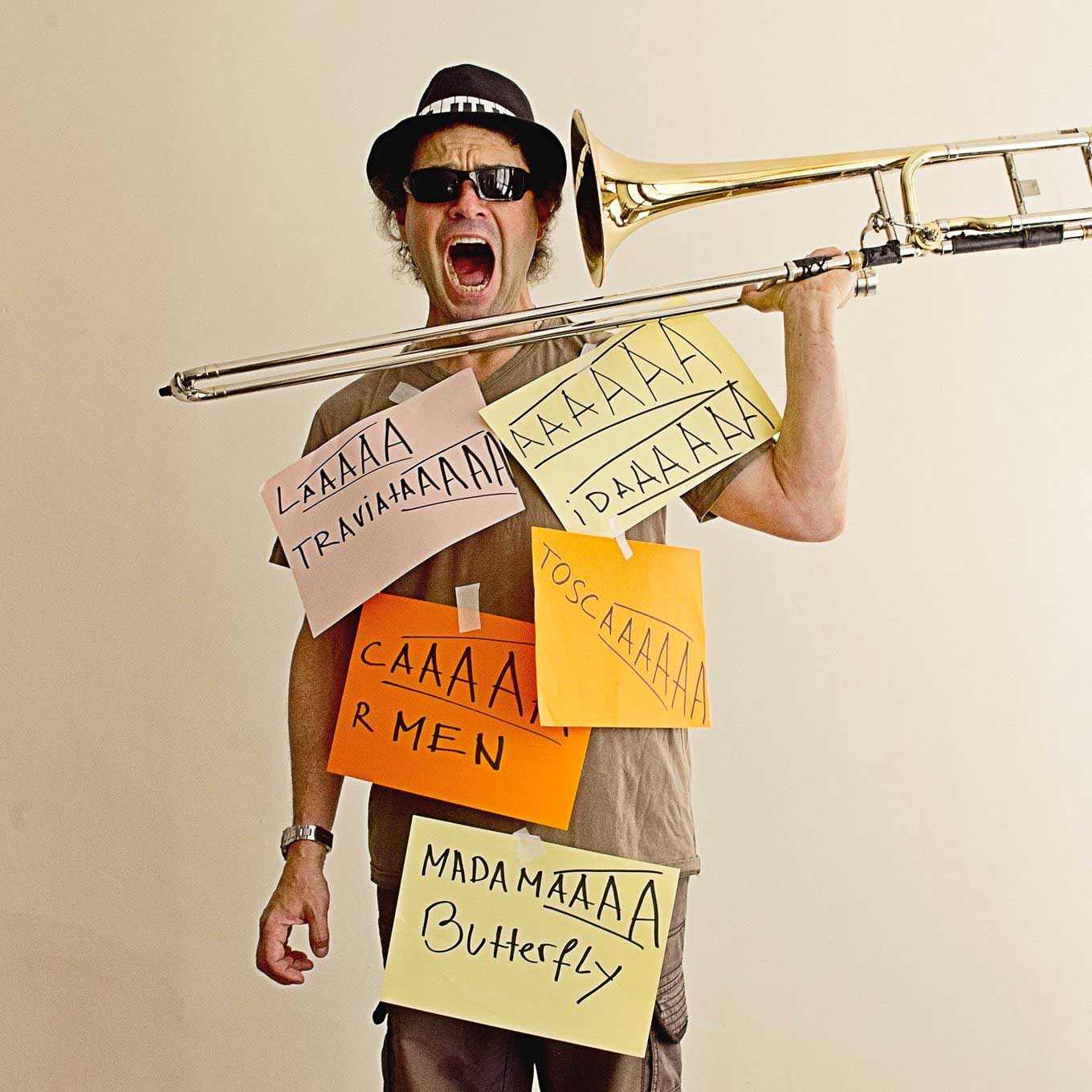 Musician Elias Faingersh brings his award-winning off-Broadway hit, "Solo from the Pit," to McNeese State University as part of the Banners 2020 Cultural Season at 7 p.m. on Saturday, March 14, in Tritico Theatre in the Shearman Fine Arts Annex.
Combining music, comedy and candor, this show offers a peek into a composing artist's mind as Faingersh guides the audience through a comedic crash course in finding operatic (and personal) meaning as he recounts his decision to leave a coveted position at the Metropolitan Opera.
"Solo From the Pit" explores the choice to pursue comfort and security or follow a dream through Faingersh's unique musical style. He taps, blows and sings into the brass, adroitly flipping it to use a microphone mounted on the back for operatic vocals and hitting foot pedals to loop sound effects.
Faingersh is a graduate of both Malmö Musikhögskola and the Manhattan School of Music. His critically acclaimed show, "Trombone Magic," has been performed in major halls, including the Berlin Philharmonic, the Congress Hall of Riga and the Moscow Conservatory Hall. Nicknamed "Europe's golden trombone" by the critics, Faingersh has performed in front of European royalty, as well as prime ministers and presidents of the United States, England and France.
Tickets are $20 for adults, $5 for students under 18 and free for McNeese and Sowela students with current IDs.
Banners is supported by ticket sales, memberships, corporate sponsors and grants. For more information about the program or to get tickets, visit the Banners website at www.banners.org or call the Banners office at 337-475-5123.
Persons needing accommodations as provided by the Americans with Disabilities Act should contact the ADA Coordinator at 337-475-5428, voice; 337-456-5960, fax; 337-562-4227, TDD/TTY, hearing impaired or by email at cdo@mcneese.edu.
Want more stories like this one sent straight to your inbox every week? Sign up for our McNeese eNewsletter!
The Office of Marketing and Communications
4205 Ryan Street
Lake Charles, LA 70609
337-475-5640
communications@mcneese.edu