2018 McNeese Homecoming Set
October 19, 2018 | McNeese Public Relations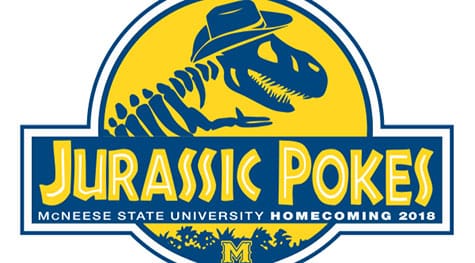 Dinosaurs will roam the McNeese State University campus Oct. 21-27 as students, alumni and the community prepare for 2018 Homecoming activities. "Jurassic Pokes" is this year's theme and rumor has it the T-Rex will make unscheduled appearances at events throughout the weeklong celebration.
Students will "jump" into Homecoming on Sunday, Oct. 21, with a half-night of wall-to-wall trampolines, trampoline basketball and dodgeball beginning at 7 p.m. at Altitude Trampoline Park.
Several activities are planned for students on Monday, Oct. 22. Free haircuts will be available at Rowdy's Barbershop from 10 a.m.-1 p.m. in the La Jeunesse Room. Students can also battle it out with Laser Tag from 11 a.m.-3 p.m. in Parra Ballroom.
On Tuesday, Oct. 23, student volunteers will continue the tradition of giving back as part of "Community Service Day" by working around campus.
Also on Tuesday, students can have one parking ticket "forgiven," thanks to the Student Government Association's popular "Amnesty Day," held in La Jeunesse from 8 a.m.-4 p.m. Students must bring the original ticket, which may not exceed $25 and must be from this semester to qualify.
Tuesday Night: there will be a special showings of "Jurassic Park" and "Jurassic World" will be held in the Quad from 7 p.m. to midnight.
Students will slip and slide through a game of "muddy volleyball" as Homecoming's mucky tradition of oozeball on Wednesday, Oct. 24, from 1-5 p.m. on Frasch Hall's front lawn. A trophy and recognition for the top three teams are up for grabs.
The Homecoming parade is scheduled to roll down Ryan Street at 7 p.m. Thursday, Oct. 25, with over 100 entries expected. This year's parade marshals are the Blue and Gold Peerleaders, a student leadership group celebrating 20 years.
Immediately after the parade, the Homecoming pep rally will take place inside Cowboy Stadium, where the 2018 Homecoming king and queen will be announced. A dazzling fireworks display will follow the pep rally, which is sponsored by the McNeese Alumni Association and its corporate sponsors CHRISTUS Ochsner Health Southwestern Louisiana and Coushatta Casino Resort.
On Friday, Oct. 26, the 46th annual Alumni and Friends Homecoming Golf Tournament will be held at 11 a.m. at Mallard Cove Golf Course.
On Saturday, Oct. 27, students and alumni will enjoy tailgating outside Cowboy Stadium before the big game. The student tailgate will be held at 3 p.m. in Lot E while the alumni and Petrochem tailgate will be held from 3-5:30 p.m. in the Grove for all Rowdy card and Petrochem members.
The McNeese Bookstore will be open from 10 a.m.-5 p.m. Saturday with the latest apparel available for Cowboy fans on game day.
The Cowboys will face off against the Central Arkansas Bears at 6 p.m. in Cowboy Stadium. The 2018 Homecoming court will also be introduced at halftime.
Other events taking place during Homecoming week are: 20-year Blue and Gold Peerleader Reunion Dinner, Friday, Oct. 26, for information call Karen Westfall, at 475-5133; NPHA Greek Mixer on Friday, Oct. 26, in Parra Ballroom for students and alumni; the 64th annual McNeese Rodeo Oct. 26-27 in the Burton Complex – for times and ticket prices call 475-5690; the induction of the 2018 Rodeo Hall of Fame members, Saturday, Oct. 27, in Burton Coliseum; the 40th anniversary reunion of the 1978 Southland Conference Championship Cross Country Team; and the annual 1960s football team reunion.
Want more stories like this one sent straight to your inbox every week? Sign up for our McNeese eNewsletter!
The Office of Public Relations and University Events
4205 Ryan Street
Lake Charles, LA 70609
337-475-5640
publicrelations@mcneese.edu