Trumpet Competition Recognizes Women
March 1, 2021 | McNeese Public Relations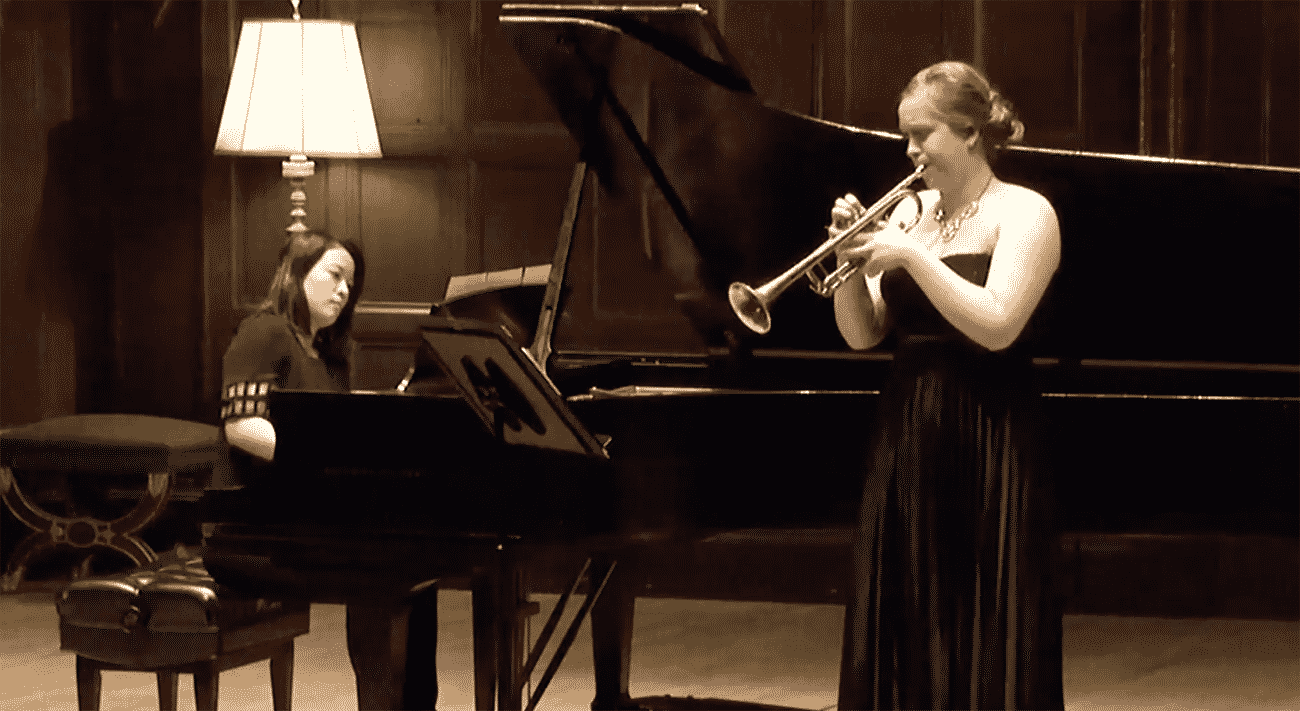 The first winners of the inaugural McNeese State University Women Composing for Trumpet Competition have been selected, according to Dr. Jacquelyn Lankford, assistant professor of music in the W.A. and Dorothy Hanna Performing Arts Department.
Established by Lankford last year and funded by her Juliet Hardtner Women in Arts and Humanities Professorship, the competition was founded as a way to add women's voices to the standard trumpet repertoire. Lankford says that she noticed the lack of female composers included in the repertoire as she pursued her own studies in music as a female trumpet player.
"When I was pursuing my master's degree and doctorate, I realized that there was only one piece that we consider standard literature by a woman for solo trumpet," she says. "I saw an opening with my professorship to create an opportunity for this lack of representation."
The competition is aimed towards female composers from a variety of music backgrounds – the only requirement is that the piece be composed specifically for trumpet.
"My idea was to give women a chance to be recognized and to choose something that can really stand up against the other standard literature," she says.
This year, the winning pieces selected were "Radiate" by Katie Jenkins and "Wind O' er the Highlands" by Madeline Lee.
Jenkins is a teaching fellow at the Center for Innovation of the Arts at The Juilliard School in New York City, where she coaches composition for film, TV and media. She has performed across Europe and the U.S., including at the National Sawdust Brooklyn, where she held a fellowship, The Juilliard School, The Curtis Institute of Music and The Wales Millennium Centre and her work has been performed by ensembles including the Harmonia Sacra Choir and Juilliard's string quartets. Her compositions have placed first in the 2020 International Piano Competition and the 2020 Women Composing for Trumpet International Women's Brass Competition. She also holds the Henry Mancini Fellowship.
Jenkins says, "Winning this competition means so much to me. Having grown up in Wales, U.K., I was surrounded by the sound of the brass band and I have always yearned for the chance to write for solo brass. In attending Juilliard, I was very lucky to have so many wonderful brass player friends who inspired me to write for their instruments. I am over-the-moon that my work, "Radiate," has the chance to enter the trumpet repertoire along with other fabulous pieces from women composers!"
Lee, who received her bachelor's degree in music education from the Conservatory of Music and Dance at the University of Missouri-Kansas City and her Master of Music degree in horn performance at the Columbus State University Schwob School of Music, is currently director of bands for Northumberland County Public Schools in Heathsville, Virginia.
Also an arranger, composer and managing editor for Alias Music Publishing, Lee's compositions have won the Fredericksburg Brass Composition Competition and the 2019 International Women's Brass Conference Call for Scores. She has performed with the Topeka Symphony Orchestra as assistant principal horn, the Northlands Symphony and the Alias Brass Company as a pianist and several ensembles at the Schwob School of Music.
"Winning this competition has been an immensely important achievement for me as a female musician, a composer, and most importantly, a band director," Lee says. "I have many young musicians who see me as a sort of guiding force and this has allowed me to show them what it is to truly live your art and pursue your passions and dreams."
The winners received $2,000 and their compositions will be published by Music Murphy Press. Jenkins and Lee will also receive professional recordings of their music from McNeese and a concert showcasing their pieces is also planned for Aug. 6 at the University of North Texas.
Lankford says that the response has been overwhelmingly positive from the music community. "So next year, we'd like to take these two winning compositions and create another trumpet competition in which contestants will be judged on their performance of these pieces."
Lankford is also going the extra mile to support women brass players worldwide – all of the entry fees for the competition are donated to the International Women's Brass Conference.
"As part of what I do at McNeese, I've been out to the high schools and there are so many fantastic female brass players, but they don't seem to think they can pursue a career in music because there don't seem to be many women in the limelight," Lankford says. "I want to show them that they can succeed because of their hard work and because they're doing what they love. I didn't really have anyone doing that for me and I wish that I did, so I hope that in hosting this competition, and in my role at McNeese, I can be that role model for these young women and help change their lives."
Lankford, who has been at McNeese since 2018/19, earned her doctorate in trumpet performance with a related field in music education from the University of North Texas, her master's degree in trumpet performance and literature from the Eastman School of Music and bachelor's degree in music education from New Mexico State University. She serves as second trumpet with the Monroe Symphony Orchestra and third trumpet in the Lake Charles Symphony Orchestra.
Want more stories like this one sent straight to your inbox every week? Sign up for our McNeese eNewsletter!
The Office of Marketing and Communications
4205 Ryan Street
Lake Charles, LA 70609
337-475-5640
communications@mcneese.edu