August 31, 2017 | McNeese Public Relations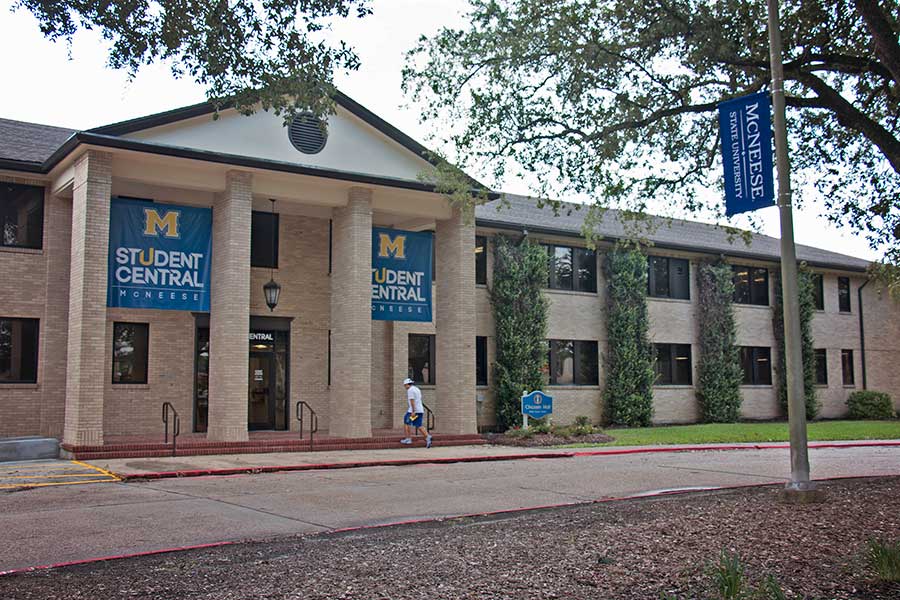 Fall classes began Aug. 21 at McNeese State University and students will notice several changes around campus this semester.
STUDENT CENTRAL
Inside Chozen HallStudent Central – a one-stop shop – is now open in Chozen Hall on the McNeese State University campus for prospective students and parents and incoming as well as continuing students.
Now open on campus is Student Central, a convenient one-stop enrollment center in Chozen Hall for prospective students and parents and incoming as well as continuing students.
Student Central – located on the corner of Ryan and McNeese streets – now houses the offices and departments of the registrar, admissions and recruiting, scholarships, financial aid, general and basic studies, community services and outreach that services the high school enrollment program) and enrollment management.
Chozen Hall was originally constructed in 1956 as one of the first residence halls on campus. The repurposed building has been completely renovated and this central location offers students a more streamlined approach to academic support services.
In 2009, the building was named in memory of David Edward Chozen, a notable businessman in Southwest Louisiana and an alumnus and long-time McNeese supporter.
NEW DINING OPTIONS AND RENOVATION
This summer, several dining areas were refurbished and remodeled, including Einstein Bros. Bagels.
Inside Rowdy's Dining Hall
Rowdy's Dining Hall on the McNeese State University campus has been renovated for students to provide more dining options.
Chartwells, McNeese's food service and catering provider, completed a major renovation to Rowdy's Dining Hall this summer.
Improvements were made to the serving line, grill and deli areas, the My Pantry area where students create their own meals was enlarged and updated and the salad bar has been expanded and will offer new options.
The Food Court in the New Ranch was remodeled with two new food concepts – "Build: Pizza by Design and Burger 337.
Pizza by Design will offer artisan-style pizzas that will allow customers to buy pizza by the slice or build their own individual pizzas by dough, sauce, cheese and specialty toppings as well as offer a choice of other Italian-style dishes that vary from week to week.
Burger 337 will offer premium-grilled burgers, sandwiches, po'boys, chicken tender baskets, French fries, sweet potato fries, onion rings and cilantro coleslaw.
RESIDENCE HALL CHECK-IN
Students can move into the residence halls Aug. 17-19 after they check in with Student Housing personnel at the recreational complex. For more information, call the Student Housing office at 337-475-5606.
ORIENTATION
The final freshman orientation is Aug. 17 at 8 a.m. For more information, contact General and Basic Studies at 337-475-5135.
LATE FALL REGISTRATION
Students can still register for the fall 2017 semester online or with their faculty adviser during late registration Aug. 18-22. Students must be admitted to the university and should see an adviser to get their alternate PIN, if required, prior to registration. To register, students can go online to www.mcneese.edu and click on the "Student Central" tab and then click the yellow Banner Self-Service button to begin the registration process. For more information on late fall registration, contact the McNeese Registrar's Office at 337-475-5356.
STUDENT ID CARDS/PARKING PERMITS
Students can pick up their student IDs and parking permits from 8 a.m.-4:30 p.m. in the Executive Meeting Room next to the campus post office through Friday, Aug. 25. Beginning Monday, Aug. 28, IDs and parking permits will be available at the University Police Office on Ryan Street.
Want more stories like this one sent straight to your inbox every week? Sign up for our McNeese eNewsletter!
The Office of Marketing and Communications
4205 Ryan Street
Lake Charles, LA 70609
337-475-5640
communications@mcneese.edu