Spring 2019 Honor Graduates
May 15, 2019 | McNeese Public Relations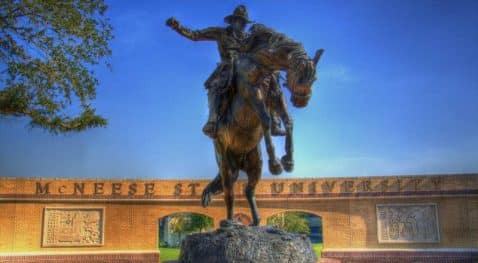 Thirty-four McNeese State University students received the Summa Cum Laude (3.90-4.00) designation in spring commencement ceremonies held Saturday, May 11, at Burton Coliseum.
Eight students were recognized for earning a 4.0 GPA throughout their college careers: Alexis N. DeLeo, Haughton, in mathematical sciences; Yenifer V. Flores, San Miguel, El Salvador, in history; Haile M. Gilroy, Lake Charles, in mathematical sciences; Chukwuemeka O. Ike, Lekki, Nigeria, in engineering; Danielle Nicole John, Sulphur, in psychology; Bryan D. King, Parker, Colorado, in natural resource conservation management; Molly Kate Thompson, Rosepine, in English; and Morgan M. Woods, Lake Arthur, in elementary education.
Alexis DeLeo

Yenifer Flores

Haile Gilroy

Chukwuemeka Ike

Danielle John

Bryan King

Molly Thompson

Morgan Woods
The other honor students recognized were:
SUMMA CUM LAUDE: Randi Layne Adams, Longville; Abdulrazaq Ibrahim N Alanazi, Alqurayyate, Saudi Arabia; Cassidy Blair Ardoin, Welsh; Layna Grey Bergstedt, Lake Charles; Nicholas F. Bienvenu, New Iberia; Camille G. Boullion, Lake Charles; Sarah E. Brignac, Washington; Amy Renee Darbonne, Lake Charles; Jennifer M. Doucet, Arnaudville; Austin T. Dufrene, Lake Charles; Zahaan Eswani, Toronto, Canada; Elizabeth E. Gober, Lake Charles; Kelsie R. Guillory, Mamou; Levi C. Leger, Crowley; Alexandra Christine Liles, Lake Charles; Miah Shaye Lognion, DeRidder; Emily C. Lucas, Crowley; Kennedy B. McLemore, Lake Charles; Kimberly Danielle Medicis, Lake Charles; Everett  Miller, Haughton; Darko Radakovic, Banja Luka, Bosnia and Herzegovina; Katelyn M. Richard, Kaplan; Robert Waltler Rutz, Lake Charles; Rachel M. Stevenson, Slidell; Esther A. Thompson, Lake Charles; and Rachel Marie Zachary, Sulphur.
Randi Adams

Abdulrazaq Alanazi

Cassidy Ardoin

Nicholas Bienvenu

Camille Boullion

Sarah Brignac

Amy Darbonne

Jennifer Doucet

Austin Dufrene

Zahaan Eswani

Elizabeth Gober

Kelsie Guillory

Levi Leger

Alexandra Liles

Miah Lognion

Kimberly Medicis

Everett Miller

Darko Radakovic

Katelyn Richard

Rachel Stevenson

Esther Thompson
MAGNA CUM LAUDE (3.70-3.89): Collin Brice Adams, Lake Charles; Afaf Suwayyid N. Alanazi, Alqurayyate, Saudi Arabia; Inez E. Ange, Lake Charles; Jaycey Ann Beard, Eagle, Colorado; Nicholas R. Bedwell, Killeen, Texas; Sara Blythe Bohannon, Sulphur; Lindsey A. Bower, Lake Charles; Jacob A. Bridges, Sulphur; Emily Ann Burleigh, Iowa; Sophie E. Campbell, Lake Charles; Canon Cart, Lake Charles; Cody A. Caswell, Lake Charles; Courtney P. Ceasar, Eunice; Gavin Zane Conley, Lake Charles; Ada G. Crochet, Westlake; Faren R. Daigle, Lake Charles; Hannah C. Dartez, Jennings; Madison A. David, Rayne; Alyssa Gabrielle Derouen, Sulphur; Emily Claire Dickerson, Lake Charles; Tea B. Dickerson, Lake Charles; Charoline Erlandsson, Stockholm, Sweden; Nanci Kaye Evans, DeQuincy; Avery Fliger, Baschor, Kansas; Morgan C. Foreman, Lake Charles; Shianne N. Fuslier, Lake Charles; Rebecca Mia Gill, Sulphur; Courtnee C. Green, Youngsville; Audrey L. Harris, Grand Lake; Madalyn E. Hebert, Lake Charles; Jessica Leigh Ramsey Ivey, Longville; Delaney Kaye Jackson, Roanoke; Reygan A. Jagneaux, Ville Platte; Aaron L. Johnson, Mamou; Jeffery Michael Knapick, Houston, Texas; Devyn A. Knippers, Sulphur; Tara Deneen LaBruyere, Longville; Celeste M. Lee, Sulphur; Jennifer E. Link, Lafayette; Brittany Nicole Long, Lumberton, Texas; Mia M. Manzanares, Opelousas; Janae R. Maricle, Leesville; Julianne Grace Marler, Lake Charles; Kaleb C. McDade, DeRidder; Grace Maria McKenzie, Cork, Ireland; Cody J. Miller, Lake Charles; Mallory E. Myers, Jennings; Monica Thao My Nguyen, Vinton; Nathanael Seth Nicholas, Lake Charles; Ashley N. Petry, Lake Charles; Austin J. Pottorff, Sulphur; Crosby Dylan Qui, Lake Charles; Ana Karen Reyes, Groves, Texas; Laura Marie Schmid, Crowley; Skylar M. Seaford, Sulphur; Darian N. Seago, Lake Charles; Thomas A. Spagnoli, Houston, Texas; Caleb A. Stanley, Lake Charles; Jacob C. Stark, Grant; Elizabeth N. Stretcher, Jennings; Sandra Lynn Theriot, Lake Charles; Shay M. Walker, Lacassine; and Kaitlin Denise Wheeler, Sulphur.
CUM LAUDE (3.50-3.69): Faisal Ibrahim Nasser Alqahtani, Riyadh, Saudi Arabia; Jordan B. Ashworth, Lake Charles; Kara Lauren Ashworth, Lake Charles; Madison B. Augustine, Fenton; Anne C. Breaux, Lake Charles; Lauren G. Breaux, Sulphur; Gabrielle K. Briscoe, Welsh; Bradley G. Bryant, Lake Charles; Brett J. Bullard, Lake Charles; Kelly Noel Caldarera, Lake Charles; Hannah A. Canter, Holmwood; Brentney A. Carroll, Slidell; Miranda G. Charles, Lake Charles; Maddison M. Cholley, Sulphur; Jacob G. Cochran, Lake Charles; Jordan Coe, Lake Charles; Michael Warren Cutrer, Sulphur; Rhett Deaton, Winnsboro, Texas; Haley Noelle Delaunais, Lake Charles; Kyle Brent Delino, Iowa; Taylor S. Duhon, Lake Arthur; Ty D. Ellender, Lake Charles; Erin E. Green, Thibodaux; Rosalie Clare Guinn, Jennings; Morgan F. Hardey, Westlake; Haley M. Harless, Lake Charles; Julia L. Hebert, Bell City; Emily Kathryn Hendricks, Welsh; Megan E. Holmes, Wildomar, California; Kevin T. Istre, Lake Charles; Caitlin E. Johnson, DeRidder; Prajwal Khatiwada, Hetauda, Nepal; Sarah Nicole Kidder, Orange, Texas; Michelle A. Klein, Lake Charles; Kennedy R. Kober, Iowa; James Eric Lasher, Lake Charles; Katie Nicole Lee, Groves, Texas; Mary E. Leonards, Basile; Collier Thomas Litel, Lake Charles; Shelby R. Matte, DeQuincy; Nicklas Mattner, Braunschweig, Germany; Emilee M. Mayes, Deer Park, Texas; Morgan P. Middleton, Frisco, Texas; Kaylee J. Moody, Sulphur; Brant A. Morton, Westlake; Savannah D. Moses, DeRidder; Emily Lorice Northcutt, Lake Charles; Huanrong Ouyang, Guangzhou, China; Meiyi Pan, Shenshen, China; Nola R. Prickett, Hemet, California; Latoshua Mabre Bergeron, Breaux Bridge; Muneeza Qureshi, Lake Charles; Brandi LeJeune Reed, Gueydan; Michael A. Reed, Lake Charles; Elliott L. Reeves, Dry Creek; Thaddeus D. Richard, Eunice; Steven Aaron Robinson, Katy, Texas; Toni N. Romero, Welsh; Rebecca T. Smith, Many; Christine M. Stephens, Sulphur; Veronica A. Stewart, Lake Charles; Shereen K. Taha, Lake Charles; Cody L. Thibodeaux, DeQuincy; Lorita A. Thomas, Lake Charles; Danielle Kay Thompson, Lake Charles; Jolie A. Trahan, Hackberry; Taylor M. Trahan, Lake Charles; Jordan Mark Warren, Vacherie; Lauren Bailey Woods, Sulphur; Lauren R. Wyble, Opelousas; Madie B. Young, Basile; and Heidi D. Zaunbrecher, Hayes.
Want more stories like this one sent straight to your inbox every week? Sign up for our McNeese eNewsletter!
The Office of Marketing and Communications
4205 Ryan Street
Lake Charles, LA 70609
337-475-5640
communications@mcneese.edu