Nursing Faculty Receive Lifetime Achievement Award
December 6, 2021 | McNeese Public Relations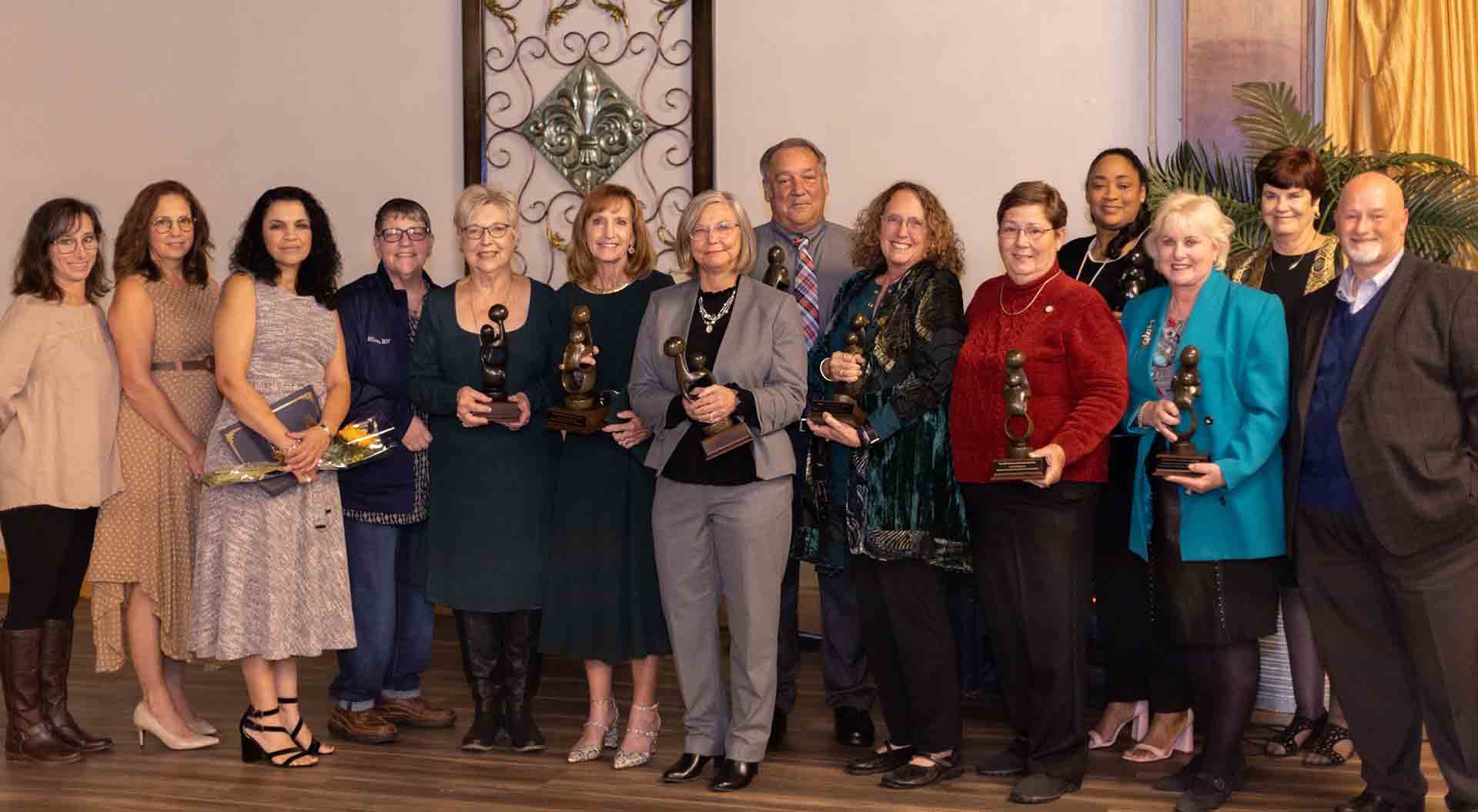 Four nursing faculty members from McNeese State University were recently recognized at the Legends in Nursing Celebration sponsored by Lake Charles Memorial Health System.
Jane Alcock, nursing skills lab coordinator, Dr. Tari Dilks, head of the graduate nursing department, and Dr. Anita Fields-Gold, dean emeritus, all received the DAISY Lifetime Achievement Award. Dr. Peggy Wolfe, professor of nursing, was also nominated.
The DAISY Lifetime Achievement Award recognizes those nurses who have devoted their life's work to the compassionate care of others.
Recipients of this award are chosen based on their years of distinction, promoting a positive image of professional nursing, engaging in professional development and advocating for the nursing practice and the improvement of patient care.
"We are so proud of these faculty members who have received or been nominated for the Lifetime Daisy Award," says Dr. Ann Warner, interim dean of the College of Nursing and Health Professions. "It shows our college's commitment to both the art and science of nursing."
Alcock is a 1971 McNeese nursing graduate. She joined the College of Nursing and Health Professions in 2010 and oversees seven laboratories on campus where nursing students gain practical hands-on experience. Alcock has over 50 years of experience as a professional nurse.
Dilks joined the McNeese College of Nursing and Health Professions in 2003. Dilks, professor of nursing and graduate nursing department head, has over two decades of education experience, 43 years as a nurse and 46 years an advocate for the awareness of psychiatric mental health issues on the local, state and national levels. She currently serves as an expert consultant on mental health to the University of Louisiana System and its member schools and is the director of the psychiatric/mental health track for the Intercollegiate Consortium for a Master of Science in Nursing partnership involving McNeese, Nicholls State University, Southeastern Louisiana University and the University of Louisiana at Lafayette. She plays an essential part in McNeese's Doctor of Nursing Practice degree that launched this fall.
Fields-Gold joined McNeese as head of the Department of Nursing in1980 and was named dean when the College of Nursing was established in 1983. She also played an integral part in the development of Juliet Hardtner Hall that now houses the College of Nursing and Health Professions, gaining accreditation for the nursing program and adding the McNeese master's degree program to the Intercollegiate Consortium. Fields-Gold retired in 2001 and was awarded dean emeritus status in 2018.
Wolfe joined the faculty of McNeese in 1993 and served as professor and coordinator of the graduate nursing program before being named dean of the College of Nursing in 2001. Her leadership transitioned the Master of Science in Nursing program to an online format, and established several state-of-the-art high-fidelity simulation labs for undergraduate students. It was during Wolfe's tenure that the new doctoral program, the Doctor of Nursing Practice with a focus on psychiatric mental health was approved and initiated, the health systems management program was added and the radiologic and medical laboratory sciences and psychology departments were welcomed to the newly named College of Science and Health Professions.
Want more stories like this one sent straight to your inbox every week? Sign up for our McNeese eNewsletter!
The Office of Marketing and Communications
4205 Ryan Street
Lake Charles, LA 70609
337-475-5640
communications@mcneese.edu