Mother and Son Graduate from McNeese Together
December 12, 2022 | McNeese Public Relations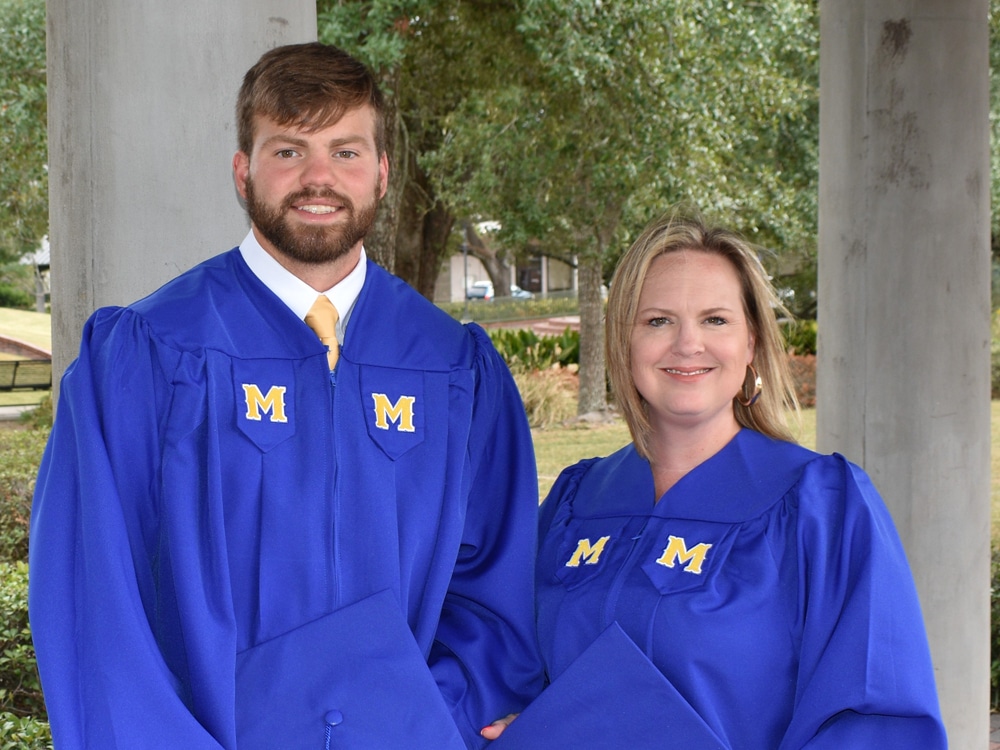 Friday's 159th commencement at McNeese State University was special for mother Brandie Hayden, 44, and her son Brandon Hayden, 23, of Sulphur. Both received their Bachelor of Science degrees at the afternoon ceremony in the McNeese Legacy Center.

Brandie received her degree in mathematical sciences with a concentration in math education 6-12 and Brandon received his degree in health and human performance with a concentration in sport and wellness management.

Brandie is married to Brent Hayden and the couple has three children – Brandon and 21-year-old twin girls Baileigh, who attended McNeese but is now a licensed cosmetologist, and Breanna, who is currently a nursing major at McNeese. Brandie homeschooled her children for eight years and all three graduated from Sulphur High.

Brandie, also a Sulphur High graduate, decided the summer before her 40th birthday in 2018 that she wanted to go to college to be a math teacher and enrolled at McNeese.

"After high school, I got my insurance license and worked for an insurance company, but I quit later to homeschool my children," she said. "When they enrolled in public school, I became a substitute teacher. I enjoyed being in the classroom and teaching. When I was in high school, I struggled with Algebra I and my teacher took the time to work with me to make sure I understood the mathematical concepts. From that point on I loved algebra. Math became my favorite subject." 

Brandie said McNeese was her best choice because of its proximity. "As a wife and mother, I needed to attend a local university where I could reach my goals of graduating college and also still be there for my husband and my children. McNeese allowed me to do this." 

She admits that going back to college was challenging. "I often joked that I was the 'old lady' on campus but I am so glad that I did it. I have enjoyed every moment. I won't say it was easy, but it was certainly worth it," she said.

Brandie said that being a wife and a mom definitely added to the stress of college. "It took all of us working together to help each other out. I couldn't have made it without the help of my husband, Brent," she said. "My husband supported me, encouraged me and really stepped up by taking over the cooking and cleaning duty so I could have study sessions that ran late into the night. Many times, I would meet with other students – young enough to be my children – so that we could conquer those crazy math classes."

Brandon, who is a place kicker on the Cowboy football team, graduated from Sulphur High in 2018 and started college that fall at Louisiana College in Pineville, where he played football before transferring to McNeese in 2020.

Brandie and Brandon did not plan to graduate the same semester but were so excited when they found out that they would be sharing this moment together at McNeese.

"When we realized we would be at the same graduation ceremony, I asked Brandon if he would feel weird graduating with his mom, because if he did, I would have chosen not to walk. He told me, 'Mom, you are walking–you did the hard work."

Brandon said this experience is one that not many, if any, students get to experience. "I am grateful to have had a loving and supportive mother throughout my childhood and to have had the opportunity to attend college. Graduating with my mom is something that I will be able to cherish.

He added, "I am proud of her and all the hard work she has put in to obtain her degree and pursue her dream. From my mother being my teacher in elementary school to my classmate in college, I can say that life is full of surprises."

So, what's next for the two graduates? Brandon says he plans to work on a master's degree in health and human performance with a concentration in exercise physiology at McNeese and then apply to a physical therapy program. He is also eligible to play football for the Cowboys next season.

Brandie is currently a substitute teacher at Sulphur High through the 2022-2023 academic year. "Hopefully, I will move into a permanent teaching position next year," she said.
Want more stories like this one sent straight to your inbox every week? Sign up for our McNeese eNewsletter!
The Office of Marketing and Communications
4205 Ryan Street
Lake Charles, LA 70609
337-475-5640
communications@mcneese.edu