McNeese's Health System Management Degree
June 7, 2023 | McNeese Public Relations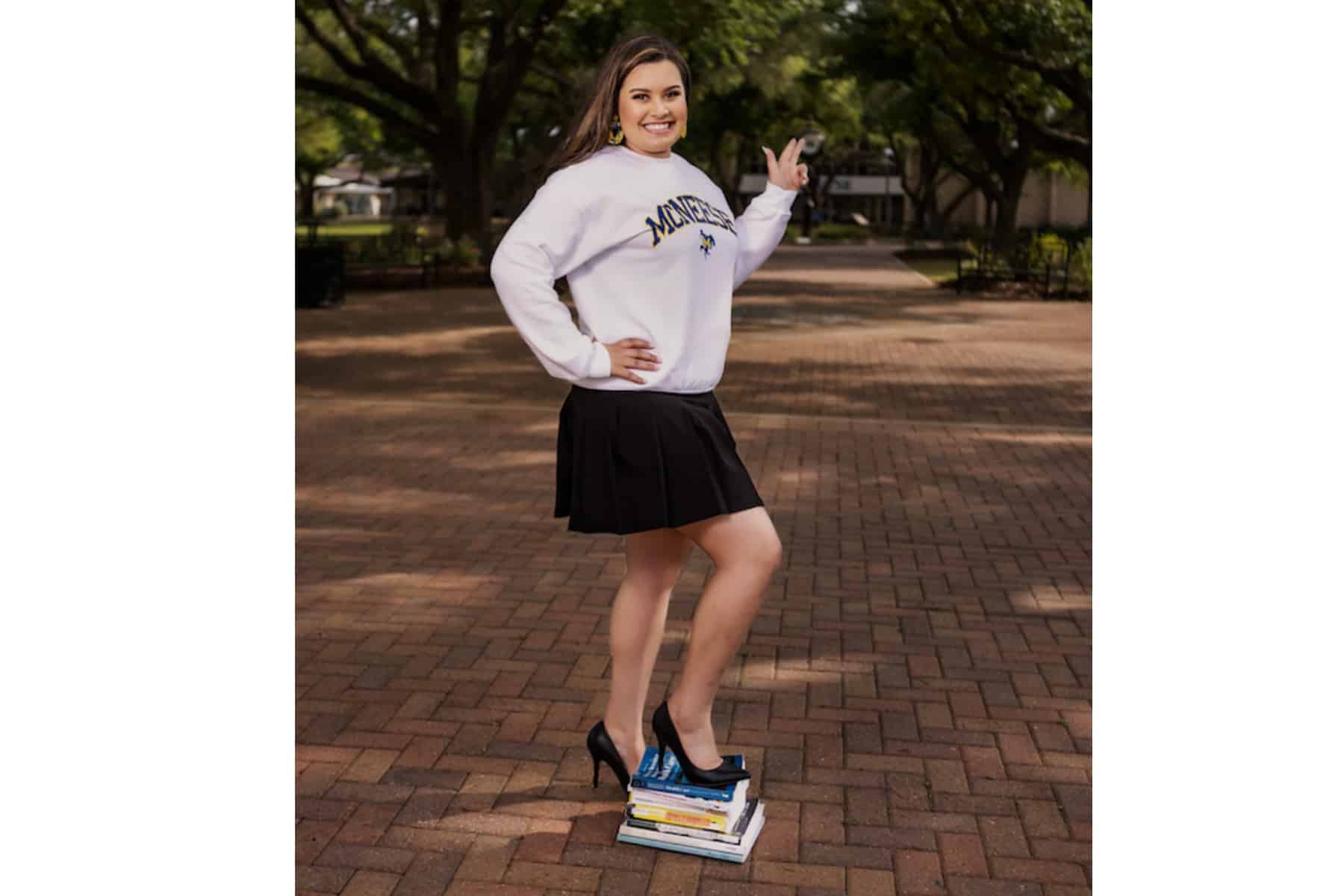 Macey Guillory, of Lake Charles, graduated in May from McNeese State University with a Bachelor of Science in health systems management that she earned while working full time.
Health systems management (HSM) is planning, directing and organizing how health care is delivered in a variety of settings. Students study human resource management, case management, health care law, integrated care and health systems.
"I started off in another major, but I struggled with a couple of classes. I spoke with my adviser about changing my major and she recommended health systems management," Guillory explained. "Even though this decision was hard, I would choose a major in HSM again and again."
The HSM program is 100% online and offers students freedom and flexibility to study from home and at their own pace. Guillory found that worked the best for her.
"I worked from 7:30 a.m.-5:30 p.m. daily and did my homework at night. The flexibility of online classes allowed me to keep my full-time job and it gave me enough time to finish my schoolwork," she said.
Part of the coursework for the HSM degree is an internship. This gives students the opportunity to put into practice what they have learned and understand how things work in the real world. Guillory interned at Lake Charles Memorial Hospital and Moss Memorial Health Clinic.
"The most important thing I learned during my internships is that communication is key," Guillory said. "This is especially important when communicating with patients. There are so many different types of people in the world and they each require a certain way of communications." She feels confident that she can now professionally communicate, whether it's written or verbal communication.
Guillory also put her class knowledge to work using what she learned about coding. While working with coding and billing staff, she observed the importance of the codes when working with health insurance companies.
"The best part of my internship was working with the revenue cycle side of the health care field and building relationships with people," she said. "It allowed me to grow in ways that I didn't know I needed."
Guillory also learned the importance of balance because working full time plus taking online classes wasn't always easy. She experienced the ripple effects of procrastination, but she quickly found she could balance all the aspects of her life.
Assistant professor and HSM department head Christal Williams helped Guillory decide where to do her internship. Another time, Williams shared Guillory's excitement about a job interview.
"Mrs. Williams matched my excitement and congratulated me many times," Guillory said. "Hearing my professor and adviser talk about how proud she was of me made my day. She made a difference in my life!"
Guillory said students who are considering HSM as a major should go for it! The professors genuinely care for their students and there are several opportunities for graduates with this degree.
"I have several job opportunities and I plan to work on a master's in health care administration in the future." Guillory said. "My long-term goal is to become a chief operating office or CEO of a hospital."
Want more stories like this one sent straight to your inbox every week? Sign up for our McNeese eNewsletter!
The Office of Marketing and Communications
4205 Ryan Street
Lake Charles, LA 70609
337-475-5640
communications@mcneese.edu