McNeese Students Selected for Inaugural Scholars Program
August 31, 2021 | McNeese Public Relations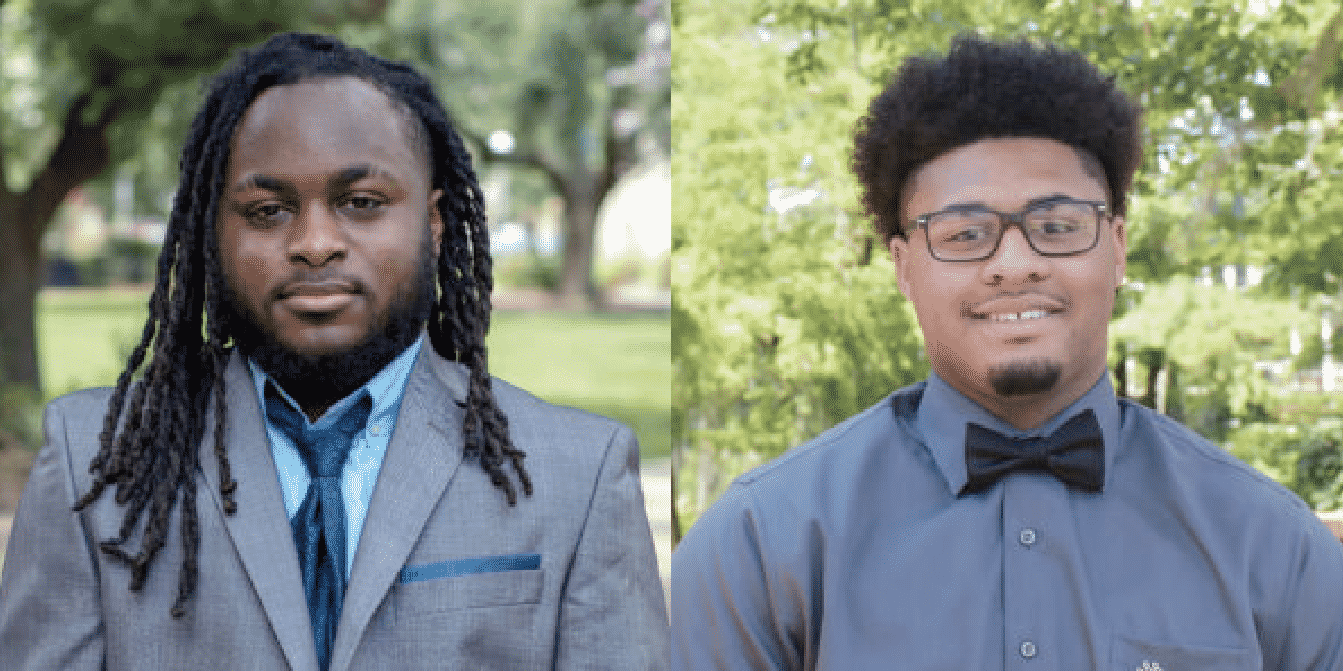 McNeese State University health and human performance major Isaiah Johnson and biological sciences major Malaki Johnson, both from Opelousas, have been selected for the inaugural Reginald F. Lewis Scholars program by the University of Louisiana System (ULS).
This program is part of the commitment by the UL System to produce Louisiana's most educated generation by the year 2025. One component of this goal is to close the achievement gap across historically underserved populations. Currently, only 11% of Black males in Louisiana attain a college degree or higher, as compared to 17% of Black females, and there is 27% attainment for whites of either gender.
To help address this gap, the Reginald F. Lewis Scholarship was created as a three-year program focused on enhancing the educational experience for exemplary Black male students in the areas of academic, social advancement and community service through research experience, study abroad, service-learning projects and mentorship opportunities.
Eighteen sophomores were chosen for the program – two from each of the system's nine institutions that includes McNeese – based on academic merit, financial need and demonstrated leadership skills.
As Reginald F. Lewis Scholars, both students will receive full tuition scholarships and benefit from a number of community experiences, including a partnership with the Universities of Louisiana Management & Leadership Institute and an annual scholars' retreat.
For Malaki, being selected as a scholar after the challenges of his freshman year has been extremely rewarding. "Due to COVID-19 and the hurricanes, McNeese classes all went online, and I had never taken online classes before, so that was a challenge. To be recognized for excellence and scholarship even through these challenges is really significant for me."
"This is an excellent opportunity for our scholars. I am excited to be the facilitator for this program at McNeese," says Krisshun Youngblood, director of Inclusive Excellence at McNeese. "With the support of mentors on campus and in the community, our scholars will truly profit – from community and campus volunteering to professional workshops and job shadowing. Isaiah and Malaki will grow as leaders in their careers and will also be positive role models to their peers and young people they mentor."
Both Isaiah and Malaki are interested in pursuing careers related to health and wellness. Malaki, who graduated from Beau Chene High School, has been attending McNeese baseball and football games from a young age. He says he has always enjoyed counseling his peers and sees the pre-medicine concentration as a way to combine two of his interests.
"I have always liked listening to people and trying to help them, and my grandfather was a pharmacist who got me interested in medicine. If you combine medicine and counseling, that's psychiatry," he says. He adds that he's looking forward to being a part of two student organizations – the Pre-Medical Society and the NAACP – while at McNeese.
Planning to become a physical therapist after graduation, Isaiah, who graduated from Opelousas High School, says that it was his mother that inspired him to pursue his career goals.
"My mom was in health care and always told me to help people as much as I could. Having played sports in high school, I know how important physical therapists are in helping people recover from injuries. When I came to Preview Day at McNeese, I saw that the pre-physical therapy program has a 90% acceptance rate for graduates pursuing physical therapy school, so McNeese was my first choice."
Both scholars say that the scholarships will make a big difference in helping them cover tuition and fees for school. They are also looking forward to the mentorship aspect of the Scholars program.
"I think a lot of people, even though they may not say it, need a little help to keep going," says Isaiah. "College can be tough sometimes so I'm looking forward to having someone help guide and motivate me as I work toward my degree."
Malaki agrees. "I'm excited to meet mentors that have gone through everything I have to go through. I think it will help knowing that if they can do it, I can do it."
Want more stories like this one sent straight to your inbox every week? Sign up for our McNeese eNewsletter!
The Office of Marketing and Communications
4205 Ryan Street
Lake Charles, LA 70609
337-475-5640
communications@mcneese.edu