McNeese students participate in NASA-funded project
June 7, 2018 | McNeese Public Relations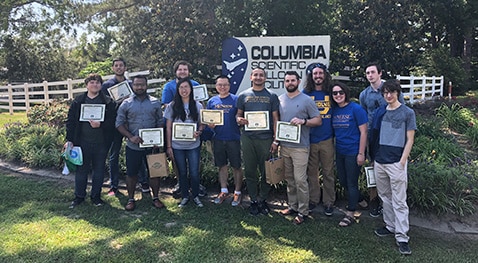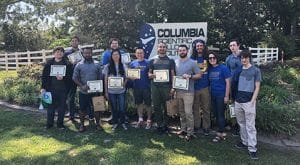 Three student teams from McNeese State University's College of Engineering and Computer Science traveled to NASA's Columbia Scientific Balloon Center in Palestine, Texas, to participate in the Louisiana Aerospace Catalysts Experiences for Students balloon project.
The balloon project is designed to give students a hands-on experience with an aerospace project and is funded through NASA's National Space Grant College and Fellowship program at Louisiana State University.
Teams Tachyos, Epimtheus and UFO each constructed small research modules designed to collect data on specific atmospheric conditions, according to Dr. Zhuang Li, professor of mechanical engineering at McNeese.
"The modules were then placed in a payload and attached to helium-filled latex balloons, carried up to 100,000 feet to take atmospheric readings and then returned to the ground by parachute," says Li. "All modules had to weigh 500 grams or less, yet they also had to be capable of withstanding the extreme conditions of the upper atmosphere and surviving the return trip."
Team UFO, comprised of project manager Anthony Miller and team members Jason Rowland, Monica Nguyen and Caleb Thibodeaux, constructed its module to measure atmospheric temperature, pressure and humidity, which would then be compared to Dallas/Fort Worth National Oceanic and Atmospheric Administration data for accuracy.
Team Epimetheus, headed by project manager Kristen Lemaire and team members Michael Casteel, Andrew Galloway and Everett Miller, designed its module to take high-altitude pictures and transmit them in real time to a ground station.
Team Tachyos, led by project manager Nikesh Babu Kandel and team members Patrick Hales, Iesan Jung Karki, and Om Babu Gupta, equipped its module with a muon (particle) detector to gauge the level of muons in the atmosphere.
Li says each of these projects presented unique challenges for the teams throughout the process, including the planning and building stages and last minute technical difficulties with the launches.
"But with perseverance and quick thinking," Li says, "each team was able to overcome the challenges and all launches were successfully executed. Now, the teams will focus on studying the data their modules collected and then presenting their findings."
Want more stories like this one sent straight to your inbox every week? Sign up for our McNeese eNewsletter!
The Office of Marketing and Communications
4205 Ryan Street
Lake Charles, LA 70609
337-475-5640
communications@mcneese.edu