McNeese Students and Faculty Recognized at Conference 
April 24, 2023 | McNeese Public Relations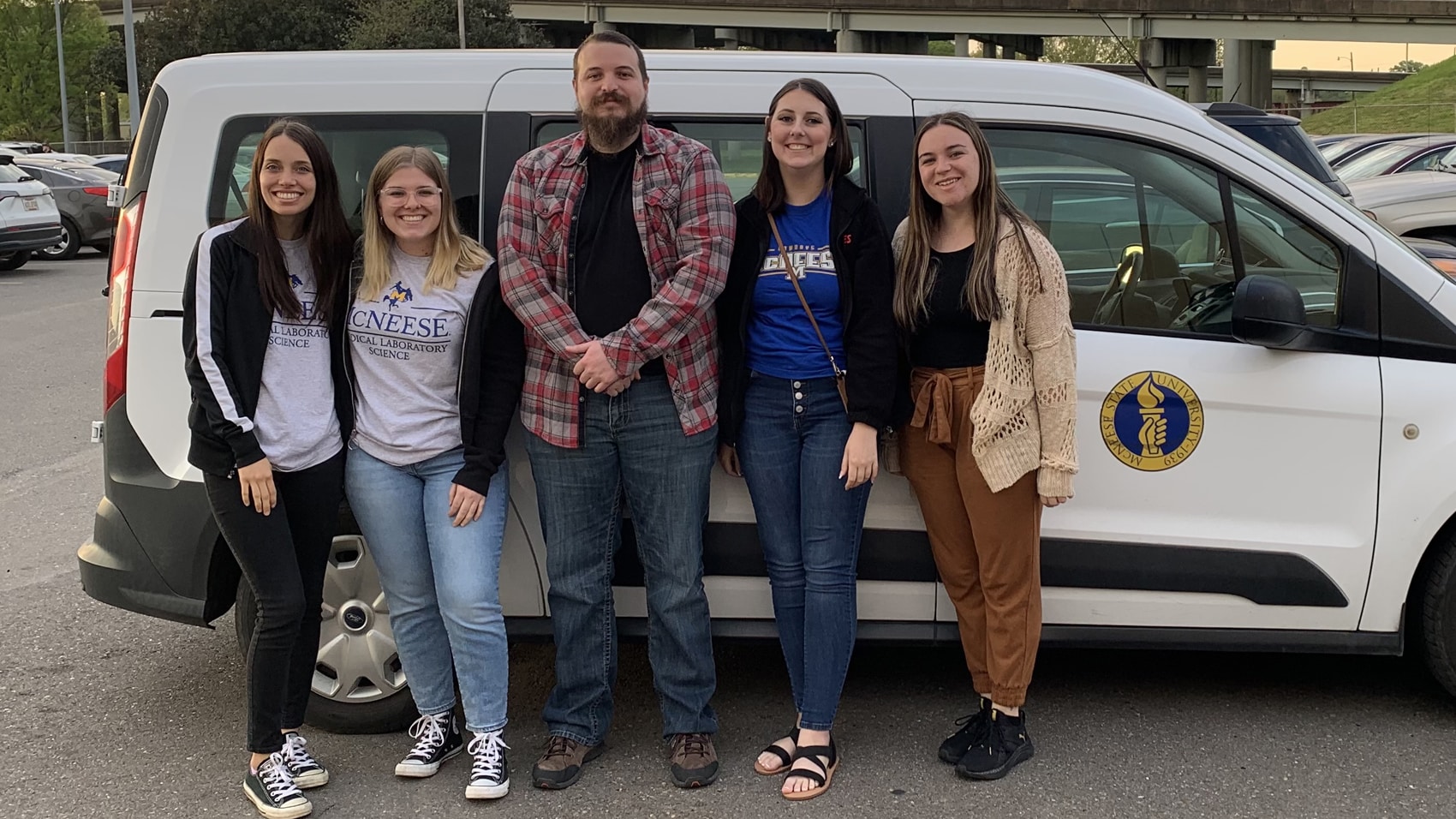 McNeese State University medical laboratory science students recently competed at the American Society for Clinical Laboratory Science (ASCLS) Bi State meeting with the Louisiana and Mississippi societies in Monroe.  
This annual meeting of the professional laboratory society allows medical laboratory professionals to network, learn new technologies, obtain professional development and earn continuing education units.
Two McNeese seniors presented research papers and earned prizes. Ariel Bennett, from Longville, presented a paper titled "The Relevant but Rare Blood Disorder Hemophilia" and Garrett Thibodeaux, from Lake Charles, presented a paper titled "Regulatory T-Cells and Their Potential to Prevent Autoimmune Diseases."
In addition, five students competed in the quiz bowl and earned fourth place. They were Bennett and Thibodeaux along with Ashlyn Dufren of Prairieville and Andie Johnson and Kylie Lavergne, both of Lake Charles.
"It was exciting to watch this group win several rounds in a row! We could see the confidence and smiles building with each win," explained Jennifer Bushnell, director of the medical laboratory science program and assistant professor. "The group represented McNeese in the best possible light—polite, courteous and smart."
Johnson, who is graduating this spring, chose McNeese because she felt a sense of community on campus. She loves learning about biology and wants to work in the health care field. Medical laboratory science was the perfect major for her.
"The best thing about this major is that you are an integral part in diagnosing patients, which leads to them getting the care that they need and deserve," she explained.
Johnson is grateful for the opportunities that she had majoring in medical laboratory science and attending McNeese. She plans to work in a laboratory at a local hospital.
"I have genuinely enjoyed learning about this field more than I ever thought I would, and once I started my internship, I appreciated it even more," Johnson reported. "It is the perfect degree for someone who wants to help others in a more indirect way than some of the other health care professionals."
The senior year for a medical laboratory science major includes an internship in a laboratory setting and is a realistic look at what is expected for entry-level jobs for graduates. Students have the opportunity to convert their classroom knowledge to real-world experiences. Many students receive job offers during their internships.
"For the last several years, if not decades, all of our students have been hired within six months of graduating from the medical laboratory science program," explained Bushnell. "To my knowledge, no one has ever had trouble finding a job."
McNeese faculty were also honored at the meeting. Bushnell was awarded the 20 Years Special Member award. Sonya Hidalgo, medical laboratory science assistant professor, was awarded an Omicron Sigma Award. This award recognizes those dedicated members who volunteer their personal resources, time and energy to ASCLS.
Johnson says more students would enjoy this work if they knew about the degree.
"This field allows you to contribute to patient care in a variety of settings, provides job security and is evolving so that you are always learning and growing in your career," she said.
Want more stories like this one sent straight to your inbox every week? Sign up for our McNeese eNewsletter!
The Office of Marketing and Communications
4205 Ryan Street
Lake Charles, LA 70609
337-475-5640
communications@mcneese.edu