McNeese Student Wins 2017 College Business Pitch Competition
July 26, 2017 | McNeese Public Relations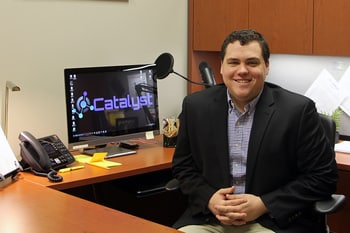 McNeese State University student Joseph Drinkard won the university division of the 2017 SEED Center Business Pitch Competition with his idea for Catalyst Medical Scribe Management.
With an idea to bring medical scribe services to the underserved Southwest Louisiana community, McNeese  State University student  Joseph Drinkard won the university division of the 2017 SEED Center Business Pitch Competition  sponsored by the SEED Center Business Incubator.
This is the fifth year that the SEED Center has conducted the competition, both to promote the SEED Center Business  Incubator's benefits and services  as well as encourage entrepreneurship in the local area, according to Adrian Wallace,  executive director of the business incubator.
Drinkard, along with three other division winners, was awarded $2,500 in start up funds provided by SASOL North America.
After graduating in 2013 with a bachelor's degree in music, Drinkard decided to change course and pursue a career in the
medical field. Drinkard, a  Louisiana native, relocated his family to Lake Charles in 2014, where he began coursework as a  biological sciences major at McNeese. After being  hired in March 2016 at the Lake Charles Memorial Hospital to work in the  emergency medicine scribe program as lead scribe, Drinkard first began to  develop the idea that would become his business proposal — Catalyst Medical Scribe Management (CMSM).
Medical scribes function as personal assistants to physicians, handling their documentation, clerical and administrative needs throughout the day, according to Drinkard.
"This allows the physician to focus on practicing medicine and increases efficiency," Drinkard says. "So, not only is the physician able to see more patients in a day, but also most physicians report a higher level of job satisfaction, which in turn staves off burnout."
Because the medical scribe position has only been recognized within the last decade, many hospitals have not yet expanded their medical teams to incorporate the role. Drinkard's pitch proposed to fill this gap – his business would specialize in providing primary care and outpatient scribes recruited and extensively trained for physicians in Southwest Louisiana.
"The emergency medicine scribe program there at Lake Charles Memorial was implemented by Professional Emergency Medicine Management, and soon after I was hired, I was chosen to lead the program," he says. "I was able to, in a sense, overhaul the program, which included writing and implementing new policies and procedures from scratch. My team and I were able to make the role of a scribe a crucial gear in the machine that is the emergency department. This success inspired me to consider our primary care providers and see if they could benefit from a similar service. The research I found overwhelmingly confirmed my suspicion."
Now, CMSM is more than just a pitch – Catalyst Medical Scribe Management plans to officially begin offering its services this fall, with Drinkard taking on the role of CEO.
He attributes his success to the SEED Center competition, as well as McNeese assistant professor of biological science, Dr. Amber Hale, who originally brought the competition to Drinkard's attention.
"Winning the competition, more than anything, really put a seal of approval on the business. Having an impartial third party not only tell you that your idea is viable, but also putting resources at your disposal is amazing," Drinkard says. "It's a great stepping stone for things to come."
In the weeks since winning the competition, Drinkard has moved into the SEED Center's Business Incubator and says his days have been filled with meetings. "A lot of meetings! The business of business can be taxing – but I've found it to be incredibly interesting and personally rewarding," he says.
He is also looking forward to harnessing the talent within the Lake Charles community. "One of the things that I am most excited about is the fact that we are literally creating jobs from scratch," he says. "Medical scribing is considered to be the gold standard of clinical experience for those who apply to graduate, medical and allied health programs. Through Catalyst, we have the opportunity to harness the talents and passions of our science students in a way that sets them on their highest career trajectories."
Catalyst is currently accepting applications. Interested individuals can send their cover letter, resume, and references to jobs@catalystmsm.com. For more information on
Catalyst Medical Scribe Management, visit www.catalystmsm.com.
Want more stories like this one sent straight to your inbox every week? Sign up for our McNeese eNewsletter!
The Office of Marketing and Communications
4205 Ryan Street
Lake Charles, LA 70609
337-475-5640
communications@mcneese.edu