McNeese Student Interns with Louisiana Ecological Forestry Center
September 20, 2022 | McNeese Public Relations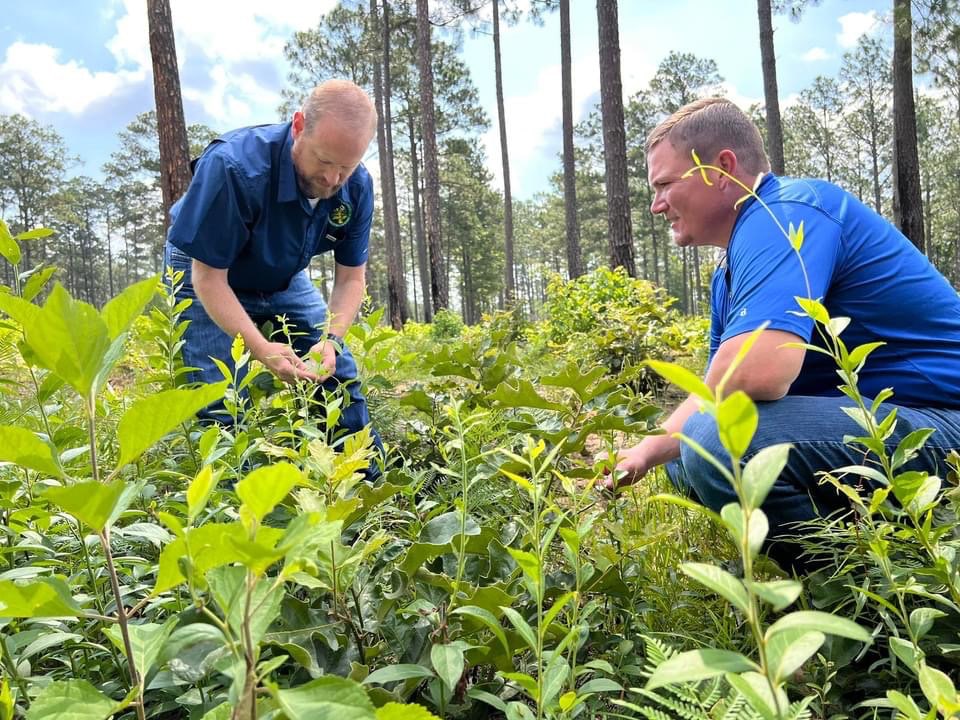 Justin Kossman, a natural resource conservation management senior at McNeese State University, received real-world experience this summer through an internship with the Louisiana Ecological Forestry (LEAF) Center at Hodges Gardens in Florien that will make him first choice for employers after graduation.
An Illinois native, Kossman medically retired from the U.S. Army at Fort Polk in 2021 due to combat injuries after serving almost 21 years in the military. He currently lives in Hornbeck and was looking for a new career path for his life. He discovered that at McNeese.
"I decided to pursue a degree in natural resource conservation management at McNeese because I have always had a passion for the outdoors and managing habitat. With my military retirement, I didn't have to prioritize the financial aspects as much as I prioritized my interests," he said.
At the LEAF Center, Kossman has had a broad range of hands-on opportunities.
"During the internship I was able to participate in many forestry practices such as tree counts, basal area assessments, flagging of boundaries and even road repairs for haul out operations and I was introduced to data management regarding fish and deer harvests," explained Kossman.
He also assisted in managing the habitat for endangered, threatened and protected species, including the bald eagle, the red-cockaded woodpecker and the Louisiana pine snake and performed maintenance and mechanical tasks, as well as mowing and labor work. "I also participated in several prescribed fires during my internship and earned a prescribed burn manager certification," he added.
Kossman said his internship at the LEAF Center has provided valuable on-the-job training and that the transition from the classroom into the field was seamless.
"I do believe that courses that I have taken at McNeese, as well as the faculty in the Harold and Pearl Dripps School of Agricultural Sciences, have prepared me for what I was doing during my internship. Not only did they give me a baseline of knowledge to work with, but they also taught me that sometimes you don't have all the answers and you just have to dive in and not be afraid to try something new," he said.
"The opportunity to see how principles learned in the classroom were applied to habitat management in the field really helped to internalize the concepts and the 'why' behind the management. As I continue to build my technical knowledge, I believe the experience will continue to be an asset in understanding complex theories and models," he added.
Kossman said through his internship he has been able to meet and network with managers from both state and federal agencies, as well as from private organizations.
"This goes back to the value of the internship," he said. "Working with these agency representatives was almost equivalent to a job interview. By having the opportunity to network with these individuals face-to-face, I was able let them know a little bit about myself, my professional experience, education, my work ethic and my goals. I was greatly encouraged that virtually all of them gave me their contact information and asked me to get in touch with them when I got close to graduation. Most either promised to help me find employment within their agency or offered to hire me once my degree was complete in fall 2023."
Kossman's paid internship was cost shared through the Louisiana Agricultural Workforce Development Program offered through the Louisiana Department of Agriculture and Forestry.
LEAF Center Land Manager Rodney McKay says he took advantage of the program. "We are proud to be a part of this internship program. Justin is an asset to our team and is gaining valuable experience to apply to his future," said McKay. "We are excited to be training the next generation of conservationists." 
Become a McNeese State University Cowboy! The application is open at www.mcneese.edu. 
Want more stories like this one sent straight to your inbox every week? Sign up for our McNeese eNewsletter!
The Office of Marketing and Communications
4205 Ryan Street
Lake Charles, LA 70609
337-475-5640
communications@mcneese.edu