McNeese Rodeo Finishes Season On Top
April 27, 2020 | McNeese Public Relations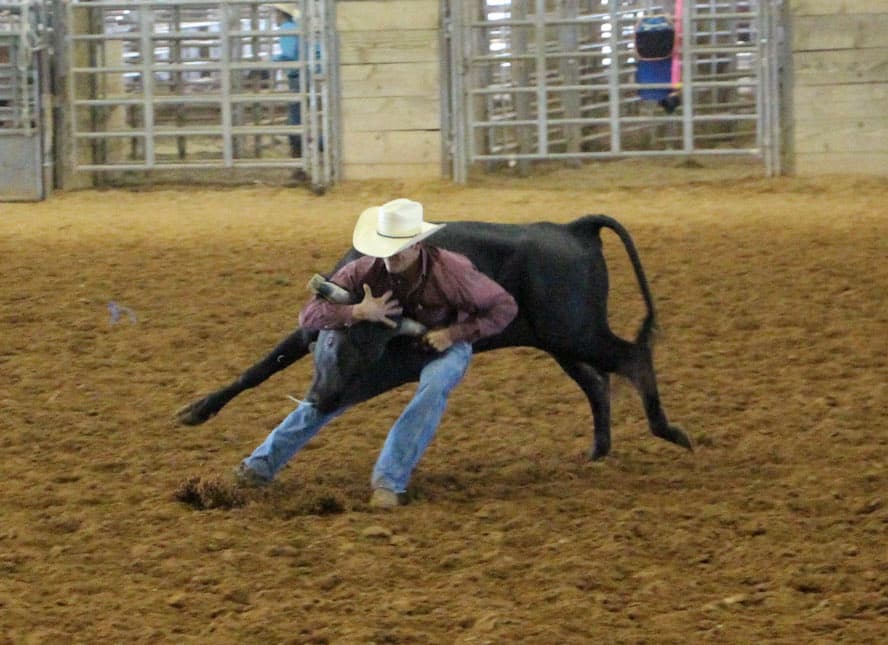 With the cancellation of the National Intercollegiate Rodeo Association's College National Rodeo Finals this year due to coronavirus, McNeese State University's men's and women's rodeo teams have officially ended the season.
"We were on track to take 10 individuals to the national finals this year and I was 100% confident our team was ready to bring home more national championships," says coach Justin Browning. "We had a great run and I'm immensely proud of the team."
With eight of the 10 scheduled rodeos completed before the cancellation, McNeese's men's team finished as 2020 Southern Region champions and the women's team finished as reserve region champions.
In regional standings for the men's team, Zach Jongbloed, Iowa, is the all-around champion and ranked No. 4 in tie down roping.
Waylon Bourgeois, Church Point, is the bareback riding champion.
In saddle bronc riding, Ryder Sanford, Carlyss, finished ranked No. 3, Lathan Lyons, Eunice, finished as No. 4 and Shea Fournier, Raceland, as No. 8.
Gabe Soileau, Bunkie, finished the season as reserve champion in steer wrestling, while Jongbloed finished ranked No. 3. Remey Parrot, Mamou,was No. 4 and Gavin Soileau, Bunkie, was No. 5.
In bull riding, Fournier finished ranked as No. 10.
In regional standings for the women's team, Ashleigh Young,Mansfield, Texas, is the champion in goat tying, while Kaylee Cormier, Iowa, finished No. 4 in the event, Kati Murphy, Bell City, finished ranked No. 6 and Kamryn Duncan,Denham Springs, finished as No. 9.
Lizzie Broussard, Estherwood, finished as the reserve all-around champion in barrel racing.
In breakaway roping, Kelsey Brashear, Iowa, finished ranked at No. 9.
At the national level, the men's and women's teams both ended the season ranked fourth. For the women, Young is ranked first in goat tying and Broussard is ranked fourth in barrel racing. For the men, Sanford is third in the saddle bronc riding and Bourgeois is third in bareback riding. In steer wrestling, Gabe Soileau is ranked No. 7, Jongbloed is No. 9 and Parrot is No. 10.
On the women's team, the students who qualified for the 2020 CNFR are Young, Cormier and Murphy in goat tying and Broussard for barrel racing. Duncan qualified as an alternate in breakaway roping.
For the men's team, Jongbloed qualified in tie down roping and steer wrestling, Sanford in saddle bronc riding, Bourgeois in bareback riding and Gabe Soileau, Gavin Soileau and Parrot in steer wrestling. Lyons qualified as an alternate in saddle bronc riding.
With the season cut short, the NIRA has granted everyone who qualified to compete in nationals this year an additional year of eligibility.
"Our teams are looking even stronger next year with the new recruits that we have coming in," says Browning. "We will get to have another year with three of our seniors, Ashleigh Young, Lathan Lyons and Ryder Sanford, as well as our new incoming recruits Grant Soileau, Isaac Richard, Brad Hessnor, Kade Sonnier, Ali Murphy and Kathrine Moss. I stay in contact with the team members and they all are staying sharp with their skills and are looking forward to when they can get back in the arena."
Want more stories like this one sent straight to your inbox every week? Sign up for our McNeese eNewsletter!
The Office of Marketing and Communications
4205 Ryan Street
Lake Charles, LA 70609
337-475-5640
communications@mcneese.edu