McNeese Reginald F. Lewis Scholars Recognized
August 9, 2022 | McNeese Public Relations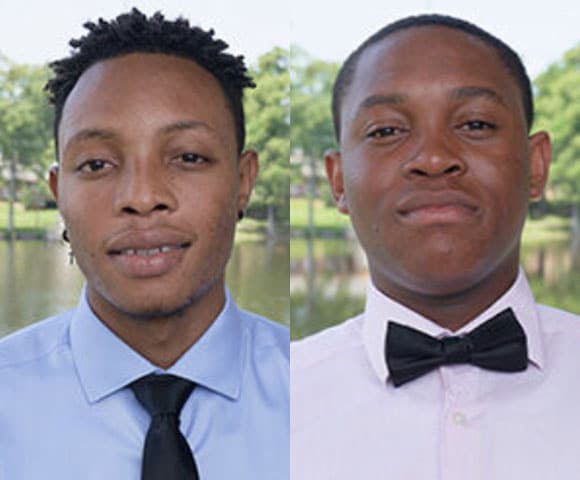 Two McNeese State University sophomores – Cadenley Francois, a nursing major from Gonaïves, Haiti, and Chima Owunna, a computer engineering student from Anambra, Nigeria – have been selected as 2022 Reginald F. Lewis Scholars by the University of Louisiana System.
They are among the second cohort of 18 students selected from the UL System's nine member institutions for the Reginald F. Lewis Scholars program and were officially introduced during the UL System's recent Black Male Summit.
"These 18 young men join the first cohort ready to develop into better students, more engaged community members and culturally aware citizens equipped for life and career success," said Dr. Jim Henderson, president and CEO of the UL System.
The Lewis Scholars program, which is designed to enhance the collegiate experience of Black males across the UL System, provides a three-year curated educational experience focused on three key areas—academics, social advancement and community service. Recipients – who receive a full tuition scholarship – were chosen based on academic merit, financial need and proven leadership skills.
The Reginald F. Lewis Scholars experience has three components: community experience, which includes a partnership with the Universities of Louisiana Management & Leadership Institute and a service-learning project; the social experience, which includes an annual focused retreat and academic, social and professional mentorship from business, community and university leaders; and the academic experience, which includes research projects and a study abroad opportunity in their junior year.
Francois sees his community project as interacting with children ages 5-11. He thinks that "positively engaging with the kids can encourage them to have a successful path in life."
"I feel that I can be an example and make a difference in the community. If other Black students see more Black males succeeding in life, it motivates them to keep pushing and going after their dreams," he said. "Do not work because you expect something but work to better yourself and be an asset to your community. It is not just about you; it is about the people you lead."
Owunna said he welcomed the experience at the Black Male Summit and felt a sense of belonging and brotherhood among the people attending.
He said that Krisshunn Youngblood, McNeese's Director of the Office of Inclusive Excellence and Chief Diversity Officer, once told him to "have integrity and do the right thing when no one is watching." "Doing the right thing not only benefits you but also everyone else," Owunna said
Want more stories like this one sent straight to your inbox every week? Sign up for our McNeese eNewsletter!
The Office of Marketing and Communications
4205 Ryan Street
Lake Charles, LA 70609
337-475-5640
communications@mcneese.edu