McNeese participates in United Way VITA program
March 22, 2018 | McNeese Public Relations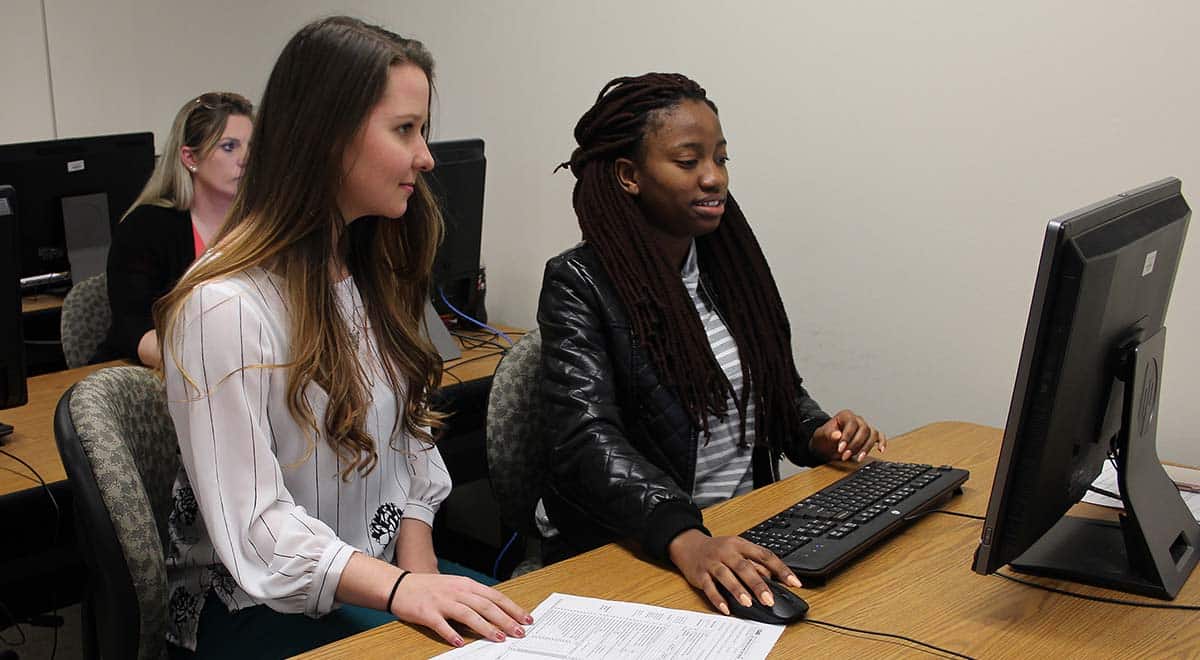 Tax season is underway and 24 McNeese State University finance and accounting students are working as interns or volunteers for the Volunteer Income Tax Assistance (VITA) program through the United Way of Southwest Louisiana, offering free tax preparation assistance to qualifying students, faculty and members of the community.
Individuals with an income of less than $55,427 in 2017 qualify for free tax preparation, as well as persons with disabilities, the elderly and limited English-speaking taxpayers. VITA also offers additional services, such as tax review for previous returns. Both appointments and walk-ins are welcome.
"A lot of people don't realize that we offer this service. Or they're students that think that they have to file their returns with their parents, which isn't always the case, or they plan on using other services," says Karissa Quinn, McNeese VITA student coordinator. "But tax preparation businesses or online software can be costly, and with online software, it's easy to make mistakes, especially if you have complex returns or numerous deductions."
To work with VITA, Quinn says, "All of our interns have to pass a minimum of four IRS certifications and work extensively with IRS e-file tax software, so they're very familiar with all kinds of returns."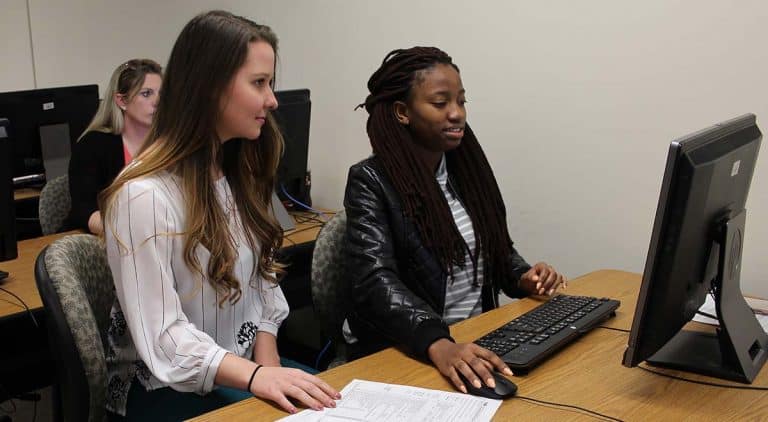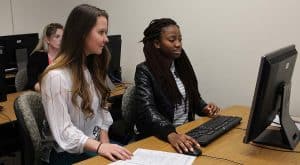 McNeese Visiting Assistant Professor of Accounting and VITA site coordinator/manager Mike Roach says that it's hard to overstate the benefits of the program.
"It's a win-win-win for everyone. The students get to experience what it would be like working in their field and they become very knowledgeable tax preparers. The community benefits because members can get personal and professional tax service at no cost to file. And it's a win for McNeese and United Way because we share in the mission to educate and help the public."
Volunteer Income Tax Assistance (VITA) intern and McNeese State University accounting major Osasuwen Osagie, right, helps McNeese graduate student Hannah Maust with the necessary forms to file her 2017 tax return.
Roach adds, "I love watching students wonder where or how to start, and by the end of their internship, they have learned so much and gained hands-on experience. It's really an amazing transformation."
Student interns and volunteers include: Karissa Quinn, Kinder; Nanci Evans, DeQuincy; XiXi Fan, DeRidder; Barron Brown, Dry Creek; Hillary Cart, Iota; Jace Bolton, Iowa; Jared Meaux, Jennings; Diamond Francis and Alaine Williamson, Lafayette; Lindsey Delouche, Taylor Papillion, Lynn Pope and Ramy Saqer, Lake Charles; Gavin Conley, Moss Bluff; Jenica Pichnic, Sulphur; Alexandra Ardoin, Ville Platte; John Daniels, Kansas City, Kansas; Angel Milner, Fred, Texas; Hassimi Gnafo, Gao, Mali; Osasuwen Osagie, Lagos, Nigeria; Dhuhayan Aldohayan, Riyadh, Saudi Arabia; Essa Alsaeed, Alkhabar, Saudi Arabia; Nhat Le, Nha Trang, Vietnam; Trang Tran, Ho Chi Minh City, Vietnam.
VITA is located in Room 302 of the Burton Business Center. Hours are noon-7 p.m. Monday, Wednesday and Friday, 2-7 p.m. Tuesday and Thursday, and 8 a.m.-5 p.m. Saturday. For more information or a list of required documents, please call 337-433-1088 or visit the United Way VITA website at www.unitedwayswla.org/VITA.
Want more stories like this one sent straight to your inbox every week? Sign up for our McNeese eNewsletter!
The Office of Public Relations and University Events
4205 Ryan Street
Lake Charles, LA 70609
337-475-5640
publicrelations@mcneese.edu