McNeese Offers Pathways into Nursing
May 9, 2023 | McNeese Public Relations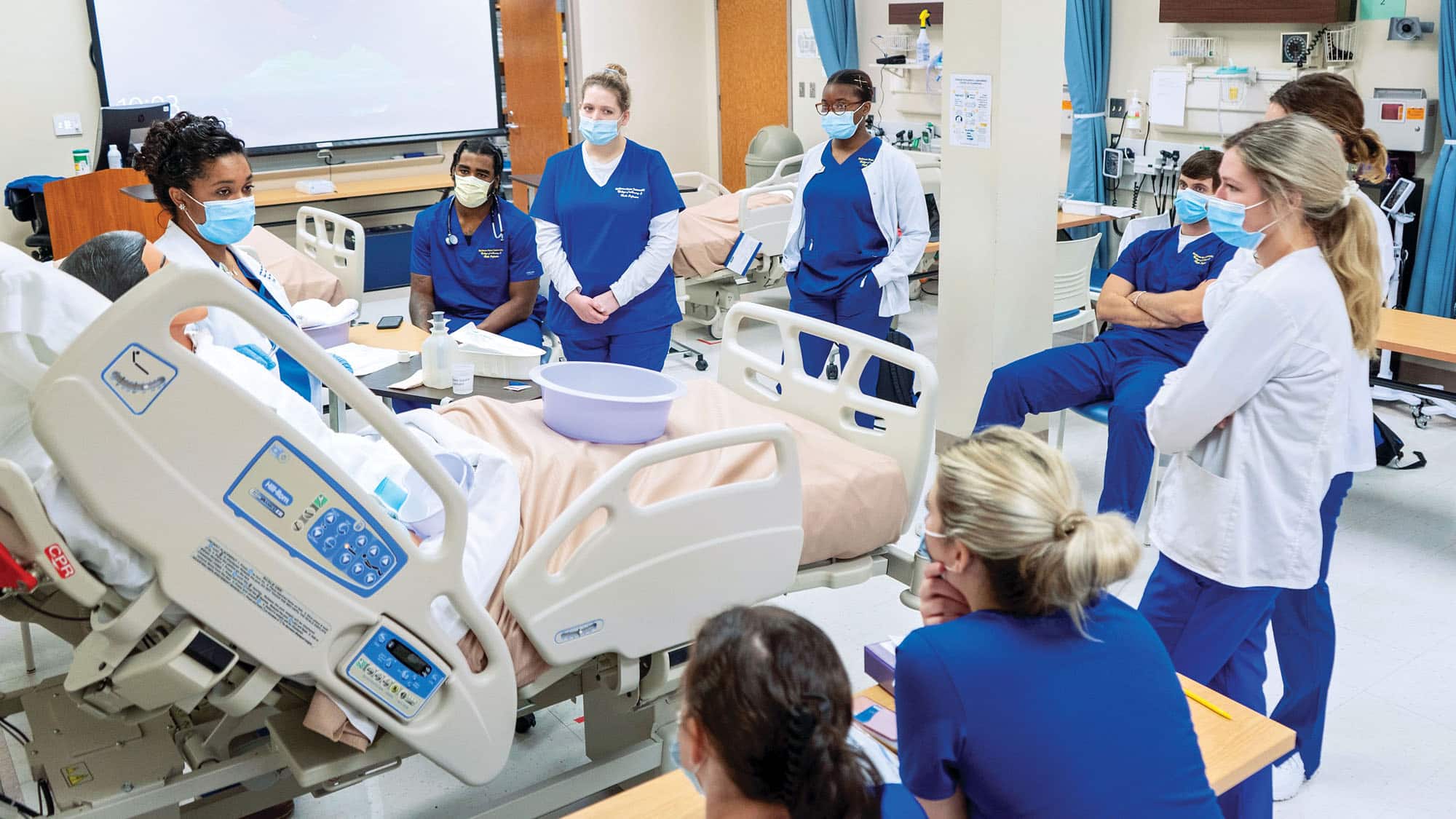 National Nurses Week is May 6-12 and McNeese State University's College of Nursing and Health Professionals offers students several pathways into the nursing profession.
At McNeese, a Bachelor of Science in Nursing (BSN) prepares students to enter the profession as skilled, compassionate and efficient caregivers. Students receive a solid foundation in the classroom as well as extensive hands-on experience in the field by working directly with patients and health care professionals in a variety of clinical settings. The program is approved by the Louisiana State Boarding of Nursing and accredited by the Commission on Collegiate Nursing Education.
McNeese nursing students learn and practice skills in clinical laboratories that mimic hospital settings. Equipment in these labs includes high-tech hospital beds and low-fidelity mannequins, which students use to practice in such areas as wound care, catheter placement, head-to-toe assessments and IV placement. The labs also have high-fidelity mannequins, where students can practice patient interactions, labor and delivery and in-depth physical examinations that include listening to respiratory, pulmonary and abdominal sounds. McNeese also has virtual simulation tools that students can use to practice many other nursing procedures.
"Incorporating simulated clinical learning experiences in the nursing curriculum has been a game changer for us," said Rhonda Johnson, associate professor and department head for undergraduate nursing. "The ability to provide near-to-life patient care scenarios in a protected environment for students to practice their clinical and decision-making skills has been the key to enhancing students' self-esteem and confidence in their ability to anticipate patient care needs and in understanding how to respond to patients, relatives and other members of the health care team."
During the clinical course sequence, students participate in rotations in several health care settings including medical-surgical units, mental health facilities, obstetrics and community health. According to Johnson, this allows students to interact with a variety of patients and settings to help them determine which area they will focus their study.
Additionally, Johnson said each student works with a nursing mentor in a hospital to observe real-world nursing practices and skills, and under the mentor's supervision, the student applies that experience to care for patients.
Another pathway is the RN to BSN program at McNeese that is 100% online. Registered nurses (RN) with associate degrees can earn a BSN through this program. A bachelor's degree helps nurses move into leadership roles and earn additional income, according to Dr. Peggy Hershberger, associate professor and the RN to BSN program coordinator at McNeese.
She said most students need at least two pre-requisite courses in addition to the nursing courses required for a BSN degree. The courses are offered in fast-paced seven-week sessions and most students finish in six to eight sessions.
Nurses applying for this program who live in parishes that are part of the Delta Regional Authority can take advantage of a $5,000 scholarship if they meet the criteria. To apply, visit https://www.mcneese.edu/nursing/rn-bsn-scholarship/. Other scholarship funds are also available.
For those who wish to further their professional nursing education, McNeese also offers a Master of Science in Nursing with programs in family nurse practitioner, nursing education and psychiatric/mental health nurse practitioner and a Doctor of Nursing Practice in advanced practice psychiatric mental health nursing. The 100% online programs are taught by experienced faculty and offer hands-on training in clinical settings.
To find your pathway into the nursing field, visit McNeese at https://www.mcneese.edu/nursing/.
Want more stories like this one sent straight to your inbox every week? Sign up for our McNeese eNewsletter!
The Office of Marketing and Communications
4205 Ryan Street
Lake Charles, LA 70609
337-475-5640
communications@mcneese.edu