McNeese Hosts LaACES Balloon Launch
June 6, 2022 | McNeese Public Relations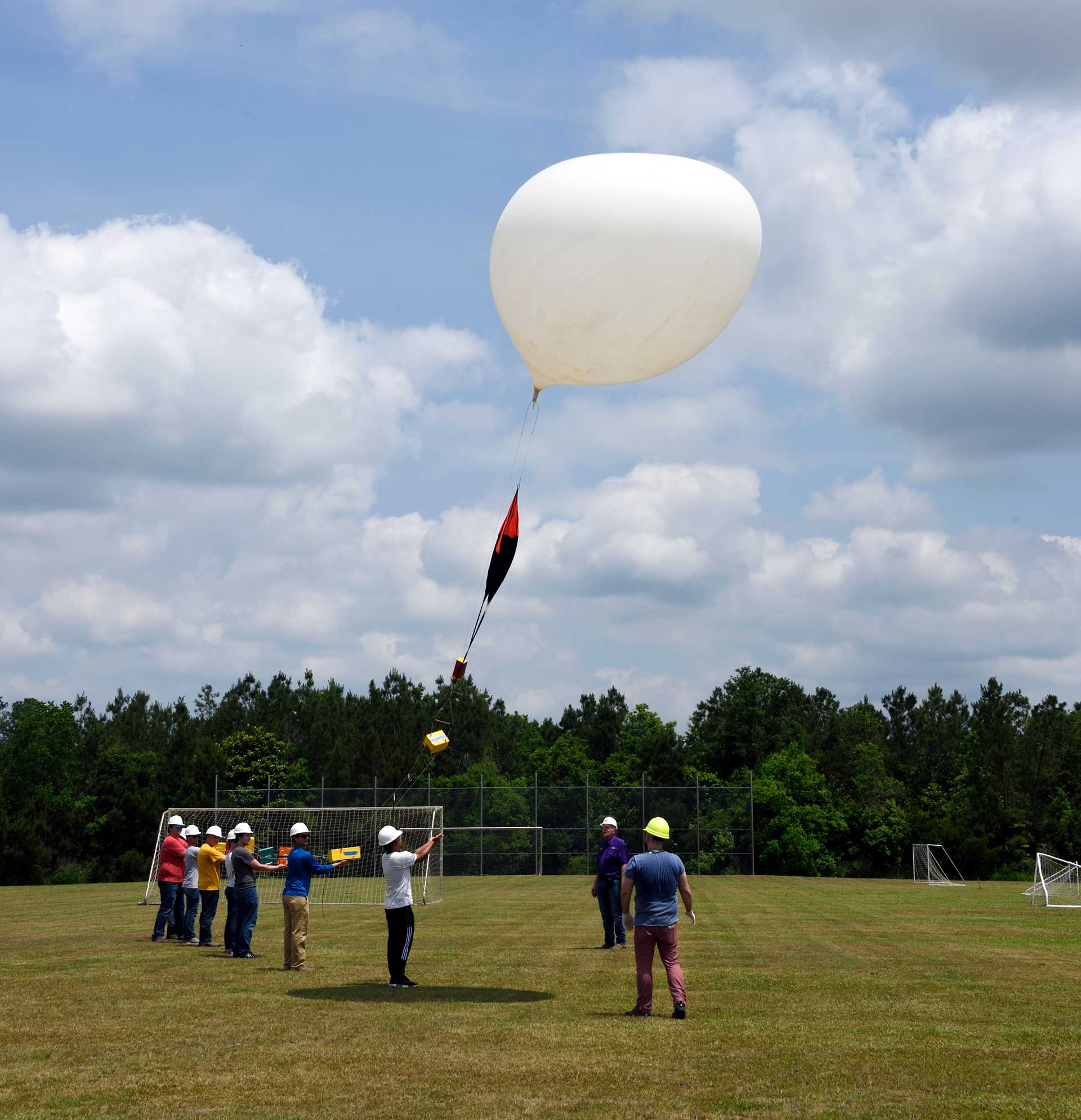 Nine student teams from LSU, University of Louisiana at Lafayette, Southeastern Louisiana University, Northwestern State University, Loyola and McNeese State University converged on the McNeese campus for the 2022 Louisiana Aerospace Catalyst Experience for Students (LaACES) balloon launch.
Funded by the National Space Grant Consortium, a designated consortium in the NASA National Space Grant and Fellowship Program network, the LaACES program is designed to expose students to the full cycle of aerospace project development through the design, creation, testing and operation of small payloads, which are then attached to helium-filled latex balloons and carried up 100,000 feet into the stratosphere. Packed with sensors and small electronics, the payloads take a variety of different readings – including temperature, humidity, pressure and ozone readings – at different altitudes before returning to Earth.
"The LaACES projects provide great opportunities for the McNeese students to be exposed to real science and engineering applications," says professor of mechanical engineering Dr. Zhuang Li, faculty lead of the LaACES program at McNeese. He also serves as faculty adviser for the program along with assistant professor of chemistry Dr. David McGraw, assistant professor of computer engineering Dr. Bei Xie, professor of electrical engineering Dr. Seyed Aghili and assistant professor of electrical engineering Dr. Qiu Liu.
According to Li and Xie, "Students gain true hands-on experiences on thermal/vibration isolation, structure design, circuit design, software design, project management, experimental design and data collection and analysis. Students can apply the knowledge learned in the classroom to real research projects and also gain different skill sets such as communication skills, people skills, teamwork, leadership, project management and report writing."
Though McNeese has had student participation in the program since 2013, this is the first time the university has hosted a launch. Teams have spent weeks choosing electronic components, soldering parts, programming and calibrating sensors and troubleshooting electronic circuits for their payloads in preparation for the day. More than 60 faculty advisers and computer science and engineering students then traveled to Frasch Hall on campus to give presentations and perform final flight checks before traveling to the launch site in Ragley. With their data successfully collected after launch, student teams then focused on preparing and interpreting the data they had received and presenting their results.
Xie adds that, in hosting this year's LaACES project, McNeese continues to demonstrate excellence in the engineering community in Louisiana.
"By hosting these hands-on and undergraduate research projects, McNeese meets its purpose to change the lives of students through a mix of research, instruction and student life activities, with a focus on student learning and mentorship. In the meantime, those projects help McNeese connect to the community and help McNeese recruit younger science and engineering students," Xie says.
Want more stories like this one sent straight to your inbox every week? Sign up for our McNeese eNewsletter!
The Office of Marketing and Communications
4205 Ryan Street
Lake Charles, LA 70609
337-475-5640
communications@mcneese.edu