McNeese Graduate Pursues MFA in Italy
May 4, 2018 | McNeese Public Relations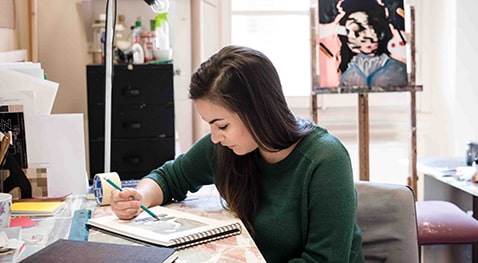 When McNeese State University graduate Lindsey Johnson moved to Florence, Italy, two years ago to work on a Master of Fine Arts from the Studio Arts College International (SACI), she knew that her days would be spent working long hours to prepare her to be an artist.
As her journey comes to a close this summer, Johnson said it was worth it.
Johnson received a Bachelor of Arts degree with concentrations in ceramics, painting and drawing from McNeese in 2014. "Art is a multifaceted discipline and requires problem solving, all forms of writing, marketing, public relations, technology, science, history and so much more," she said. "I cannot think of any class I took at McNeese that did not prepare me in some way, shape or form as an artist."
She took a year off and then decided to apply to MFA programs to continue her education. Her decision to pursue a graduate degree in Florence at SACI was inspired by a student trip led by McNeese assistant professor of art Bridget McDaniel.
"To say I fell in love at first sight would be an understatement," Johnson says, "so, after a long talk with McNeese art professors Lisa Reinauer and Heather Kelley, I decided to apply to SACI."
SACI was founded in 1975 by Fulbright scholar Jules Maidoff and is the oldest and most prestigious accredited American art school in Florence.
Johnson's acceptance came as no surprise to Kelley. "Lindsey Johnson is an artist who does not flinch at a challenge," she says. "As an undergraduate student here at McNeese, she took on three concentrations of study and excelled in each of them. She is a remarkable young artist."
Johnson reflects that studying abroad wasn't always easy — she fought homesickness and struggled with a language and culture that was completely foreign to her own. "However, living in another country forces you to grow and adapt," she says.
But despite the challenges, she says her experiences in Italy have been some of the richest she's ever had, both as an artist and a student. "I have never accumulated this much work in such a short period of time – over 50 paintings."
While attending SACI, Johnson has realized that there is more to Florence and Italian life than what meets the eye. "I've been here for two years and I am still learning something new everyday. . .living in another country gives you a new perspective."
When asked if she would recommend studying abroad, she immediately says, "Yes! Is it easy? No, it's not easy, but it is the most rewarding experience you could ever have. It teaches you how to connect with people who do not share the same background or views. I encourage anyone who is looking for a different perspective to study abroad.
Want more stories like this one sent straight to your inbox every week? Sign up for our McNeese eNewsletter!
The Office of Marketing and Communications
4205 Ryan Street
Lake Charles, LA 70609
337-475-5640
communications@mcneese.edu