McNeese Food Technology Student Creates Innovative Macadamia Nut-Based Yogurt
February 10, 2022 | McNeese Public Relations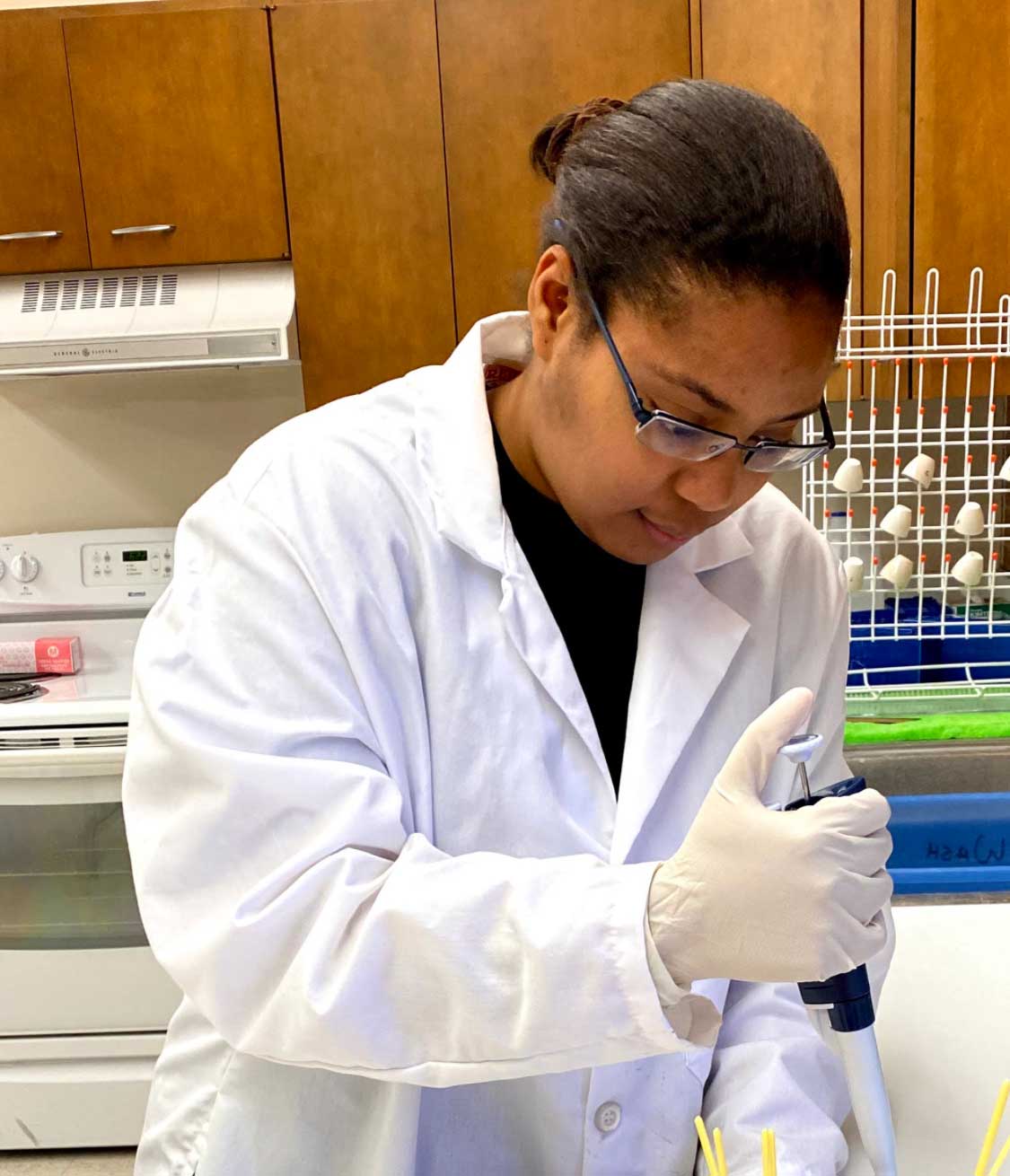 Alexis Pipkin, a food technology major at McNeese State University, is helping create more options for consumers through her macadamia nut-based yogurt.
From Slidell, Pipkin originally came to McNeese to pursue her degree in nutrition and dietetics when the food technology program caught her eye.
"One of the classes that I took was Introduction to Food Science, and originally, I thought it was like another nutrition class. In reality, I learned about what goes on behind the scenes – everything from food composition and sensory analysis to food preservation and packaging. I found that interesting and I talked to associate professor of nutrition and food science Dr. Wannee Tangkham about the program, and eventually, I made the switch."
As part of the food science program, Pipkin participated in research with Dr. Tangkham on lactic acid bacteria and yogurt fermentation. This research ended up being the perfect jumping off point for Pipkin to start to design and develop her own yogurt product for her field experience in her nutrition and food science course.
"This is my final test before I graduate," she says. "I decided to do a plant-based yogurt because that's really popular with consumers, especially since many people are lactose-intolerant or are trying to consume fewer animal products. The world population is also growing and food technology and food scientists are also always looking to find more ways to feed everyone. As plant-based sources are more sustainable, I thought this also made plant-based yogurts a good choice."
In investigating what products already exist on the market, Pipkin found that consumers did have a few options in coconut, almond, soy or cashew-based yogurts.
"For my yogurt, I decided to do a macadamia nut base because I didn't really see them on shelves and they're my favorite nut – they're buttery and slightly sweet so I thought they would be perfect," she says. "Macadamia nuts also have a high fat content, a vital part in ensuring the resulting product is creamy."
Using honey as a sweetener, Pipkin was able to create plain and flavored prototypes of her product, which were then subjected to a sensory evaluation treatment, where students had the chance to blind taste samples and give feedback. She says that so far the most popular macadamia-nut based yogurt was flavored with roselle, a type of flower that has a fruity flavor and gives the yogurt a purple hue.
Now, Pipkin is working on collecting and analyzing data for microbial content and other physiochemical factors before she presents her findings for her senior seminar. After graduation, she says, she's hoping to jump right into her field.
"Food technology has many different areas like safety but I really like the sensory aspect – I love trying different things, evaluating new products and gauging what the consumer likes. I would love to get my foot in the door at a company and really experience everything that goes into creating a new product. If I find that this is the part of food science that I really like, I would pursue more certification and an advanced degree," she says.
Alongside of Dr. Tangkham, Pipkin says that her professors in her previous degree program have also been vital to her success. Assistant professors of agricultural sciences Elizabeth Moore and Geneva Breaux were happy to assist Pipkin in any way they could, even helping her collect some preliminary data on consumer interest from their dietetics students.
"Even though I'm not in the dietetics program anymore, they've definitely been encouraging, and they're excited for me and have been there to help me through this process," she says. "Mrs. Moore even tried my product and told me she loved it."
Pipkin says she hopes to someday see her product on store shelves. "I enjoy trying new things but I also encourage everyone else to give new foods – including plant-based yogurts – a try. You never know when you might discover your next favorite thing."
Want more stories like this one sent straight to your inbox every week? Sign up for our McNeese eNewsletter!
The Office of Marketing and Communications
4205 Ryan Street
Lake Charles, LA 70609
337-475-5640
communications@mcneese.edu