McNeese Breaks Ground for New Press Box at Cowboy Stadium 
June 29, 2023 | McNeese Public Relations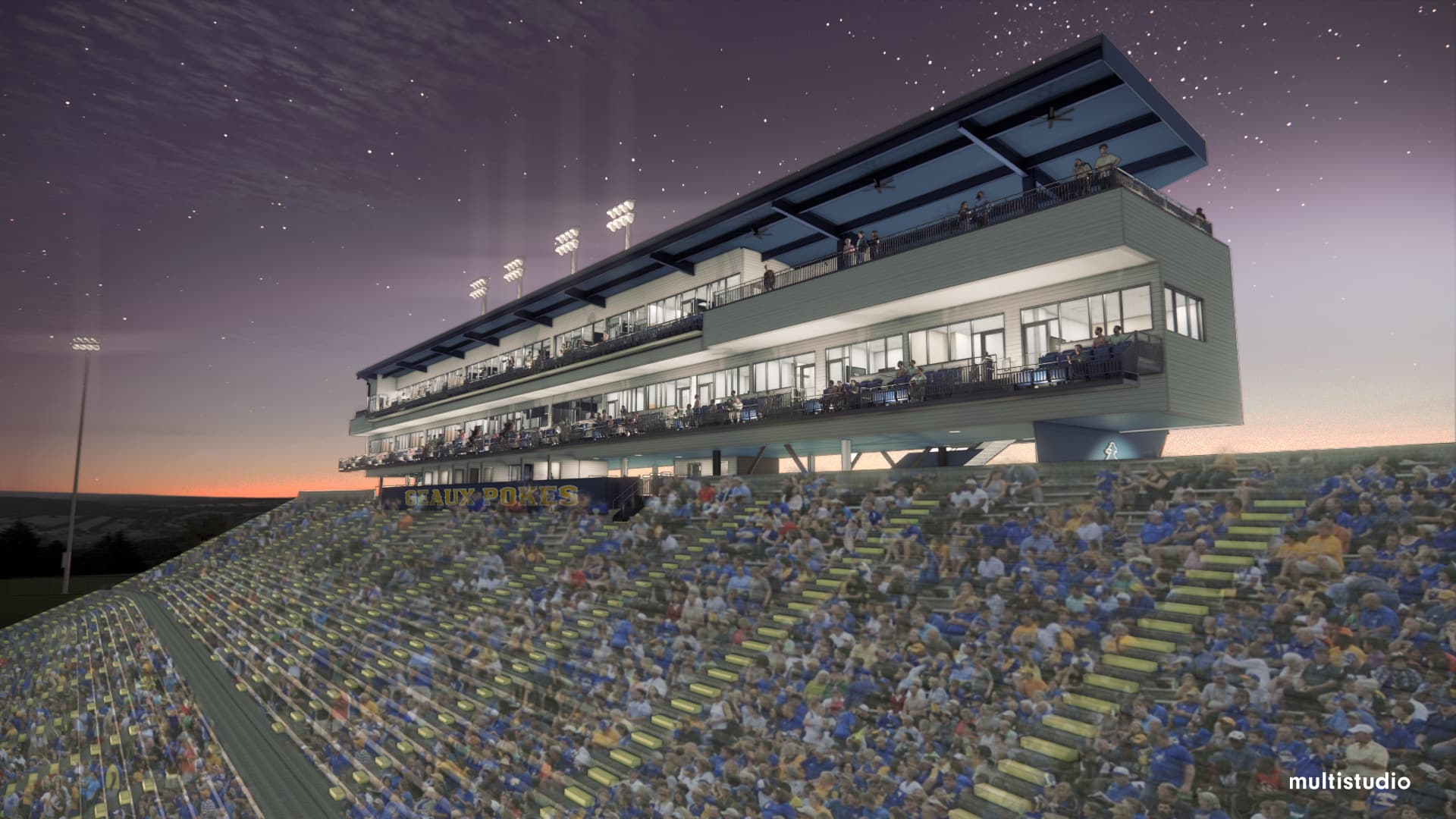 McNeese State University broke ground on a new press box for Cowboy Stadium on Thursday. In 2020, Hurricanes Laura and Delta devastated Southwest Louisiana including the Cowboy Stadium press box.
"Having the press box groundbreaking is a positive message to the Southwest Louisiana and McNeese communities that recovery from Hurricane Laura is continuing," said Dr. Daryl Burckel, president of McNeese.
The new facility boasts 25 suites, a 1,700-square-foot sky club and an open patio-type area. The top two levels extend goal line to goal line. Football operations will be on the second level.
"Today is a monumental day for Southwest Louisiana! This new press box is simply a game changer. The number of premium suites, the amenities and the functionality of this press box will be second to none," exclaimed Heath Schroyer, director of athletics at McNeese. "There has been a great deal of work done by several people behind the scenes to make this day a reality."
Visitors to McNeese for sporting and other events added approximately $4.3 million to the economy of Southwest Louisiana in 2021. Suites in the new press box will provide McNeese football fans with a premium venue for watching games with friends, family and business associates, drawing more visitors to the region. Sales for the suites will bring in millions of dollars for McNeese.
"The press box signifies the commitment to not only our football program but also to McNeese athletics! It will usher our athletics department into the future and help us reach our aggressive goals," Schroyer said.
McNeese is the proud home to 14 NCAA Division 1 athletic teams. Last year, total attendance at McNeese ticketed sporting events was 132,225, of which 44,790 were for football.
"This is a state-of-the-art facility allowing McNeese football to compete at any level. This is just the first of many projects that will transform the McNeese campus for years to come," Burckel said.
Want more stories like this one sent straight to your inbox every week? Sign up for our McNeese eNewsletter!
The Office of Marketing and Communications
4205 Ryan Street
Lake Charles, LA 70609
337-475-5640
communications@mcneese.edu