McNeese Blue and Gold Peerleaders Selected as Homecoming Parade Marshals
October 22, 2018 | McNeese Public Relations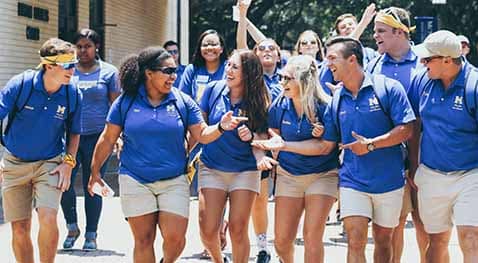 The McNeese State University student orientation organization – the Blue and Gold Peerleaders – will serve as grand marshals for the 2018 Homecoming parade scheduled to roll down Ryan Street at 7 p.m. Thursday, Oct. 25.
The Peerleader group is celebrating its 20th anniversary and between 150-200 former Peerleaders plan to attend reunion activities during Homecoming weekend.
This year's Homecoming theme is "Jurassic Pokes" and over 100 businesses, organizations and bands have entered the parade.
Established in 1998, the Peerleader program was originally created to foster a more student-focused orientation experience for incoming students, according to Karen Westfall, assistant director of general and basic studies and freshman orientation coordinator. "The administration thought incoming students would benefit more if they could connect with their peers," she says. "And the program just took off from there."
Originally, the program selected 20 students, who were only responsible for orientation, but since then, the Peerleader staff has expanded to 26 students, who also act as ambassadors for special campus events. "Peerleaders really are the 'face' of McNeese," says Westfall.
Over 400 students have been Peerleaders. With a graduation rate of over 90 percent, these student leaders have gone on to become doctors, lawyers, veterinarians, teachers, engineers and much more.
Westfall – herself a Peerleader from 2003-2005 – says the benefits of the program are hard to overstate.
"Several former alumni tell me that if not for being a Peerleader they wouldn't be in the position that they're in today. They were able to make career connections and lifelong friends," she says. "These students have had a profound impact on McNeese, too. Peerleaders show our incoming students that no matter who you are, where you live or what your major is that you can be successful here. I believe when freshmen see how excited the Peerleaders are about McNeese, and how the university has impacted their lives, they are excited that they made McNeese their first choice."
As both a former Peerleader and now coordinator of the group, Westfall says she has experienced the best of both worlds. "Not many people can say they're working their dream job, but I can. We're so excited to be celebrating 20 years of students and this amazing program."
Want more stories like this one sent straight to your inbox every week? Sign up for our McNeese eNewsletter!
The Office of Marketing and Communications
4205 Ryan Street
Lake Charles, LA 70609
337-475-5640
communications@mcneese.edu