McNeese ABA Student Identifies Effective Treatments for Autism Spectrum Disorder Behaviors
April 11, 2022 | McNeese Public Relations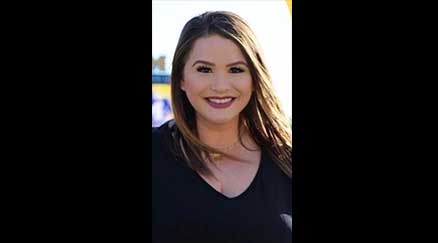 Carlee Reeves, a graduate student in McNeese State University's Applied Behavioral Analysis (ABA) program, is preparing to present her research on effective treatments for harmful autism spectrum disorder behaviors at the annual Texas Association for Behavior Analysis Conference in Dallas, Texas.
From Dry Creek, Reeves' journey to the ABA program was very different than that of many of her classmates. While most applicants to the program have a psychology background, Reeves' undergraduate degree from Louisiana College was in nursing.
Drawn to nursing due to her passion for helping individuals make significant changes to their lives and gain independence, she says that her experiences as a nurse pointed her in a different direction.
"As I was finishing my BSN, I actually started working with an individual on the autism spectrum in a private household and I just loved it," she says. "I thought, 'Maybe I'm not on the right path here and maybe nursing isn't what I'm intended to do.'"
Reeves began working as a Registered Behavioral Technician after she graduated and says that the feedback she received from coworkers who were Board Certified Behavior Analysts (BCBA) inspired her to begin looking into ABA programs.
"They said that they felt I really had a knack for this and would really make a fantastic BCBA. I was hesitant at first but I took the leap," she says.
One of her coworkers, who Reeves says was a particular inspiration, encouraged her to investigate the on-campus master's degree program at McNeese – the only program accredited by the Association for Behavior Analysis International in Louisiana.
After meeting with program faculty, Reeves says she "fell in love" with McNeese's program.
"All of my professors were really encouraging, and the BCBAs are so personable – they really care. The atmosphere here just really drew me in," Reeves says.
In conjunction with classroom work, Reeves serves as a graduate assistant in the McNeese Autism Program (MAP). Supervised by a licensed BCBA, she works with children and adolescents on the autism spectrum, helping them improve communication, social and self-regulation abilities, as well as develop skills that contribute to greater independence.
"I've worked with many individuals on different functioning levels but everyone has their own set of unique skills and behaviors," she says. "It's been so amazing to see their progress and to see the improvements they've made in their daily lives."
Through MAP's Bridges program – a summer program aimed towards adolescents with autism who are approaching adulthood – Reeves has also experienced working with older populations on issues they may struggle with, like scheduling, budgeting and maintaining routines at home.
This hands-on experience working with clients, she says, has made a huge difference in her own skills. Since starting at McNeese, Reeves says that she feels more confident assessing individuals and implementing treatment interventions based on those assessments, including communication interventions for non-verbal individuals and procedures for problem behavior.
The latter became the focus of her graduate thesis – specifically, self-harm behavior which can include pica (eating substances other than normal food), head-hitting, punching, scratching, biting oneself and a variety of other forms.
"I'm very interested in treatment for self-injurious behavior because many individuals with autism or on the autism spectrum do engage in it," she says. "It can really impact an individual's life and we really want to make significant behavior changes because their safety comes first."
For her thesis, Reeves performed a systematic review of the current literature on multiple treatments for self-injurious behavior, which meant combing through hundreds of articles using specific inclusion and exclusion criteria.
"I researched four methods – response blocking, response costs, therapist's attention and use of a TENS unit, which is a Transcutaneous Electrical Nerve Stimulation machine. My goal was to find literature that these treatments were effective for a single or for multiple individuals," she says. "I ended up with a total of 18 articles, and ultimately, I found that the literature revealed that these treatments were effective in decreasing self-injurious behavior in not just autism, but individuals with intellectual disabilities as well."
At the end of April, Reeves will give a poster presentation at the Texas Association for Behavior Analysis Conference, where she will have the opportunity to meet, network and discuss her research and results with ABA experts and scientific professionals in the field. "This will be my first presentation at a conference, so I'm nervous, but I'm also excited," she says.
After graduation, Reeves says pursuing a doctorate may be in her future, but for now, she's looking forward to starting her career.
"I would like to work with individuals of all ages," she says. "But I do feel strongly about working with adolescents and older populations because I feel like they're underserved and they need just as much assistance as those who are younger. I want them to be successful and as independent as possible because they're their own person and they deserve that opportunity."
As for her experiences at McNeese, Reeves says that the faculty and her fellow students have been crucial in her success. "At MAP, I came in as a complete outsider. Everyone from the faculty and staff to my fellow classmates have been so welcoming and so supportive – it's like a family here. The knowledge and guidance that have been provided to me in the field of ABA has been invaluable. I couldn't have asked for a better experience."
Want more stories like this one sent straight to your inbox every week? Sign up for our McNeese eNewsletter!
The Office of Marketing and Communications
4205 Ryan Street
Lake Charles, LA 70609
337-475-5640
communications@mcneese.edu