Mass Communication Major Selected for Governor's Fellows Program
June 24, 2022 | McNeese Public Relations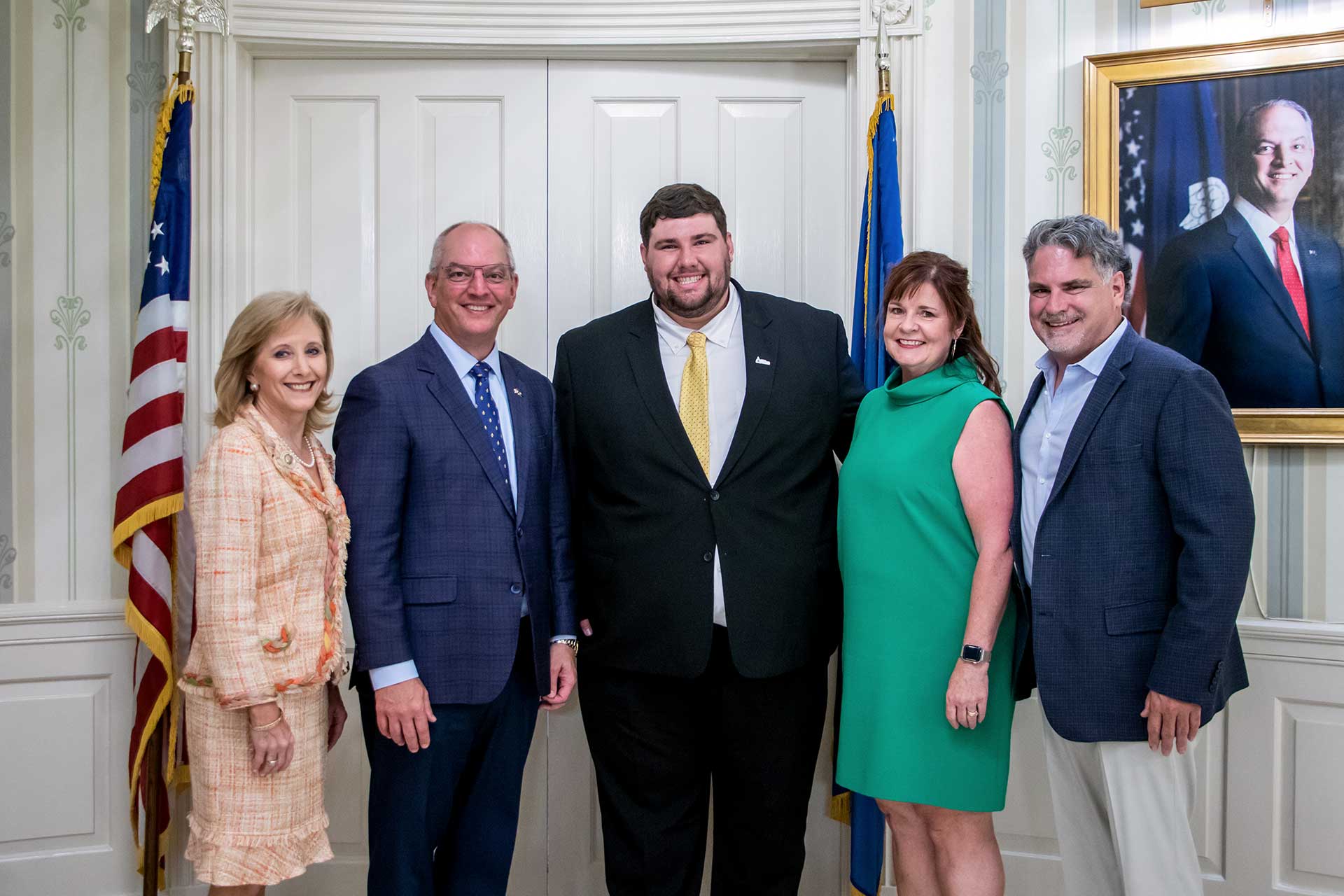 Samuel Gil, a mass communication major at McNeese State University, has been selected as a fellow for the 2022 Louisiana Governor's Fellows Program.
The competitive program represents a partnership with the Office of the Governor, the Lamar Foundation, Louisiana State University, Southern University and the Baton Rouge Area Foundation to provide an opportunity for university student leaders to engage with public policy and learn about and experience the rich history and current affairs throughout Louisiana, all while earning three hours of academic credit through LSU's Department of Public Administration.
"For the past four years, the Governor's Fellows Program has been cultivating the next generation of Louisiana's leaders," said Gov. John Bel Edwards. "The Fellows Program is a unique opportunity for students to have a front-row seat to the innerworkings of government and public policy."
Gil has been heavily involved on the McNeese campus – currently, he serves as president of the McNeese Student Government Association (SGA), vice president of administration in the McNeese Interfraternity Council and as secretary for Kappa Sigma Theta Rho. For him, he says, applying these skills and interests to a larger stage seemed like a natural fit. One of his colleagues in SGA and former governor's fellow, Sarah Stafford, inspired him to apply.
"Sarah Stafford was a fellow in 2020, and she talked a lot about the program and how much she loved it, and I said, 'I want to be in this program.' And two years later, here I am."
Gil is only the third student from McNeese to serve as a governor's fellow. In his application, he highlighted his interest in working with the Office of Technology Services to find solutions to close the "digital divide" – the gulf in internet access, affordability and digital literacy between rural and urban areas, an issue that strikes close to home for him.
"I'm from Ville Platte and the internet service in the area has earned the dubious honor of being the fifth slowest internet speed in the nation," Gil says. "For many students like me, my academic journey was hindered by the inability to compete on an equal basis with others. While I gained experience through research and hands on repairs that allowed me to assist others in my community with technology problems, I quickly learned that in a rural community the skills I was developing and utilizing were certainly not available to most people in the community."
Now, as a fellow in the Office of Broadband, he is part of a team that travels throughout the state to help improve digital infrastructure by raising awareness and facilitating the use of competitive grants and federal funds and through stakeholder outreach. At the end of his fellowship, Gil will present a policy proposal related to his service to the governor – currently, he says, he's considering on focusing on improvements to tele-health support and access.
"I love being able to make an impact," Gil says. "I'm looking forward to the networking aspect, shaking hands and meeting people. One day I would like to work in the capital and run for office, so this role really represents a great opportunity for me."
While Gil says that an offer from the university's Honors College made McNeese a great financial choice for him, it was ultimately a campus visit that made him choose to become a Cowboy.
"In my family it was always expected that I would go to college, and as I progressed and matured, I knew the path I wanted to take," Gil says. "I toured McNeese in the fall of my junior year, and I looked around and said, 'Yep, this is where I want to be.'
"I have such a huge support system at McNeese," Gil adds. "Dean of student services Dr. Kedrick Nicholas and vice president of student affairs Dr. Chris Thomas have really been there for me and encouraged me. I'm just so thankful to the faculty and staff because they have really taken me in and I've enjoyed my college experience immensely."
Want more stories like this one sent straight to your inbox every week? Sign up for our McNeese eNewsletter!
The Office of Marketing and Communications
4205 Ryan Street
Lake Charles, LA 70609
337-475-5640
communications@mcneese.edu