Kay Doré Counseling Clinic at McNeese Offers Hands-On Training for Interns
November 18, 2019 | McNeese Public Relations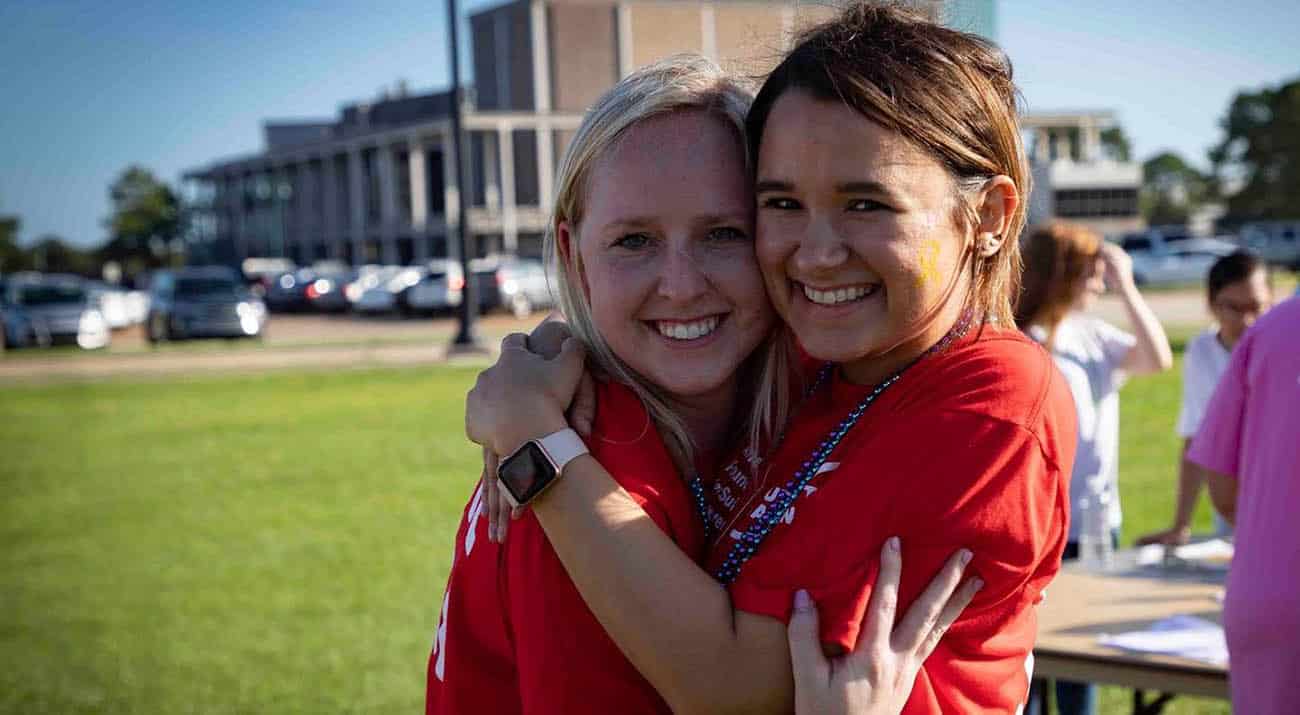 McNeese State University students are the First Choice for employers seeking qualified candidates because of the work experience students earn while completing their degrees.
Caitlyn Kudrecki and Caitlin Burcham, of Lake Charles, are both graduate students and counselors with the Kay Doré Counseling Clinic (KDCC) at McNeese. In this role, they have the opportunity to work with patients while also receiving guidance and support from faculty members.
"Being able to complete my internship at the KDCC has allowed me to make even deeper connections with my professors," says Kudrecki. "I love knowing that I'm never alone in this job and that our faculty members are so willing to offer help when it's needed."
Burcham graduated from McNeese with a bachelor's degree in psychology in 2017 and says that her experiences as an undergraduate made her want to pursue a graduate degree specifically at McNeese.
"Dr. Kevin Yaudes, who taught me multiple classes as an undergrad, also serves as the faculty advisor for the counseling center. This made graduate school a smooth transition because I already had a relationship where I could ask him questions and get advice," she says.
Even though students are under faculty supervision, the internship experience allows them to apply their knowledge from the classroom in a real-world setting. KDCC offers counseling to the community for a $20 flat rate per hour for those without insurance, Burcham says. Her clients are diverse and have different counseling needs.
"The diversity of clients has definitely helped me decide what I want to do after I graduate, specifically working with people who suffer from post-traumatic stress disorder," she says. "It's fantastic on the job training and the clinic is really a benefit for people in the community who can't afford traditional counseling."
The KDCC also connects students with off-campus professional development opportunities. Counseling interns participate in the Peer Initiative Leaders of Tomorrow (PILOT) program at Sam Houston High School by training high school students on how to discuss topics such as bullying, depression and suicide with their peers who might be at risk. For those students who need professional help, counselors like Burcham and Kudrecki travel to the school one day a week for counseling sessions. "I've had a broad range of experiences while working in the clinic," Kudrecki explains. "This internship has not only prepared me for any situation I might face, but it's also solidified for me that I want to work with children after graduation."
Want more stories like this one sent straight to your inbox every week? Sign up for our McNeese eNewsletter!
The Office of Marketing and Communications
4205 Ryan Street
Lake Charles, LA 70609
337-475-5640
communications@mcneese.edu