McNeese Dual Major Serves as First Research Intern at LSU AgCenter
October 29, 2021 | McNeese Public Relations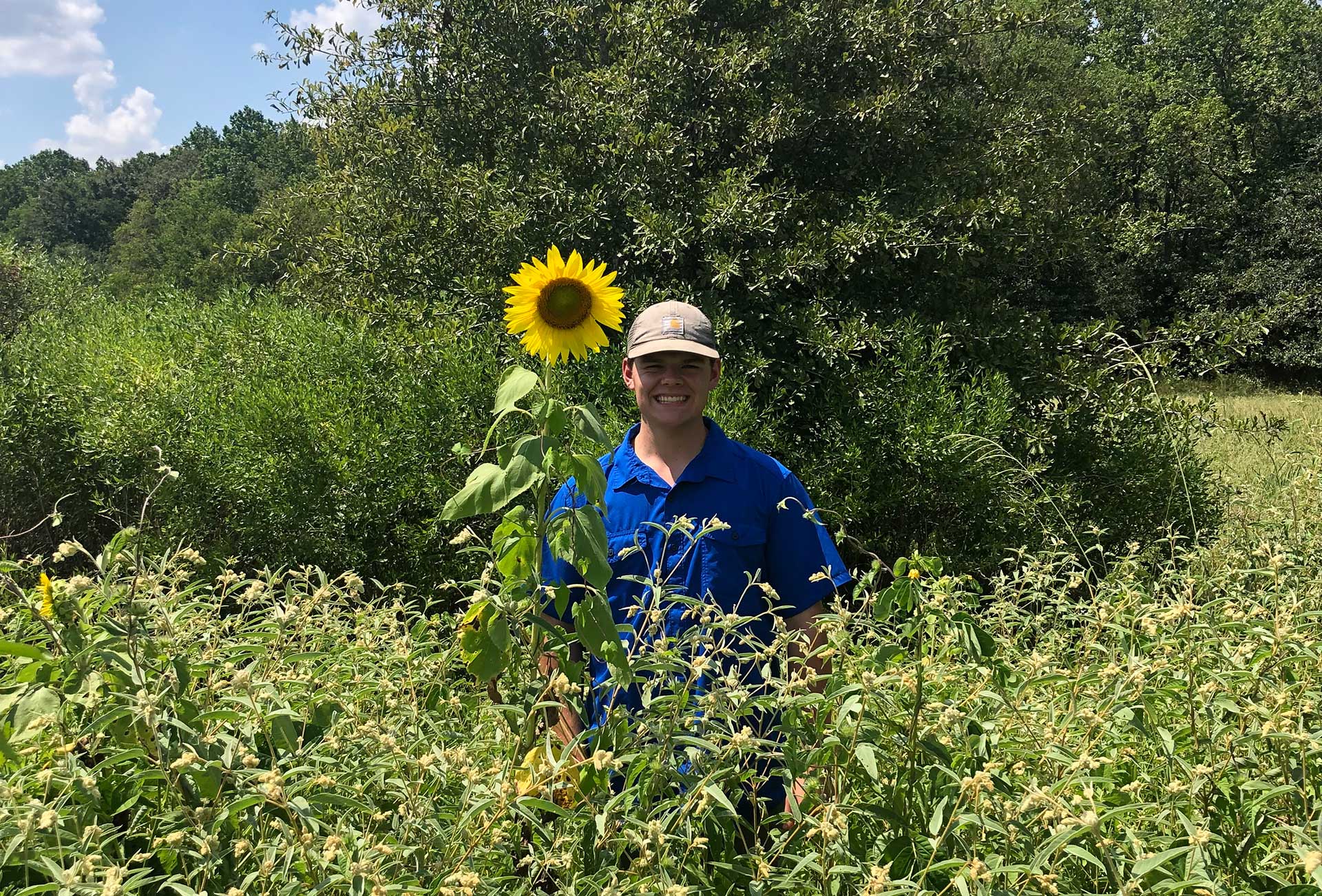 Natural resource conservation management and agricultural sciences major Hunter Lepretre, Gueydan, served this summer as the first student intern for agronomy research with the LSU AgCenter at the H. Rouse Caffey Rice Research Station in Rayne.
"Gueydan is an area well-known for its wildlife and several of my hobbies, such as hunting, take place outdoors," says Lepretre. "The natural resource conservation management program at McNeese seemed right up my alley so I enrolled in that major and am excited to see where this career path leads me. I also decided to double major in agricultural sciences since the agriculture industry is big here in Southwest Louisiana."
At the LSU AgCenter Rice Research Station, Lepretre spent his first weeks working in a laboratory setting, assisting research associates, research assistants and professors in testing soil samples from the test plots on the station. He also traveled around the state to other research stations in West Monroe, St. Joseph, Palmetto, Vidalia and Iowa, where he learned about the entire farming process, from field preparation, planting and harvest to fertilization and pesticide application.
Lepretre says that he also observed new methods of conserving water for row rice crops and how simply changing out the varieties of rice grown from year to year can be an effective pest management system, reducing the amount of pesticides farmers need to use on their crops.
"My favorite part of this internship was seeing firsthand how technology is changing today's agricultural practices with the use of drones, precision agriculture technology like GPS and automated guidance and the test plot combines, which can give the operator the moisture level and yield weight while remaining in the cab," he says.
"The entire crew at the Rice Research Station and other stations that I visited shared valuable information, which allowed me to become more knowledgeable about rice, soybeans, sorghum, corn, wheat, soil health, water management and sustainable agriculture practices," he adds.
While Lepretre says graduate school is an option, he says his internship at the AgCenter has reinforced his desire to work in the field. While he's finishing his dual degree at McNeese, he is working at David Daigle's ranch in Ragley, where preserving the native grassland and savanna to maintain the prairie and improve soil health is at the forefront.
"This ranch is all about maximizing timber production while also benefiting wildlife and that's really the direction I want to follow after graduation," says Lepretre. "I've talked with Professor of Wildlife Management Dr. Eddie Lyons about my future and the importance of having a lot of different experiences. That's what I'm looking forward to most with my career."
Want more stories like this one sent straight to your inbox every week? Sign up for our McNeese eNewsletter!
The Office of Marketing and Communications
4205 Ryan Street
Lake Charles, LA 70609
337-475-5640
communications@mcneese.edu