October 29, 2019 | McNeese Public Relations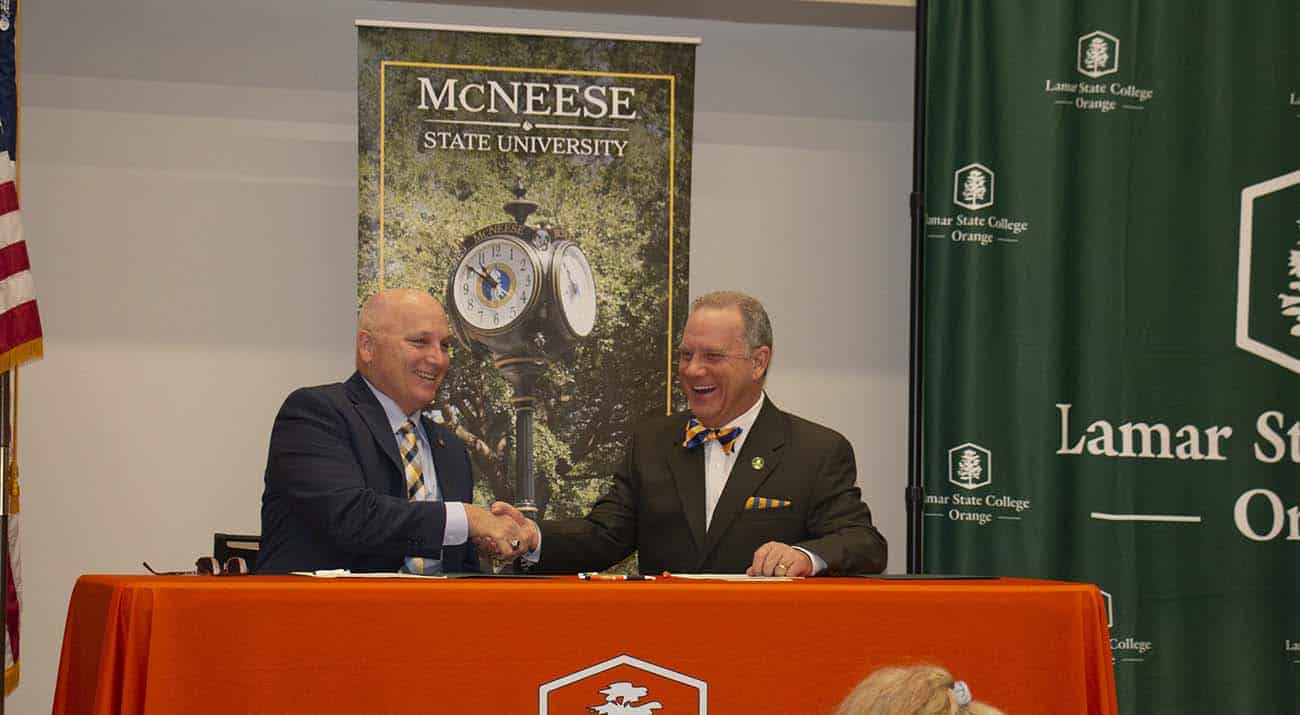 McNeese State University and Lamar State College Orange, a two-year institution in Texas, have formalized an agreement that will create seamless pathways for students to transfer to McNeese for a four-year degree.
"Our mission is to change lives and the faculty and administration at Lamar State College Orange want their students to succeed. This agreement streamlines the transition to McNeese," President Dr. Daryl Burckel said during the signing ceremony held on the LSCO campus.
LSCO currently offers 13 programs that are covered under the transfer agreement, including associate degree programs in business, computer science, criminal justice, education and sociology.
"Many of our students dream of completing a four-year degree," LSCO President Dr. Thomas Johnson said. "This is where hope meets opportunity."
Many LSCO students attended the ceremony. Burckel encouraged those majoring in registered nursing to pursue the McNeese RN to BSN degree. The nationally accredited program is one of the most affordable in the region and it is offered 100% online, enabling registered nurses to continue to work while completing the baccalaureate degree.
Burckel said McNeese and LSCO share a similar philosophy about helping students achieve their dreams. "We are invested in our students and we want them to achieve their dreams and aspirations.
At the end of the day," Burckel told the LSCO students, "this is about you. When students graduate from McNeese, we want them to make a life, make a living and make a difference in their communities."
Dr. Toby Osburn, McNeese associate vice president for enrollment management, said, "We get about 15 students per year from LSCO and we currently have over 60 students who previously attended LSCO. We are excited about this partnership and having more LSCO students transfer to McNeese."
Osburn said McNeese and LSCO will co-host a conference for high school counselors in southeast Texas and Louisiana schools in Vinton, Starks and Sulphur in mid-November on the LSCO campus. McNeese will offer sessions on the admissions process, programs of study, campus life, financial aid and scholarships.
Want more stories like this one sent straight to your inbox every week? Sign up for our McNeese eNewsletter!
The Office of Marketing and Communications
4205 Ryan Street
Lake Charles, LA 70609
337-475-5640
communications@mcneese.edu