Fall 2019 President's Honor List
January 15, 2020 | McNeese Public Relations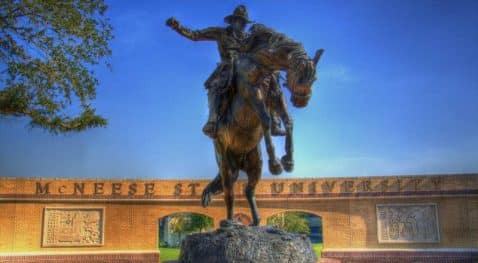 The President's Honor List for the fall 2019 semester at McNeese State University has been announced. To be on the President's Honor List, an undergraduate student must earn at least a 3.5 grade point average or better while carrying at least 15 semester hours. A senior eligible for graduation but carrying less than 15 hours is also included provided that student was on the President's Honor List the previous semester.
The President's Honor List is as follows:
LAKE CHARLES: Jasmine Noell Abel, Abigail Audra Abraham, Brayden W. Adams, Marie T. Aguillard, Alexandra Elizabeth Albrecht, William George Albrecht, Ethan Wayne Anderson, Seth Allen Anderson, Gracie M. Andrus, Maranda P. Arcement, Monique Michelle O'Brien Armstead, Gabrielle R. Ashford, Seth A. Aucoin, Shane Nathaniel Baker, AnaClare Sydney Barras, Ryan T. Bartek, John Michael Becton, Taylor K. Beeson, Sandee Lee Bell, Kendall E. Belle, Brennan Cole Bellinger, Hogan Slade Berry, Dru Patrick Bertrand, Lauren M. Biven, Allison N. Blanchard, Preston P. Blanchard, Haley Nicole Bonnette, Sarah E. Bonvillain, Raegan M. Borders, Hallie R. Boudreaux, Marlee Michelle Boudreaux, Eloise Celeste Boullion, Casey W. Bowman, Nicholas A. Breaux, Hannah Hoffpauir Brignac, Sudan A. Britton, Phillip Kurt Brown, Matthew James Bruce, Claire N. Buchanan, Anna C. Bushnell, Angelica Cabrera Martinez, Anna Catherine Cameron, Malachi Dwayne Carroll, Michaela Alaynah Carroll, Kade L. Castille, Timothy S. Castle, Anna M. Chavanne, Jeanniemarie Ann Clark, Morgan P. Clayton, Davon J. Cole, Ludwig Colimon, Crystar Adra Mahogany Collins-Molitor, Lara Michelle Lignitz Connally, Maeleigh Beth Conner, Darby N. Cook, Jessie M. Cooley, Kaylee Charlene Cormier, Mika Mechelle Cormier, Tyron Palmagil Corpuz, Karleigh E. Courville, Sara C. Crawford, Carrie A. Crochet, Ethan Matthew Cruze, Christa L. Daigle, Tyla R. Daigle, Lauren Nicole Damiata, Claire R. Darbonne, Kennedy Marie Darbonne, Bryce J. Dartez, Kristen L. Daugherty, Stephanie Kaye Davis, Bailey Elisabeth Dearman, Ruby A. Derouen, Jadah M. Devall, Kyrah Payge Devall, Galaxy T. Do, Amber Elizabeth Donovan, Ashley Mae Fontenot Dufrene, Cheryl Lynn Duhon, Dylan S. Duhon, Mckenzie D. Duplechin, Megan Capri Eakin, Julia C. Eccles, Madison B. Edwards, Madigan Aline Eldridge, Kenzie Paige Ellender, Michel Etienne Elliot, Norval Francis Elliot, Jillian Christine Engel, Sarah Elizabeth Ewing, Elisabeth L. Falgout, Valeria Fabiana Faria Maraver, Caleb J. Fender, Daelynn Nicole Flagg, Ty Lee Fogleman, Emily Grace Fontenot, Erin Ray Clark Fontenot, Jake T. Fontenot, Morgan Elizabeth Fontenot, Alyssa M. Foreman, Katelyn N. Foreman, Seth Michael Frances, Bayleigh Noelle Fruge, Chayli Joy Funderburk, Lisa M. Fuselier, Priyanka P. Gandhi, Elizabeth A. George, Dalon C. Getwood, Allie Suzanne Giffin, Ciara Anne Gilroy, Gia Marie Gloston, Lauren T. Godeaux, Alyssa Jade Gott, Cade Scott Guidry, Kelly E. Gustafson, Sophie C. Hacker, Samuel Hall, David W. Hamilla, Alexis Ann Hammond, Ariel M. Harrington, Emily Claire Hayden, Olivia M. Hebert, Lexie Ursula Heisser, Lauren A. Hellums, Tate Louis Helms, Meryl Lorraine Henry, Christopher Joseph Higginbotham, Matthew D. Higginbotham, Kristopher C. Hill, Heather N. Hilton, Alexis N. Hoffpauir, Lauren E. Hoffpauir, Grace Arlowe Holt, Zachary M. Honeycutt, John-David G. Houssiere, Courtney R. Huval, Kennedy L. Istre, Shaniqua Monae Jefferson, Anais Elisabeth Jimney, Alyssa K. Johnson, Amanda B. Johnson, Austin D. Johnson, Laila Janese Johnson, Rebekah Joy Nazworth Johnson, Jaylan DeVaughn Jones, Kayci Danyale Jones, Kennedy Claire Jones, Aleya C. Joseph, Aniese M. Kattash, Jillian Keesee, Aman Akbar Khan, Mason A. Knighton, Klair R. Kohnke, Kayla M. Kusters, Gavin J. Labiche, Maggie Grace Lafargue, Kayla Nicole Lambert, Amelia Edythe Landreneau, Aubrey N. Landreneau, Katrina M. Lasalle, Trenton Latiolais, Brock M. Lavergne, Malloree Kate Lavergne, Trevor P. Lavergne, Tyler C. Lavergne, Natalie Marie Lawton, Andrew John LeBlanc, Kaitlyn Jean Leckband, Tabitha C. Leger, Cheyenne Leigh Leleaux, Jolie Nicole Lemelle, Alexander C. Lester, Kenneth L. Logan, Robert H. Lohmann, Taylor L. Mack, Cassandra Lee Ann Mannheimer, Morgan L. Manuel, Ashley Marie Marcantel, Karly Nicole Marcantel, Tanner James Marceaux, Erik D. Martzahn, Keegan W. Matte, Claudia E. Mayo, Devin L. McGee, Bayleigh Nicole McGuire, Tristan Lee McInnis, Paige K. McNeely, Caitlin Curtis McQueen, Peyton Kade Mccain, Julia L. Mcdonald, Kassidy N. Meacham, Timothy J. Meaux, Olivia N. Meche, Tyler C. Meche, Hayden Michael Melanson, Rainney Lanard Melanson, Brent E. Miller, Christian Marie Miller, Jasmine N. Miller, Shayna Rae Miller, Julia Grace Mills, Deriesha L. Milton, Randi Paige Morgan, Austin M. Nelson, Gavin Michael Nettles, Samantha B. Neubauer, Jaquelyn P. Newell, Emalee Morgan Nichols, Alyssa A. Norwood, Cameren M. Novak, Victoria R. O'Quinn, Lindsay Marie Ogea, Scott L. Oliver, Alec Blake Ortego, Cecilia Chan Oubre, Caden C. Owens, Rachel Leonor Palet, Julia Claire Papania, Maisie M. Pelafigue, Hannah Renee Perkins, Toni Lynn Perrin, Rebecca C. Pettefer, Dianna Pham, Graceanne Christine Phenice, Emma NeCole Picard, Aaron C. Pickett, Aerial N. Poole, Ashlyn E. Poole, Morgan Skye Preston, Kayla Mae Quibodeaux, Gabriela Y. Quinones, Jason Lee Radford, Marian Q. Ramos, Jessica B. Rathjen, Eric D. Rene, Jacob A. Rhodes, Kaitlyn Brooke Robles, Alexis Haley Rodriguez, Rachel Marie Romero, Pratchi A. Roy, Hope Julia Runyon, Lucy C. Ryder, Julia Saloom, Reagan C. Saltzman, Clophus Joseph Semien, Dhruv Sharma, Olivia L. Shepherd, Delaney Rachelle Shuff, Hillary L. Simon, Brandi Nicole Simpson, Navjot Singh, Gavin E. Skinner, Kyle Eli Lamar Slocum, Karli D. Smith, Krista Michelle Jimney Smith, Alexander K. Snell, Jakob E. Snyder, Asef Sobhan, Blayne Alexander Soileau, Joseph C. Soileau, Brandon James Speer, Jenna Margaret Spivey, Ian R. St. Dizier, Catherine Elizabeth St. Romain, Taylor G. Stephens, Cydnee J. Stevens, Emily Morgan Stillwell, Campbell K. Sullivan, Nickolas T. Sullivan, Maurina Star Tabor, Aaron O. Tanner, Kenneth Lee Tarver, Joseph P. Tassin, Zachary Paul Tassin, Ashlyn D. Theriot, Caleb Q. Thibodeaux, Garrett Austin Thibodeaux, Anetrail Dominique Thomas, David Glynn Thompson, Kandi Kaye Thornton, Bryce A. Toerner, Jennifer M. Tolbert, Michael C. Torres, Bryce L. Travis, William C. Upshaw, Sofia R. Vaughn, Claire Veade, Madison Rae Elizabeth Venable, Tori N. Viator, Karisma E. Vidal, Camille Irene Vizena, Jacob Thomas Voisin, Darrius Z. Wallace, Lakeyn Kristine Ward, Katherine E. Weise, Shanna Marie West, Briana Nicole Westmoreland, Emilee R. Whitaker, Savannah Rose White, Jillian E. Whitley, Morgan M. Wilder, Avery Joseph Williams, Raven N. Williams, Calleigh M. Willis, Madison P. Yates, Samuel Edouard Zahm
Other Louisiana Cities:
ABBEVILLE: Braesher M. Parker, Ali A. Prejean
ALEXANDRIA: James B. Hayes, Gabrielle Ruth Snow, Dailyn J. Williams
ANACOCO: Suzette N. Kuhlow, Annabelle M. Sellers
ARNAUDVILLE: Leon C. Lahaye, Jillian K. Lemaire, Susan Caroline Mouton, Lindsey Ann Richard
ARNAUDVILLE: Chynna E. Stowe
BALL: Isaac Spencer Bellemin, Zebulun J. Bellemin
BASILE: Gillian J. Bertrand, Mackenzie R. Comeaux, Caroline Walker Fournerat, Brenan S. Langley
BATON ROUGE: Victoria S. Cole, Ross M. Prince
BELL CITY: Richard C. Broussard, Alexis Nicole Reeves, Kaden M. Sharpe
BENTON: Kayla M. Cassidy
BREAUX BRIDGE: Deandre S. John
BUNKIE: Nicholas T. Perry
CALHOUN: Autumn E. Williams
CAMERON: Jarrett Joseph Constance
CARENCRO: Mckayla S. Lind, Kinsley P. Stelly, Erin LeVaughn Washington
COLUMBIA: Whitney J. Tate
COVINGTON: Amanda M. Haley
CREOLE: Brilee M. Baccigalopi, Karlee Ann Nunez
CROWLEY: Zur'Najah S. Poullard, Gillian G. Roy, Jeanne F. Thibodeaux
CULLEN: Dreunna Evette Washington
DEQUINCY: Katie M. Areno, Seth Hunter Cooley, Michael Evan Hebert, Julia Lee Shaheen, Caitlyn Paige Thibodeaux, Joshua Ethan Windham
DERIDDER: Gina M. Arnold, Olivia McKenzie Bergen, Emma M. Boyd, Zachary L. Castillo, Trajan Anders Cella, Hunter L. Cooley, Kennedy Leigh Cooley, Aleah J. Ford, Brooke Alexandra Burnett Glaze, Rayne Joyce Gore, Morgan K. Gott, Joshua Hunter Harper, Hayley Lin Hebert, Casady J. Hennigan, Stephanie N. Jones, Austin Luke Kibler, Morghan P. Latour, Zoe Leigh Miller, Conner J. Nesom, Lyssa Nicole Reeves, Christian M. Reynolds, John Eugene Smith, Macie Rayne Spell
DENHAM SPRINGS: Lauren E. Brown, Blake A. Robinson
DRY CREEK: Carson R. Campbell, Matthew Shane Emory, Amanda Kelli Leger, Saige K. Mestayer
DRY PRONG: Victoria A. Sweat
DUSON: Riley K. Gautreaux, Karli Elisabeth Roger
EGAN: Ashley N. Istre, Kirsten E. Regan
ELIZABETH: Madison M. Pippen
ELTON: Margaret Anne Bertrand, Caitlin Marie LaComb
ERATH: Kelsey R. Yates
EROS: Ashlee G. Sebren
ESTHERWOOD: Elizabeth P. Broussard
EUNICE: Courtney McFarlain, Jailyn R. Papillion, Kaitlynn M. Stagg, Elise M. Velez
FORT POLK: Pablo Banuelos
FRANKLIN: Ongel A. Davis
GONZALES: Casie L. Savoy
GRANT: Callie Salene Maddox
GUEYDAN: Anna A. Lafosse, Ethan S. Zaunbrecher
HACKBERRY: Chloe Elizabeth Granger, Bryce Paul Welch
HATHAWAY: Walter Guillotte
HOUMA: Elise M. Duplantis, Devan M. Hebert, Mark Paul Portier
IOTA: Bailey Jayne Bergeron, Trevor M. Bergeron, Emmett M. Bobbett, Madison C. Sittig, Caleb M. Smith
IOWA: Kennedy Nicole Anderson, Jennah Grace Baguex, Katelyn P. Broussard, Victoria G. Canter, Brailee Nichole LaBove, Elizabeth Anne Landry, Reagan Brooke Leonard, Kathryn Elizabeth Murphy, Jade Alyson Neel, Zoe Elizabeth Prejean, Kristen G. Rigmaiden, Mason T. Smith, Kelcie C. Thomassee, Brooke Alexandra Watkins
JENNINGS: Michelle Andrepont, Amy E. Bergeaux, Aaron Jules Bergeron, Alexis M. Broussard, Lauren Brooke Broussard, Trinity Faith Capdeville, Mallory C. Compton, Hayleigh Paige Constantine, Matthew R. Daigle, Kelsie Dawn Deshotel Derouselle, Hannah Elizabeth Dupuis, Morgan Nichole Fruge, Allison M. Guillory, Trey P. Hargrave, Sidney Brooke Haydel, Cade P. Henry, Mark N. Hoag, Sarah Elizabeth Hollier, Zackery T. Langley, Madison C. Lanthier, Aaron Joseph LeBlanc, Nicholas S. Lopez, Alex Gabriel Mallett, Carlie Angelle Matherne, Caleb J. O'Connell, Jackson T. Person, Richard James Robicheaux, Benjamin David Rozas, Jenna Marie Savoy, Alexis L. Schexnayder, Tyler Anthony Trahan, Kaleb A. Wright
KAPLAN: Claire A. Bass, Emma C. Broussard, Sidney C. Dartez, Alexandra C. Herpin, Ava Marie Briolo Simmons
KENTWOOD: Caylon J. Brabham
KINDER: Kelsey Aviles, Avery L. Barron, Emma Caroline Bertrand, Cannon J. Fontenot, Emily Marie Fontenot, Katharyn Grace Hebert, Amelia Grace LaFargue, Matthew Gabriel Marcantel, Ellyana M. Price, Ethan L. Reeves, Zachary Ray Rider, Stephen Wilson Thompson, Katelyn Michelle Trahan
LACASSINE: Madyson Blaire Brasseaux
LAFAYETTE: Javia Jasiah Archelle, Adria D. Conley, Matthew Allen Gardner, Alexi Alantis Marsa Moore, Elizabeth A. Ratcliff
LAKE ARTHUR: Jacey M. Broussard, Paige L. Daboval, Taya M. Hebert, Allie R. Monceaux, Avery N. Monceaux
LEBLANC: Jade Lorraine Young
LEESVILLE: Gordon B. Boone, Alexis Leigh Broussard, Rebecca Grace Evans Harris, Ryan J. Quinn, Kealee Celeste Rooker, Jason Lee Vanleuven
LEONVILLE: Thalia F. Mayon
LOCKPORT: Camille Marie Dufrene
LONGVILLE: Callie Brooke Bufkin, Trudy Lynn James, Shaun Tyler Laurent, Mikayla Ann Matte
LOREAUVILLE: Rory A. Ronsonet
LULING: Samantha Medina
MADISONVILLE: Macayla R. Bass, Sara B. Geier
MAMOU: Bryanna R. Allison
MANGHAM: Mary Katherine Smith
MANSFIELD: Alexis J. Thomas, Takia Samone Walker
MANSURA: Martin D. Vanderlick
MERMENTAU: Logan Paul LeBlanc, Erica B. Roy
MERRYVILLE: Peyton T. Cooper, Sydney K. Fritzenschaft, Kamryn Kaye Mouton, Kelsie L. Williams
MONROE: Yatierra Z. Brown
MORGAN CITY: Carlee M. Landry
MORSE: Logan J. Fontenot
NAPOLEONVILLE: Emme Elizabeth Traigle
NEW IBERIA: Courtney Marie DelaHoussaye, Kaitlyn Elizabeth Freyou, Carli A. Judice, Jacoby R. Sam
OAKDALE: Joel Alexander Brabham, Jude Nicholas Brabham
OBERLIN: Taneisha Monique Allen, Jennifer M. Greene, Emily Claire Smith
PINE PRAIRIE: Alexis Ann Hammond
PINEVILLE: Fonda Grace Colson, Danielle Leona Green, Cassie N. Parpart
PITKIN: Michaela Grace Carroll, Kaleb L. Davis, Christian P. Leonards
PLAQUEMINE: Matthew F. Williams
PONCHATOULA: Rubi Irizarry-Alvarado
RAGLEY: Courtney P. Bihm, Alexis Leigh Broussard, Jake Austin Bruce, Kodie Elaine Burch, Ashlynn Jade Derouen, Sara N. Dubose, Alexander P. Dupuy, Emily N. Griffin, Kennedy R. Hebert, Lincoln Dean LeBleu, Abby Elyse Menard, Carly Marie Muzik, Abigail Lea Stanfield, Khrystin Denise Weldon
RAYNE: Lindsey Brooke Batten, Eric A. Bedel, Abby C. Dupuis, Kaylee R. Lopez, Gabrielle M. Peltier
ROSEPINE: Michael D. Johnson, Kalyn B. Willis, Alexis Brianne Woodard
SHREVEPORT: Donavon Keith Banks
SINGER: Britain A. Prather
ST. MARTINVILLE: Brandon D. Potier, Logan R. Willis
STARKS: Madisyn Demi Swain
SUGARTOWN: Chelsee Nicole McFarland
SULPHUR: Claire A. Ashworth, Bailey Ann Barlow, Kinley Marie Barnes, Meghan Ruth Bennett, Kamryn Elise Benton, Klaeborne D. Bertrand, David P. Billodeau, Maegen A. Blankenship, Megan M. Boenig, Bristi O. Boykin, Benjamin Edward Broussard, Olivia C. Broussard, Courtney Alyce Burch, Caden Ray Burgett, Raylee Marie Burgett, Spencer Cole Butts, Skylar Layn Canik, Michael J. Casteel, Alexandra Gayle Castille, Freja H. Cole, Abigail R. Crater, Cole M. Crumpler, Christina Marie Cryer, Kaitlyn Elizabeth Darby, Brett A. Diamond, Danielle Carice Donovan, Karra Morris Dronette, Emily F. Dunbar, Anita Carol Dupree, Andrew Keith Eakin, Matthew Q. Ezernack, Jaclyn Kathleen Floyd, Colleen G. Fontenot, Emily J. Fontenot, Brandy Z. Fuselier, Darby C. Gabbert, Dorian Blake Gaudet, Brianda Rubi Gill, Julian J. Gonzales, Hannah Gayle Gros, Corinne D. Grubb, Mykeia Darai Guillory, Cassee S. Hawkins, Julia Kate Hays, Ashley E. Head, Kaitlyn Alexis Hebert, Cydney Rae Hillard, Kinley Nicole Holmes, Charleigh P. Hyatt, Randall Wade Istre, Shawna V. Johnson, Baylee Elizabeth Jordan, Kyla A. Kyle, Nicole Marie Lanthier, William Ray Lavergne, Natalie Marie Lawton, Andre K. Ledet, Katelyn Rochelle Leone, Joan Lin, Ally L. Louviere, Taryn E. Louviere, Macie Beth Maddox, Lani Rae Martin, Alaina Elise Maxfield, Savannah Maria Mere, Anne Marie Miller, Katherine R. Miller, Emily Claire Moss, Connor Ryan Murphy, Charles E. Nourrcier, Stephanie P. O'Blanc, Audie Mae Owens, Denise A. Pearson, Anna Catherine Perry, Whitney Paige Perry, Harlie LaNae Persing, Addie R. Phipps, Ethan Alexander Rapp, Baylor Brice Richard, Katelyn Ann Richard, Leah Tatyana Roach, Kevin D. Romero, Presleigh Faith Ruiz, Jade Mychel Lewis Schultz, Alisah Grace Sexton, Kayla Nichole Sheridan, Deborah Paige Smith, Harleigh Elizabeth Smith, Marley N. Smith, Maxwell Stewart Mchale Sprigg, Katy L. Stegall, Ashely Renee Taylor, Elise Michele Taylor, James Robert Thibodeaux, Ashley Marie Thorne, Kira N. Trahan, Trinity Faith Trahan, Baylee Denae Treme, Elizabeth J. Vandyke, Eulema Faye Baker Veillon, Mandi Lynn Winkelman, Madison Wyatt, Jamie Marie Young
TICKFAW: Jakayla G. Washington
VILLE PLATTE: Sabrina Lane Ardoin, Kathryn M. Bergeron, Lauren E. Blood, Emily K. Bordelon, Kane S. Deshotel, Eve A. Fontenot, Jacques C. Fontenot, Madison L. Fontenot, Macey Elise Harvey, Lauren Joubert, Kristina G. Latour, Wendy E. Maggio, Cade M. Manuel, Madison P. Pitre, Lauren F. Shipp, Sarah K. Soileau, Anna G. Tuminaro, Wesley P. Vidrine
VINTON: Mohamed Liaquath Ali Khan, Lasha Lynette Artis, Devin Cooper, Hunter Andrew Guidry, Dalton Doyle Haley, Faith E. Hoffpauir, Jordan K. Jerman, Alyssa A. Kurtz, Tyler Ryan Marceaux, Jacob Conner McCaughey, Alexis Tu-Quynh Nguyen, Ashley Marie Patin, Dawn Marie Plummer, Kourtlyn G. Richard, Kalli A. Tharp, Rebecca L. Tibbitts
WELSH: Hallie K. Ardoin, Edna Rose Cavenah, Emily Michelle Coleman, Elanea Annette Golmaryami, Kennedy A. Mallett, Kennedy A. McNabb, Peyton Zane Stanford, Rachel M. Thevis
WEST MONROE: Tiffany Marie Crowell Pommier
WESTLAKE: Abigail Marie Andrus, Wilma R. Bagley, Brittany Alicia Baines, Sarah Marie Bengston, Mary G. Brewer, Ashleigh Nicole Andrews Doucet, Maci L. Duhon, Lauren B. Fuselier, Kyla M. Hamilton, Jena D. Johnson, Merritt Gloria Jones, Peyton Michael McMahon, Kaitlyn R. Opal, Carley L. Parker, Aaron C. Reichard, Lindsey Reagan Roark, Caitlin E. Rogers, Breah D. Tansley, Amanda Elizabeth Wancewicz
YOUNGSVILLE: Trevor Cole Begue, Sarah E. Lyons, Jordan M. Naquin
ZACHARY: Taylee Ann Corkern
Texas:
BEAUMONT: Carlee Elizabeth Smith
BRIDGE CITY: Maggie Renee Garcia, Hannah M. Wiegreffe
BROOKELAND: Camrie F. Martin
BULLARD: Chloe Ducote
BUNA: Morgan Denice Lambright
BURKEVILLE: Sarah M. Stafford
CORSICANA: Mariah Elizabeth Lee
CYPRESS: Hayley E. Halliday, Kelly E. Hines, Ashley R. Koncir
DAYTON: Estela Pina
DENTON: Cutter Huff Leftwich
FARMERSVILLE: Alexandria Morgan Saldivar
FORNEY: Caleigh N. Cross
FRIENDSWOOD: Hannah M. Cooley
GIDDINGS: Jaclyn Elizabeth Gonzales
GOODRICH: Madison M. Phillips
GRAPELAND: Richard Wayne Frauenberger
HAMSHIRE: Madison E. Novak
HEATH: James Clayton Rasbeary
HOUSTON: Shaelyn K. Hines, Clare Elizabeth Mills
HUMBLE: Shania Rasha Anthony, Destiny Johnson
HUNTSVILLE: Isabel L. Huntsman
KATY: Jeremy D. Smith
KEMAH: Tanner Edwin Pugh
KINGWOOD: Shelby N. Smith
KIRBYVILLE: James H. Burchett
LUMBERTON: Kambrie B. Mcfarland
MAGNOLIA: Brooke A. Mallory
MCKINNEY: Alexis Holden Lambert
MONT BELVIEU: Bethany C. Reid
MONTGOMERY: Katelyn Nicole Elliott
NEDERLAND: Emma Kathryn Roccaforte
NEVADA: Keely Reagan Morrow
NEWTON: Gabriel Foster
ORANGE: Kennedy E. Franklin, Jonathon Charles Guidry, Thomas Alec Holland, Leah M. Lagrange, Andrew J. Usie
PORT ARTHUR: Mia Jade Escareno
ROCKWALL: Morgan A. Talley
SAN ANTONIO: Joseph C. Latronico
SILSBEE: Jodee Leighann Crane
SPRING: Kevin Roliard, Rachel K. Woods
THE WOODLANDS: Alayis J. Seneca
WALLER: Cade Steven Bartlett
States:
Arkansas
FAYETTEVILLE: John Christopher Boushelle
California
SAN FRANCISCO: Anthony Martin Colon-Costa
Colorado
Fountain: Alexis A. King
Westminster: Susan Sharday Fradieu
Florida
BOCA RATON: Yveny PetitHomme
GREEN COVE SPRINGS: Tiffany Steczo
OCALA: Rebekah Dilavore
PORT ST. LUCIE: Connor Arlan Fowler
TAMARAC: Joshua Raphael
Kansas
WICHITA: Amy C. Cowhick
Maryland
BEL AIR: Cassidy Dawn Schirmer
Massachusetts
NEWTON: Vivian Nemenyi
Nevada
LAS VEGAS: Christina Marie Young
North Carolina
APEX: Alexis Brooke Miller
Oklahoma
SALLISAW: Jose Obregon
Pennsylvania
WELLSBORO: Andrew Jonathan Galloway
Tennessee
MARTIN: Ashlyn C. Keasler
Countries:
AUSTRIA: Sophie Lucia Grabner, Markus Kopp
BELARUS: Hanna Blinouskaya
BRAZIL: Alicia Vieira Claudio, Kiyodi Dec Sakano
CANADA: Delana K. Friesen, Anmol S. Thind
CHINA: Jiayi Yang
COLOMBIA: Andres L. Arias, Valentina Perez Suarez, Juan Esteban Castano Uribe
GERMANY: Kira Anna Benkmann, Christina Sunny Kilian, Juna Fee Suppan, Lucas-Arno Voigt
HONDURAS: Elida Patricia Godoy Villalobos
INDIA: Praneetha Gobburi, Isha Sharma
INDONESIA: Jessica Theresia
IRELAND: Brian Flanagan, Luke Horgan, Damian O'Boyle
ITALY: Matilde Mulatero, Carlotta Romito
JAMAICA: Melissa Ross
JAPAN: Nanako Kaneuchi
KENYA: Gladys Jerotich
KOREA, REPUBLIC OF: Seungmi Lee, Junghyun Park
MEXICO: Cristo Yaneli Perez Ross, Andres Regino De La Cruz
MONTENEGRO: Stefan Mirkovic
NEPAL: Shiva Acharya, Shreya Acharya, Kiran Adhikari, Radheshyam Adhikari, Nischal Aryal, Krishbold Bhandari, Sanjay Bharati, Sangam Chapagain, Sujan Chaudhary, Abhishek Dahal, Aakash Karna, Aashka Kasaju, Alien Khadka, Sabin Khadka, Suraj Khanal, Deepika Khatri, Audi Hang Kulung, Vanessa Lama, Himshree Neupane, Anish Pageni, Ishan Parajuli, Arjan Poudel, Benup Raj Prasai, Gaurab Rai, Suraj Rimal, Raunack Sharma, Rohan Shrestha, Prithvi Raj Singh, Nhujaa Ratna Tuladhar, Sirapa Tuladhar, Dinesh Upadhyay, Ganesh Wosti, Bikash Yadav, Madhu Sudan Bhandari, Joshna Lawar, Bikram Thapa, Bishal K.C., Dipesh Bhandari, Rabindra Bhandari
NEW ZEALAND: Imogen Ruby Hull
NIGERIA: Stephen Olaleke Alagbe, Eniola Mercy Adenuga, Jane Elozino Agbaike, Jesutomisin Precious Ajayi, Mariam Olaide Ayinde, Damilola Sidiqat Balogun, Cheta Vanessa Ezenduka, McAusten Chidalu Ezenduka, Temiloluwa Oluwabusayomi Oluwadare, Success Wonuola Oluwole, Ghalib Oshiomoshiofufeke Siaka, Aikenzua Samson Alenkhe
SERBIA: Nemanja Koviljac
SPAIN: Miguel Barrera Lopez, Stella Carra Cueva, Sofia San Jose Moreno
TURKMENISTAN: Kerven Agajanov
UNITED KINGDOM: Jessica Sarah Fox
VIETNAM: Huy Nguyen Minh Huynh, Ngoc Thao Nhi Nguyen, Nhi Hong Thao Ta, Sach Dinh Van, Tam Thi Thanh Tran, Oanh Yen Vuong
Want more stories like this one sent straight to your inbox every week? Sign up for our McNeese eNewsletter!
The Office of Marketing and Communications
4205 Ryan Street
Lake Charles, LA 70609
337-475-5640
communications@mcneese.edu