January 15, 2020 | McNeese Public Relations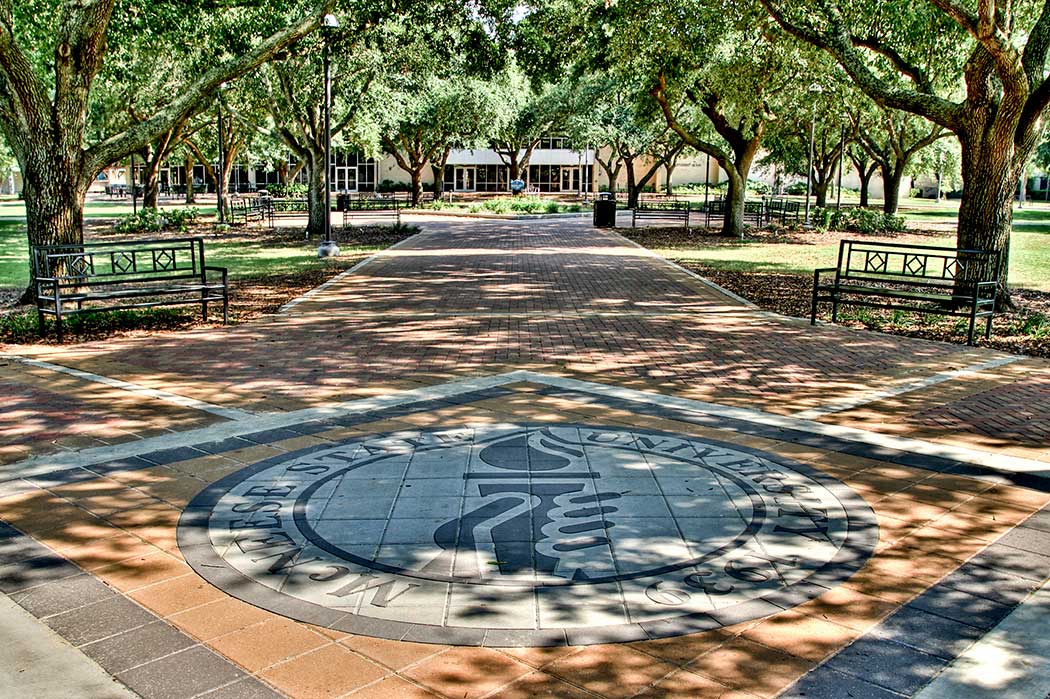 The McNeese State University Honor Roll for the 2019 fall semester has been announced. The honor roll lists undergraduate students earning at least a 3.0 or B average while carrying 12 or more semester hours.
Honor Roll is as follows:
LAKE CHARLES: Elaine Patricia Abshire, Nicholas R. Abshire, Rachel C. Ackman, Claire E. Adams, John Adam Agee, Aven John Aguillard, Hannah Leigh Akes, Brandon P. Amiot, Brooke Ann Anderson, Laura F. Anderson, Griffin Neal Andry, Carmen Edward Angelini, Kendra D'Jon Antoine, Breanne E. Ardoin, Mcklayne E. Ardoin, Riley Nicole Ardoin, Hayden P. Armentor, Layne C. Armentor, Grace Jean Arnaud, Landon J. Arnold, Kaitlyn R. Arrington, Taha Asif, Bailey N. Aucoin, Kathryn E. Aucoin, Macey Briann Aucoin, Gabrielle C. Auzenne, Abby Claire Ballard, Allison Claire Barker, Joshua J. Barker, Andrew Michael Barras, Katherine N. Barras, Jordyn M. Barrett, Elizabeth Renae Barron, Kaylee Madison Barrow, Celeine Bascle, Emily C. Bass, Lauren Ashley Bates, Lauren Ann Baudoin, Alexis A. Bauer, Jillian A. Bech, Tiffany N. Beck, Joseph J. Belfour, Bryce Decatur Bell, Jude Ryan Bell, Thomas Hyatt Bell, Gracie B. Benoit, Shelby N. Benson, Luke W. Bentley, David W. Bercier, Elizabeth N. Bercier, Rebecca A. Bernat, Reagan Lee Berry, Christopher I. Bertram, Emmalee A. Bertrand, Katelyn R. Bertrand, Daniel Jacob Best, Mackenzie R. Best, Kirklyn M. Bethea, Kianna M. Bias, Katelyn C. Bihm, Callie A. Blackledge, Tyller Paige Blackmon, Baylee Todd Bogard, Samuel A. Bohannon, Lahra Hailey Boitnott, Brennen J. Bonsall, Meiah Jolene Boom, Katherine E. Booth, Taryn M. Bose, Jacob Paul Boullion, Kaycee E. Bourque, Reid T. Bourque, Ashley Claire Bowler, Sabrina Dyan Bradley, Odreonna P. Brankline, Kelsey J. Brashear, Madison Elizabeth Breaux, Emily Elizabeth Britt, Allison Claire Brocato, Ethan Anthony Brouillette, Collin M. Broussard, Grayson D. Broussard, Hannah L. Broussard, Lauren A. Broussard, Matthew Evan Broussard, Morgan G. Broussard, Jordan Eric Broussard-Primeaux, Ava R. Brown, Gared Tyler Brown, James M. Brown, Nikyia D. Brown, Morgan D. Bruns, Raigen Annyston Bryant, Lane C. Buckels, Sebald Justinus Rutgers Bulhof, Bryce A. Buller, Mariah N. Burke, Kortney N. Burns, Courtney Marie Burnthorn, Robyn Elizabeth Burt, Cullen Joseph Burton, Camille E. Bushnell, Laci Jaye Butler, Elysia B. Caldarera, Julie Michelle Caldarera, Jaxson L. Caldwell, Brittany Marie Saxby Campbell, Michael Joseph Carmouche, Hailey M. Carpenter, Brant R. Carrier, Carley A. Castille, Ashley Nicole Caudell, Joseph Daniel Cavolaski, Matthew D. Ceasar, Kaitlyn M. Chaffin, Jennifer F. Champeau, Kameron D. Chandler, Laibah T. Chaudhry, Jalissa D. Chew, Haley Briana Church, Courtney P. Ciesla, Maegan Mashelle Clark, Andrew J. Coe, Sarah M. Coker, Kaitlin A. Colby, Claire M. Coleman, Kadijah Coleman, Christopher David Colley, Cortney N. Collins, Elijah Moses Collins, Forrest Grant Condon, Sidney LeighAnn Conley, Cassidy S. Conner, Kourtney Elizabeth Conner, Madisen K. Conner, Abigale Mari Conrad, Taylor Nicole Cook, Avonlea G. Cooper, Justin N. Cormier, Crystal L. Coulter, Jaiden B. Courvelle, Jacob L. Courville, Sierra Elizabeth Courville, Alison E. Cox, Hannah C. Credeur, Gracie Marie Creel, Breanna R. Cross, Isabelle R. Cross, Diana Brooke Cruseturner, Eve D. Cruseturner, Tyler E. Culpepper, William Cummings, William D. Cunningham, Madalyn G. Daley, Megan Daley, Joshua P. Damiata, Isabella Jolie Daniels, Evan M. Darbonne, Madison I. Darbonne, Courtney L. Darby, Emilea Kate Davis, Madeline Claire DeBarge, Danielle Rebecca DeWitt, Callie B. Decareaux, Christian King Delafield, Cooper A. Derouen, Judson K. Derouen, Alexis Elizabeth Deville, Branson T. Diamond, Aubrey Rae Dillon, Joshua Ngoc Dinh, Douglas D. Douget, Stacie Elizabeth Driskell, Matthew C. Dufrene, Sydney Alyce Duplechain, Katie M. Duplechin, Madison S. Duplechin, Mallory Breann Dupuie, Sarah E. Eccles, Christopher G. Edmond, Jacob R. Edwards, Taylor Marie Edwards, Zachary Eisner, Annie C. El Homsi, Alex Michael Ellender, Malarie Jade Ellender, Justin C. Epperson, William D. Ertell, Courtney Layne Lejeune Evans, Robert Matthew Everage, Alayna Jade Ewing, Brianna Genevieve Facenda, Bethanie S. Farber, Stephanie Lynn Dibartolo Faul, Kaitlyn E. Ferguson, Marcus T. Ferguson, Maximilian Thomas Henry Ferguson, Lexie R. Feverjean, Bonnie C. Flavin, Emerald Louise Fletcher, Broc A. Fontenot, Cameron G. Fontenot, Destiney S. Fontenot, Hannah A. Fontenot, Madison Marie Fontenot, Hayden Michael Foolkes, Matthew J. Foreman, Brett J. Fournet, Kennedy P. Franklin, Ethan D. Franks, Laiken P. Franks, Bailey E. Fruge, Cameron D. Fultz, Barbara J. Fuqua, Alec J. Fusilier, Emily Denise Fusilier, Madeline Chloe Galland, Heidi Michelle Gambrell, Alexander P. Garrido, Luke H. Gaskin, Jordan Diane Gautreaux, Lauren P. Gayle, Emily Jorden Borel Gazzolo, Maddison Kate Gentry, William Reid Giardina, Chloe Noel Gilbert, Amanda Nicole Gilchrist, Terren Jeron Gills, Baeleigh B. Gilson, Zoe Sharmaine Glaspie, Tessa L. Glaude, Kyle T. Godeaux, Emma C. Godfrey, Isaiah Jerome Goodly, Hailey E. Goodwin, Sarah D. Gossett, Tayler Breanne Goudeau, Hunter D. Gould, Eann K. Gover, Patrick T. Green, Ty'Janae M. Green, Serena M. Greenlee, Alyssa E. Grueber, Anna Marie Guidry, Brittanie A. Guidry, Jacob S. Guidry, Paul A. Guidry, Paul George Guidry, Brendan E. Guillory, Courtney N. Guillory, Jada D. Guillory, Logan A. Guillory, Macey Brooke Guillory, Madalyn C. Guillory, Sydnee R. Guillory, Annabelle D. Guins, Gustavo A. Gutierrez, Samuel G. Hacker, Kristian T. Hagerich, Cheryl L. Haines, Julianna Kalyn Hair, Sydnee K. Hammond, Anna C. Hanks, Trina Nichole Hansen, Hailey N. Hanson, Hannah Alyxandra Hardy, Abby C. Harmon, Grant A. Harris, Gage Allen Hartman, Alexandra L. Hebert, Jackie Katelynn Hebert, Jenna Hebert, Kylie E. Hebert, Michael S. Hebert, Noah J. Hebert, Aya Fouad Hijazi, Jana N. Hijazi, Mustapha Fouad Hijazi, Travis A. Hinton, Chandler V. Hitefield, Nhi V. Ho, Mary Ann Hodge, Holden G. Hoerner, Savannah Alene Hollen, Kaelyn R. Hollier, Elviney R. Holmes, Katelyn Landry Horn, Matthew K. Houston, Aaron Joseph Howard, Morgan Alicia Huff, Jayla M. Humphrey, Joshua D. Humphries, Allison Kay Hunt, Harold E. Iles, Anna C. Istre, Camryn Nicole Istre, Michaela Louise Jabusch, Bianca L. Jackson, Lauren D. Jackson, Joel D. Jacob, Amanda E. James, Brennan S. January, Erika E. Jarrell, Christopher N. Jennings, Benjamin M. Jester, Nathan P. Jimney, Bailey A. Johnson, Corey Cordell Johnson, Cullen Jude Johnson, Ezekiel Wade Johnson, Havana Marie Johnson, Jillian D. Johnson, Peyton Bowen Johnson, Rayne C. Johnson-Chiasson, Aspen N. Jones, Justin L. Jones, Alyssa B. Jordan, Bronson P. Jordan, Myriam Lizeth Juarez, Patrick Gerard Juneau, Matthew W. Kahrs, Alish Nath Kapali, Conner J. Karam, Jacob Kaskel, Ameera M. Kattash, Gurleen Kaur, Cody L. Keller, Eileen Jeanie Kemink, William Gerald Kemink, Kendall B. Kennedy, Shahrukh T. Khan, Julia Clare Kingsley, Arianna Kiritsis, Randi L. Klein, Kelsy M. Kohnke, Zachary Charles Koppenhagen, Madeline C. Kraus, Samuel J. Kuhne, Kerrigan Noel LaPointe, Madeline Lacombe, Madison K. Lafargue, Kevin Glenn Lambert, Breanna Nichole Landry, Jesse C. Landry, Krystal Nichol Deville Landry, Sophia C. Landry, Sydney Elizabeth Landry, John Mark Laneve, Andrew M. Langley, Jamie Sue Langley, Kaitlyn R. Langley, Chesney L. Laprarie, Aidan Q. Larocca, Kaley L. Larocca, Isabella F. Larocque, Jacob Paul Latham, Jordan Elizabeth Latham, Christopher H. Latil, William J. Latta, Kylie Rose Lavergne, Annamarie Lawson, Mia M. Lazard, Raven Alyssa LeBlanc, Allison N. LeBleu, Lorraine Adele LeBleu, Brandon Joseph LeCompte, Halle Marie LeDay, Jorion D. LeGros, Hayley J. Lebert, Emily A. Leblanc, Tyler J. Leblanc, Katlynn Brooke Lee, Clarissa Kinley Leger, Taylor Alexander Leggett, Brandon J. Legnion, Lila D. Legros, Bethany N. Lejeune, Hannah Grace Lejeune, Ty C. Lejeune, Kaylee N. Lemons, Victoria P. Lester, Madison Frances Leveque, Kamri Renee' Lewis, Haley Ann Lightsey, Alexander Jordan Lilly, Allison Barbara Lippert, Emily Ruth Loftin, Madelyn E. Loftin, Noah Jabe Loftin, Melva Jeanise Lonon, Jaymee Krystelle Lopez, Mea C. Lopez, Kaitlynn L. Louviere, Kristen N. Lovell, Chloe M. Lovmo, Tiffany R. Lowery, Michael T. Mack, Riley C. Maggio, Jeevin Jay Maharaj, Kristyl Lashae Malone, Amanda E. Maloz, Corey Alan Manint, Isaiah J. Manuel, Sydney R. Manuel, Zachary N. Manuel, Milton Paul Marcantel, Gabrielle R. Marceaux, Lindsay Claire Marceaux, Maria A. Marceaux, Evan Joseph Marque, Paige Marie Martin, Jazmin N. Mason, Adriana Louise Matte, Janna Christine Matthiesen, Caleb W. Mayo, Harrison L. McBride, Maggie Joy McBride, Austin Louis McCall, Charles Tyler McDonald, Alec Cade McGee, Emily Mae McGee, Trent A. McGuire, Caleb C. McNabb, Macie J. Mcgee, Saydee Meaux, Traci Irene Meaux, Dylan Jay Meche, Brennan M. Medlin, Cameron D. Meeks, Bethany M. Melton, Jonathan B. Melton, Valerie Lynae Mendoza, Stephanie Alyse Menou, Aubrey Grace Mercer, Allyson Mericle, Lynsey Alexandra Mhire, Madison N. Miller, Ryan Jacob Miller, Sierra Dawn Miller, Hasan Nisar Mir, JaNaiyah Sontrice Mitchell, Gracie Brooke Monceaux, Derrica E. Moncrieffe, Morgan O. Monlezun, Michael B. Morales, Sydney G. Morales, Andres Edwards Moran, Savannah Grace Morgan, Brianne Marie Morris, Jaydn Danielle Morvant, Kristian Blake Moss, Maelyn A. Moss, McKenzie Tate Moss, Madalyn Louise Mudd, Patricia E. Murphy, Kailey Renea Murrell, Gabrielle Blythe Myers, Katherine Elizabeth Myers, Brandon P. Naquin, Bailey A. Nelson, Reginald D. Nelson, Allyssa Rene Neubauer, Jonathan Blake Newman, Anh K. Nguyen, Julie Trinh Nguyen, Kacie L. Nguyen, Lily L. Nguyen, Lindy T. Nguyen, Tia T. Nguyen, Joshua G. Nickel, Cade R. Nieves, Hannah Claire Nordan, Katy R. Nugent, Landen K. O'Quinn, Peyton Breann O'Quinn, Peyton Claire O'Quinn, Hannah A. Ogea, Cailin O'Reilly Oliver, Lauren Alexandra Oliver, Payton Jules Oliver, Tanner Dionne Olson, William J. Onellion, Mariel R. Ortego, Kiran E. Owens, Audrey Tahala Painter, Zachariah Sky Painter, Kaitlin Renee Pappion, Kathryn V. Parmentier, Alexandra K. Parsons, Vrunda J. Patel, Eve M. Patton, Thmyra Gregglyn Pattum, John T. Peloquin, William A. Pena, Jacob Paul Bishop Percle, Alexys Karlyssa Peron, Bayli Perrodin, Camon L. Perry, Makayla Ann Pete, Cayden Randall Peterson, Alyssa Katherine Petry, Hannah E. Pettefer, Emily E. Phenice, Michelle Lee Phillips, Paige M. Phillips, Fernando J. Pimentel, Cassidy Ellen Plaisance, Madeleine E. Plauche, Emily Mae Poole, Katie Suzanne Poole, Kristy Marie Poole, Randy Lee Poole, Darshan Poudyal, Jilyen B. Poullard, Sophie Anne Qui, Khurrum Qureshi, Bryce Carlton Rachal, Chloe M. Ramcourt, Chadwick Randow, Emily Ann Rather, Hanson B. Raymond, Kenneth L. Reeves, Viola Summer Reeves, Alana J. Rembert, Destiny Nichole Reynolds, Bailey Ann Richard, Sara J. Richard, Lisa M. Rious, Dean A. Riviere, Shelley Renee Roach, Emalee Denise Roberts, Jessica R. Roberts, Annabeth G. Robideaux, Joshua M. Robinson, Michael H. Robinson, Isabella A. Rodriguez, Audrey Marie Rogers, Katelin D. Rogers, Peyton N. Rome, Nicole D. Roofner, Allison R. Ross, Anna Claire Elizabeth Rowse, Karrigan M. Rowse, Kathryn Jane Rozas, Lindsay Marie Russell, Annemarie Donovan Ryan, Alexia M. Savant, Zoe E. Schenimann, Alexandra K. Schexnyder, Sydney Jewel Seamons, Megan Taylor Segura, Trent Michael Self, Victoria Blake Self, Daija M. Senegal, Haley Cheyenne Sermon, Erik D. Shaw, Landyn L. Shillow, Damaris Perez Simmons, Brianna M. Simon, Leah Catherine Sims, Kyleigh D. Singleton, Addison Leigh Smith, Alysia Paige Smith, Duncan David Smith, Nikayla Anna Smith, Libby M. Snead, Bethany A. Soileau, Taylor N. Soileau, Emily Katherine Sonnier, Jaune-Marie Sonnier, Karli C. Sonnier, Kyla Briann Sonnier, Tabitha D. Sonnier, Haleigh Jade Spell, Mariah Kaitlynn Danielle Mouton Spencer, Sylvia Galmore Stagg, Caleb A. Stanley, Spencer Allen Stawecki, Alexis Leann Stevison, Andrea Danielle Stevison, Devin Steward, Charles Ryan Stickell, Lane Thomas Stine, Kevin D. Stockman, Hogan Stogner, Christian Viator Storer, Kelsey LeAnn Bouderau Strahan, Carson M. Stringer, Nina Raquel Summers, Ryan Matthew Sweeney, Christian Paul Sweezy, Amelia B. Syed, Daniel R. Syed, Nabila Hannah Syed, Madelyn Grace Tadlock, Kiarra Elizabeth Marie Talbert, Katie E. Talbot, Abby Tarver, Temeka S. Taylor, Trey A. Taylor, Mary Claire Tete, Adriano Hayden Theriot, Alanah Claire Theriot, Douglas Theriot, Madison Renee Theriot, Natalie C. Theriot, Andrew K. Thibodeaux, Carrie M. Thibodeaux, Kaysha M. Thibodeaux, Prudence Jacqueline Thibodeaux, Malia F. Thigpen, Abigail Grace Thomas, Collin J. Thomas, Kaila Gail Thomas, Karlee Elizabeth Thomas, Talisha LaShunta Harris Thomas, Tyler Paul Thomas, Lindsey M. Thompson, Mykenzie R. Thornton, Hallie N. Thurston, Tyler G. Tolbert, Alexandria Jo Tolleson, Alison Elizabeth Toney, Kiah Elizabeth Toney, Cydney B. Trahan, Elizabeth M. Trahan, Grace E. Trahan, Joseph Seth Trahan, Gabrielle N. Tramonte, Cindy Thi Tran, Taylor-Therese Alcantara Tran, Kevin M. Trosper, Hong B. Truong, Phong-Linh Ngoc Truong, Matthew Wayne Tucker, Grifin C. Turner, Brice Chandler Valentine, Whitney Nicole Conner Van Norman, Kirsten Renee Verberne, Jared M. Vermillion, Breanna Marie Veronie, Brooke Elise Veronie, Alec J. Verrett, Nick Anthony Verrette, Dani Renee Vest, Sadie Jo Vest, Sage H. Vest, Kellee D. Viator, Hannah Marie Vice, Maci J. Vincent, Adriel H. Vizina, Darian G. Vizina, Rachel Elizabeth Walls, Jenna Kate Watkins, Nicolas Todd Watson, Miranda Kate Watts, Delaney M. Webb, Meagan A. Weeks, Keagan L. Wells, Zachary C. Westergren, Stephen Ryan White, Taryn Louise White, Omri R. Wilcox, Baylor Sean Willett, Anastasia Brianne Guidry Williams, Brandy M. Williams, Ethan B. Williams, Jo'Nae C. Williams, Marlon Keith Williams, Sable Rain Williams, Alyssa Lane Willis, Maya Elizabeth Wilson, Ta'Jah Janell Wilson, Kayleb D. Winn, Michael A. Wolf, Kandice Buller Wolfe, Alexis S. Wright, Kade Martinez Wright, Katie F. Yokubaitis, Tyler Young, Charley C. Zeno, Miranda B. Zimmerman
Other Louisiana Cities:
ABBEVILLE: Demi L. Boudreaux, Ronnie D. Cormier, Grant A. Frick, Blair A. Hebert, Joanna M. Pillette, Madison C. Primeaux, Heidi Layne Romero, Bailey R. Roy, Haley E. Zenon
ALEXANDRIA: Dallis A. Jones, Greere K. Koehler, Adele Marie Pouncey
ANACOCO: Charla D. McInnis
ARNAUDVILLE: Taylor R. Lewis, Catherine L. Trahan
BALDWIN: Treneice F. Butler
BALL: Savannah J. Garner, Amanda H. Williams
BASILE: Lauren H. Bertrand, Katie Linette Monk Christ, Caitlynn Isabel Deshotels, Katelynn Paige Douget, Laiton J. Langley, Kylee Devon Walker
BATON ROUGE: Eleascia M. Douglas, Nia M. Kay
BELL CITY: Logan C. Granger, Hannah G. Hebert, Justin Michael Howerton, Connor O'Keefe Matheson, Katie E. Mhire, Abbie G. Pearce, Mary-Elizabeth Marie Rosteet, Logan Patrick Shaughnessy, Mattie Jean Sonnier, Renee Michelle Vincent, Allison Jolie Woodcock
BELLE CHASSE: Jamie Jaspriza Bell
BOSSIER CITY: Ellyse R. Ligman, Kaitlyn M. Owen
BOURG: Brady J. Simon
BRAITHWAITE: Lyric D. Turner
BRANCH: Casey J. Benoit, Macie E. Breaux, April N. Hanks
BREAUX BRIDGE: Courtney Marie Badeaux, Mallory Leann Breath, Victoria E. Breath, Nia M. Fontenette, Courtney C. Journet, Reggi P. Noel, Gabrielle T. Sonnier, Taylor J. Syrie
BROUSSARD: Corinne R. Murphy
BUNKIE: Gavin B. Soileau
CALHOUN: Blake Kidner
CAMERON: Michael J. Boudreaux, Joe Garrett Storm, Marley A. Thibodeaux, Austin J. Vincent
CARENCRO: Denitra Rachalle Constantine, Logan Dale Credeur, Mallori A. Taylor, Mckenna R. Taylor, Kordell Samir Williams
CARLYSS: Alexandra Marie Broussard
CHENEYVILLE: Jacob A. Vidrine
CHURCH POINT: Caroline Elizabeth Bellard, Sydney M. Boudreaux, Fannie D. Hickman, Todd K. Lejeune, Dexter D. Miller
COUSHATTA: Ashley Shanice Evans
COVINGTON: Brittany Elizabeth Mathies, Abigail J. Mclain
CROWLEY: Alexis R. Bernard, Boedy Paul Borill, Eulalie Marie Cormier, Sikoshea M. Doffoney, Markel Jerome Domino, Natalie Alexis Hayes, Khloe E. Istre, Jeremy Jermain Johnson, Josie A. Lamm, Madeline Claire Lejeune, Madelyn B. Lejeune, Jaysa L. Marceaux, Destiny D. Medows, Jessica N. Morrow, Jon R. Mouton, Julia R. Schmid, Sydney Jean Spallino, Hope Elise Wasson, A'Nijah P. Williams, Emily A. Zaunbrecher
CUT OFF: Victoria P. Barron
DEQUINCY: Savannah M. Bailey, Lindsay E. Blanks, Darci Rae Bonin, Collin Clay Brown, Heather Brooke Chehotsky, Matthew V. Cooley, Zane David Cooley, Daniel S. Devito, Baily Erin Duplechian, Nicholas David Guidry, Gabriel F. Hayes, Kari A. Higginbotham, Kenya Shiraine Jackson, Madalyn Grace Langley, Jenette Claire LeBleu, Charley LeAnn Lewis, Phillip E. Mitchell, Shayna Denae' Nelson Newell, Kaitlyn Leanne Perkins, Jasmine Marie Poullard, Kaytlynn Alana Robinson, Charles Timothy Royer, Jessyca R. Steward, Madison Lynn Steward, Allie Gabrielle Willis
DERIDDER: James C. Baggett, Kailey Rae Bailey, Chad Melvin Barmore, Madison Michelle Benoit, Walker J. Bihm, Kailee R. Bishop, Uriah C. Blackmon, Brittany Nicole Blanchard, Cameron Alexander Boddie, Kaylee Rochelle Booth, Kalob M. Broocks, Gordon Chase Brown, Jonah A. Brown, Robert E. Byrd, Ashley Renee Cantrell-Chisholm, Dorothy Lee Clendening, Jessy Nicole Morvant Cooley, Kelsey N. Cooley, Alyesia Shelby Davis, Megan Kira Nerys Davis, Abigail Francine Doyle, Morgan Elyce Dupas, Anderson Sutton Goodman, Alexia-Paige Hebert, Kimberly Ann Henley, Autumn Alexis Henson, Megan T. Jenkins, Andrew Wade Johnson, Ashley Lauren Kyle, Chance Allen Leonard, Sydney Milbre Meissner, Kyla A. Montou, Megan Nicole Owens-Jordan, Cory A. Pellerin, Treasure Denise Picou, Shelby L. Powell, Carlos Alberto Rodriguez, Brianna K. Sinegal, Katie Ann Teegardin, Trea Trapp, Cierra E. Vidrine, Ariel P. Wade, Marla G. Weeks, NaThya DyVeun White, Neiya S. White, Ana Michelle Williams, Brianna D. Wright
DELCAMBRE: Madelyn C. Langham
DENHAM SPRINGS: Sarah K. Fontenot
DRY CREEK: Jay Donald Miller
DUSON: Sheila M. Bolfa, Brandi N. Broussard, Megan Lauren Broussard, Madison C. Jacques
EGAN: Lani A. Hanks, Gabrielle Claire Heinen, Trevor D. Leger, Cayden Allen Morgan, Jacob T. Regan, Madilyne C. Trahan
ELIZABETH: Tori L. Brown, Chance Everette Gordon, Natalie N. Welch
ELTON: Andrew Blake Bertrand, Sarah B. Davis, Amber Jade Estes, Emily Marjeanne Estes, Sarah C. Estes, Jeremy B. Leonard, Halle D. Simien
ERATH: Drake M. Guidry
ESTHERWOOD: Lillian C. Gaspard
ETHEL: Brittany Shay Hall Saxton
EUNICE: Brooke A. Aguillard, Ryan Scott Andrepont, Sarah Ann Bollich, Celeste Elizabeth Cormier, Hunter C. Daigle, Kelby D. Duplechain, Tara L. Fontenot, Joshua Raphael Janice, Allison C. Lafleur, Dakota Claire Lail, Sean P. Manuel, Garrett C. Mcclelland, Anna E. Perron, Kelli N. Richard, Alyson B. Rougeau, Mia Kathryn Rougeau, Hallie M. Smith, Hailey C. Thibodeaux, Jazmyne M. Triola
EVANGELINE: Taylor Ann Fruge, Lucas J. Whitney
FENTON: Abby Nicole Langley
FORT POLK: Shelton D. Anderson
FRANKLIN: Ashton C. Landry
FRANKLINTON: Markel K. Cotton
GEISMAR: Kassie L. Deveer
GILLIS: Alexander Patrick Rains
GLENMORA: Quintin Armstead, Lauren E. White, Shirley E. Williams
GOLDEN MEADOW: Tanner N. Danos
GONZALES: Ciara E. Young
GRAND CHENIER: Blake M. Nunez, Matt Randolph Richard
GRAND COTEAU: India A. Richard
GRANT: Sydni Janee' Rasberry, Nathan C. Stout
GUEYDAN: Alisabeth C. Breaux, Hunter S. Lepretre, Zachary D. Lepretre, Kendra N. Petry, Olivia A. Richard, William B. Touchet
HACKBERRY: Hallie B. Buford, Drew James Kyle, Jeanne Marie Trahan
HAMMOND: Regan O. Bolton
HAUGHTON: Eric D. Greene
HINESTON: Caleb J. Hughes
HOUMA: Dylanda C. Bolden, Joseph L. Leboeuf
IOTA: Kristen P. Hebert, Cole J. LeJeune, Bailey W. Leonards, Kevin P. Pousson, Brittany J. Roy, Rhiannon S. Smith
IOWA: Creed I. Arabie, Skyler Kallin Bourque, Joseph Kevin Boyette, Da'vin Jude Broussard, Dillion Anthony Jude Broussard, Joshua Paul Buller, Paige Corinne Buller, Isaac Richard Burleigh, Jessica A. Castillo, Nathan P. Constance, Darius Daniels, Ryan R. Denison, Patrick A. Doland, Baylie M. Duhon, Christopher B. Fontenot, Logan J. Fontenot, Jodi Kay Fruge, Savanna M. Fruge, Alejandra N. Gonzalez, Kylee F. Granger, Quinn Dawson Granger, Gavin Jeffery Grantham, Jacob Neal Guidry, D'Andre Scott Hadnot, Emily Claire Hardy, Maria M. Heath, Candice Lee Johnson, Claire Elizabeth Johnson, Jill Johnston, Hannah L. Jolivette, Zachary M. Jongbloed, Dylan Jeffrey Kay, Meredith Gail Maples Khan, Ashanta Raynae Malbroux, Bryan Devondrick Marks, Bailee S. Miller, Mia B. Miller, Alysiah Cole Petross, Sadie Marie Prejean, Corynn Aliyan Primeaux, Lindsey B. Priola, Tyler Douglas Rather, Kelsi Elizabeth Rea, Larry W. Reed, Ashley Renee Blocker Rodrigue, Jadah F. Sargent, Jayde Rene Seaford, Alyxis Celeste Simon, Carl E. Torrans, George J. Trahan, Cameron D. Willis, Kylie Marie Wilson
JEANERETTE: Jalon Jarae Charles, Rhaya' Marks
JENNINGS: Lexie D. Abshire, Ian M. Andrepont, Sydney B. Augustine, Kain M. Babineaux, Gavin Heath Benoit, Dylan Ray Bergeron, Brittany N. Bonin, Brock J. Bonin, Ethan C. Broussard, Jenna C. Broussard, Kayleigh Elise Broussard, Zachary J. Broussard, Sydnee S. Brown, Nicholas Chambers Cassidy, Job M. Charpentier, Jason K. Chretien, Summer P. Chretien, Haley E. Credeur, Virginia Lane Edmondson, Ross Joseph Edwards, Cagney C. Elliott, Conner James Fontenot, Devin B. Fontenot, Kaitlyn Alizabeth Fontenot, Caleb D. Gary, Hayden Lawrence Green, Meagan Paige Guidry, Juliana Marie Guinn, Johanna L. Hanson, Anne-Marie P. Hebert, Taylor J. Hibbitts, Alyssa Marie Hoag, Elwyn C. Hofmann, Alexis P. Hornsby, Noah P. Johnston, Alexandra S. Kratzer, Catherine Alaine Landry, Mikayla Renee Lazarus, Gabriel A. Lebouef, Baylor L. Ledbetter, Kasey Layne Marceaux, John S. Mayes, Ryan M. Millet, Kali Nicole Morvant, Cade Paul Person, Sadie Christine Quibodeaux, Ethan T. Reed, Halie G. Reeves, Jack A. Ringuet, Travis D. Sarver, Heidi S. Sauble, Chelsea Nicole Simien, Dorian L. Stalsby, Kevin Douglas Stracener, Naomi R. Walden, Madalin Nicole Wilder, Austin A. Young
JOHNSON BAYOU: Alexander Reese Boudreaux
KAPLAN: Alex J. Broussard, Lauryn A. Fulkerson, Quinn A. Guidry, Shelbee Angelle Leger, Mallory M. Meaux, Jamya A. Mouton, Kody Alec Romero
KINDER: McKenzie Beth Bourgeois, Jake W. Cavenah, Patrick Mayes Comeaux, Andrew W. Cooley, Monica Courville, Lauren Elizabeth Fontenot, Carmen Ruth Fruge, Morgan J. Hamilton, Britney R. Hebert, Sara Catherine LaFargue, Shelby R. Labuff, John Bryson Moore, Brenna N. Nash, Ryan W. Porter, Hannah Jade Potter, Allie Elizabeth Richard, Makenna Brookelle Sanders, Sydni Nycole Savant, Madisen Faith Tyler
LACASSINE: Blake J. Herron, Treyc Logan Kibodeaux, Natalie M. Landry, Cutter William Tonn
LAFAYETTE: Sean-Michael Brady, Esprit Broussard, Monique Cohen, Lydia I. Delcambre, Faith D. Dorsey, Amaya J. Duffy, Heidi Anne Fontenot, Morgan E. Guidroz, Lindsey Michelle Habetz, Michael J. Heintz, Maria Esther Ibanez Romero, Jossie L. Irvin, David Milliken, Katherine D. Montano Martinez, Meghan S. Narcisse, Hunter C. Neumann, Taja Latrice Sanders, Alayah Arlene Soileau, Anna Joy Sternaman, Nikayla A. Thomas, Abriana S. Williams, Jaelan Mishelle Willis, Jakaela Patrice Willis
LAKE ARTHUR: Isabelle J. Caron, Madison Marie Higginbotham, Taylor M. Lejeune, Jonas R. McGee, Steven P. Meaux, Erica Teal, Joseph Z. Tezeno
LAKE PROVIDENCE: Audrey M. Batton
LAROSE: Marval T. Bourgeois
LEESVILLE: Haylee J. Brinlee, Aleyah E. Donald, Tye Dye, Bailey L. Hagan, Dontay Hargrove, Catherine Louise Pipes, Camryn B. Wanjura
LONGVILLE: Trinity Paige Anderson, Ariel Diana Bennett, Mattison Michaels Benoit, Reagan Dacey Billings, Tabitha Rose Buford, Canlin P. Dionne, Talynn Elizabeth Ellender, Montana James Faulk, Savannah Victoria Faulk, William Shane Hunt, Nicolas Paige Lee, Kathryn E. Manuel, Kelly Darlene Marshall, Israel Seth Whalley
LORANGER: Rachael Michelle Dalgo
LULING: Ashley M. Wray
MAMOU: Caleb C. Aguillard, Mary A. Fontenot, Kendralyn B. Lavergne, Dulcie J. Miller, Kirstyn E. Rider, Rodreques D. Serie, Madison E. Victorian, Jenna L. Vidrine
MANDEVILLE: Jessica Kristen Duckworth, Elizabeth F. Kenley, Cody Orgeron, Kaley I. Wintz
MANSURA: Jessica L. Fall, William B. Vanderlick
MANY: Brayden W. McMillian, Caroline E. Settle
MARKSVILLE: Artensia C. Batiste
MARRERO: Jonathan L. Hunter, Matthew Steven Keller
MELVILLE: De'Angelo Dennis Ray Vaughn-Allen
MERMENTAU: Darren R. Arceneaux, Megan R. Martin
MERRYVILLE: Nicholas Patrick Ardoin, Brett Patrick Bell, Brianna Renee Flemones, Kaylee Rae Parsons, Matthew Charles Taylor, Dawson R. Wallace
METAIRIE: Chauntell Rizzuto, Spencer P. Veit
MITTIE: Abbigail E. Noblitt
MONTEGUT: Aurora M. Redman
MORGANZA: Kaden Joshua Slim
MORROW: Wilshawn Williams
MORSE: Kailie B. Moore
MOSS BLUFF: Zachary B. Fontenot, Abigail K. Ralston
NAPOLEONVILLE: Steven L. Gros
NATCHEZ: Jackson A. Carroll
NEW IBERIA: Destinee Rae Boutte, Tiffany Janae Broussard, Maria Sylvanie Garrett, Chloe K. Hernandez, Ashton P. Knatt, Tranae LaChelle Marks, Hope Marie Reddick, Lauren A. Sylvester, Ledaryeantae Thibodeaux, Briana Williams
NEW LLANO: Jan Veintidos
NEW ORLEANS: Courtney N. Darby, Jalen Pe'Jean Grainer, LaShawn Jewel Lewis, Armani Precious Meredith, Kristine Wilson New, Colby Richardson
OAKDALE: Halyn DeLois Bailes, Chloe Christine Johnson, Victoria L. Lejeune, Aaron S. McDaniel, Brooklyn A. Noblitt, Mckenzi D. Richmond, Benjamin F. Thornhill, James V. Welch, Kelsi G. Zimmerman
OBERLIN: Alanna Dane Arvie, Drew Antonio Beaubouef, Tobey A. Carrier, Morgan Reillie Dodd, Cortnee L. Gallow, Anna Marie Reeves Manuel, Madison Grace Meaux, Rebecca Ann Prudhomme, Amber Nichole Soileau
OPELOUSAS: Jennifer Michelle Cravins, Chyna M. Evans, Caitlyn M. Hundley, Jeremiah Austin Johnson, Mykaylan B. Ledet, Happy M. Lewis, Ally S. Marks, Breanna A. Newell, Keyondra L. Rideau, Makayla Celene Savoie, Brittany Christine Thomas
PEARL RIVER: Alayah D. Andrew
PIERRE PART: Erin N. Vidrine
PINE PRAIRIE: Logan G. Blood
PINEVILLE: Katelyn L. Boyer, Logan N. Vallee
PITKIN: Ivy Maglalang Landry, Amber Brianne Perkins, Chloe E. Ratliff, Kaitlyn E. Savage, Kelsey Nicole Williams
PLAQUEMINE: Steven J. Conerly, Ronnisha J. Jackson, Elyasia Gabrielle Williams
POLLOCK: Austin C. Futrell
PONCHATOULA: A'Myri A. Lewis
PRAIRIEVILLE: Jacob E. Rowe, Elizabeth Nicole Sam
RACELAND: Shea M. Fournier
RAGLEY: Zackary T. Ardoin, Brennen S. Bourliea, Allison Faith Dowden, Mika Danielle Eidson, Tristan Alan Fontenot, Cheyenne Jae' Perkins Guillory, Sarah Gutierrez, Amanda M. Hantz, Haileigh Elizabeth Harrington, Alana S. Jennings, Autumn M. Johnson, Abigail Louise Marcantel, Rae D'Laine McManus, Katherine Danise Moss, Samantha L. O'Neil, Cade Joseph Sharpton, Cameron Scott Single, Lucas Roland Sonier, Elizabeth N. Ussery
RAYNE: Clare Alleman, Sara K. Arsement, Andre Elizabeth Lyons Bruce, Ethan P. Comeaux, Lanisha R. Francis, Leeann B. Gray, Nicholas Garrett Guidry, John E. Hains, Samuel K. Hoffpauir, Derek Mitchell LaFosse, Mariel Anne Meche, Janie C. Morrison, Julia C. Morrison, Trent K. Winbush
REEVES: Hannah E. Walker
ROANOKE: Jerrod Dean LeJeune, Corey Jay Leger, Nicholas Lee Ortego, Bailey Marie Sonnier
ROSEPINE: Colton Wayne Brown, Megan S. Cates, Mckenna D. Loftin, Erin Danielle Peavy
SCOTT: Kristen B. Henry, Daleah D. Kelly, Tayla Lange, Allie M. Richard, Alex L. Roy, Alona R. Tolliver
SHREVEPORT: Keautae Atkins, Andrew S. Harp, Callie Elizabeth Tuggle
SIEPER: Haleigh Johnna Newnham
SLIDELL: Hallie Nicole Faciane, Jonathan T. Lott
ST. FRANCISVILLE: Jolee E. Beauchamp
ST. MARTINVILLE: Bethany Lynell Knatt-Broussard, Chantel B. Malveaux, Dana Patrice Ned, Madison Alaina Pillaro, Meagan Elizabeth Zepherin
STARKS: Carl F. Barlow, Sarah Beth Berwick, Benjamin Joseph Gaillard
SULPHUR: Karey E. Alexander, Cameron Patrick Ancelet, Lindsey Grace Andersen, Tylee Blair Arabie, Angelica E. Arroyo, Maddison Lynn Aultman, Randall C. Baggett, Tristan Gage Baggett, Deidre Rachelle Barker, Madison Rae Barrilleaux, Hannah Mae Beard, Madison Rose Becktold, Adrian Felipe Beltran, Olivia G. Boudreaux, Lexi E. Bourgeois, Cora M. Bradley, Kaleigh G. Breaux, Austin Lane Brown, Brock A. Bult, Krystian Ray Burum, Madison Taylor Buxton, Cason Matthew Caldwell, Katelyn Lee Carras, Lyndon J. Carrier, Karlie R. Carriere, Sophia C. Cesarini, Leighton K. Chamblee, Andrew Michael Chapman, Qiu Rong Chen, Ian Andrew Chesson, Lash J. Chretien, Jordyn Bailee Church, Lakyn D. Conner, Lily Katherine Cradeur, Alyssa Faith Darbonne, Jacob David Darbonne, Kathryne E. Darby, Danielle Diane De Waard, Shelby M. Deaton, Denee R. Delcambre, William Chad Dion, Allie L. Domingue, Camron D. Doty, Anna Claire Elise Dowers, Blake Matthew Drost, Kiah Nichole Mansell Dubard, Jacob Roland Dudley, Dillon Thomas Duplechan, Alisha D. Dupree, Claire Suesanne Dupuis, Jake R. Dupuis, Abigail E. Ellender, Megan E. Engler, Dayton C. Ericson, Garrett S. Fontenot, Logan J. Fontenot, Heather Rose Foreman, Miranda H. Forester, Lodge Thompson Fortenberry, Claire L. Foster, McClain Alexandra Frey, Whitney A. Frey, Anastasia Nicole Fritzinger, Varvara G. Fritzinger, Abigail Marie Fruge, Rebekah N. Fruge, Ryan T. Gardebled, Kallie Ann Gatte, Amiee M. Goldman, Savanah Jo Goodner, Bailey Elizabeth Gotz, Georgina Lynn Graves, Elizabeth Paige Graybill, William Matthew Griffiths, Ashlyn Grace Gros, Ashleigh Elizabeth Guidry, Laura Leigh Lindgren Guidry, Morgan Renee Guidry, Nicole M. Guidry, Celia Anne Guilbeaux, Kayla A. Guillory, Alexis Clare Gunter, Nancy Carol Hales, Sydnee Patricia Hawkins, Baileigh Gay Hayden, Brandie Carlton Hayden, Breanna Ann Hayden, Blaze Tucker Hayes, Colin Tyler Haynes, Kennedy R. Hebert, Shelby L. Henson, Rachael Klare Higginbotham, Raylee Jene Istre, Ian Christopher Ivey, Tanner Cole Johnson, Kailee Quinn Johnston, Lydia Kathryn Kellar, Amaya Zina Kelly, Stephen Kade Khoury, Jordyn P. Knighton, Kara N. Knighton, Brealynn Nicole Thomason Kyle, Jacob David LaFleur, Lindsey Kyleen Lafanette, Liliana Landaverde, Madison N. Landry, Holly Lynn Larocca, Audrey Deacon Lauw, Jace Charles Leblanc, Gavin P. Ledet, Keighly P. Leger, Payton Elise Lindgren, Taylor Joelle Lobue, Kaitlyn J. Macnamara, Bethany Maria Manuel, Mia Ysabel Martin, Victoria Elizabeth McBride, Sarah E. Medwick, Shelby Corina Mendibles, Stacie Michelle Miller, Elizabeth Payline Mitchell, Erin Catherine Moss, Coraliegh Estelle Myers, Dawn Nicole Nabua, Whitman A. Naquin, Cole Dwayne Nassar, Kobe Matthew Nevills, Sarah E. Palermo, Hallie D. Parker, Sydney Clare Peshoff, Daniel Poindexter, Abbagail Grace Portie, Jonathan Andrew Qualls, Madison D. Qualls, Kelseigh Brooke Ramirez, Reid Patrick Rapp, Katelyn Brooke Ravia, Julia Ann Reeves, Brant Christopher Richard, Faith E. Richard, Gavin Michael Richard, Kira Paige Richard, Carlee J. Richmond, Chelsea G. Richmond, Monineath Rithy, Dylan Alyse Hayes Ryder, Madison L. Sallier, Brock L. Saltzman, Jacob H. Salvador, Ryder L. Sanford, Jaycie M. Savoie, Alden A. Schindler, Dennis Shriver, Molly Claire Simon, J'cobi Skinner, Bowen Smith, Noah Paul Sonnier, Hailey E. Stanley, Olivia Kay Stark, William Travis Stegall, Mary Ellen Stephens, Austin B. Stewart, Brody James Strahan, Andrea Nicole Strother, Marion K. Suarez, Julian D. Summers, Hayden Chance Swanner, Lauren L. Sylvest, Claire E. Tanous, Brennan Michael Taylor, Nicole L. Taylor, Bethany Marie Thibodeaux, Hannah Brooke Toups, Chad A. Trosclair, Tabitha Nicole Tyler, Kelsie E. Vizier, Leann Marie Ward, Baylee Nicole Wardle, Lanie K. Warner, Vynessie L. Wilburn, Justine Elizabeth Young
SUNSET: Dylan Barlow, Peter T. Sheppard
SWEET LAKE: Zane Louis Bellon
VIDALIA: Zachary A. Nelson
VILLE PLATTE: Kasey Jean Lafleur Aguillard, Dawson L. Buller, Regan L. Carraway, Kiara Alexis DarDar, Shani N. Fontenot, Victoria L. Fontenot, Margaret R. Foret, Loghan Velez Frank, Malerie A. Guillory, Madison A. Hernandez, Emma M. Hollier, Lane J. Hudspeth, Leigh Kathrine LaHaye, Caroline Elizabeth Manuel, Bailey A. Odom, Kaitlyn E. Roddy, Brook L. Soileau, Evyn M. Soileau, Jakiah O. Thomas, Baylee Nicole Veillon, Taylor Sha'nae Williams
VINTON: Branden Wayne Berry, Kaitlyn Ann Braquet, Haley Elizabeth Bunting, Jacie Brooke Crador, Jessica L. Gier, Taylor Morgan Glass, Dalton Kyle Guillory, Harley R. Haley, Claire M. Heinen, Bryce Anthony Hubert, Kaitlyn Christine Hubert, Luke Caden LeBouef, Savannah Gayle Marcantel, Dylan Clay Randle, Jacob Samuel Savoit, Jessie Lynn Tharp, Carlie Brooke Walton, Morgan Taylor Welch, Dawna L. Wilfer, Nathaniel William Willett
WASHINGTON: Alec J. Gotro, Drew M. Latour, Maria Ortego, Samantha Alyse Quebedeaux
WELSH: Makaela B. Bertrand, Caleb Joseph Chiasson, Haley Paige Cooley, Samuel T. Cormier, Grace A. Hanley, Thomas P. Hanley, Zachary Michael Hayes, Baylie D'Anne Hebert, Ranna R. Hebert, Landon S. Hill, Ragan A. Hill, Hailey N. Holden, Courtlyn R. Iguess, Skyler Lane Johnson, Seth C. Lawrence, Brett Slade McNabb, Anna E. Richard, Sherry C. Richard, Courtney L. Roland, Trenton Kade Soileau, Carly Rene' Watkins
WESTLAKE: Jaina R. Ange, Mark E. Ashworth, Calie Crystine Browne, Brandon Kyle Camp, Woodrow Alexander Clendennen, Marykate F. Core, Ariel Nicole Cromer, Lauren Kathryn Dowden, Hayden M. Durant, Ben M. Ellender, Leah G. Ellender, Carlee R. Fast, Arease D. Fontenot, Maggie M. Gotreaux, Carli Nicole Guillory, Jermaine D. Guillory, Kimber G. Hamilton, Robin D. Hawes, Julia C. Istre, Hanna Marie Jenkins, Emily Anne McGuire, Esther G. McKinney, Joseph Gabriel McKinney, Brennan C. Meyer, Brooke E. Meyer, Connor W. Moyer, Crystal Lynn Benoit Nevils, Alexander Bryce Ortiz, Christa D. Page, Haley N. Sacksteder, Ashlyn Haley Scheinost, Joseph L. Slater, Jordan M. Southern, Camryn L. Tagge, Jalen R. Thomas, Nathaniel C. Watts, Shelbie Shayne Winn
WHITE CASTLE: Eric Edwards
WINNFIELD: Carly Nicole Parker
YOUNGSVILLE: Hayley R. Hughes, Jolie Gardner Mixon
ZWOLLE: Mackenize J. Martinez
Texas:
ATASCOCITA: Michael Tyler Jones
BAYTOWN: Priscilla Janelle Ibarra, Ashayla A. Thomas, Mackayla A. Thomas
BEAUMONT: Jacob Bryan Dickerson
BEEVILLE: Saleen Flores
BROOKSHIRE: Summer Lynn Looper
BUNA: Morgan Elizabeth Clark, Jayci Diane Robicheaux
CHINA SPRING: Kody Fulp
CIBOLO: Nicholas A. Holiday
COLLEGE STATION: Emily Allivia Vaughn, Jordan J. Yeatts
CONROE: Madison Lynne Doise, Elizabeth M. Golden, Dallorie Morea Miller, Cristen Faith Perera
CYPRESS: Caleb Frank
DIBOLL: Alexsandra J. Flores
DICKINSON: Kristan Teresa Deitz
FANNETT: Shae D. Doucet
FRED: Chelsea R. Baumgartner
FRESNO: Kiara D. Mitchell
FRIENDSWOOD: Larissa Perez
GARLAND: Chase D. Davis
GRAPEVINE: Callie M. Craus
GROVES: Robert William Hebert
HARLINGEN: Roxie J. Davis
HEMPHILL: Andrew Wood
HOUSTON: Taylor Bost, Cameron M. Foster, Marcus Arin Foster, Avery Elizabeth Kelly, Caroline Harper Mally, Tre Newton, Camron T. Peterson, Cody J. Roscoe, Jalen Xavier Smith, Devin Aliyah Walsh
HUMBLE: Payton J. Harden, Grace E. Smith
JASPER: Cameron A. Bootie
KATY: Rylee M. Bourgeois, William C. Devany, Mikayla Ann Dupont, Trey Joseph Vondenstein
KILLEEN: David Jonathan Smothers
KINGWOOD: Kaylee E. Walling
KOUNTZE: Ariel M. Denmon, Bradley Martin Martinez, Sarah M. Robins
LEAGUE CITY: Lauren N. Burt, Luke Norris
LIBERTY: Rachel Madison Webb
LIVINGSTON: Gabriel Cody Gonzales
LUMBERTON: Jimmy Eugene Bartley, Shauna N. Bowers, Eric N. Martin
MAURICEVILLE: Savannah Sheppard
MISSOURI CITY: Collin J. Warren
MONTGOMERY: Kyle Herridge, Cameron Grace Newhouse
NEW BRAUNFELS: Sydney Nicole Belvin
ORANGE: Jordan Avery Alexander, Katie L. Arabie, Abbey Michelle Ashworth, Brooke Haley Brister, Meg Lauren Clark, Makayla M. Dyer, Kaylee Elizabeth Kaufman, Hattie E. Lebleu, Brooke Anne Manuel, Jacquelyn Caileen Perry, Callie Ann Sattler, McKenzie Sheppard
PARIS: Hunter Reeves
PASADENA: Joseluis Botello-Esquivel, Alejandro Chapa, Keegan Reeve Crawford, Haley Nichole Schneider
PEARLAND: Sara Bailie Cox
PLANO: Jaxsen Davis, Mariah Skylyn Ruelas, Caitlin Brooke Sharrock
PORT NECHES: Jane F. Carson
RICHMOND: Kendall M. Kilchrist, Camryn A. Pletka
RICHWOOD: Kevin D. Brown
ROSENBERG: Jeremy Martin Deleon, Taylor Leigh Pesina
SAN ANTONIO: Abigail E. Hunt
SANTA FE: Haylie Michelle Ruhl
SEABROOK: Daniel Hecker
SEGUIN: Garrett Lee Dietert
SPRING: Auston Layne Barnes, Caroline S. Fritsch, Hannah Teresa Grabarkievtz, Rachel Marie Hebert, Alexander K. Perkins, Justin A. Pratt
STAFFORD: Shaterroca Chanaye Williams
TEXARKANA: Adrian M. Rothwell
TOMBALL: Kendall Lynn Glueck, Anna L. Watson
VIDOR: Bailey E. McDowell, Zachary Joseph Robin
WARREN: Savanna R. Ard, Savannah Morgan Love
WESLACO: Anika C. Hovda
WILLIS: Bailey S. Soto
WINNIE: Kealy G. Trevino
States:
Arizona
LAKE CHARLES: Cameron David LeClercq
Arkansas
BENTONVILLE: Carolyn Elizabeth Kotoucek
California
LOS ANGELES: Deidra Nicole Spence
MENIFEE: Janae F. Hernandez
SAN JOSE: Madeline K. Neidig
Colorado
ARVADA: Megan E. Mally
FORT COLLINS: Angela Noelle McGownd
Florida
MIRAMAR: Enos L. Lewis
PORT CHARLOTTE: Elijah Mohamed Mack
TARPON SPRINGS: Emma Rose Hollenback
Illinois
CHICAGO: Toluwanimi Imisioluwa Atewogbola
GLEN ELLYN: Brett Whelton
Kansas
HAYS: Regan Stiawalt
LAWRENCE: Bradley Stephen Kincaid
Maryland
OAKLAND: Brittany Boyce
REISTERSTOWN: Nyere Natya Hayes
Michigan
DEARBORN: Jordan Christopher Bonza
Mississippi
LONG BEACH: Sarah Lorraine Johnson
MCCARLEY: Cori Lane McCrary
MERIDIAN: Samantha Dawn Rupe
North Carolina
HOPE MILLS: Mondrekia Monae Riley
SANFORD: Andrew Edward Carruth
Ohio
FREMONT: Stephanie Marie Estlund
Oklahoma
MOORE: Brenique T. Wright
South Carolina
BEAUFORT: Olivia C. Rasberry
Tennessee
CAMDEN: Christina Wordney Lambright
CORDOVA: Shaela Gardner
Utah
SPANISH FORK: Averi Marshall, Truman Blazer Moore
Vermont
KILLINGTON: Taylor Marie Tolar
Virginia
ASHBURN: Alexis Nicole Bourg
Washington
SEATTLE: Levi William Friend
Countries:
ANGOLA: Nerivaldo Teodoro Eurico Jamba
BENIN: Comlan Ronique Gbedey
BRAZIL: Giulia Rodriguez Lazzarin Wolbrink
BULGARIA: Zhulien S. Monev
CAMEROON: Chin Kinyuy Kila
CANADA: Valerie Samantha Jansen-Lord, Brianna Rose Mascia
COLOMBIA: Dayana Katherin Castaneda Morales, Laura Juliana Gomez, Ana Maria Gonzalez Suarez, Maria Juliana Medina
COTE D' IVOIRE: Jean Samuel Donald Boue, Malan Philippe Olivier Kodjale
CUBA: Yoanett Hernandez
EGYPT: Dalia Sherif Ahmed Abdelaziz, Omar Mahmoud Zayed
FRANCE: Theo Berger, Carla Marie Helene Ferretti, Roxane Nataf
GERMANY: Bonnie Andres
GREECE: Petros Xenofon Stavroulopoulos
INDIA: Anureet Kaur, Kinjal K. Patel
IRELAND: Jack Hearn
JAMAICA: Linea Elaine Williams
KENYA: Jemima Jebet Chesir
KOREA, REPUBLIC OF: Sanghun Han
MEXICO: Luis Carlos Rivas Partida
NEPAL: Dev Shankar Acharya, Safin Bajgai, Ayush Banjade, Pranisha Basnet, Santosh Bhusal, Rajan Budhathoki, Saurav Chaudhary, Mamata Dahal Ghimire, Prajwal Dhungana, Samyog Gautam, Ankit Goel Ghimire, Tsering Dolker Gurung, Laxman Gyawali, Altaf Hussain, Bishal K.C., Nita Kaphle, Rakyush Khadka, Raunak Raj Khatiwada, Anil Khatri, Manita Khatri, Abhiyan Koirala, Nischal Koirala, Samir Lamichhane, Rabina Maharjan, Hemant Mahato, Saurav Mahato, Abiral Mainali, Jesika Mainali, Samrat Marasini, Apurba Neupane, Samir Neupane, Biplav Paka Shrestha, Pratikshya Pangeni, Diksha Parajuli, Nishika Pokharel, Sudarshan Poudel, Sonu Prasai, Ajaya Pudasaini, Aastha Rai, Pallavi Rajbanshi, Supratik Regmi, Shristee Sapkota, Sudin Shakya, Saurav Sharma, Simon Sharma, Kandu Sherpa, Pasang Jangbu Sherpa, Divesh Shrestha, Mamata Shrestha, Shradesh Shrestha, Shriya Shrestha, Aditya Singh, Aman Singh, Achyut Kumar Thapa, Ajit Thapa, Wriha Timalsina, Binayak Singh Yadav, Sagar Pandeya, Alisha Sprauer, Samrat Khatri, Anuja Thapa, Saurav Chaudhary
NIGERIA: Oluwasemilore Fredrick Adefila, Enoch Ayomide Adegoke, Uchechi Valerie Adiele, Olabade M. Akinpelu, Damilare Johnson Awodele, Oluwadamilola Ogooluwa Bamigboye, Obumnaeke Gabriel Odinamkpa, Enoch Oluwadunmininu Ogunnowo, Matilda Akunna Okpala, Olivia Chinazaekpere Okpala, Joseph Oladeji Sanya, Ifeanyichukwu Talodabioluwa Umesie, Muqeet Oluwanifemi Gbolahan, Fatimah Agbeke Tijani
PERU: Ashley T. Espinoza, Francisco Javier Cordova-Segura
PHILIPPINES: Rosemarie Tolentino
RWANDA: Sandrine Mutezinka
SAUDI ARABIA: Abdulrazaq Mallah Alanazi, Haya Mohammed M. Albishi, Waleed Khalid M. Aldossary, Saad Alenzi, Othman Alharbi, Faisal Sulaiman Alsugair, Mashal Mohammed Batais, Abdullah Attiah A. Aljohani, Waleed Khalid Amer, Rayan Subhi Albalawi, Abdulaziz Mohammed R. Alotaibi, Sajjad Saeed A. Alhassar
SERBIA: Marija Mastilovic
SPAIN: Maria Teresa Garcia Martinez
TANZANIA: Bernadette Juleeta Ndayizeye
TRINIDAD AND TOBAGO: Javeann Tenassa Roberts
UNITED KINGDOM: Joey James Croft, Matthew James Harding, Holly Louise Roberts
VENEZUELA: Yileynis Melisa Jimenez Rodriguez
VIETNAM: Duyen Tuyet Bui, Long Kim Lam, Ny Thi Thi Lam, Lien Bich Thi Ngo, Khue Hoang Mai Nguyen, Thuy Phuong Anh Nguyen, Tien Thi Cam Nguyen, Tien Thi Thuy Nguyen, Tru Quoc Nguyen, Bao Ngoc L. Tran, Diem Bich Thi Tran, Thi Thuy Linh Tran, Tho Nguyen Hoang Tran, Phung Kim Vo, Long Kim Lam
Want more stories like this one sent straight to your inbox every week? Sign up for our McNeese eNewsletter!
The Office of Marketing and Communications
4205 Ryan Street
Lake Charles, LA 70609
337-475-5640
communications@mcneese.edu