Fall 2017 President's Honor List
January 8, 2018 | McNeese Public Relations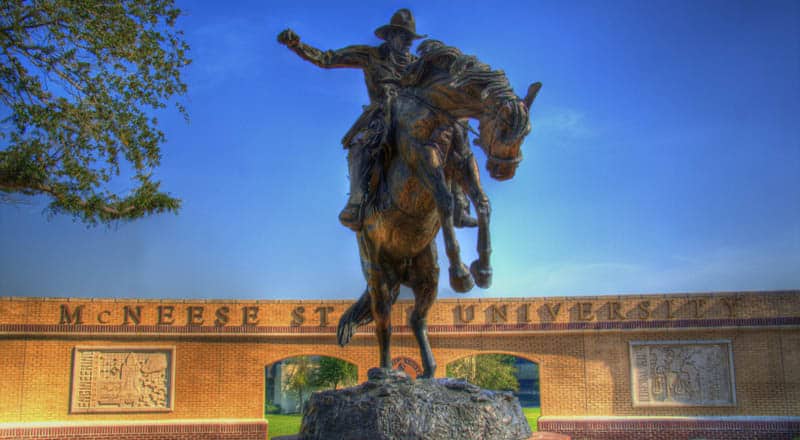 The President's Honor List for the fall 2017 semester at McNeese State University has been announced. To be on the President's Honor List, an undergraduate student must earn at least a 3.5 grade point average or better while carrying at least 15 semester hours. A senior eligible for graduation but carrying less than 15 hours is also provided that student was on the President's Honor List the previous semester.
The President's Honor List is as follows:
LAKE CHARLES: Collin Brice Adams, William George Albrecht, Desaree Dany' Allbritton, Joshua D. Anderson, Alexandria Jaclyn Andrews, Jordan B. Ashworth, Seth A. Aucoin, Christopher Walton Bacarisse, Taylor K. Beeson, Brandi L. Bellard, Elizabeth N. Bercier, Layton Gregory Bergstedt, Lauren Annette Bertram, Christian B. Bertrand, Morgan R. Bertrand, Daniel Jacob Best, Mackenzie R. Best, Lahra Hailey Boitnott, Sabrina Bonilla, Sarah E. Bonvillain, Donavon James Borel, Camille G. Boullion, Eloise Celeste Boullion, Jacob Paul Boullion, Gabriel Lee Bourgeois, Stefani Allie Bourque, Lindsey A. Bower, Allyson Renae Breaux, Melanie Nicole Breaux, Callie N. Brevelle, Jacob A. Bridges, Bailey Anne Broussard, Peter Eugene Broussard, Tyler P. Broussard, Matthew James Bruce, Bradley G. Bryant, Brett J. Bullard, Anna C. Bushnell, Jordan N. Caldwell, Chelsea Elizabeth Calero, Sophie E. Campbell, Canon L. Cart, Hillary F. Cart, Lawrence Mack Carter, David G. Castillo, Cody A. Caswell, Joseph Daniel Cavolaski, Kaitlyn M. Chaffin, Heather M. Champagne, Carleigh Christene Chaumont, Courtney Yvonne Clifton, Jacob G. Cochran, Kaitlin A. Colby, Christopher David Colley, Claire Elitia Colley, Gavin Zane Conley, Madisen K. Conner, Darby N. Cook, Hailey N. Cooley, Tina Marie Cooley, Jeanne Elise Cormier, Rachel Katherine Courtney, Jessica Elizabeth Courville, Jacob M. Cox, Cydney Alyssa Creel, Ashley Margon Crooks, Breanna R. Cross, Eve D. Cruseturner, Sledge C. Cryar, Tyler E. Culpepper, Christa L. Daigle, Faren R. Daigle, Rita M. Dallas, Kynnedy Monique Daniel, Amy Renee Darbonne, Madison I. Darbonne, Brittiany Nickole DeLand, Emily R. DeRouen, Chance Allen DeVille, Bailey Elisabeth Dearman, Haley Noelle Delaunais, Lindsey E. Delouche, Kyrah Payne Devall, Robert James Dick, Alexis J. Dickerson, Tea B. Dickerson, Aubrey Rae Dillon, Aimee Elizabeth Dobos, Jessica Michelle Domingue, Joseph R. Dronet, Mackensi Scott Duff, Kallie B. Duhon, Katie M. Duplechin, Cameron Reese Durham, Sarah A. Edwards, Caroline Chamberlain Eggleston, Madigan Aline Eldridge, Ty D. Ellender, Samantha Ashley Ellerbe, Jillian Christine Engel, Spencer Christian Evans, Elisabeth L. Falgout, Bethanie S. Farber, Valeria Fabiana Faria, Brooke L. Ferguson, Lynlee Morgan Flakes, Avery Fliger, Matthew R. Foltz, William Stanton Foltz, Christopher J. Fontenot, Emily Grace Fontenot, Hannah A. Fontenot, Madison Marie Fontenot, Morgan G. Fontenot, Savannah G. Fontenot, Alyssa M. Foreman, Morgan C. Foreman, Jametra J. Frank, Levi William Friend, Greyson Elizabeth Fruge, Lisa M. Fuselier, Shianne N. Fuslier, Taylor A. Gagneaux, Jenifer P. Gandhi, Lauren E. Gaskin, Luke H. Gaskin, Jordan Diane Gautreaux, Elizabeth A. George, Katy Elizabeth Geymann, William Reid Giardina, Allie Suzanne Giffin, Logan James Gilmore, Haile M. Gilroy, Elizabeth E. Gober, Tiffany B. Godfrey, Caleb Ray Greathouse, Mckenzie E. Grigg, Paul George Guidry, Abigail D. Guillory, Adrianna E. Guillory, David Tyler Guillory, Logan A. Guillory, Victoria R. Guillory, Angelina Y. Gulla, Jenna Hacker, Samuel G. Hacker, Sophie C. Hacker, Alexis Ann Hammond, Kelli Lee Hanks, Olivia R. Hansen, Hailey N. Hanson, Haley M. Harless, Audrey L. Harris, Brandon N'namdhi Hawkins, Alexandra Grace Hebert, Alexandra L. Hebert, Madalyn E. Hebert, Michael S. Hebert, Olivia M. Hebert,  Zachary A. Hebert, Emily Louise Hedlesky, Kimberly P. Heise, Lauren A. Hellums, Emily Kathryn Hendricks, Kathyrn Madison Hile, Coye Allan Huber, Morgan Alicia Huff, Kaitlyn R. Iguess, Bailey E. Israel, Brydon L. Jacobson, Aaliyah Deshawn Janice, Krista M. Jimney, Amanda B. Johnson, Elizabeth Brooke Johnson, Jordan Avery Johnson, Shawna V. Johnson, William Gordon Johnson, Justin L. Jones, Kennedy Claire Jones, Patrick Gerard Juneau, Blake Todd Juranka, Brett Charles Juranka, Christina Michelle Keathley, Debbie L. Kellum, Eileen Jeanie Kemink, Shahrukh T. Khan, Alexus Monet King, Julia Clare Kingsley, Mason A. Knighton, Kayleigh A. Kohnke, Kelsy M. Kohnke, Gavin J. Labiche, Madison K. Lafargue, Emily K. Lancon, Andrew M. Langley, Christopher H. Latil, Kelly N. Lavergne, Malloree Kate Lavergne, Tyler C. Lavergne, Tyler J. Leblanc, Alicia Dawn Ledet, Jacob R. Lee, Alician R. Lewis, Brandon Fitzgerald Lewis, Alexandra C. Loftin, Kenneth L. Logan, Tiffany R. Lowery, Brianna Lee Maddox, Riley C. Maggio, Caleb Preston Malone, Ashley Marie Marcantel, Karly Nicole Marcantel, Ali E. Marceaux, Tanner James Marceaux, Eric B. Marler, Jourdan Skylar Marshall, Morgan M. Martel, Ashley Janae Martin, Tyler Scott Matte, Dylan Wyatt Matthews, Savannah Claire Mayeaux, Claudia E. Mayo, Maggie Joy McBride, Carson Hunter McBroom, Justyce L. McClain, Kennedy B. McLemore, Brogan Christopher McNease, Kimberly Danielle Medicis, Jamie Aleysa Mele, Valerie Lynae Mendoza, Stephanie Alyse Menou, Robyn K. Meschwitz, Abby Marie Miller, Everett Miller, Kaylin A. Miller, Michael G. Miller, Ryan Jacob Miller, Nicole Kristine Mouhot, Mariah Kaitlynn D. Mouton, Bailey A. Nelson, Corey W. Newman, Zachary P. Nicholas, Cynthia Leanne Nitsch, Katy R. Nugent, LeAnn Mindy Nugent, Landen K. O'Quinn, Kristian Da'Shawn Ojonta, Macy Clare Oliver, Ashly Ann Carbone Organski, Cecilia Chan Oubre, Diego A. Padilla-Chargoy, David R. Palmer, Ashley N. Petry, Rebecca C. Pettefer, Megan K. Peveto, Michelle Lee Phillips, Pamela Ann Phillips, Erika Piancastelli, Donovan Alderson Pierce, Chloe N. Pugliese, Crosby Dylan Qui, Cody D. Quinn, Khurrum Qureshi, Muneeza Qureshi, Chante` Nicole Rankins, Jessica B. Rathjen, Collin S. Reed, Jacob C. Reeves, Heather Ann Richard, Annabeth G. Robideaux, Michael H. Robinson, Emily Page Roller, Demi Nyx Romero, Jonathan Donald Roofner, Makenzie Brooke Roofner, Pratchi A. Roy, Robert Waltler Rutz, Lucy C. Ryder, Reagan C. Saltzman, Madelynn S. Sanders, Ashlyn Marie Savoie, Mark Travis Schmidt, Darian N. Seago, Megan Taylor Segura, Brandi Nicole Simpson, Leah Catherine Sims, Gavin E. Skinner, Brooke D. Smith, Callen Smith, Gregory Thomas Smith, James N. Smith, Nikayla Anna Smith, Lenise G. Soileau, Monica Michelle Soileau, Taylor N. Soileau, Chelsye Iranet Spikes, Jenna Margaret Spivey, Maxwell Stewart Mchale Sprigg, Ashton T. St. Dizier, Stephen Vega St. Michael, Andrew R. Steiner, Alexis Leann Stevison, Kevin D. Stockman, Campbell K. Sullivan, Tori J. Tate, Alanah Claire Theriot, Ashlyn D. Theriot, Sandra Lynn Theriot, Katelyn S. Thibodeaux, Ann Frances Thomas, Esther A. Thompson, Lindsey M. Thompson, Taylor-Therese Alcantara Tran, Bryce L. Travis, Kevin M. Trosper, Phong-Linh Ngoc Truong, Patrice Olite Turner, Lucas C. Verret, Dani Renee Vest, Cassi Ann Vincent, Tyler Burton Vincent, Camille Irene Vizena, Nguyen Christina Chau Vo, Brielle M. Webb, Benjamin Gauge Welch, Carley Elizabeth White, Morgan M. Wilder, Amy Rae Willard, Baylor Sean Willett, Ashley A. Williams, Leatrice Annette Bertrand Williams, Toni A. Winbush, McKaughly Saige Wing, Erin M. Winters, Sydney C. Witherwax, Kandice Buller Wolfe, Taylor Paige Wood, Mckenzie L. Wyninger, Christina Marie Young, Keylee Shea Young
Other Louisiana Cities:
ABBEVILLE: Demi L. Boudreaux, Audrey D. Gaspard, Aaron M. Mccain, Andrew G. Vallot
ALEXANDRIA: Eternity C. Lewis
AMITE: James Lavoice Harvey
ANACOCO: Ashlee B. Daily, Sarah E. Dillard, Suzette N. Kuhlow
BASILE: Brenan S. Langley, Mary E. Leonards, Wendy Veillon, Miranda Ann LeBlanc Young
BATON ROUGE: Destiny Montiville, Tijera A. Safir, Brandyn M. Tate
BELL CITY: Richard C. Broussard, Andrew Jonathan Galloway, Julia L. Hebert, Grant Vincent Leonards, Kaden M. Sharpe, Allison Jolie Woodcock
BOSSIER CITY: Jasmyn N. Carswell
BOURG: Brady J. Simon
BREAUX BRIDGE: Bethany Michelle Thibodeaux
BRUSLY: Christopher T. Prejean
CARENCRO: Cory L. Baudoin, Megan Lauren Broussard, Michael D. Eckert, Mckenna R. Taylor, Erin LeVaughn Washington
CHURCH POINT: Kaitlyn A. Bellard, Elizabeth A. Boudreaux, Cierra S. Papillion
COVINGTON: Lacee Anne Fontenot
CREOLE: Anthony A. Baccigalopi
CROWLEY: Elizabeth Dartez, Takeisha D. Freddie, Levi C. Leger, Emily C. Lucas, Jon R. Mouton, Julia R. Schmid, Laura Marie Schmid
DEQUINCY: Madison Jade Brown, Seth Hunter Cooley, Nanci Kaye Evans, Laiken P. Franks, Charley LeAnn Lewis, Jonathon T. Lueck, Shelby R. Matte, Kaylee J. Moody, Teresa Anne Nevells, Kaytlynn Alana Robinson, Randi Cheyenne Naquin Spears, Cody L. Thibodeaux, Alexis N. Ware
DERIDDER: Lindsey N. Aycock, Kailey Rae Bailey, Sarah Elise Bevel, Tyller Paige Blackmon, Lynzee R. Burnett, Corina Gabrielle Burton, Hope Cooley Chaney, Amanda Isbell Clendening, Sidney LeighAnn Conley, Megan Kira Nerys Davis, Kevin M. Erpelding, Allison O. Faircloth, Rebecca Yvonne Harris, Caitlin E. Johnson, Devin Gunner Jones, Winter Ixshelle Mathews, Kaleb C. McDade, Sydney Milbre Meissner, Conner J. Nesom, Megan N. Nieves, Idalia Sandoval, Marla G. Weeks, David K. Williams, Joey Nicole Willis, Jossie D. Willis
DELCAMBRE: Courtney M. Leblanc
DENHAM SPRINGS: Andrew M. Ayres, Lauren E. Brown, Payton Leigh Dodds, April Ford Tate, Cassidy J. Waters
DRY CREEK: Barron Walker Brown, Amanda Kelli Marler
DUSON: Makayla M. Dean
EGAN: Ashley N. Istre, Jacob T. Regan, Alysse M. Vondenstein
ELIZABETH: Jacee Marie Bacon
ELTON: Margaret Anne Bertrand, Kieshauna Quinita Clayton, Katelyn G. Guillory, Halle D. Simien
ERATH: Lani Roy, Shanna Marie Vincent
EROS: Ashlee G. Sebren
ESTHERWOOD: Taatum Adair Rubin
EUNICE: Courtney P. Ceasar, Celeste Elizabeth Cormier, Kristy Ann Fisher Harrigill, Jailyn R. Papillion, Thaddeus D. Richard, Kristi D. Thibodeaux
EVANGELINE: Christopher John Fleming
FENTON: Abby Nicole Langley
FRANKLIN: Paige M. Diamond, Olivia A. Luke
GLENMORA: Kelsey M. Coker
GRANT: Callie Salene Maddox, Nicholas W. Stark
GRETNA: Erin Elvira Fortier
GUEYDAN: Danielle Marie Broussard, Malori D. Dupree, Kelcie A. Evdokimoff, Ann C. Simon
HACKBERRY: Samuel R. Ducote
HAUGHTON: Alexis N. Deleo
HAYES: Joshua Scott Nelands
HOUMA: Elise M. Duplantis
INDEPENDENCE: Alicia A. Rossano
IOTA: Ashley Kay Hargrave, Jena Richard LaCombe, Michael C. Thevis
IOWA: Da'vin Jude Broussard, Emily Ann Burleigh, Alexander S. Darbonne, Kyle Brent Delino, Logan J. Fontenot, Allie T. Guillory, Hope Rene Guillory, Dylan Jeffrey Kay, Kennedy R. Kober, Natalie M. Landry, Kammi Nicole Long, Madeline Kate Morgan, Jordana Michelle Buxton Mott, Kathryn Elizabeth Murphy, Lindsey B. Priola, Amy E. Reed, Shay M. Walker
JEANERETTE: Kanisha R. Allen, Brianna A. Olivier
JENNINGS: Sydney B. Augustine, Mallory C. Compton, Hannah C. Dartez, Kylie Brooke Derks, Lexi S. Doise, Caleb Urias Eugene, Destiny R. Gay, Trey P. Hargrave, Anne-Marie P. Hebert, Jordan N. Johnston, Adam Lance Kershaw, Aaron Luke Lamb, Robin L. Langley, Aaron Joseph LeBlanc, Mallory E. Myers, Caleb J. O'Connell, Brianna N. Owers, Harriet Beth Quibodeaux, Sadie Christine Quibodeaux, Kayli Elizabeth Scogin, Reanne E. Smith, Elizabeth N. Stretcher, Morgan M. Woods
JOHNSON BAYOU: Allison R. Romero
KAPLAN: Kailey R. Lejeune, Katelyn M. Richard, Kody Alec Romero
KINDER: Kelsey Aviles, Andrew W. Cooley, Amanda Catherine Donaldson, Dorian A. Hayes, Taylor Deon Hebert, Amanda Kay Knapick, Amelia Grace LaFargue, Sharon Marie Murrell, Elliott L. Reeves, Ethan L. Reeves, Julia Claire Williams
LACASSINE: Stacy N. Guillory, Libby Michelle Peet, Ginger Faye Young
LAFAYETTE: Katelyn Marie Matt Bertrand, Adria D. Conley, Danielle Dalcourt, Erin Menard Fabacher, Shea Gabriella Hebert, Tracy J. Kendrick, Kierra A. Malveaux, Angela Kelton Naquin, Joshua P. Pierre, Meeyana D. Richard, Alaine J. Williamson
LAKE ARTHUR: Jacey M. Broussard
LEBLANC: Haley Brooke Duhon, Jade Lorraine Young
LEESVILLE: Benjamin F. Burnham, Darius Johnson, Janae R. Maricle, Madisen Danielle Smith
LIVINGSTON: Taylor Nicole Watts
LONGVILLE: Randi Layne Adams, Callie Brooke Bufkin, Peyton Alexis Conner, Tara Deneen LaBruyere, Tylar Marguerite Matte, Alexandra Browne Ramsey
LUTCHER: Jaci Theresa LeBlanc
MAMOU: Rowdy Landry Parrott, Jenna L. Vidrine
MANDEVILLE: Taylor Elizabeth Thompson
MANGHAM: Mary Katherine Smith
MANSFIELD: Alexis J. Thomas
MANY: Caroline E. Settle, Rebecca T. Smith
MERRYVILLE: Nicholas Patrick Ardoin, Kaylee Rae Parsons
METAIRIE: Danielle Elaina Adossa
MONROE: Amber G. Coons
MORSE: Kyra B. Louvierre, Roxy R. Richard, Katelyn L. Woods
MOSS BLUFF: Calli J. Dupont
NAPOLEONVILLE: Blaise Marie Traigle, Emme Elizabeth Traigle
NEW IBERIA: Amber C. Davis, Tristin M. Fields, Chelcee A. Gilliams, Joseph C. Lissard, Kaysha K. Pradia
OAKDALE: Joel Alexander Brabham, Jude Nicholas Brabham, Hannah A. Longino
OBERLIN: Alanna Dane Arvie, Jennifer M. Greene, Brandi Marie Victorian
OIL CITY: Khandice L. Taylor
OPELOUSAS: Caitlyn M. Hundley, Jeremiah Austin Johnson, Mykaylan B. Ledet, Mia M. Manzanares, Makayla Celene Savoie, Kealy R. Stelly, Khalil D. Thomas, Lauren R. Wyble
PIERRE PART: Erin N. Vidrine
PINEVILLE: Danielle Leona Green
PITKIN: Scott R. Baker, Alanna K. Falke, Christian P. Leonards
PLAQUEMINE: Shelbi L. Strickland, Ashton R. Williams
RAGLEY: Brennen S. Bourliea, Katy E. Chisholm, Morgan D. Filipski, Amanda M. Hantz, Joshua Paul Hantz, Kalyn M. McComb Hardesty, Abby Elyse Menard, Michael D. Schultz, Cameron Scott Single, Matthew J. Trahan
RAYNE: Eric A. Bedel, Madison A. David, Janie C. Morrison, Payton N. Zaunbrecher
REEVES: Kennedy Suzanne Jeffcoats
RESERVE: Toni Lynn Perrin
ROANOKE: Delaney Kaye Jackson, Kasey N. Lejeune
ROSEPINE: Mark Austin Bailes, Brittany M. Darrah
SHREVEPORT: Charnise P. Scott
SINGER: Chance Tyler Johnson
SLIDELL: Brentney A. Carroll, Rachel M. Stevenson
ST FRANCISVILLE: Jolee E. Beauchamp
ST. MARTINVILLE: Paulette Marshall
SUGARTOWN: Amanda Anne Sonnier
SULPHUR: Olivia Christine Abshire, Keifer Grey Ackley, Haley Brooke Johnson Areno, Claire A. Ashworth, Maddison Lynn Aultman, Tristan Gage Baggett, Tia Batiste, Nicole D. Bayles, Christinna Ann Becktold, Adrian Felipe Beltran, Hannah Elise Edwards Berryhill, David P. Billodeau, Brittany Nicole Bird, Sara Blythe Bohannon, Alexander Reese Boudreaux, Mackenzie Elizabeth Bourgeois, Makayla Diane Breaux, Jacob A. Broussard, Raylee Marie Burgett, Cason Matthew Caldwell, Bethany Michelle Carnes, Andrew Joseph Casteel, Michael J. Casteel, Alexandra Gayle Castille, Maddison M. Cholley, Freja H. Cole, Lily Katherine Cradeur, Calista N. Craft, Kaitlyn Elizabeth Darby, William G. Dever, Heather Brooke Dowers, Jacob Roland Dudley, Mark A. Ebersole, Victoria Marie Ellender, Matthew Q. Ezernack, Emily J. Fontenot, Garrett S. Fontenot, Robert Brennan Fontenot, Devin L. Gaidosek, Hannah M. Galbraith, Kallie Ann Gatte, Holly Nicole Gillard, Julian J. Gonzales, Savanah Jo Goodner, William Matthew Griffiths, Hannah Gayle Gros, Ashleigh Elizabeth Guidry, Darren Royce Guidry, Shawnda Kay Guidry, Karra L. Guillory, Kayla A. Guillory, Danae Leanne  Gunter, Maegan Sue Hand, Kara Elise Hebert, Raylee Jene Istre, Danielle Nicole John, Roy L. Jones, Baylee Elizabeth Jordan, Christian A. Keever, Erin E. Kellar, Andrew M. Kershaw, Kara N. Knighton, Nicole Marie Lanthier, Colin Scott Laughlin, William Ray  Lavergne, Dylan P. Leblanc, Jace Charles Leblanc, Taylor T. Lebleu, Gavin P. Ledet, Celeste M. Lee, Stacy C. Lyons, Samuel K. Mancil, Frankie Beth Marcantel, Alaina Elise Maxfield, Krystal Rose McMillian, Jade Elizabeth McNeil, Savannah Maria Mere, Katherine R. Miller, Corinne B. Mitchell, Emily Claire Moss, Alexis Grace Nezat, Denise A. Pearson, Olivia Layne Perez, Austin J. Pottorff, Kerri Elizabeth Racca, Constance A. Register, Ana Karen Reyes, Jackson Thomas Ritchie, Caitlin E. Rogers, Elizabeth A. Salvador, Skylar M. Seaford, Morgan Delaine Sherrill, Heidi Paige Simmons, Harleigh Elizabeth Smith, Marley N. Smith, Caleb A. Stanley, Christine M. Stephens, Ashley Marie Thorne, Elizabeth J. Vandyke, Halley Marie Vincent, Vicki Lynn Waterbury, Kaitlin Denise Wheeler, Madison Wyatt, Addie D. Young, Rachel Marie Zachary
THIBODAUX: Lexie N. Gauthreaux, Erin E. Green
VACHERIE: Tasia Brenae Simoneaux
VILLE PLATTE: Benjamin P. Bergeron, Sadie N. Buller, Sarah Lee Deshotel, Eve A. Fontenot, Jacques C. Fontenot, Kelsey B. Fontenot, Sabrina L. Fontenot, Maggie M. Fusilier, Courtney Annette Cloud Godeaux, Malerie A. Guillory, Jordan P. Israel, Reygan A. Jagneaux, Andie M. Landry, Bailey A. Odom, Elizabeth R. Soileau, Skye Octavia Thibodeaux
VINTON: Cameron J. Blanchard, Haley Elizabeth Bunting, Morgan Chantel Corbello, Dalton Doyle Haley, Jacie Lynn Istre, Tyler Ryan Marceaux, Monica Thao My Nguyen, Rebecca L. Tibbitts, Ryan R. Tibbitts, Zeth Everette Turner, Carlie Brooke Walton, Dawn Marie Welburn
WALKER: Matthew J. Hecht, Jamie R. Leblanc
WASHINGTON: Sarah E. Brignac, Brody S. Fisher
WELSH: Aaron Reed Ardoin, Cassidy Blair Ardoin, Grace A. Hanley, Caroline Elizabeth Hardy, Landon S. Hill, Seth C. Lawrence, Morgan Whitney Manuel, Logan K. Sills
WESTLAKE: Abigail Marie Andrus, Inez E. Ange, Morgan LeAnne Appleby, Bayleigh V. Ball, Kassidy D. Conrad, Hayden M. Durant, Carlee R. Fast, Madison Lynne Gaspard, Morgan F. Hardey, Shannon P. Johnston, Shekinah Simone Jordan, Evan Lane LeBouef, Alexandra P. Mason, Bailey M. McCuller, Ethan N. McKinney, Joseph Gabriel McKinney, Alexa J. Mirchi, Laura Jakelyn Oliver, Morgan T. Quinn, Samantha A. Rathjen, Aaron C. Reichard, Carly N. Ryder, Tiffany Paige Schatz, Alexandra L. Spears
YOUNGSVILLE: Courtnee C. Green, Hannah D. Hughes, Hayley R. Hughes
ZWOLLE: Kasey Christine Fisette
Texas
ALLEN: Taylor Trent
AUSTIN: Lucas Nile Connally
BAYTOWN: Priscilla Janelle Ibarra
BEAUMONT: Kamon Roshawd Darby, Carlee Elizabeth Smith
BRIDGE CITY: Sarah Nicole Kidder
BRYAN: Rebecca Adcock
BULLARD: Chloe Ducote
CYPRESS: Ashley R. Koncir
DEER PARK: Emilee M. Mayes
EDNA: Crystal L. Coulter
FORT WORTH: Diamond C. Lee
FRESNO: Kiara D. Mitchell
FRIENDSWOOD: Hannah M. Cooley
FRISCO: Morgan P. Middleton
GOODRICH: Amy E. Phillips
HARLINGEN: Devin Andrew Porras
HOUSTON: Jeffery Michael Knapick, Megan Ashley Levens, Shanna Brooke Spree
HUMBLE: Shelby N. Smith
HUNTSVILLE: John Michael Neville
JASPER: Macy Nicole Kendrick
KATY: Mikayla Ann Dupont, Michael Anthony Reyes, Steven Aaron Robinson
KOUNTZE: Ariel M. Denmon, Sarah M. Robins
LEAGUE CITY: Brianna Lovett
LEWISVILLE: Stephen Ugochukwu
LIVINGSTON: William A. Pena
LUFKIN: Emma C. Godfrey
LUMBERTON: Brittany Nicole Long, Isabella A. Rodriguez
MISSOURI CITY: Alexander N. Reyes
MONTGOMERY: Katelyn Nicole Elliott
NEDERLAND: Emma Kathryn Roccaforte
ORANGE: Taylor M. Hickey, Hattie E. Lebleu, Brooke Anne Manuel
PEARLAND: Keara D. Hudnall
PLANO: Rachel Leonor Palet, Alexis Haley Rodriguez, Caitlin Brooke Sharrock
SAN ANTONIO: Abigail E. Hunt
SILSBEE: Ashley Ke'Ana Vonner
SUGAR LAND: Sara N. Lamendola
VIDOR: Shanice M. Hagler
WILLIS: Austin A. Briggs
States
Alabama
DOTHAN: Owen Montana Sullivan
Arizona
PHOENIX: Erin Lynn Fakler
California
JAMUL: Victoria M. Yanitor
MISSION VIEJO: Carly M. Passaglia
SAN JOSE: Madeline K. Neidig
WILDOMAR: Megan E. Holmes
Colorado
FORT COLLINS: Angela Noelle McGownd
LITTLETON: Shawn Eloise Richard
PARKER: Bryan D. King
Florida
DESTIN: Caitlyn Rebecca Womack
TAMARAC: Lentz Usvelt Similien
WINTER SPRINGS: Jenny D'Alessandro
Georgia
CALHOUN: Jennifer Rae Grams
Indiana
MARION: Robert E. Acord
Kansas
SHAWNEE: Mitchell Allan Rogers
Minnesota
STEWARTVILLE: Taylor Suzanne Bestor
Mississippi
MERIDIAN: Samantha Dawn Rupe
Oregon
PRINEVILLE: Carly Jean Hibbs
Washington
SEATTLE: Claire M. Anway
WALLA WALLA: Sawyer Reace Stiller
Wyoming
CHEYENNE: Anthony I. Green
Countries
AUSTRIA: Sophie Lucia Grabner
BANGLADESH: Kazi Tanisha Angshu
BENIN: Nezira Obatogni Akobi
BOLIVIA: Andrea Encina Moreno
BOSNIA AND HERZEGOVINA: Darko Radakovic
CANADA: Zahaan Eswani, Navdeep K. Thind
CHINA: Xixi Fan, Huanrong Ouyang, Meiyi Pan
COLOMBIA: Alejandro Aristizabal, Natalia Jessica Arce Hoffpauir
EL SALVADOR:  Yenifer V. Flores
GABON: Rozenn Kenny Moundounga Itoumba
GERMANY: Kira Anna Benkmann, Lea Marie Kiekenbeck, Kim Lina Uhlendorf
INDIA:  Priyankaben M. Patel, Kinjal K. Patel, Priti Lalringmawi Chisolm
INDONESIA: Alex Joshua Anugrah Rumondor
IRELAND: Grace Maria McKenzie
ITALY: Giovanna Fioretti
KENYA: Anderson Kimutai Yego
NEPAL: Shiva Acharya, Kabindra Adhikari, Saurabh Bikram Basnet, Dipesh Bhandari, Rabindra Bhandari, Sanjay Bharati, Sangam Chapagain, Gilbert Giri, Bishal KC, Bishal KC, Rajan KC, Audi Hang Hang Kulung, Joshna Lawar, Jesika Mainali, Hrithik Makhim Pradhan, Ishan Parajuli, Pratik Kumar Poudel, Shreya Pyakurel, Suraj Rimal, Shreewan Rupakheti, Mamata Shrestha, Shriya Shrestha, Anuja Thapa, Dinesh Upadhyay, Nischal Acharya
NEW ZEALAND: Imogen Ruby Hull
NIGERIA: Chukwuemeka O. Ike, David Boluwatife Olatifede
PHILIPPINES: Rosemarie Tolentino
ROMANIA: Maria Alexandra Sand
SAUDI ARABIA: Fahad Abdulrazaq, Waleed Abumelha, Abdulrazaq Ibrahim N Alanazi, Afaf Suwayyid N Alanazi
SERBIA: Nemanja Koviljac
SPAIN: Sofia San Jose Moreno
UNITED KINGDOM: Jessica Sarah Fox, Nathan A. Jones, Finlay Ian Murray, Bradley Francis Traviss
VENEZUELA: Mariana Isabela Ibarra Lucambio
VIETNAM: Huy Nguyen Minh Huynh, Ny Thi Thi Lam, Nhat Minh Le, Nhat An Phan, Nhi Hong Thao Ta, Linh Thi My Tran, Tam Thi Thanh Tran, Trang Thi Thao Tran, Vu Thien Tran, Sach Dinh D. Van, Vu Tan Doan
YEMEN: Abdulaziz Khamis Mareai Al Katheri
Want more stories like this one sent straight to your inbox every week? Sign up for our McNeese eNewsletter!
The Office of Marketing and Communications
4205 Ryan Street
Lake Charles, LA 70609
337-475-5640
communications@mcneese.edu