Doré Family Supports First Choice Campaign
August 3, 2020 | McNeese Public Relations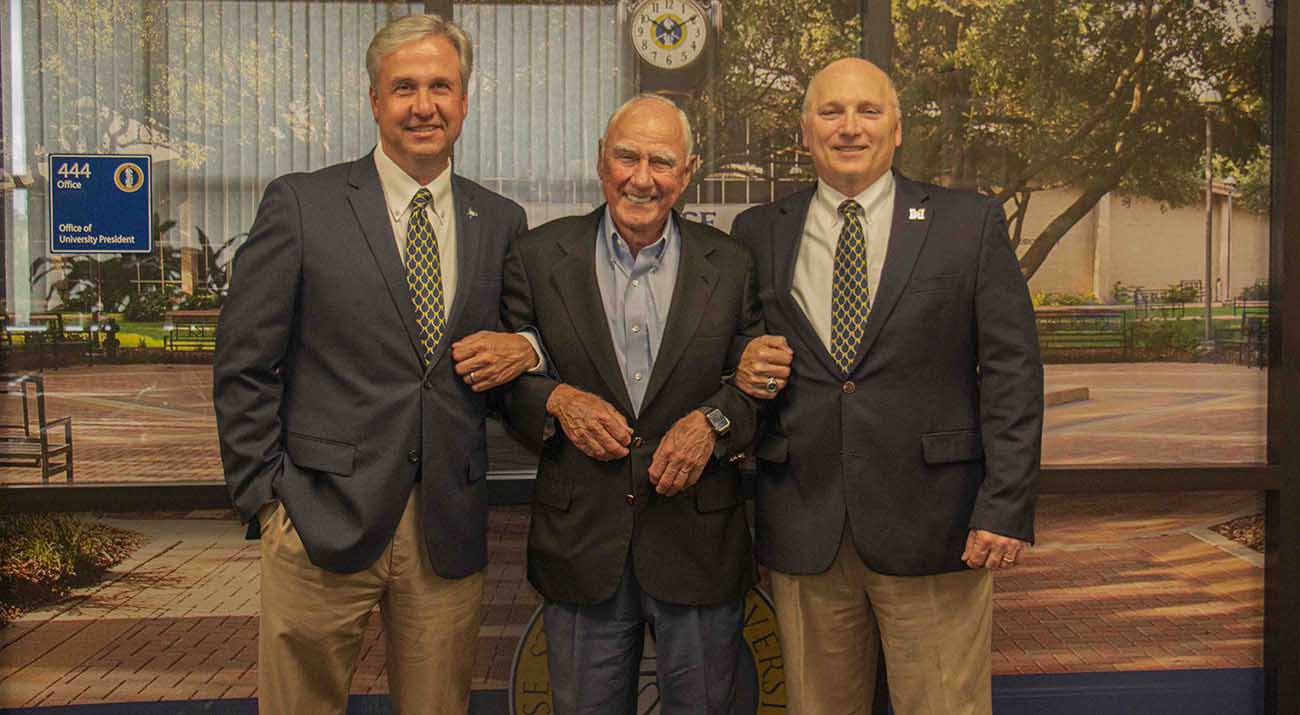 William and Kay Doré have madea $1 million commitment to McNeese State University's First Choice Campaign.
Donations to the McNeese First Choice Campaign from individual donors and business and industry partners support the university by providing much needed capital for immediate academic needs and priorities.
"Providing high quality educational programs requires resources," McNeese President Dr. Daryl Burckel said.  "Funds raised through the First Choice Campaign are being used to hire faculty and upgrade labs in high demand academic areas while the university implements a strategic plan to increase enrollment and further develop our retention strategies."
"We are grateful and honored by this investment in McNeese by Kay and Bill Doré," Burckel said. "They have a tremendous connection to McNeese and they support our goal to be a student-centric university and our mission to change lives," he said.
Doré received his bachelor's and master's degrees from McNeese and he earned athletic letters in football and track. A businessman and entrepreneur, Doré founded Global Industries Ltd., a worldwide marine construction and offshore diving company, and he retired as its chief executive officer in 2006. He currently serves as CEO of Doré Energy Corp.
He was inducted into the McNeese Athletics Hall of Honor in 1988 and in 1995 he received the prestigious McNeese Distinguished Alumnus Award. He was awarded an Honorary Doctorate of Humane Letters in 2005.
Doré has been an ardent supporter of McNeese academic, athletic and rodeo programs. A $1 million donation to the McNeese Foundation for athletic-related endeavors established scholarships for student-athletes and provided funds to complete the debt obligation on the SkyRanch. A $2 million endowment supports graduate student stipends in the William J. Doré School of Graduate Studies and the Doré Family Foundation was instrumental in creating the Kay Doré  Counseling Clinic at McNeese, a facility that provides affordable counseling services for individuals, couples and families and a clinical training setting for McNeese students pursuing a master's degree in psychology.
Doré has also contributed to funds dedicated to helping students in need including the Hurricane Rita Support Fund and most recently the COVID-19 Students Support Fund.
Kay Doré was instrumental in leading the initiative to provide an updated look for the university's beloved mascot, Rowdy.
In 2016 McNeese recognized the couple for their dedication and support by linking their names forever to Cowboy Stadium.
Doré has been recognized worldwide with numerous accolades and awards for his contributions to the petroleum industry. For his lifetime of achievements and support of education at all levels, Doré was presented the Horatio Alger Award in 2000 for his personal and professional success. These awards, presented by the Horatio Alger Association of Distinguished Americans, recognize outstanding men and women who have overcome significant personal adversity through hard work, integrity, determination and a strong dedication to helping others. Doré supports college scholarships for deserving Louisiana students through the Horatio Alger Louisiana Scholarship Program and to date has donated over $10 million toward Louisiana scholars.
Want more stories like this one sent straight to your inbox every week? Sign up for our McNeese eNewsletter!
The Office of Marketing and Communications
4205 Ryan Street
Lake Charles, LA 70609
337-475-5640
communications@mcneese.edu