Dietetics Student Discovers Her Niche in the Medical Field
March 18, 2022 | McNeese Public Relations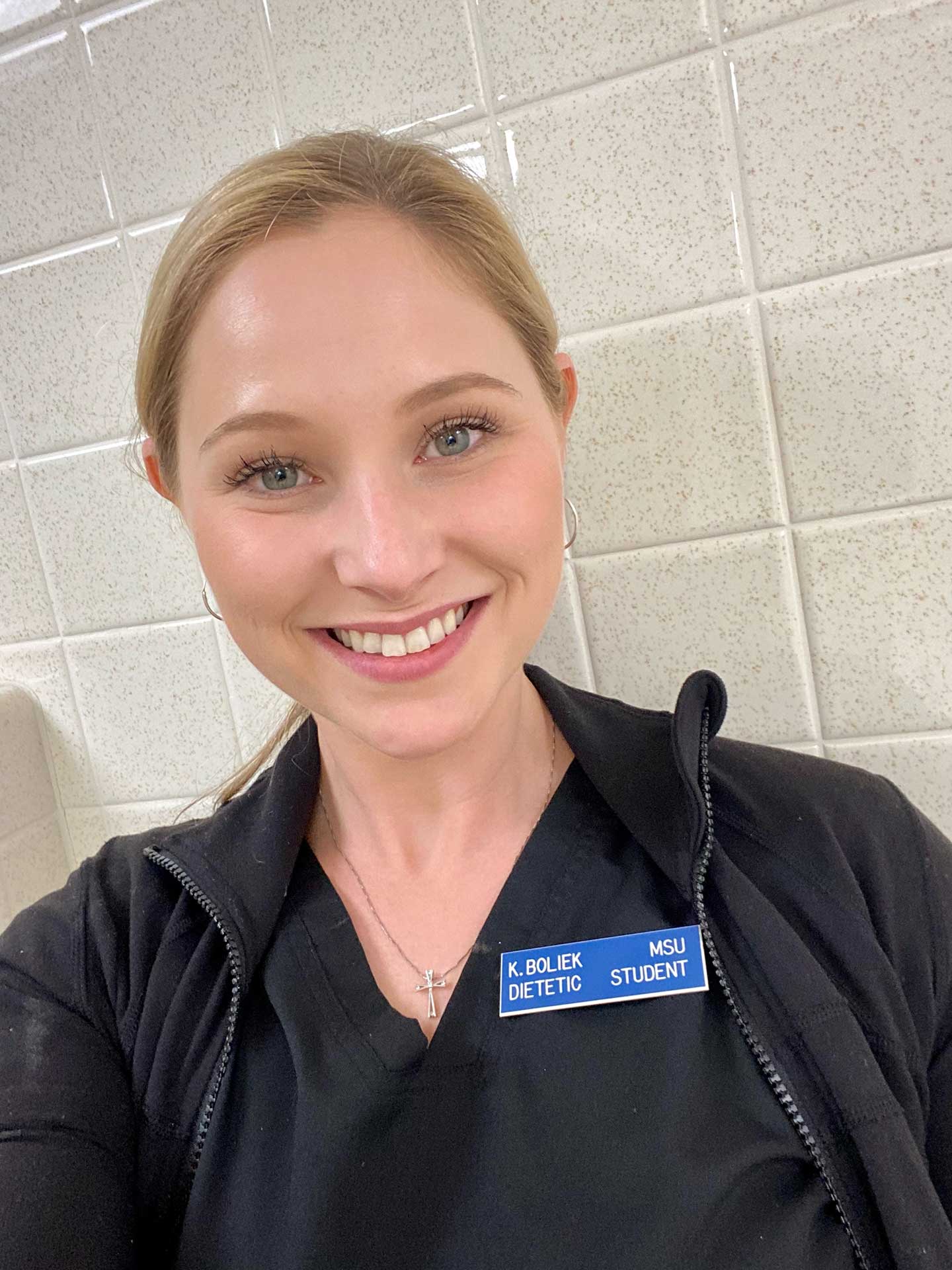 Kimberly Boliek, a nutrition and dietetics student at McNeese State University from Annapolis, Maryland, knew that she wanted to go into the medical field when she first attended college, but she wasn't sure what area she wanted to pursue. Originally a student at Northwestern State University, she began in radiology before switching to exercise science, but remained on the fence on what she would do with her degree.
"In one of my Intro to Exercise Science classes, I had an assignment where I had to interview a worker in the field of exercise and nutrition. I picked a dietitian without really knowing what that entailed, and the more I looked into this area and the more questions I asked, the more the field appealed to me and aligned with what I would want to do."
As she did more research, Boliek discovered that in order to become a licensed dietitian, she would need to be enrolled in a program accredited through the Accreditation Council for Education in Nutrition and Dietetics (ACEND). There are only a few ACEND-accredited programs in Louisiana, and for Boliek, McNeese offered the most affordable option, leading her to transfer.
"I always praise McNeese in that its program challenged me, which I like," Boliek says. "I've learned how to manage my time effectively to be successful. I always say, 'if I can do it, you can do it,' because it's all about just managing your time and putting your effort into something that you want to accomplish."
Along with helping to reestablish the on-campus student organization Student Academy of Nutrition and Dietetics, Boliek is currently participating in a dietetic field experience, where she observes registered dietitians in clinical settings.
"The hands-on experience has been so much fun," she says. "To actually see what you've learned being applied in the real world is an awesome experience. I've learned a lot about how, for example, dietitians navigate special diets like a diabetes diet or a cardiovascular diet. Working with actual patients has been really rewarding."
Boliek also credits the mentorship of Assistant Professors of Agricultural Sciences Geneva Breaux and Elizabeth Moore for having had a positive impact on her experience as a student.
Graduating in May, Boliek has already been accepted into McNeese's master's degree program in nutritional sciences, where she's been pre-selected for a dietetic internship in August that will provide training in food service, community and clinical settings.
"I'm really excited for the internship because we are thrown into so many different areas," she says. "We really get to learn our niche and what we might want to pursue for a career."
Want more stories like this one sent straight to your inbox every week? Sign up for our McNeese eNewsletter!
The Office of Marketing and Communications
4205 Ryan Street
Lake Charles, LA 70609
337-475-5640
communications@mcneese.edu