CITGO Donates to McNeese First Choice Campaign
November 28, 2018 | McNeese Public Relations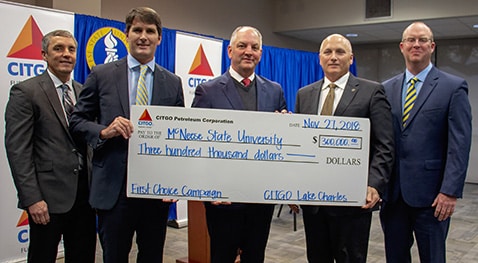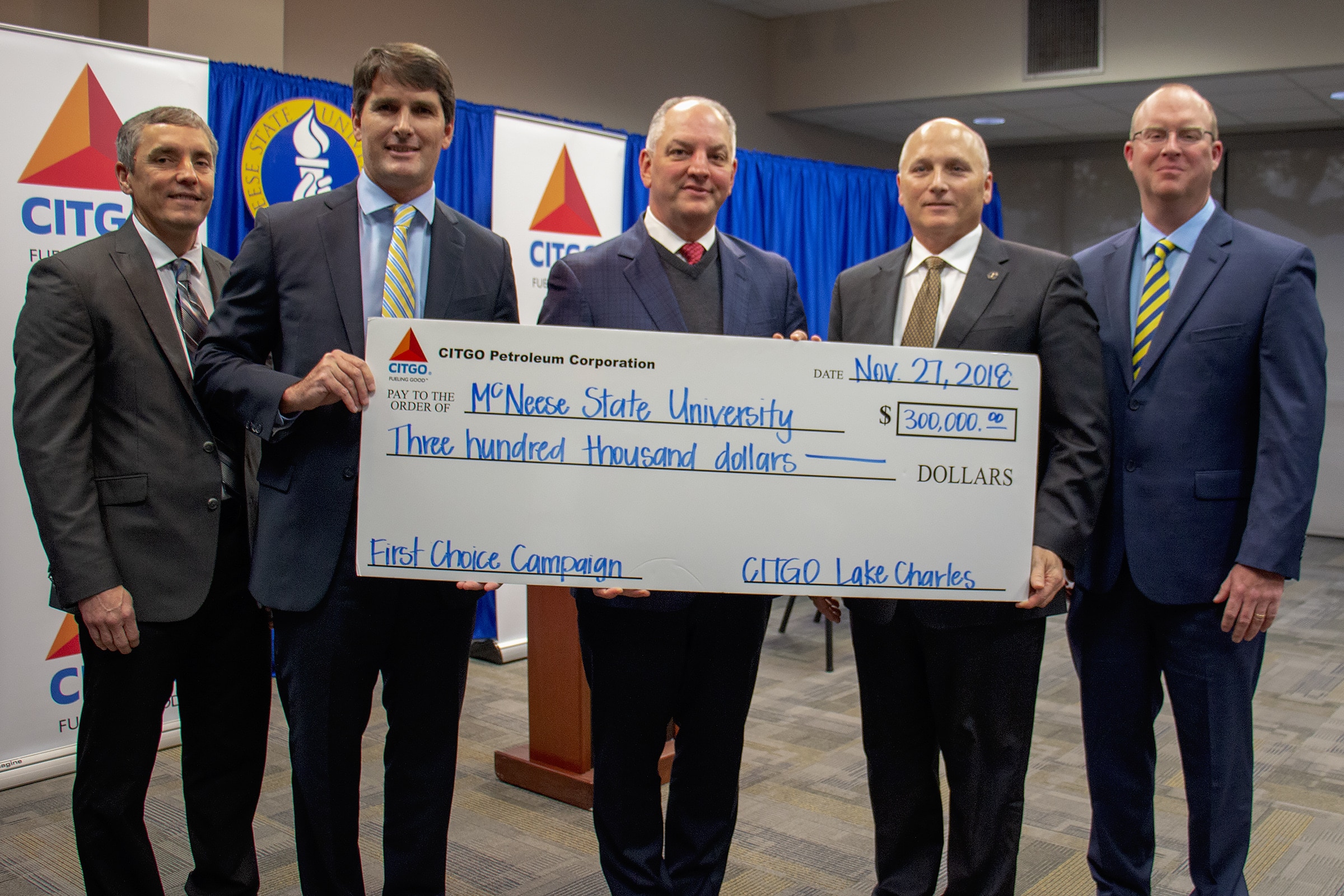 CITGO Lake Charles has made a $300,000 contribution to the First Choice Campaign for McNeese State University. McNeese has launched a three-year First Choice Campaign with its local industry partners and contractors with a goal of raising $1 million per year for those three years for sustaining growth and self-sufficiency. On hand for the presentation are, from left, Marshall Watkins, CITGO general manager operations and maintenance, Jerry Dunn, CITGO vice president and general manager, Gov. John Bel Edwards, McNeese President Dr. Daryl Burckel and Ryan Vining, CITGO general manager engineering and technical services.
---
Gov. John Bel Edwards and McNeese State University honor CITGO Lake Charles for its $300,000 contribution to the McNeese First Choice Campaign. With recent decreases in funding, McNeese engineered an innovative plan to self-generate revenue with a goal to meet the needs of growing academic programs in support of the economic boom in Southwest Louisiana.
"Each year, McNeese awards nearly 62 percent of the public four-year degrees earned by students from the five parishes that comprise our communities. This university is vital to Southwest Louisiana, local industry and to our future success here at CITGO. For these reasons, and many more, it is very important that we partner with McNeese to fuel education and help support the First Choice Campaign," said Jerry Dunn, vice president and general manager of the CITGO Lake Charles Manufacturing Complex.
Gov. Edwards commended the efforts of CITGO and McNeese. "The partnership between CITGO and McNeese exemplifies the importance of industry and higher education working together to fuel a pipeline of skilled workers. Public private partnerships such as this one ensure that we are preparing our best and brightest students for success the moment they graduate and that business and industry leaders have the dependable workforce they need to prosper. I applaud CITGO and McNeese for the launch of the First Choice Campaign and look forward to the progress it will make in sustaining growth and self-sufficiency for the university."
It is the hope of McNeese that this partnership will continue to expand economic development and enhance the quality of life in Southwest Louisiana. "We are positioning McNeese as the first choice for potential students, for employers seeking the most qualified employees and for donors who want to make an investment in the future. CITGO is a longtime partner and supporter of McNeese and this commitment to the First Choice Campaign will provide necessary resources to sustain growth in high demand academic areas," said Dr. Daryl Burckel, McNeese president.
CITGO will contribute $100,000 per year over a three-year period for a total donation of $300,000 to the McNeese First Choice Campaign. The company's contribution will be physically recognized with a CITGO plaque in a special academic location within the university.
---
About McNeese State University
Established in 1939, McNeese State University is nationally ranked as one of the top public universities in the United States, is recognized as one of the finest regional universities in the South and is known as having one of the best returns on investment for tuition and high average starting salaries for its graduates. The university also serves as an economic and workforce development partner for Southwest Louisiana employers who are seeking well-prepared employees. In 2013, McNeese opened the Southwest Louisiana Entrepreneurial and Economic Development Center. The SEED Center, a partnership between McNeese, the Southwest Louisiana Economic Development Alliance (which includes the Chamber Southwest Louisiana), the Calcasieu Parish Police Jury and the city of Lake Charles, is dedicated to strengthening and diversifying the economy in the five-parish region.
The mission of McNeese is to change lives by providing "Excellence With a Personal Touch!" Our vision is to be First Choice for students seeking a university degree, First Choice for employers seeking university graduates, First Choice for donors wanting to support the community and First Choice for organizations seeking professional expertise. McNeese is a member of the University of Louisiana System. Visit mcneese.edu or contact communications@mcneese.edu for additional information.
About CITGO
Headquartered in Houston, Texas, CITGO Petroleum Corporation is a recognized leader in the refining industry with a well-known brand. CITGO operates three refineries located in Corpus Christi, Texas; Lake Charles, La.; and Lemont, Ill., and wholly and/or jointly owns 48 terminals, nine pipelines and three lubricants blending and packaging plants. With approximately 3,400 employees and a combined crude capacity of approximately 749,000 barrels-per-day (bpd), CITGO is ranked as the sixth-largest, and one of the most complex independent refiners in the United States. CITGO transports and markets transportation fuels, lubricants, petrochemicals and other industrial products and supplies a network of approximately 5,200 locally owned and operated branded retail outlets in 30 states and the District of Columbia. CITGO Petroleum Corporation is owned by CITGO Holding, Inc., an indirect wholly owned subsidiary of Petróleos de Venezuela, S.A., the national oil company of the Bolivarian Republic of Venezuela. For more information, visit www.CITGO.com
Want more stories like this one sent straight to your inbox every week? Sign up for our McNeese eNewsletter!
The Office of Marketing and Communications
4205 Ryan Street
Lake Charles, LA 70609
337-475-5640
communications@mcneese.edu