Changing Lives Through Alumni Experience
January 22, 2019 | McNeese Public Relations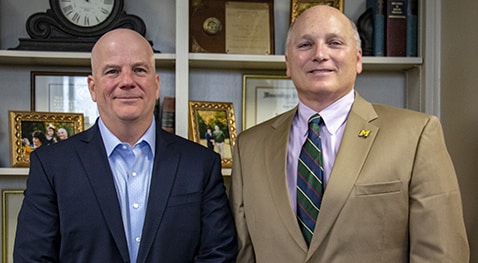 B.J. Hebert, a 1988 chemical engineering graduate from McNeese State University, recently told a classroom of McNeese senior engineering majors that "success is all about making an investment in oneself."
His conversation with the students highlighted how putting in the extra effort and time in his career is what prepared him to serve as the current president of Occidental Chemical Corp., or OxyChem, a major North American chemical manufacturer headquartered in Dallas, Texas. OxyChem produces polyvinyl chloride resins, chlorine and caustic soda – key building blocks for a variety of indispensable products such as plastics, pharmaceuticals and water treatment chemicals.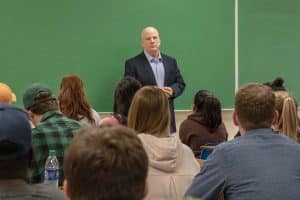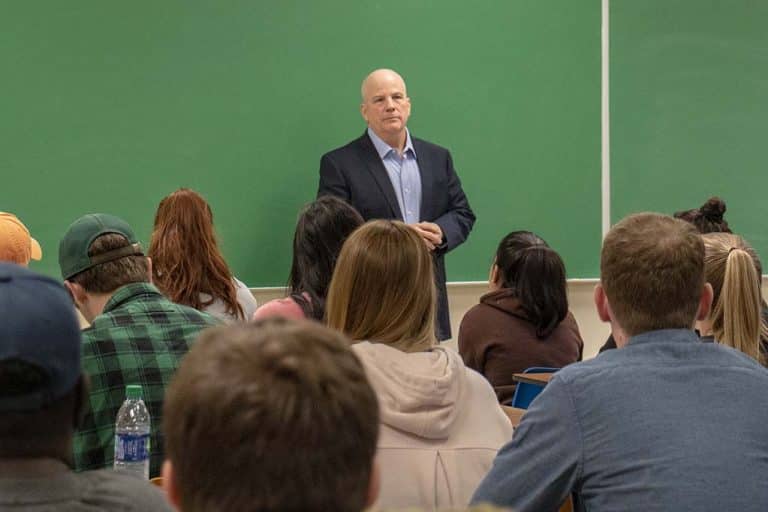 "While at McNeese, I served as an intern for several of the industries in the Lake Charles area," said Hebert whose career with OxyChem has spanned almost 30 years. "This kind of experience introduced me to the physical products and instruments I would be working with as an engineer. It also set me apart from my peers who came from larger institutions with great academic programs but who had never been given an opportunity for hands-on training."
He also reminded students that learning does not end after they receive a degree. "In order to know the details on how a facility works, an employer may provide on-site training, but it's up to you, the employee, to acquire the knowledge needed to fill your curiosities," said Hebert.
Hebert added that "open communication with the people you work with is another key to success."
"If you have questions but don't know the answers, go to the team member that does and learn from that person," he explained. "Having this open dialogue with coworkers develops the communication skills and insight that leverages an employee for advancement."
Hebert encouraged the students to always work towards a new opportunity, and when the time arises, to not let fear stop them from moving forward in their careers.
He also told the students to be proud of their profession and to defend the industry when needed.
"Educate others on what our industry is doing," he urged the group. "Help change the perception of the engineering profession and remember that you are about to become a part of an industry that has positively changed the world."
Want more stories like this one sent straight to your inbox every week? Sign up for our McNeese eNewsletter!
The Office of Marketing and Communications
4205 Ryan Street
Lake Charles, LA 70609
337-475-5640
communications@mcneese.edu