Biological Sciences Graduate Change Lives Through Transplants
November 22, 2021 | McNeese Public Relations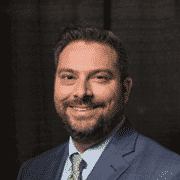 Kip Hanks, a 1997 biological sciences graduate of McNeese State University, planned to attend professional school after graduation, but his McNeese degree led him to a career involving human tissue for transplant and research.
"I entered McNeese with the idea that I would go on to dentistry school," says Hanks. "One of my professors had a friend at the Food and Drug Administration who said the organization was hiring. My professor encouraged me to apply and that was the start of my 24-year tenure."
His first job was an FDA investigator, visiting several seafood locations along the coast to survey adherence to national food law, policies and procedures. As he gained experience, Hanks eventually moved into the biologics division of the FDA.
"For the FDA, biologics includes human tissue, except organs, that is eligible for transplant, as well as blood and blood products and vaccines" Hanks explains.
His last 12 years with the FDA as the Agency's biologics national expert were focused on site investigations of organizations that are engaged in human tissue collection, processing and distribution.
In July 2021 Hanks left the FDA to become the director of regulatory and governmental affairs for the American Association of Tissue Banks (AATB), the standard setting and accrediting organization for the human tissue for transplant and research industry.
"The AATB is a non-profit organization," he says. "In this new role I serve as a liaison to the FDA for the AATB. I help determine how changes in regulatory requirements and guidance may impact our accredited establishments."
Hanks credits his success to the education and experience he received both inside and outside of the classroom at McNeese.
"The faculty at McNeese are experts in their respective fields and bring their experiences to the classroom," he says. "It is an incredible opportunity to attend a university where classes are just the right size for students to work one-on-one with their professors. Being involved in campus life is also an important part of the college experience. My time in the Student Government Association and fraternity life gave me the leadership skills I could translate into working with others and managing a team."
Want more stories like this one sent straight to your inbox every week? Sign up for our McNeese eNewsletter!
The Office of Marketing and Communications
4205 Ryan Street
Lake Charles, LA 70609
337-475-5640
communications@mcneese.edu