2021 McNeese Distinguished Alumni Recipients
October 1, 2021 | McNeese Public Relations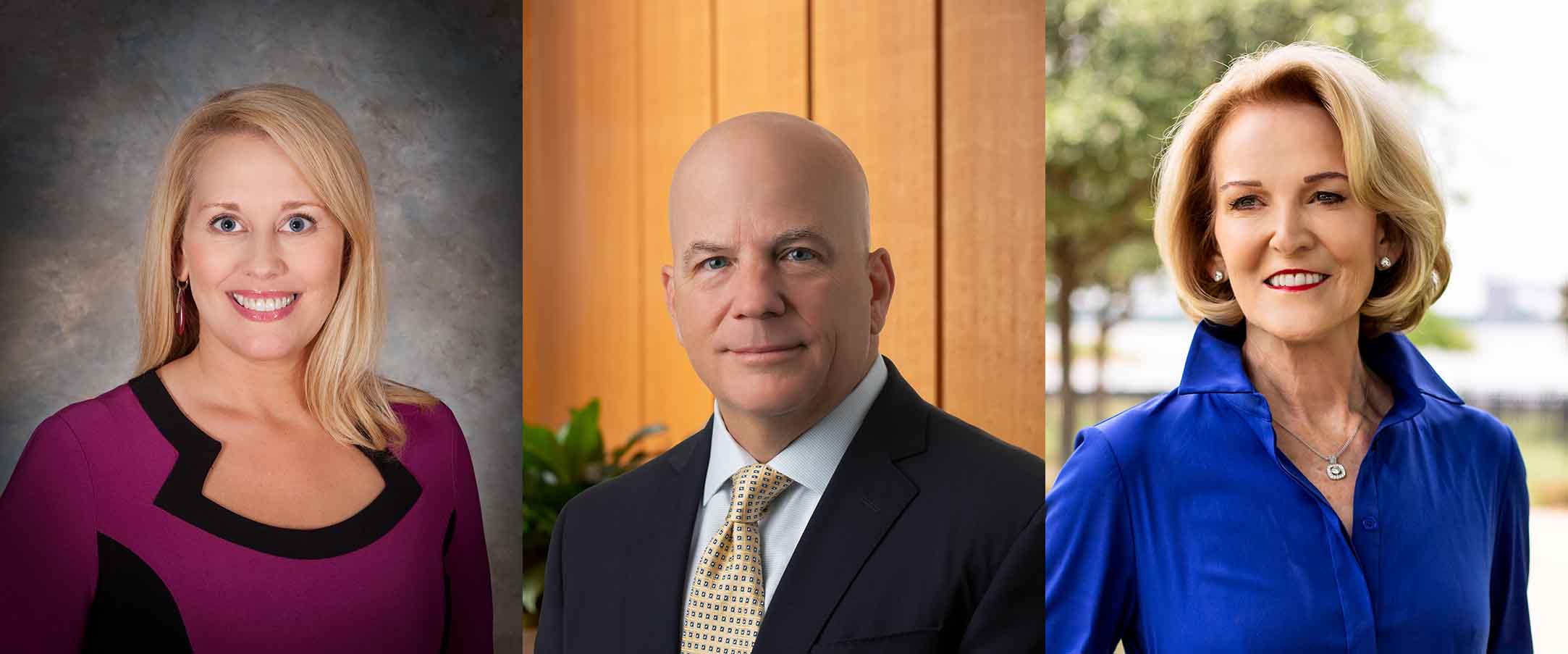 The McNeese State University Alumni Association will present its 2021 Distinguished Alumnus of the Year awards during halftime ceremonies at the Cowboys vs. the Southeastern Lions football game Saturday, Oct. 2.
The three McNeese alumni who have been named recipients this year are: Janie Doucet Frugé, CEO at West Calcasieu Cameron Hospital in Sulphur; Burnis J. "B.J." Hebert, president and chief operating officer of Chevron Phillips Chemical headquartered in The Woodlands, Texas; and Willie Landry Mount, a successful Lake Charles business owner, outstanding civic leader and a distinguished mayor and state senator.
Frugé received a Bachelor of Science in Nursing degree from McNeese in 1991 and a Master of Business Administration and a Master of Science in Nursing from the University of Phoenix. She also holds the Fellow of the American College of Healthcare Executives distinction.
She is a proven leader with more than 30 years of nursing/clinical experience and over 25 years of hospital management experience. As CEO, she is responsible for the overall leadership and management of the organization, with the primary objective to ensure the hospital delivers expectational healthcare service to the residents of western Calcasieu and Cameron parishes.
Prior to serving in her current role, Frugé served as chief operating officer and chief nursing officer/vice president of patient care for the organization.
She has served as an outstanding leader in various civic and professional organizations through her service on a multitude of boards and organizations including the ShareCor Board for the Louisiana Hospital Association, United Way of Southwest Louisiana, the local Heart Foundation, Chamber SWLA Alliance and the Sulphur Rotary Club.
Hebert received his Bachelor of Science in Chemical Engineering degree from McNeese in 1987 and his Master of Business Administration from Southern Methodist University.          
Hebert – a proven leader with more than 30 years of industry experience – holds strategic responsibility for Chevron Phillips Chemical's commercial business lines, manufacturing and sustainability programs.
Prior to joining the company, he was president of Occidental Chemical (OxyChem). During his tenure with OxyChem, he held numerous roles of increasing responsibility including senior vice president of basic chemicals, vice president and general manager of vinyls and manufacturing director. Hebert began his career with Vista Chemicals, where he served in plant and operations engineering roles.
Among his many professional engagements outside Chevron Phillips Chemical, Hebert serves on the board of directors at both the Alliance to End Plastics Waste and the American Fuels and Petrochemical Manufacturers. While at OxyChem, he was part of the board of directors and executive committee of the American Chemistry Council (ACC) and previously served on ACC's management committee for the chlorine chemistry division. Hebert also is a former board director of The Vinyl Institute and the Plastic Pipe and Fittings Association.
Mount received her Bachelor of Science degree in business administration from McNeese in 1974.  She serves on the McNeese Foundation Board of Directors, is a recipient of the McNeese Distinguished Service Award, has been inducted into the McNeese College of Business Hall of Fame and was awarded an honorary Doctor of Humane Letters from McNeese in 2016.
A licensed real estate agent and a former small business owner, Mount was elected as the first female mayor of Lake Charles (1993-1999) and then was elected to the Louisiana Senate (2000-2012) as the first female senator from District 27, where she held a variety of leadership roles including chair of both the health and welfare and the revenue and fiscal affairs committees and vice chair of the education committee.
Mount has been active in a variety of civic and community betterment projects and has received numerous awards for her service from community organization including the National Association of Social Workers, the Kiwanis Club and the NAACP and was named a Pinnacle Light of Hope recipient by Family and Youth Counseling. She also serves on a multitude of boards and organizations including the Library Board of Control for the Calcasieu Parish Public Library, the board of directors for Lakeside Bank, Lake Charles Country Club, Community Foundation of Southwest Louisiana and Lake Charles/Southwest Louisiana Convention & Visitors Bureau and the Cenikor Foundation and on the Board of Supervisors for the Louisiana Community and Technical College System. Mount is also chair of the board of directors for both the Louisiana Endowment for the Humanities and Ellevate Louisiana and president of Boy Scouts of America.
Want more stories like this one sent straight to your inbox every week? Sign up for our McNeese eNewsletter!
The Office of Marketing and Communications
4205 Ryan Street
Lake Charles, LA 70609
337-475-5640
communications@mcneese.edu