2019 McNeese Distinguished Alumni Recipients
October 4, 2019 | McNeese Public Relations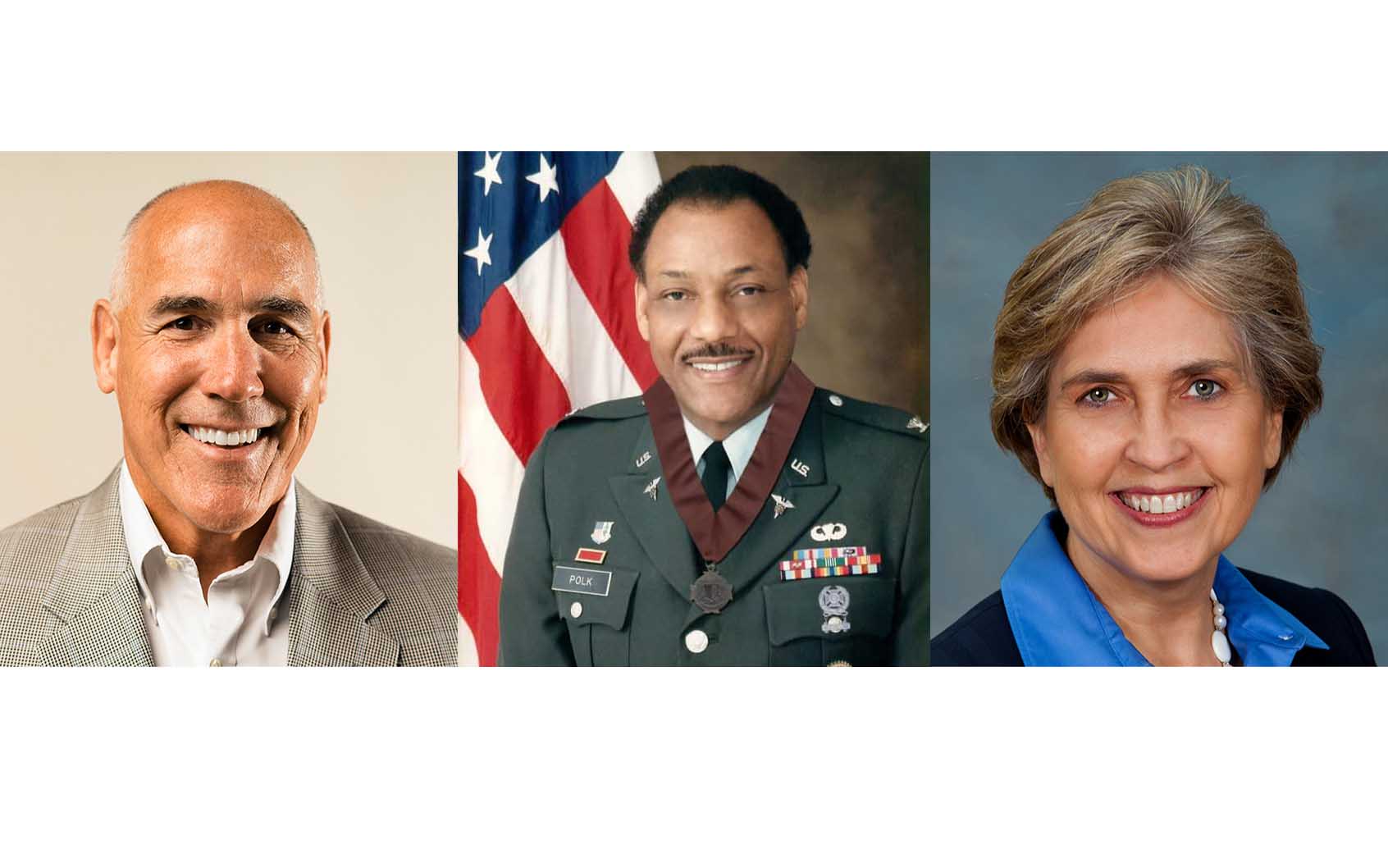 The McNeese State University Alumni Association will present its 2019 Distinguished Alumnus of the Year awards during halftime ceremonies at the Cowboys vs. the Southeastern Lions football game Saturday, Oct. 5.
The three McNeese alumni who have been named recipients this year are: John M. Miller, senior vice president of sales and sales operations for the Baton Rouge-based Lamar Advertising Company, retired Army Col. Anthony "Tony" J. Polk, an expert in immunohematology and blood banking who directed blood programs for the U.S. military, NATO and the American Red Cross, and Cynthia "Cindy" Young Rougeou, executive director of the Louisiana State Employees Retirement System (LASERS), a multi-billion dollar public pension system serving over 100,000 active and retired state employees.
Miller graduated from McNeese in 1980 with a Bachelor of Science degree in business administration. He began his career as a salesman in 1981 with Lamar – now the nation's largest outdoor advertising firm.
Over the next 38 years, Miller served as vice president and general manager of Lamar's Lake Charles plant and then took over the development of Lamar's sales to national advertisers.
Since then, through organic growth and acquisitions, national sales for Lamar have grown from $113 million annually to $325 million. During this time, Miller built national sales teams in New York, Chicago, Los Angeles and Baton Rouge, eventually overseeing a staff of more than 100.
In 2015, Miller was promoted to his current position in which he is responsible for developing and implementing sales strategies for 1,000 account executives across the U.S. who collectively generate $1.6 billion in revenue annually.
At McNeese, Miller was a four-time football letterman and is a member of the McNeese Sports Hall of Fame.
Polk was the first black student to receive a Bachelor of Sciences degree in medical laboratory science in 1967 at McNeese as well as the first black student to be commissioned a military officer from the university.
He was also the first black medical laboratory science officer in the military as well as in other positions during his extensive 30-year military career. He served as deputy U.S. Pacific Command manager for blood support for U.S. forces in the Pacific including Vietnam and was commander of a major military medical unit that supported all U.S. medical treatment facilities with blood products throughout Europe.
Next, Polk was selected by the NATO commander to be the first NATO blood program officer, who traveled to all the NATO countries to evaluate their national civilian and military blood programs to ensure that blood products could be shared among the various nations in times of peace and war. For his final military assignment, he spent eight years at the Pentagon in charge of blood research.
After retiring from the military, Polk was hired as the first black executive with the American Red Cross in Washington, D.C., where he served 15 years in various positions, including chief of staff. Under his leadership, he coordinated the activities of 22,000 personnel that collected, tested and distributed 14 million pints of blood a year.
He received numerous awards for his service, including the Defense Superior Service Medal and the Lifetime Achievement Award from the Surgeons General of the Army, Air Force and Navy.
At McNeese, Polk was a member of ROTC and Scabbard and Blade and was recently recognized as a Trailblazer by the McNeese Black Alumni Chapter for his significant contributions to his alma mater and the black community.
Rougeou received her Bachelor of Arts degree in history in 1978  from McNeese and her juris doctorate from Louisiana State University Law School. At McNeese, she has established the Cynthia Young Rougeou History Scholarship through the McNeese Foundation.
She has had an extensive career in state service. She was deputy director and chief legal counsel for Louisiana Public Broadcasting and undersecretary for management and finance for the Louisiana State Department. She also served as an assistant attorney general and as legal counsel for the Louisiana House of Representatives' Committee on House and Governmental Affairs.
She served as assistant director and deputy director of LASERS before becoming executive director in 2006. Rougeou is responsible for overseeing the daily operations of LASERS and ensuring that the policies and direction adopted by the agency's Board of Trustees are implemented. Under her leadership, LASERS has been recognized nationally as one of the top 10 performing public pension systems in the nation for the past decade.
Rougeou is a past president of the National Association of State Retirement Administrators and the Louisiana Association of Public Employees' Retirement Systems. She is the recipient of the Louisiana Civil Service League's Monte M. Lemann Award, which recognizes those leaders and citizens who have fought for the principles of the merit system of public employment throughout Louisiana.
Want more stories like this one sent straight to your inbox every week? Sign up for our McNeese eNewsletter!
The Office of Marketing and Communications
4205 Ryan Street
Lake Charles, LA 70609
337-475-5640
communications@mcneese.edu