1,000 Trees Project Wraps Up This Saturday for McNeese, Sasol and Other Community Organizations
March 27, 2019 | McNeese Public Relations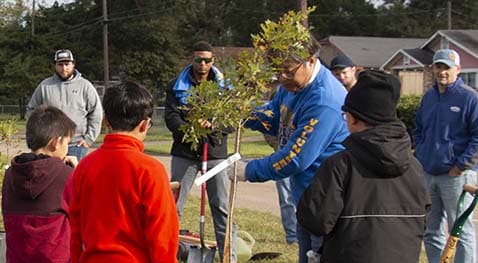 The 1,000 Trees in 1,000 Days program comes to a close this Saturday, March 30, with the planting of the 1,000th tree at 10:30 a.m. in Tuten Park. A wrap-up celebration for the community and volunteers will follow.
Since the program began in 2016, 845 trees have been planted by 585 volunteers. Volunteers are still needed for the planting of the final 155 trees, which begins at 8:30 a.m. Saturday with volunteers meeting at Tuten Park on Nelson Road.  Tree planting teams will disperse from there to sites around the Lake Charles and Westlake area.
Created as a collaborative effort between McNeese State University's Harold and Pearl Dripps School of Agricultural Sciences, SASOL and 11 other community organizations, 1,000 Trees in 1,000 Days began as a way to encourage indigenous tree planting and community beautification in Calcasieu Parish, according to Dr. Chip LeMieux, interim dean of the College of Science and Agriculture.
"This program has been a great experience," LeMieux says. "It has not only been a way to give back environmentally and aesthetically, but also strengthens McNeese's ties to the community. We appreciate all the support we've received from SASOL and the public, especially those that work in local government, the parish and the city."
Locations for tree planting were evaluated based on a combination of the need for visual enhancement, wildlife habitat, environmental health and community pride and ownership. They also had to be open environments where trees could thrive without direct or indirect care and without negatively impacting existing ecosystems. Sites included schools, public lands and other green spaces like community owned-parks.
LeMieux says the project also provided McNeese agricultural science and natural  resource conservation management majors with hands-on experience in performing soil tests and selecting tree species to be planted throughout the project.
Funds provided by SASOL were used to purchase trees, saplings and equipment and members of the community were invited to take part in the planting effort.
"The community really turned out to show support. Anybody and everybody volunteered," LeMieux says. "We had Boy Scouts, Cub Scouts, SASOL employees, McNeese students, church groups and people who just wanted to help out and plant a tree. It was inspiring to see everyone coming together to leave a mark for the next generation."
McNeese students were also responsible for providing check-ups on all the trees at various monthly intervals. Over three years, about 27 different species were planted, including Green Ash, Sawtooth Oak, Native Sweet Pecan, Persimmon, Magnolia and Flowering Dogwood.
Although the program is ending, LeMieux says McNeese students will continue to monitor the planted trees and their environments as part of their plant sciences courses.
Those who have participated can also monitor the condition of their trees at http://manymeasurements.org/
For more information or to volunteer, call 337-475-5690.
Want more stories like this one sent straight to your inbox every week? Sign up for our McNeese eNewsletter!
The Office of Marketing and Communications
4205 Ryan Street
Lake Charles, LA 70609
337-475-5640
communications@mcneese.edu