Spring 2018 President's Honor List
June 4, 2018 | McNeese Public Relations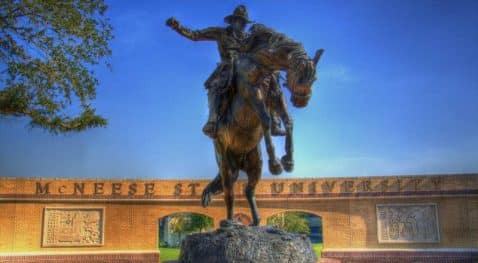 The President's Honor List for the spring 2018 semester at McNeese State University has been announced. To be on the President's Honor List, an undergraduate student must earn at least a 3.5 grade point average or better while carrying at least 15 semester hours. A senior eligible for graduation but carrying less than 15 hours is also provided that student was on the President's Honor List the previous semester.
The President's Honor List is as follows:
LAKE CHARLES: Collin Brice Adams, Keri Lynn Menard Airhart, Desaree Dany' Allbritton, Andre J. Ange, Carmen Edward Angelini, Seth A. Aucoin, Cindi Dawn Babineaux, Andrew Michael Barras, Ryan T. Bartek, Taylor K. Beeson, Brandi L. Bellard, Elizabeth N. Bercier, Layton Gregory Bergstedt, Alexander Ethan Bertram, Lauren Annette Bertram, Daniel Jacob Best, Mackenzie R. Best, Carley Ann Billedeaux, Lauren M. Biven, Jacob P. Blackmer, Lahra Hailey Boitnott, Miranda Ann Daigle Booth, Timothy G. Boreing, Camille G. Boullion, Eloise Celeste Boullion, Jacob Paul Boullion, Gabriel Lee Bourgeois, Mason Nicole Lyon Bower, Chassity P. Bradford, Allyson Renae Breaux, Anne C. Breaux, Callie N. Brevelle, Camran Reid Brindley, Tyler P. Broussard, Phillip Kurt Brown, Matthew James Bruce, Bradley G. Bryant, Anna C. Bushnell, Thomas A. Bushnell, Taylor Lynne' Caldarera, Jaxson L. Caldwell, Sophie E. Campbell, Cody A. Caswell, Joseph Daniel Cavolaski, Heather M. Champagne, Toni Aunzelle Winbush Chapman, Carleigh Christene Chaumont, Landon C. Chretien, Katherine E. Clark, Brittany L. Clements, Caitlin McCoy Coburn, Jacob G. Cochran, Kaitlin A. Colby, Davon J. Cole, Claire Elitia Colley, Ashley N. Collins, Kelsey P. Comeaux, Gavin Zane Conley, Darby N. Cook, Tina Marie Cooley, Jacob M. Cox, Cydney Alyssa Creel, Eve D. Cruseturner, Christa L. Daigle, Lauren Nicole Damiata, Amy Renee Darbonne, Madison I. Darbonne, Brittiany Nickole DeLand, Bailey Elisabeth Dearman, Callie B. Decareaux, Christian King Delafield, Haley Noelle Delaunais, Kyauhna Rene' Benoit Dennis, Ruby A. Derouen, Brett A. Diamond, Robert James Dick, Alexis J. Dickerson, Aubrey Rae Dillon, Laiken A. Drake, Joseph R. Dronet, Laikyn S. Dubard, Jessica Kristen Duckworth, Austin T. Dufrene, Kallie B. Duhon, Minh-Paul N. Duong, Katie M. Duplechin, Mallory Breann Dupuie, Cameron Reese Durham, Sarah A. Edwards, Taylor Marie Edwards, Caroline Chamberlain Eggleston, Samantha Ashley Ellerbe, Jillian Christine Engel, Spencer Christian Evans, Bethanie S. Farber, Valeria Fabiana Faria, Brooke L. Ferguson, Avery Fliger, Matthew R. Foltz, William Stanton Foltz, Ashley M. Fontenot, Dillon Christopher Fontenot, Emily Grace Fontenot, Erin Ray Clark Fontenot, Hannah A. Fontenot, Morgan G. Fontenot, Susan Sharday Fradieu, Jametra J. Frank, Bayleigh Noelle Fruge, Greyson Elizabeth Fruge, Jenna Leigh Fruge, Emily Denise Fusilier, Shianne N. Fuslier, Taylor A. Gagneaux, Elizabeth A. George, William Reid Giardina, Mia Rochon Gibson, Allie Suzanne Giffin, Haile M. Gilroy, Gia Marie Gloston, Elizabeth E. Gober, Caleb Ray Greathouse, Madelyn Taylor Guidry, Paul George Guidry, Abigail D. Guillory, Adrianna E. Guillory, David Tyler Guillory, Kassidy A. Guillory, Logan A. Guillory, Victoria R. Guillory, Jenna Hacker, Samuel G. Hacker, Sophie C. Hacker, Alexis Ann Hammond, Kelli Lee Hanks, Olivia R. Hansen, Audrey L. Harris, Alexandra Grace Hebert, Alexandra L. Hebert, Madalyn E. Hebert, Michael S. Hebert, Zachary A. Hebert, Lauren A. Hellums, Tate Louis Helms, Anna Kaj Henriksen, Kathyrn Madison Hile, Zachary M. Honeycutt, Coye Allan Huber, Morgan Alicia Huff, Kaitlyn R. Iguess, James Jean-Baptiste Inderkummen, Anna C. Istre, Brydon L. Jacobson, Madison Blake Jagneaux, Amanda B. Johnson, Peyton Bowen Johnson, Shawna V. Johnson, Tatum N. Johnson, John Fitzgerald Jordan, Aleya C. Joseph, JaDasha Racquel Joseph, Blake Todd Juranka, Ameera M. Kattash, Eileen Jeanie Kemink, Shahrukh T. Khan, Michelle A. Klein, Kelsy M. Kohnke, Gavin J. Labiche, Madison K. Lafargue, Emily K. Lancon, Sophia C. Landry, James Eric Lasher, Christopher H. Latil, Malloree Kate Lavergne, Tyler J. Leblanc, Alicia Dawn Ledet, Madison Frances Leveque, Brandon Fitzgerald Lewis, Alexandra Christine Liles, Collier Thomas Litel, Kenneth L. Logan, Robert H. Lohmann, William B. Mahoney, Caleb Preston Malone, Amanda E. Maloz, Alyssa A. Malveaux, Isaiah J. Manuel, Karly Nicole Marcantel, Ali E. Marceaux, Tanner James Marceaux, Julianne Grace Marler, Jourdan Skylar Marshall, Morgan M. Martel, Jeanne Cormier McCain, Justyce L. McClain, Kennedy B. McLemore, David C. McMichael, Brogan Christopher McNease, Kimberly Danielle Medicis, Patrick A. Medina, Valerie Lynae Mendoza, Stephanie Alyse Menou, Cody J. Miller, Everett Miller, Kaylin A. Miller, Sarah L. Miller, Kyla Marie Naquin Mills, Logan J. Moore, Nicole Kristine Mouhot, Mariah Kaitlynn D. Mouton, Kimberly Ann Mustian, Joseph Muth, Samantha B. Neubauer, Zachary P. Nicholas, Alyssa A. Norwood, LeAnn Mindy Nugent, Melissa Ann Nunez, Landen K. O'Quinn, Hannah A. Ogea, Ashly Ann Carbone Organski, Cecilia Chan Oubre, Tyler C. Peet, Ashlyn Grace Pelafigue, Maisie M. Pelafigue, Justin E. Penn, Hannah E. Pettefer, Rebecca C. Pettefer, Megan K. Peveto, Pamela Ann Phillips, Keondra D. Porter, Kelsey N. Poston, Chloe N. Pugliese, Crosby Dylan Qui, Kayla Mae Quibodeaux, Cody D. Quinn, Marian Q. Ramos, Rebecca Caroline Ramsey, Collin S. Reed, Heather Ann Richard, Steven Curtis Richard, Dean A. Riviere, Sadie B. Roberson, Audrey Marie Rogers, Toni N. Romero, Pratchi A. Roy, Robert Waltler Rutz, Lucy C. Ryder,
Reagan C. Saltzman, Jordan Mark Sanders, Madelynn S. Sanders, Darian N. Seago, Megan Taylor Segura, Monisha L. Castille Shropshire, Delaney Rachelle Shuff, Brandi Nicole Simpson, Gavin E. Skinner, Gregory Thomas Smith, Jakob E. Snyder, Katherine L. Soileau,
Monica Michelle Soileau, Taylor N. Soileau, Shanna Brooke Spree, Jenna Margaret Spivey, Maxwell Stewart Mchale Sprigg, Ashton T. St. Dizier, Andrew R. Steiner, Alexis Leann Stevison, Kelsey LeAnn Bouderau Strahan, Tori J. Tate, Ashlyn D. Theriot, Sandra Lynn Theriot, Katelyn S. Thibodeaux, Lindsey M. Thompson, Ryhidda S. Thompson, Gabriel Augustus Townsley, Taylor M. Trahan, Bretton Tyler Urban, Breanna Marie Veronie, Lucas C. Verret, Cassi Ann Vincent, Camille Irene Vizena, Jordan Mark Warren, Hailey Ann Wasylkowski, Brielle M. Webb, Keagan L. Wells, Robert Leighton White, Morgan M. Wilder, Amy Rae Willard, Ashley A. Williams, Leatrice Annette Bertrand Williams, Michael Williams, Autumn Praise Windham, Gabriel E. Windham, Kandice Buller Wolfe, Alexis S. Wright, Christina Marie Young, Catherine Elizabeth Zwingman
Other Louisiana Cities:
ABBEVILLE: Audrey D. Gaspard
ANACOCO: Sarah E. Dillard, Emily R. Hamrick, Charla D. McInnis
BASILE: Lauren H. Bertrand, Brenan S. Langley, Mary E. Leonards, Wendy Veillon
BATON ROUGE: Brianna LaShay Hawkins, William Allen Jenkins
BELL CITY: Andrew Jonathan Galloway, Hannah G. Hebert, Julia L. Hebert, Grant Vincent Leonards
BRANCH: Jude Daniel Reiners
BRUSLEY: Christopher T. Prejean
BUNKIE: Grace Danielle LeJeune
CARENCRO: Michael D. Eckert, Erin LeVaughn Washington
CARLYSS: Madeline C. Gaspard
CHURCH POINT: Kaitlyn A. Bellard, Elizabeth A. Boudreaux, Dexter D. Miller
COVINGTON: Lacee Anne Fontenot
CROWLEY: Elizabeth Dartez, Zaner Marie Delafosse, Takeisha D. Freddie, Levi C. Leger, Emily C. Lucas, Jon R. Mouton, Julia R. Schmid, Jacob P. Zaunbrecher
DEQUINCY: Baily Erin Duplechian, Nanci Kaye Evans, Laiken P. Franks, Chasity Marie Grove, Nicholas David Guidry, Caleb H. Jacobs, Kaylee J. Moody, Alicen Elizabeth Pearce, Leslie Paige Smith, Cody L. Thibodeaux
DERIDDER: Rebecca Ann Alianell, James C. Baggett, Kailey Rae Bailey, Barbara Baythavong Buria, Annalaura Causey, Hope Cooley Chaney, Amanda Isbell Clendening, Megan Kira Nerys Davis, Hunter W. Frusha, Rebecca Yvonne Harris, Sydney Milbre Meissner, Savannah D. Moses, Conner J. Nesom, Morgan E. Phelps, Keri M. Reeves, David K. Williams
DELCAMBRE: Courtney M. Leblanc, Shanna Marie Vincent
DENHAM SPRINGS: Andrew M. Ayres, Lauren E. Brown, Landon Patrick Fuentes, Jonathon Charles Guidry, Angela Dawn Owen, Logan M. White
DRY CREEK: Matthew Shane Emory
DUSON: Danielle R. Broussard, Casey Potier
EGAN: Ashley N. Istre
ELIZABETH: Jacee Marie Bacon, Maghan Brooke Cooley
ELTON: Margaret Anne Bertrand, Juliet Renee Hayes
EROS: Ashlee G. Sebren
ESTHERWOOD: Taatum Adair Rubin
EUNICE: Courtney P. Ceasar, Adrien L. Courville, Kaliyah Marie Edwards, Kristy Ann Fisher Harrigill, Joshua Raphael Janice, Rheagan M. Ortego, Cierra S. Papillion, Elise M. Velez
FENTON: Chelsye Iranet Spikes
FLORIEN: Samuel Joseph McFarlain
FRANKLIN: Paige M. Diamond, Ashton C. Landry
GONZALES: Ross M. Prince
GRAND LAKE: John Dalton Boudreaux
GRANT: Callie Salene Maddox, Jacob C. Stark
GRETNA: Erin Elvira Fortier
GUEYDAN: Malori D. Dupree, Madison P. Lepretre, Zachary D. Lepretre, Ann C. Simon
HACKBERRY: Samuel R. Ducote, Taylor V. Johnson
HATHAWAY: Kylie Brooke Derks
IOTA: Emmett M. Bobbett, Melinda Kay Russell Broussard, Hillary F. Cart, Allison E. Hoffpauir
IOWA: Stefani Allie Bourque, Da'vin Jude Broussard, Paige Corinne Buller, Carrie A. Crochet, Alexander S. Darbonne, Skylar N. Droddy, Logan J. Fontenot, Dylan Jeffrey Kay, Kennedy R. Kober, Elizabeth Anne Landry, Kammi Nicole Long, Kathryn Elizabeth Murphy, Alison Nicole Peloquin, Lindsey B. Priola, Tyler Douglas Rather, Shay M. Walker, Shimeka Renee' Washington
JARREAU: Jaci Elizabeth Sadden
JEANERETTE: Kanisha R. Allen, Brianna A. Olivier
JENNINGS: Dylan Ray Bergeron, Madalyn A. Broussard, Summer P. Chretien, Hayleigh Paige Constantine, Hannah C. Dartez, Destiny R. Gay, Gabrielle L. Guidry, Rosalie Clare Guinn, Patrick C. Hale, Trey P. Hargrave, Anne-Marie P. Hebert, Alyssa Marie Hoag, Jordan N. Johnston, Adam Lance Kershaw, Aaron Luke Lamb, Aaron Joseph LeBlanc, Carter L. Ledbetter, Penny A. Lejeune, Timothy G. Miller, Caleb J. O'Connell, Brianna N. Owers, Harriet Beth Quibodeaux, Sadie Christine Quibodeaux, Elizabeth N. Stretcher, Layna Reagan
Touchet, Morgan M. Woods
JOHNSON'S BAYOU: Alexander Reese Boudreaux
KAPLAN: Clay P. Boudreaux, Shelbee Angelle Leger, Katelyn M. Richard, Kody Alec Romero
KINDER: Courtney B. Buller, Haley Brooke Duhon, Taylor Deon Hebert, Amelia Grace LaFargue, Shelby R. Labuff, Hannah L. Murrell, Sharon Marie Murrell, Ethan L. Reeves
LACASSINE: Ginger Faye Young
LAFAYETTE: Briana Nekiah Babineaux, Katelyn Marie Matt Bertrand, Cain F. Castille, Danielle Dalcourt, Erin Menard Fabacher, Ki'Onna J. George, Shea Gabriella Hebert, Brianna Leigh Howlett, Kierra A. Malveaux, Kimberlyn A. Montgomery, Sopheariya Katie Muy, Meeyana D. Richard, Zanna Smith, Alaine J. Williamson
LEBLANC: Jade Lorraine Young
LEESVILLE: Ayla A. Bailey, Samantha Nichole Callaway, Aleyah E. Donald, Elizabeth Brooke Johnson, Megan Elizabeth Kuhn, Cadence Ross Ledet, Janae R. Maricle, Lissette Patricia Tersiev
LONGVILLE: Randi Layne Adams, Callie Brooke Bufkin, Tabitha Rose Buford, Peyton Alexis Conner, Brittany Jane Ellender, Tara Deneen LaBruyere, Angel D. Laurent Milner
LULING: Ann Frances Thomas
LUTCHER: Tasia Brenae Simoneaux
MAMOU: Caroline M. Fontenot, Jenna L. Vidrine
MANGHAM: Mary Katherine Smith
MERRYVILLE: Madison Michelle Benoit, Krystal Rose McMillian, Dawson R. Wallace
MONROE: Amber G. Coons
MORSE: Kyra B. Louvierre, Katelyn L. Woods
MOSS BLUFF: Calli J. Dupont, Sydney R. Manuel
NEW IBERIA: Nicholas F. Bienvenu, Chelcee A. Gilliams, Brailyn Michelle Jolivette
NEW ORLEANS: Bryan J. Blunt
OAKDALE: Joel Alexander Brabham, Jude Nicholas Brabham, Hannah A. Longino, Allison Black Stark
OBERLIN: Jennifer M. Greene, Brandi Marie Victorian
OPELOUSAS: Morgan Ja'lee Edwards, Jeremiah Austin Johnson, Mia M. Manzanares, Kealy R. Stelly
PIERRE PART: Jessica Michelle Domingue, Erin N. Vidrine
PITKIN: Alanna K. Falke
PLAQUEMINE: Shelbi L. Strickland, Matthew F. Williams
RAGLEY: Brennen S. Bourliea, Morgan D. Filipski, Amanda M. Hantz, Joshua Paul Hantz, Shelby Noelle Hunt, Kaetlin P. Lalonde, Brittany Lynn Perkins, Taffi D. Poirot, Lucas Roland Sonier, Isaiah M. Windsor
RAYNE: Eric A. Bedel, Madison A. David, Chasity J. Fluitt, Gabrielle M. Peltier, Payton N. Zaunbrecher
RAYVILLE: Alician R. Lewis
ROANOKE: Delaney Kaye Jackson, Jerrod Dean LeJeune, Kasey N. Lejeune
ROSEPINE: Brittany M. Darrah, Madisen Danielle Smith, Molly Kate Thompson
SCOTT: Allie M. Richard
SINGER: Wasey Duncan Crain
SLIDELL: Brentney A. Carroll, Hallie Nicole Faciane, Rachel M. Stevenson
ST. MARTINVILLE: Paulette Marshall, Madison Alaina Pillaro
SUGARTOWN: Amanda Anne Sonnier
SULPHUR: Olivia Christine Abshire, Keifer Grey Ackley, Haley Brooke Johnson Areno, Madison Rae Barrilleaux, Kyla Michele Baudoin, Nicole D. Bayles, Adrian Felipe Beltran, Kasa A. Benoit, David P. Billodeau, Brittany Nicole Bird, Samuel A. Bohannon, Sara Blythe Bohannon, Mackenzie Elizabeth Bourgeois, Peyton Elizabeth Brooks, Jacob A. Broussard, Raylee Marie Burgett, Allie C. Butler, Bethany Michelle Carnes, Michael J. Casteel, Miranda G. Charles, Freja H. Cole, Denee R. Delcambre, Camron D. Doty, Jacob Roland Dudley, Alexis R. Durio, Andrew Keith Eakin, Matthew Q. Ezernack, Emily J. Fontenot, Garrett S. Fontenot, Kyle J. Fontenot, Robert Brennan Fontenot, Hunter B. Forman, Cameron D. Fultz, Kourtlyn Marie Fuselier, Devin L. Gaidosek, Hannah M. Galbraith, Kallie Ann Gatte, Rebecca Mia Gill, Julian J. Gonzales, Timothy R. Gothrup, Michael J. Graham, William Matthew Griffiths, Hannah Gayle Gros, Jesse Cade Guidry, Maegan Sue Hand, Colin Tyler Haynes, Ashley E. Head, Kaitlyn Alexis Hebert, Kinley Nicole Holmes, Raylee Jene Istre, Alexandria Nicole Jenkins, Danielle Nicole John, Tanner Cole Johnson, Roy L. Jones, Christian A. Keever, Erin E. Kellar, Kara N. Knighton, Devyn A. Knippers, Jay Kumar, Nicole Marie Lanthier, Keileigh Paige LeBlanc, Dylan P. Leblanc, Jace Charles Leblanc, Taylor T. Lebleu, Gavin P. Ledet, Celeste M. Lee, Joan Lin, Samuel K. Mancil, Frankie Beth Marcantel, Alaina Elise Maxfield, Emilee P. Mellard, Savannah Maria Mere, Hunter Scott Misse, Corinne B. Mitchell, Emily Claire Moss, Stephanie P. O'Blanc, Nathan Cole Oakman, Austin J. Pottorff, Matthew Reece Pryor, Ethan Alexander Rapp, Jackson Thomas Ritchie, Elizabeth A. Salvador, Madeline Rose Shelton, Morgan Delaine Sherrill, Marley N. Smith, Austin C. Spell, Christine M. Stephens, Summer Elizabeth Stutes, Julian D. Summers, Ashley Marie Thorne, Halley Marie Vincent, Vicki Lynn Waterbury, Raeleigh Morgan Whitfield, Bethany Kai Wilkinson, Dalton J. Wolbrink, Lauren Bailey Woods, Madison Wyatt, Robert E. Younger, Rachel Marie Zachary
THIBODAUX: Erin E. Green
TROUT: Katelin Rose Shirley Windham
VILLE PLATTE: Emily K. Bordelon, Sarah Lee Deshotel, Jacques C. Fontenot, Kelsey B. Fontenot, Courtney Annette Cloud Godeaux, Ashley L. Hesnor, Andie M. Landry, Kaitlyn E. Roddy, Elizabeth R. Soileau, Skye Octavia Thibodeaux
VINTON: Erica D. Beasley, Haley Elizabeth Bunting, Jhah Niece Cook, Jacie Lynn Istre, Kayden Blake McFarlain, Rebecca L. Tibbitts, Carlie Brooke Walton, Dawn Marie Welburn, Dawna L. Wilfer
WALKER: Matthew J. Hecht
WASHINGTON: Sarah E. Brignac
WELSH: Jeffrey Lane Arceneaux, Aaron Reed Ardoin, Cassidy Blair Ardoin, Madyson Blaire Brasseaux, Haley Paige Cooley, Landon S. Hill, Peyton Zane Stanford
WESTLAKE: Abigail Marie Andrus, Inez E. Ange, Cole Allen Conrad, Kassidy D. Conrad, Ada G. Crochet, Colby P. Gatte, Morgan F. Hardey, Alexandra P. Mason, Esther G. McKinney, Joseph Gabriel McKinney, Mary Elizabeth Mead, Brant A. Morton, Laura Jakelyn Oliver, Carly N. Ryder, Haley N. Sacksteder, Tiffany Paige Schatz, Ashlyn Haley Scheinost, Alexandra L. Spears, Christiana Ellen Sutton
YOUNGSVILLE: Courtnee C. Green, Hayley R. Hughes, Sarah E. Lyons
ZWOLLE: Kasey Christine Fisette
Texas:
ALEDO: Hannah Elise Edwards Berryhill
ALLEN: Taylor Trent
BEAUMONT: Carlee Elizabeth Smith
BRYAN: Rebecca Adcock
BULLARD: Chloe Ducote
BUNA: Morgan Denice Lambright
CONROE: Elizabeth M. Golden
CYPRESS: Ashley R. Koncir
DEER PARK: Joshua Paul Hartwell, Emilee M. Mayes
EDNA: Crystal L. Coulter
FORT WORTH: Diamond C. Lee
FRIENDSWOOD: Hannah M. Cooley
FRISCO: Morgan P. Middleton
GIDDINGS: Jaclyn Elizabeth Gonzales
GOODRICH: Amy E. Phillips, Madison M. Phillips
HOUSTON: Megan Ashley Levens
HUNTSVILLE: Isabel L. Huntsman, John Michael Neville
KATY: Mikayla Ann Dupont, Britt P. Schmidt
KILLEEN: Nicholas R. Bedwell
KOUNTZE: Ariel M. Denmon, Sarah M. Robins
LEWISVILLE: Stephen Ugochukwu
LIVINGSTON: William A. Pena
LUFKIN: Emma C. Godfrey
LUMBERTON: Jimmy Eugene Bartley, Brittany Nicole Long
MAURICEVILLE: Savannah Sheppard
MONTGOMERY: Riley K. Isaac
NEDERLAND: Emma Kathryn Roccaforte
ORANGE: Hattie E. Lebleu, Malori Rene Ener Thibodeaux, Andrew J. Usie
PEARLAND: Alexandra J. Aguilera
PLANO: Rachel Leonor Palet, Alexis Haley Rodriguez, Caitlin Brooke Sharrock
SPRING: Rachel K. Woods
SUGAR LAND: Sara N. Lamendola
VIDOR: Shanice M. Hagler
WINNSBORO: Rhett Deaton
States:
Arizona
PHOENIX: Erin Lynn Fakler
California
CARLSBAD: Erika Piancastelli
FALLBROOK: Hailey M. Drew
HEMET: Nola R. Prickett
JAMUL: Victoria M. Yanitor
MISSION VIEJO: Carly M. Passaglia, Nicholas Dean Passaglia
MORENO VALLEY: Sara Ortiz
WILDOMAR: Megan E. Holmes
Colorado
FORT COLLINS: Angela Noelle McGownd
PARKER: Bryan D. King
Florida
TAMARAC: Lentz Usvelt Similien
Idaho
COEUR D'ALENE: Havana Marie Johnson
Kansas
STILWELL: Mitchell Allan Rogers
Mississippi
MOUND BAYOU: Frederica Keyshawn Haywood
Oregon
PRINEVILLE: Carly Jean Hibbs
South Carolina
LANCASTER: Joshua D. Anderson
Tennessee
SPRING HILL: Ashlyn C. Keasler
Wyoming
CHEYENNE: Anthony I. Green
Countries:
ALBANIA: Arsid Cerma
AUSTRIA: Sophie Lucia Grabner
BELGIUM: Phonexay Chitdara
BOLIVIA: Andrea Encina Moreno
BOSNIA AND HERZEGOVINA: Darko Radakovic
CANADA: Kennedy K. Bodfield, Zahaan Eswani, Anmol S. Thind
CHINA: Huanrong Ouyang, Xixi Fan
COLOMBIA: Laura Juliana Gomez
COTE D' IVOIRE: Jean Samuel Donald Boue
EL SALVADOR: Yenifer V. Flores
FRANCE: Carla Marie Helene Ferretti
GABON: Rozenn Kenny Moundounga Itoumba
GERMANY: Kira Anna Benkmann, Lea Marie Kiekenbeck, Christina Sunny Kilian, Nicklas Mattner
GREECE: Vladimiros Topalidis
INDIA: Pramod Gobburi, Priyanka Heny Kabira, Priti Lalringmawi Chisolm
INDONESIA: Virsya Adonia Vardhani, Jessica Theresia
IRELAND: Brian Flanagan, Grace Maria McKenzie, Damian O'Boyle
ITALY: Giovanna Fioretti
NEPAL: Shiva Acharya, Shreya Acharya, Kabindra Adhikari, Dipesh Bhandari, Sanjay Bharati, Abhishek Bhusal, Saugat Budathoki, Sangam Chapagain, Gilbert Giri, Tsering Dolker Gurung, Rajan KC, Samrat Khatri, Audi Hang Hang Kulung, Vanessa Lama, Joshna Lawar, Jesika Mainali, Himshree Neupane, Anish Pageni, Ishan Parajuli, Mukesh Kumar Patel, Benup Raj Prasai, Suraj Rimal, Shreewan Rupakheti, Biplop Shrestha, Mamata Shrestha, Manish Shrestha, Amrit Silwal, Aditya Singh, Anuja Thapa, Bikram Thapa, Anugnya Yadav
NEW ZEALAND: Imogen Ruby Hull
NIGERIA: Chukwuemeka O. Ike, David Boluwatife Olatifede
ROMANIA: Maria Alexandra Sand
SAUDI ARABIA: Abdulrazaq Ibrahim N Alanazi, Abdulrazaq Mallah Alanazi, Afaf Suwayyid N Alanazi, Faisal Alqahtani
SERBIA: Nemanja Koviljac, Marija Mastilovic
SPAIN: Miguel Barrera Lopez, Stella Carra Cueva, Sofia San Jose Moreno
SWEDEN: Charoline Erlandsson
UNITED KINGDOM: Jessica Sarah Fox, Bradley Francis Traviss, Nathan A. Jones, Finlay Ian Murray, Hannah R. Brett
VIETNAM: Huy Nguyen Minh Huynh, Ny Thi Thi Lam, Thuy Phuong Anh Nguyen, Nhi Hong Thao Ta, Linh Thi My Tran, Tam Thi Thanh Tran, Tho Nguyen Hoang Tran, Vu Thien Tran, Trang Thi Thao Tran, Nhat Minh Le
Want more stories like this one sent straight to your inbox every week? Sign up for our McNeese eNewsletter!
The Office of Marketing and Communications
4205 Ryan Street
Lake Charles, LA 70609
337-475-5640
communications@mcneese.edu