McNeese Theatre Presents "A Year With Frog and Toad"
September 11, 2019 | McNeese Public Relations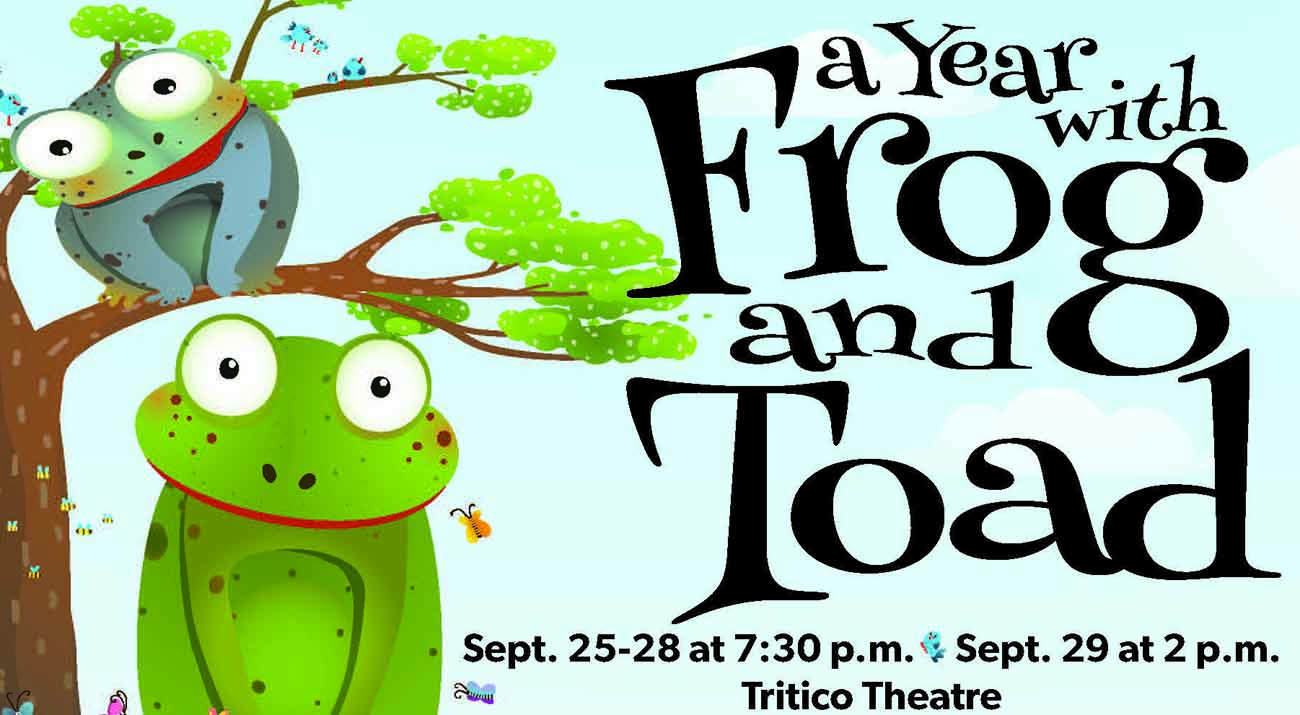 The McNeese State University 2019 theatre season will open with the fall production of Robert and Willie Reale's musical "A Year with Frog and Toad" Sept. 25-28 at 7:30 p.m. and Sept. 29 at 2 p.m. in Tritico Theatre.
Based on Arnold Lobel's beloved children's book series from the 1970s, the play follows the happy-go-lucky Frog and his crankier best friend, Toad, through a full year of life's ups and downs in the swamps of Louisiana. The show's charming and comical tales, clever lyrics, catchy tunes and positive messages are sure to delight audiences of all ages.
Guest artist Bacot Wright, Winston-Salem, N.C., will serve as director. The cast includes: Brett Chase, Lake Charles, Frog; Matt Dye, Lake Charles, Toad; Joseph Comeaux, Lake Charles, Papa Bird; Himshree Neupane, Nepal, Maman Bird; Supratik Regmi, Nepal, Tee Bird; Allison Marino, Lake Charles, Cher Turtle; Sondre Guy, Lake Charles, Hot Gator; Anna Sternaman, Lafayette, Po Snail; Hayleigh Gatewood, Lake Charles, Boo Rat; Everly Spears, Lake Charles, Big Nutria; and Betty Marino, Lake Charles, Lil Nutria.
Crew members include: Michael Parker, Lake Charles, musical director; Michelle Brunson, Rosepine, technical director; and Rylee Hall, Blackwell, Okla., Essence Means, Lake Charles, Hannah Jolivette, Iowa, and Peyton Stanford, Welsh, stage managers.
Ticket prices are $15 for adults, $10 for McNeese faculty/staff, senior citizens, K-12 students and teachers and free for McNeese students with a current ID.
For tickets or more information, call 337-475-5040 or go online at www.mcneese.edu/performingartsboxoffice. Persons needing accommodations as provided by the Americans with Disabilities Act should contact the ADA Coordinator at 337-475-5428, voice; 337-475-5960, fax; 337-562-4227, TDD/TTY, hearing impaired; or by email at cdo@mcneese.edu.
Want more stories like this one sent straight to your inbox every week? Sign up for our McNeese eNewsletter!
The Office of Marketing and Communications
4205 Ryan Street
Lake Charles, LA 70609
337-475-5640
communications@mcneese.edu