McNeese Radio Presents a Special Live Broadcast of "War of the Worlds"
October 27, 2020 | McNeese Public Relations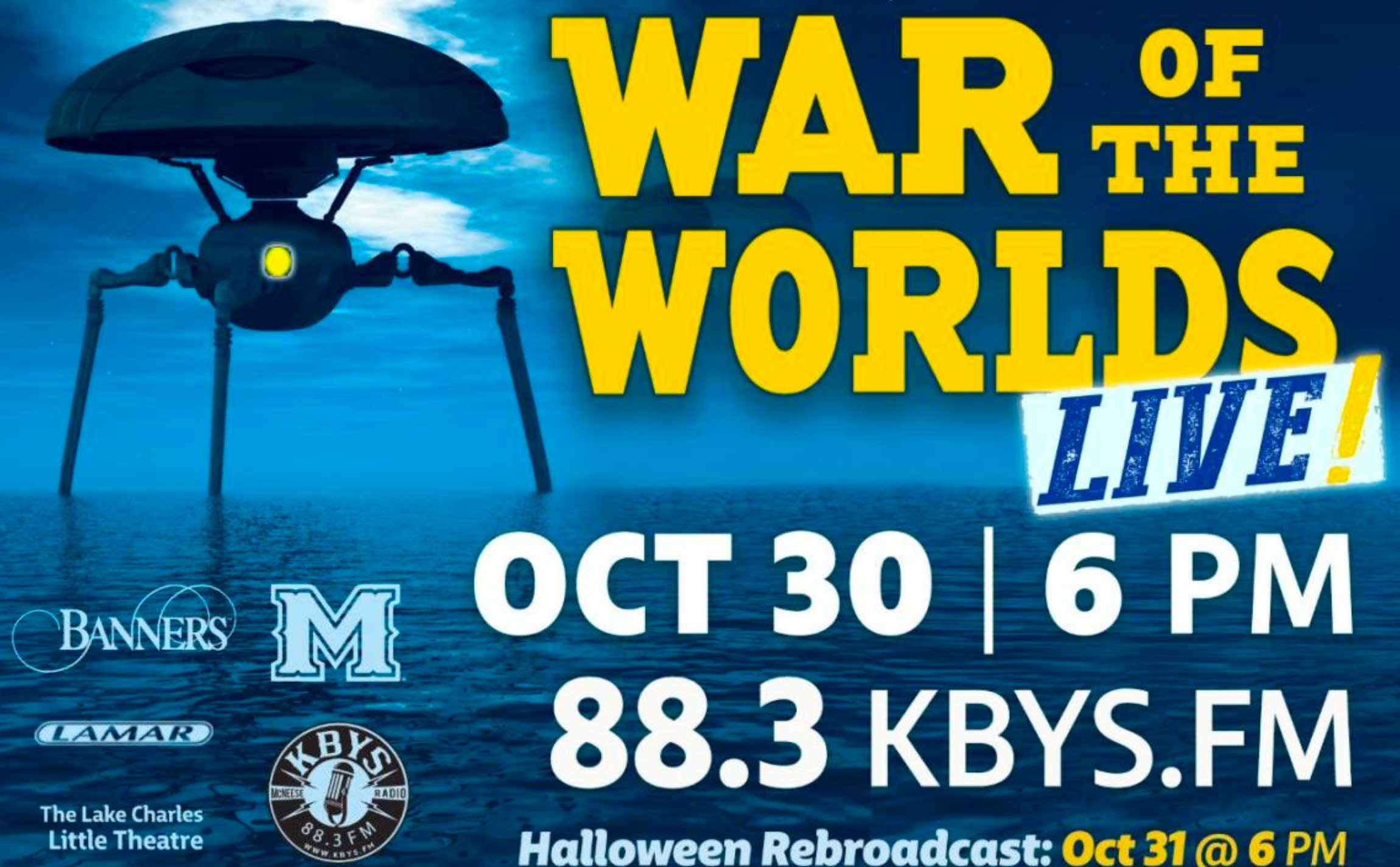 This Halloween, prepare for visitors from another world as McNeese State University's radio station KBYS 88.3 FM presents a recreation of Orson Welles famous radio play, "War of the Worlds," at 6 p.m. Oct. 30, as well as a rebroadcast at 6 p.m. Oct. 31.
This special broadcast is a collaboration between McNeese and the Lake Charles Little Theatre and will feature local figures and talents in the cast, including Lake Charles Mayor Nic Hunter; Matt Young, director of cultural affairs at Historic City Hall Arts and Cultural Center; McNeese Theatre Director Charles McNeely; radio personalities Gary Shannon and Heather Partin; Lake Charles Little Theatre president Randy Partin; and more.
Director and actor Orson Welles originally brought the play, which is based on science fiction author H.G. Well's famous 1898 novel of the same title, to listeners in 1938. The famous broadcast, which details an invasion from Mars and the humans trying to survive it, supposedly caused some mass panic as listeners believed that they were hearing news reports of an actual alien invasion, according to Brook Akya Hanemann, director of Banners at McNeese.
Hanemann says that the play has been updated slightly and will be presented as if the play's events were happening live. The locations of the play have also been changed to include Southwest Louisiana landmarks such as the Majestic and Charleston hotels.
"Instead of the story itself beginning with an alien object landing in a field in New York, we have that object landing right here in Southwest Louisiana," she says. "Instead of our professor being based out of the observatory in Princeton, we have our professor being based out of McNeese State University — and not only that, but we have an actual McNeese professor who will be reading that particular role. It's going to be special."
The broadcast is expected to last an hour. Listen live at KBYS.FM or on the FM band at 88.3 McNeese Radio. Catch a special sneak peek below:
Want more stories like this one sent straight to your inbox every week? Sign up for our McNeese eNewsletter!
The Office of Marketing and Communications
4205 Ryan Street
Lake Charles, LA 70609
337-475-5640
communications@mcneese.edu